Queenstown is the home of amazing family adventures. There is plenty of family fun on offer for all ages, from the littlies right through to tweens and teenagers, keeping them as entertained and excited as they explore what the region has to offer. From mild to wild you'll find Queenstown activities and attractions to cater to each age and stage in your family.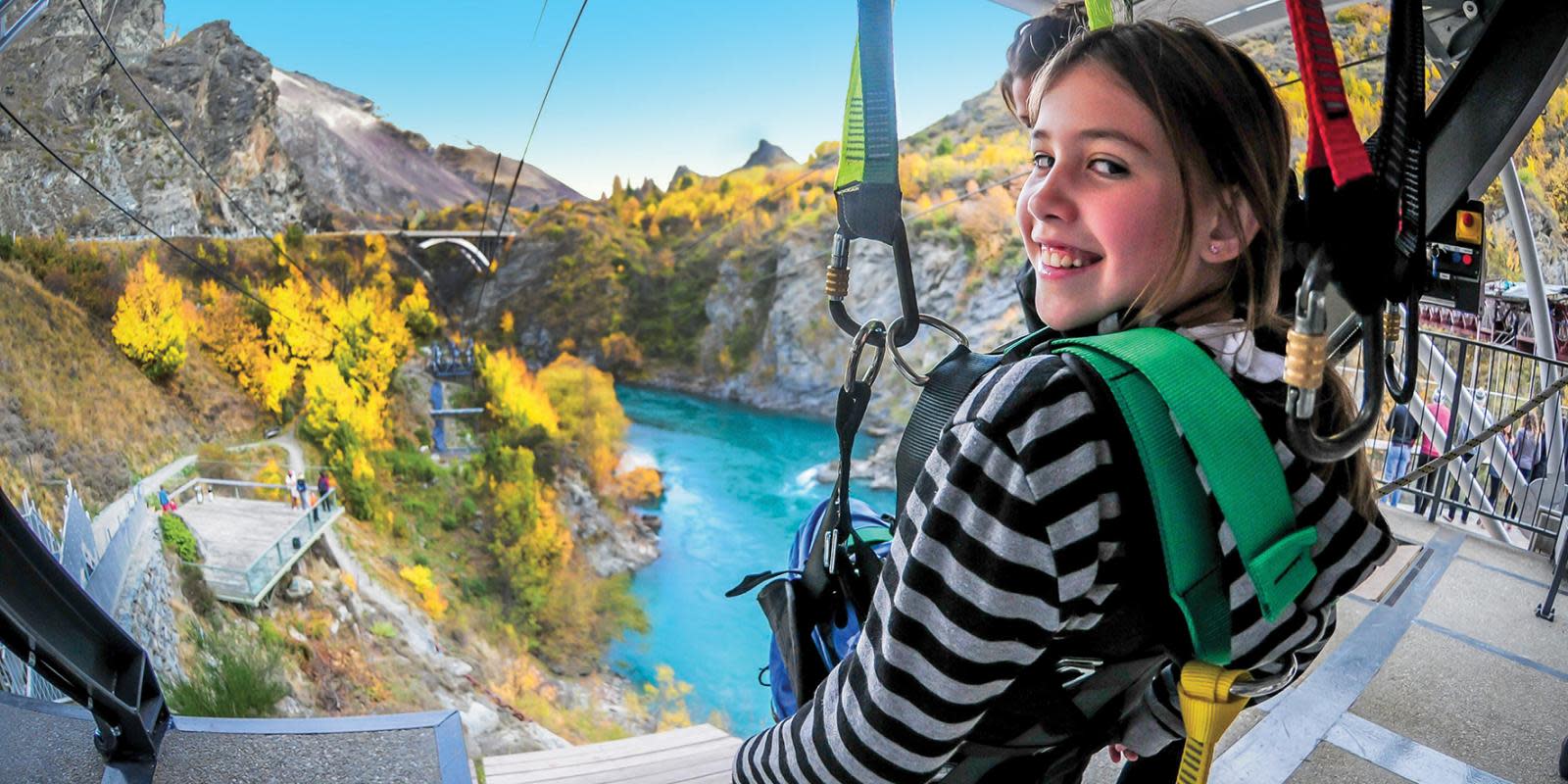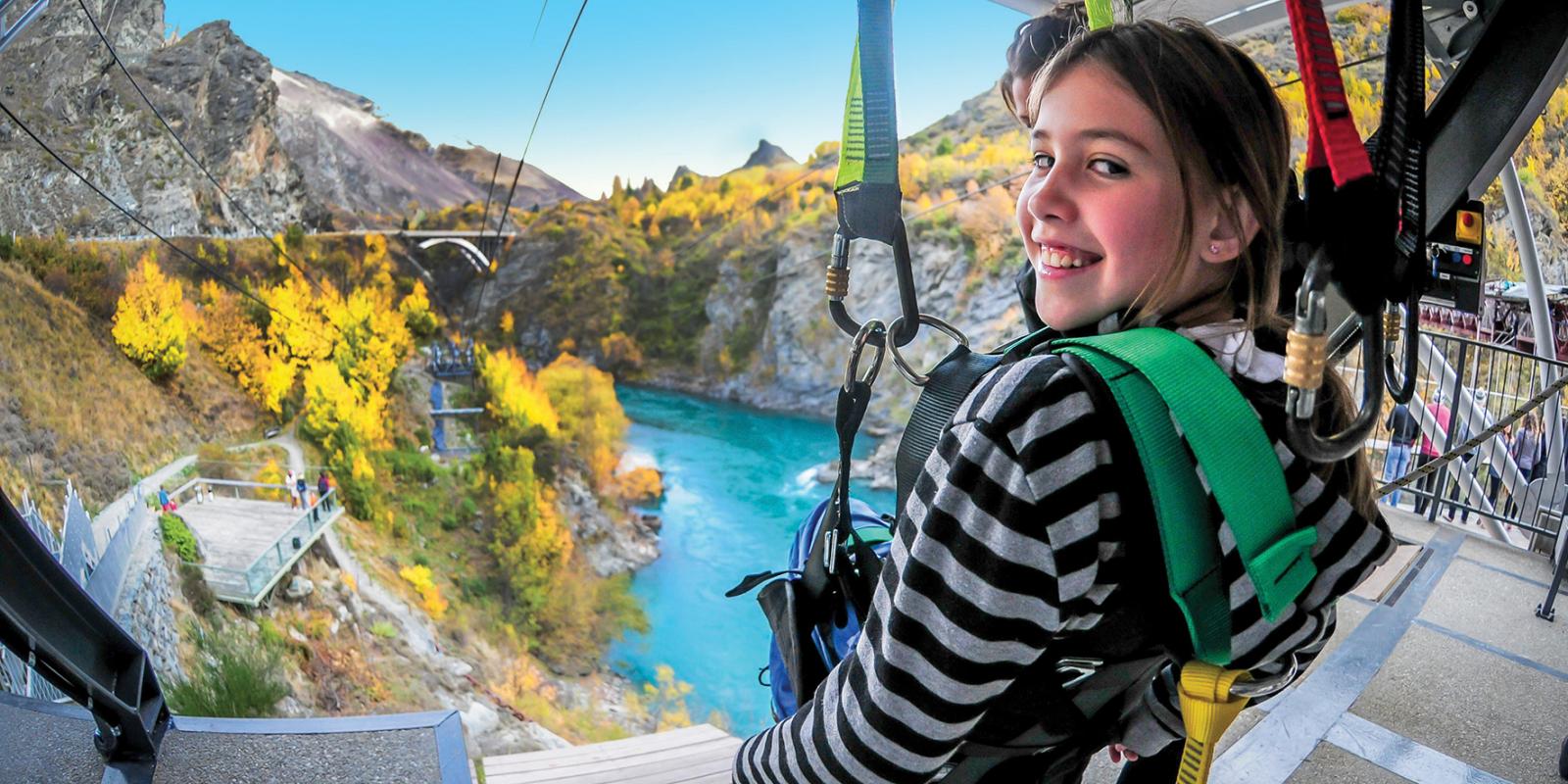 The Kawarau Zipride
Family fun things to do
Adventure activities for kids
For the blood pumping thrills that Queenstown is famous for, the choice is a difficult one with activities like skydiving, bungy jumping, jetboating, skiing, quad biking, buggy tours and paragliding all on offer. Many parents are surprised to learn that while age, height and weight restrictions apply on many adventure activities they are often more family friendly than you might imagine, however it pays to do your research online beforehand to avoid disappointment.
Softer adventures for the family
If you're looking for a little less high-octane excitement then there are plenty of great options to suit every age, ability and budget.  Popular choices for families include a steamship or boat cruise on the lake or a Segway tour around the bay, a trip up the gondola, luging, bowling, frisbee golf, indoor carting, ice skating, farm tours and kiwi park to name but a few!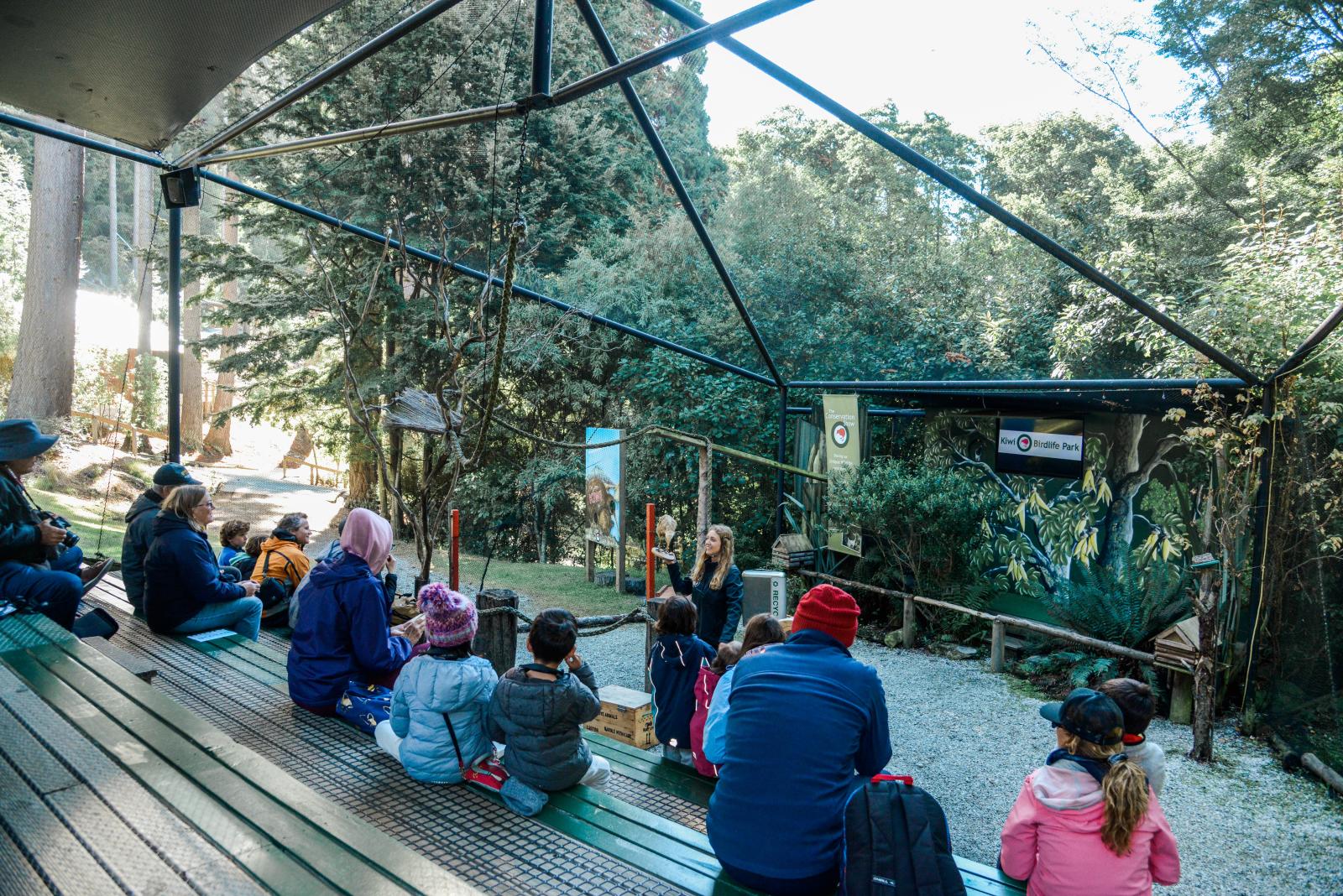 Conservation show at Kiwi Park
Explore Arrowtown & Glenorchy
A great place to take the children for a day out is the picturesque former goldmining village of Arrowtown, a short 20 minute drive away.  Here you can step back in time and explore the quaint tree-lined streets, old miners' cottages, restored Chinese Village and spend a couple of hours wandering around the fascinating Lakes District Museum.
If you're keen to get right away from it all and enjoy a slice of paradise then head up to Glenorchy, a tiny frontier town which is a spectacular 45-minute lakeside drive from Queenstown.  There are plenty of great photo spots and amazing views all the way to keep the kids interested.
From here on, the upper reaches of Lake Wakatipu are considered 'Lord of the Rings' country – literally.  The stunning snowcapped mountains, pristine lakes, rivers and national parks around Glenorchy featured prominently in the blockbuster trilogy and seeing them in the flesh will transport you directly to Middle Earth.  If you're a real movie-buff then check out the fun and highly educational movie tours which run from Queenstown to hear more about it.
Glenorchy is a gorgeous spot for a family picnic and if you're keen to get up close and personal with the scenery then try wilderness jet boating, horse riding, kayaking or one of the renowned Routeburn, Greenstone and Caples walking tracks.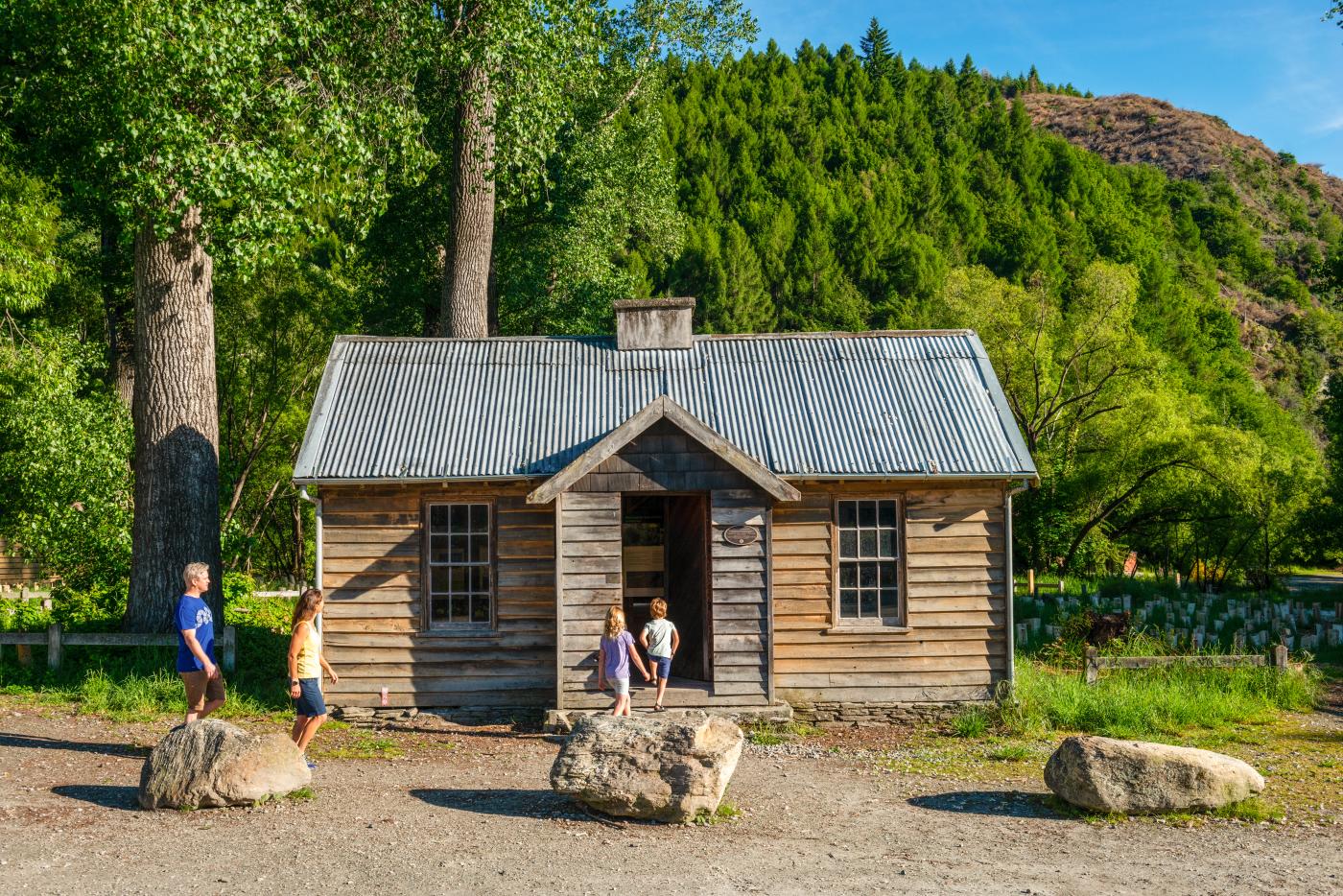 Arrowtown Police Hut
Walking & biking
Hiking and biking are perfect ways to spend some quality family time together and explore the great outdoors for which Queenstown is famous.  Some of the most scenic trails in the world are within five minutes' walk from downtown Queenstown and suit all ages and abilities. The Queenstown Trail also offers an extensive network of walking and cycling trails with the different tracks suitable for different ages and abilities, check out the trail map to find a path for your family.
From Queenstown you can explore walking tracks that range from half-hour easy lakeside tracks to multi-day hikes like the Routeburn Track which is classed as one of New Zealand's Great Walks and starts near Glenorchy, just 40 minutes drive from Queenstown.
For bike enthusiasts there are more 100km of easy gradient scenic open trails, backcountry trails, a jump park and the Queenstown Bike Park - a gondola-assisted bike park with 30 different downhill trails, ranging from beginner to advanced. KidzGo Queenstown also offers information on family-friendly bike trails in the region.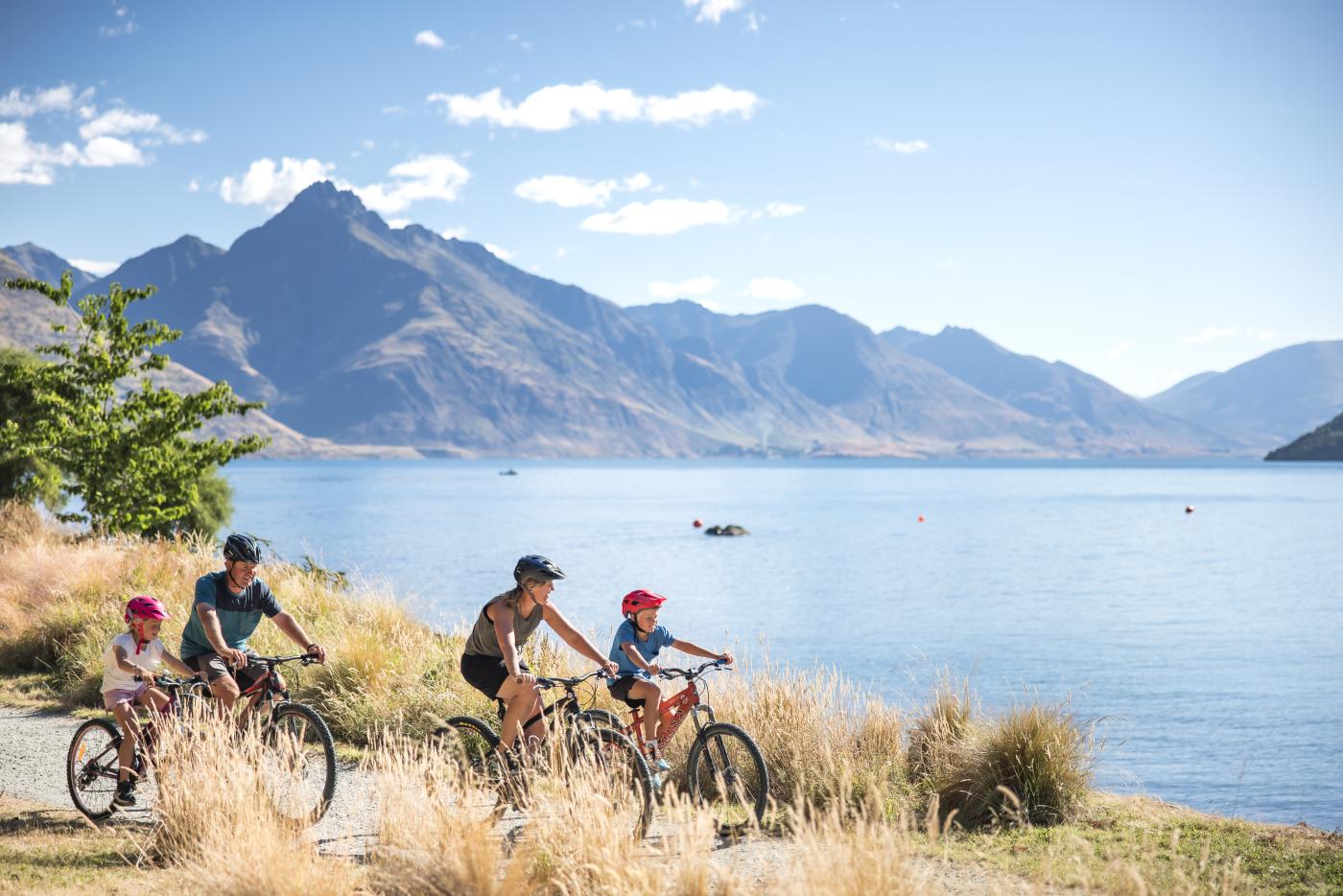 Queenstown Gardens
Indoor fun
Rainy days can often put a dampener on family holidays, being cooped up all day in a room with bored children, but in Queenstown you'll never run out of things to do – rail, hail or shine. There is a wide range of wet weather attractions including mazes, 4WD and buggy tours, movie theatres, indoor trampolining and indoor skydiving.
All this activity works up a pretty hearty appetite but finding somewhere to eat and drink is easy – Queenstown has more than 150 cafes, bars and restaurants to choose from.  Many are family-friendly and go the extra mile with children's menus, high chairs, toys or colouring in for entertainment.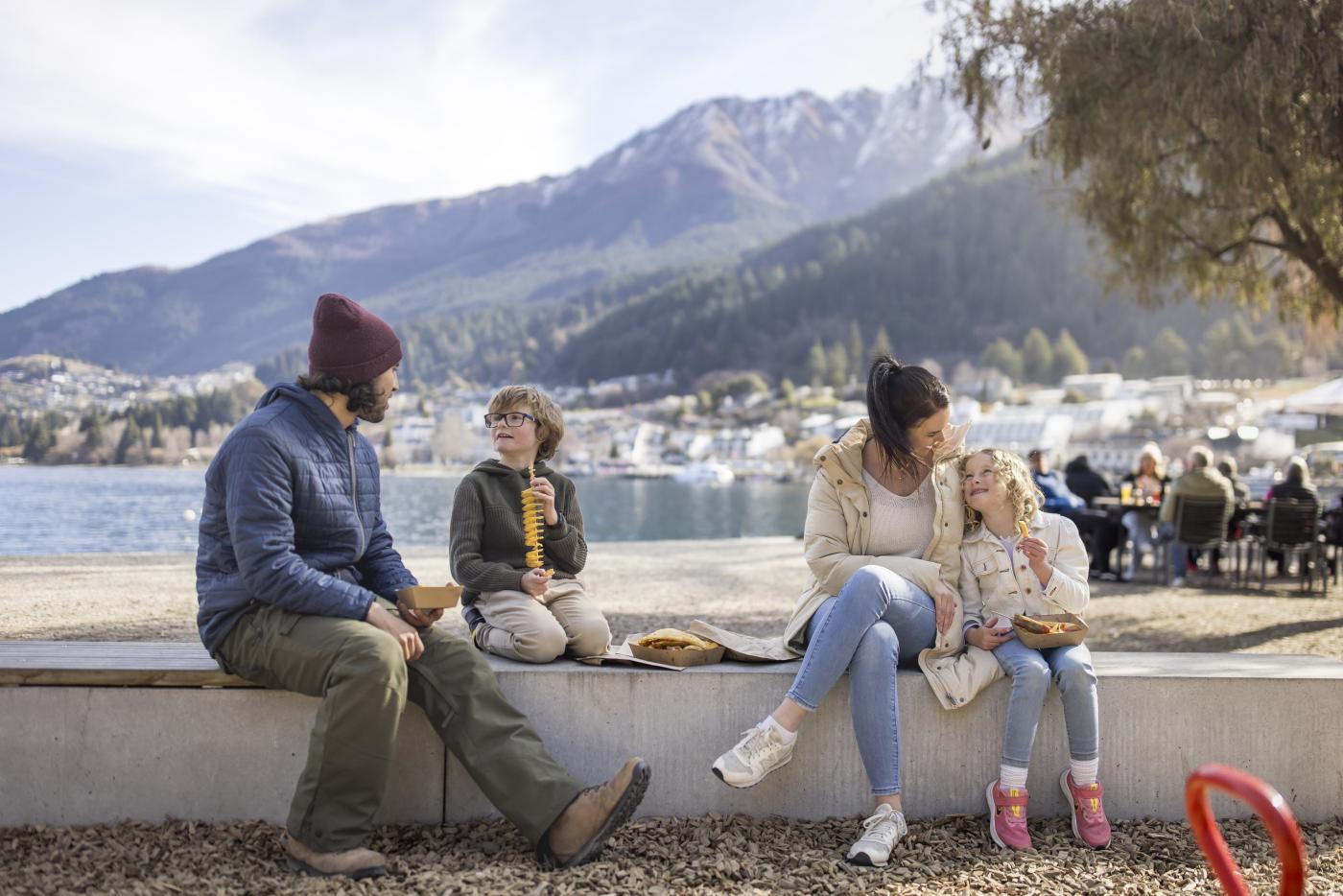 Queenstown Waterfront
Queenstown's compact CBD is ideal for a bit of family downtime.  The waterfront provides hours of entertainment for all ages with a lakeside playground, jet boats roaring into the bay, buskers, markets every Saturday and plenty of people watching opportunities.  Wandering around the shops is also well worthwhile.  There's plenty of diversity with international clothing chains, local designer boutiques, outdoor adventure equipment, and souvenirs, but the ones you'll probably see the most of are the ice-cream and sweet shops which offer free tastings – they're complete child magnets!
Accommodation options
Accommodation can play a key part in the success of any family holiday but rest assured that whatever your budget or taste, Queenstown offers a huge range of choice from camping grounds, motels and self catering apartments to hotels, resorts and luxury lodges.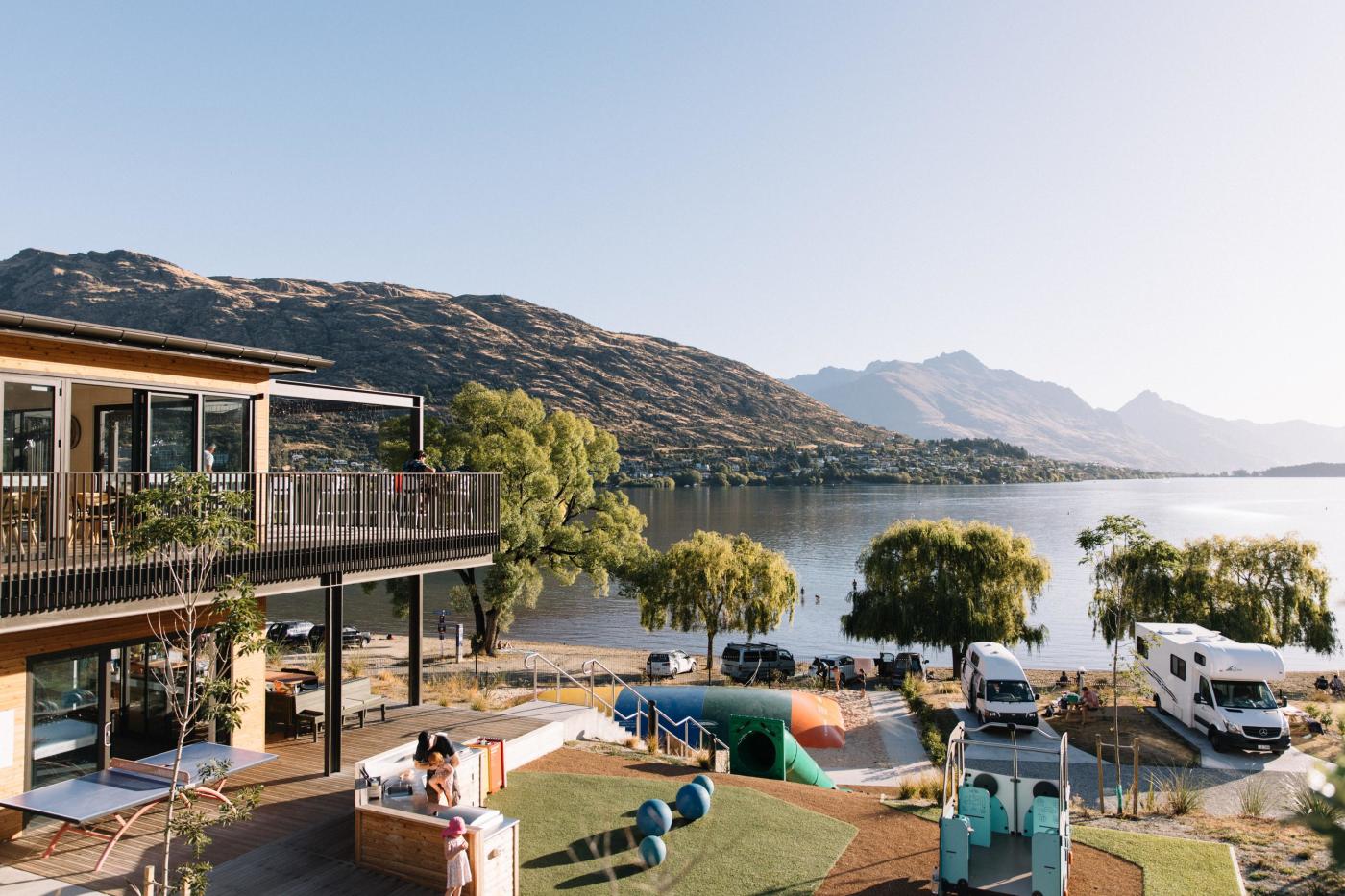 Driftaway Holiday Park
The challenge is deciding what to do first!