Free skiing as the essence of freedom
Pete learned to ski almost as soon as he could walk. "I started skiing when I was five and took to it straight away. There's an old photo of me pinning it straight down a hill wide-eyed with excitement and the thrill of it."
Everything from then on was about skiing. "I'd beg my mum to let me take the day off school whenever it was a good snow day. I grew up in Marlborough near a very small ski field, the Rainbow Ski Area. There's not much of a ski scene round there. No racing or anything like that. I didn't have any formal ski lessons or training. I just did it for the love of it."
"After school I worked at resorts, travelled, and skied. I designed my entire university curriculum so I could go skiing as often as possible. After uni I started doing free ride competitions and traveling the world. But while I was okay at competitions, and had the odd really good result, I wasn't consistent, and didn't enjoy competing that much. What I really enjoyed was doing my own thing, going on missions, and telling stories about my free riding adventures. So, I stopped competing and now I make content for outdoor brands."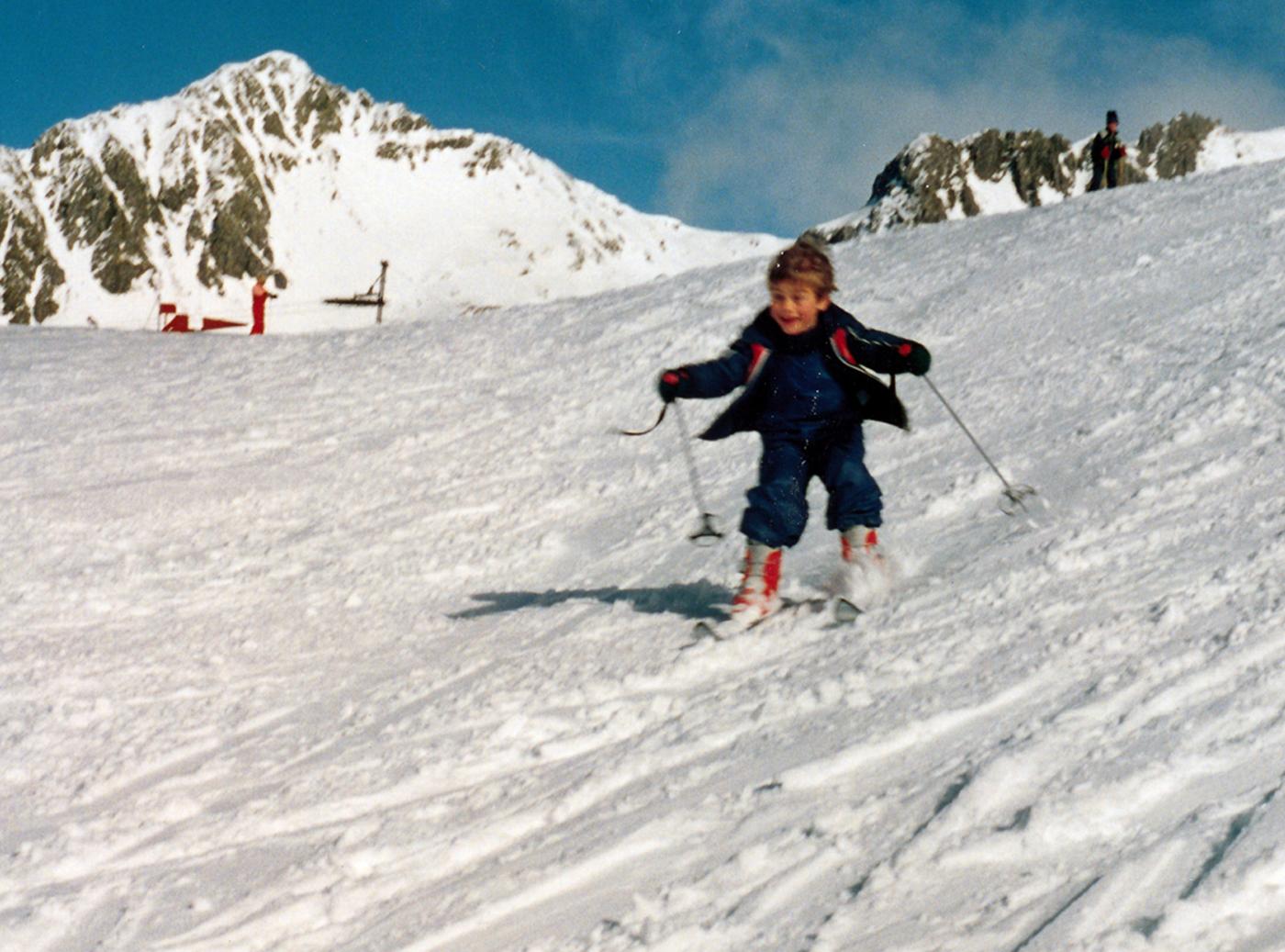 Young Pete skiing at Rainbow Ski Area. Credit John Oswald
Seeking the best alpine destination on the planet
Pete moved to Queenstown in late 2010. He'd spent a season working at the Remarkable Ski Area's terrain park and it blew him away. "The Remarkables are this hidden gem of epic world-class free riding – just incredible freeride terrain. And the other thing I loved was the Queenstown vibe. It's progressive and diverse, a really cool inclusive culture, not to mention the epic night life, although I see a lot less of that now with two young kids."
Within weeks of moving to Queenstown, Pete met fellow skier, adventurer, and artist, Sophie Stevens, who became his collaborator and wife. They began to travel together. But they kept coming back to Queenstown. Pete explains why.
"Sophie and I travelled to all these different places: Norway, Iceland, all through Europe, Canada, and the USA. The whole time we were looking for the best place to live. Our ultimate place had to have mountains for skiing, a waterfront, and a vibrant town. We compared all the places we visited to Queenstown and none of them quite stacked up. Essentially, we went looking for the best place in the world to live, and discovered that this is it."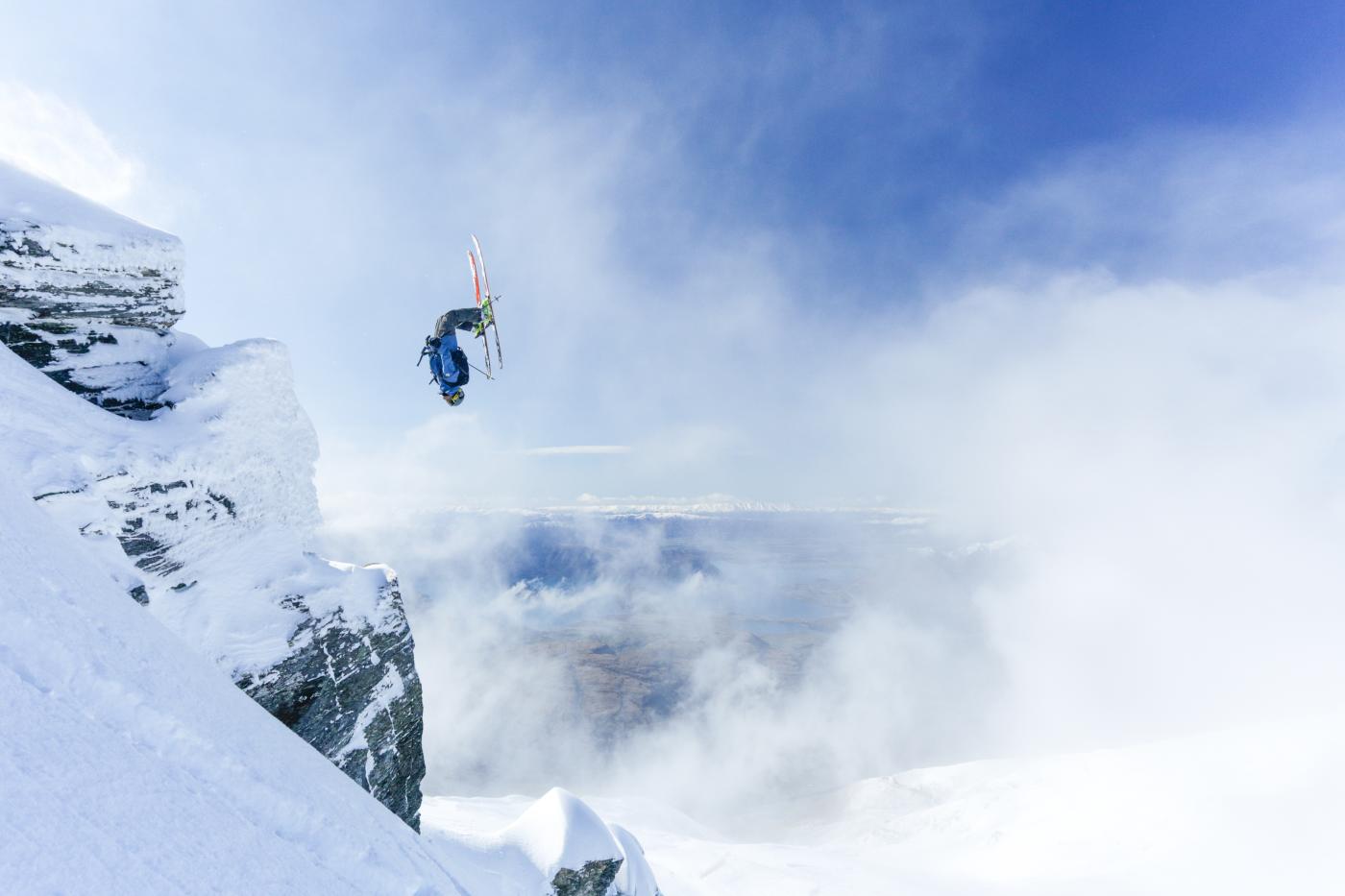 Pete at Treble Cone. Credit Dan Power
Pete's top picks for Queenstown freeride fun
Pete shares his favourite Queenstown ski spots. "I love skiing at the Remarkables Ski Area. When it's too dangerous to go out of bounds, I go to the park and it's great. The Alta Chutes are amazing. That's where the North Face Frontier is held, one of the Freeride World Qualifiers. It's considered to be one of the hardest freeride competitions in the world, and the pinnacle of competitive free riding, so that shows the level of terrain here in Queenstown."
"The best snow I've ever skied anywhere in the world has been the Alta Chutes. People don't really believe me when I say that, but it's about quality of snow, not quantity. The best thing about the Alta Chutes is that some of them are the boundaries monitored by the amazing ski patrollers, so anyone can go and ski there, if you're up for it."
"The beautiful thing about the Remarks is you've got 50-100 awesome freeride lines within a 30-minute hike. Some are within the area patrolled. but most are outside that boundary. Some of my favourite spots can be very dangerous and extremely condition dependent. I've lost a lot of friends in the mountains, and now I've a young family I've pulled back from risk taking. But an increasing number of skiers are heading out of the boundary unaware of the risks."
"There's really good camaraderie around staying safe here. The hub of that is the Remarkables Patrol. They're a friendly, extremely knowledgeable crew with an excellent culture of info sharing. They really want people to get out there, but they're all about education and ensuring you've the right info about conditions. So, if you're planning on going outside the park, go talk to the patrol first. they'll always make time to tell you what they think."
Pete skiing at The Remarkables. Credit Sean Beale
Skiing to make a difference
The individual focus of free skiing didn't always sit well with Pete. "Freeride felt like quite a selfish existence. I'd been playing with the idea of skiing to raise money to plant trees, but I didn't put it out there until winter 2020, when we launched Ski for Trees."
"The idea was to try and plant one tree for every metre I climbed skiing. I had an initial goal of planting 20,000 trees but we planted 100,000 trees that winter. We plant trees in developing countries, where the project also helps save lives through fair wage employment that lifts people out of intergenerational poverty."
Pete would get up early each day, climb Coronet Peak or the Remarkables, do a couple of laps up and down the hill, and record his metres. "I ended up climbing just over 30,000 metres. But I learned the work wasn't so much climbing the metres. It was in telling the story, spreading the word, and inspiring people to donate. It took on a life of its own. I don't log the metres I climb now, but the portal's still there for people to donate, and Ski for Trees has now planted over 145,000 native trees towards permanent reforestation"
Ski for Trees sits alongside Little Difference, a range of greeting cards and stationery designed by Sophie. Since 2015 they've been planting one tree for every product they sell, 175,000 trees and counting. Pete says, "If you want a souvenir to send home, RealNZ at Steamer Wharf sells a Little Difference card showing the steamship TSS Earnslaw with the Remarks in the background, and every one of those cards plants a tree."
If you want to give back in other ways on your visit to Queenstown, Pete has another idea. "I do encourage you to think about your impact and your carbon footprint when you visit. We donate to the Whakatipu Reforestation Trust and go to their planting days, so if you want to give back to the community in an environmental sense, they do amazing reforestation work."
Pete catching a sunrise from Coronet Peak
Pete's top tips for winter visits to Queenstown
We couldn't say goodbye without asking Pete for his insider tips on cool things to do in Queenstown in winter. "Queenstown has so much to offer in winter because it's such diverse skiing. There's something for everyone, from first-time skiers to someone at the pinnacle of their professional career. We take our friends who are on the world competition circuit free-riding here, and they're blown away. And then the ski fields are set up so well to make learning really easy for folks who've never skied before. I love night skiing at Coronet Peak too. It's a good vibe but watch out because it does get quite icy."
"But it's not just about the skiing here. You can go mountain biking all through the winter. We like to go skiing and biking on the same day. We do a big day at the Remarks, then grab the bikes, head out to 7 Mile and do jump park laps there in the late afternoon. I'd also try to get out on the lake. I really recommend the TSS Earnslaw cruise to Walter Peak and the party boats are always fun."
Pete's biggest tip is to get away into the hills and enjoy Queenstown for its natural beauty. "In the winter, the Mount Crichton Loop Track is good. You walk through native bush and see a bit of history with Sam Summer's hut. Or head out to Glenorchy. Nice winter hikes there are the Lake Sylvan Track, which goes through beautiful bush. And we do the Invincible Gold Mine Track with our kids. You only climb about 300 metres, but you get this incredible view, and there's some interesting old mining equipment on the way."
"If you want to meet the locals, Atlas Beer Café is always good. And a great bar for après ski is Altitude Brewing. A lot of locals go there and there's great yarns to be had. You'll often find the ski patrols from the Remarks having an after-work beer, and they're always up for a good chat."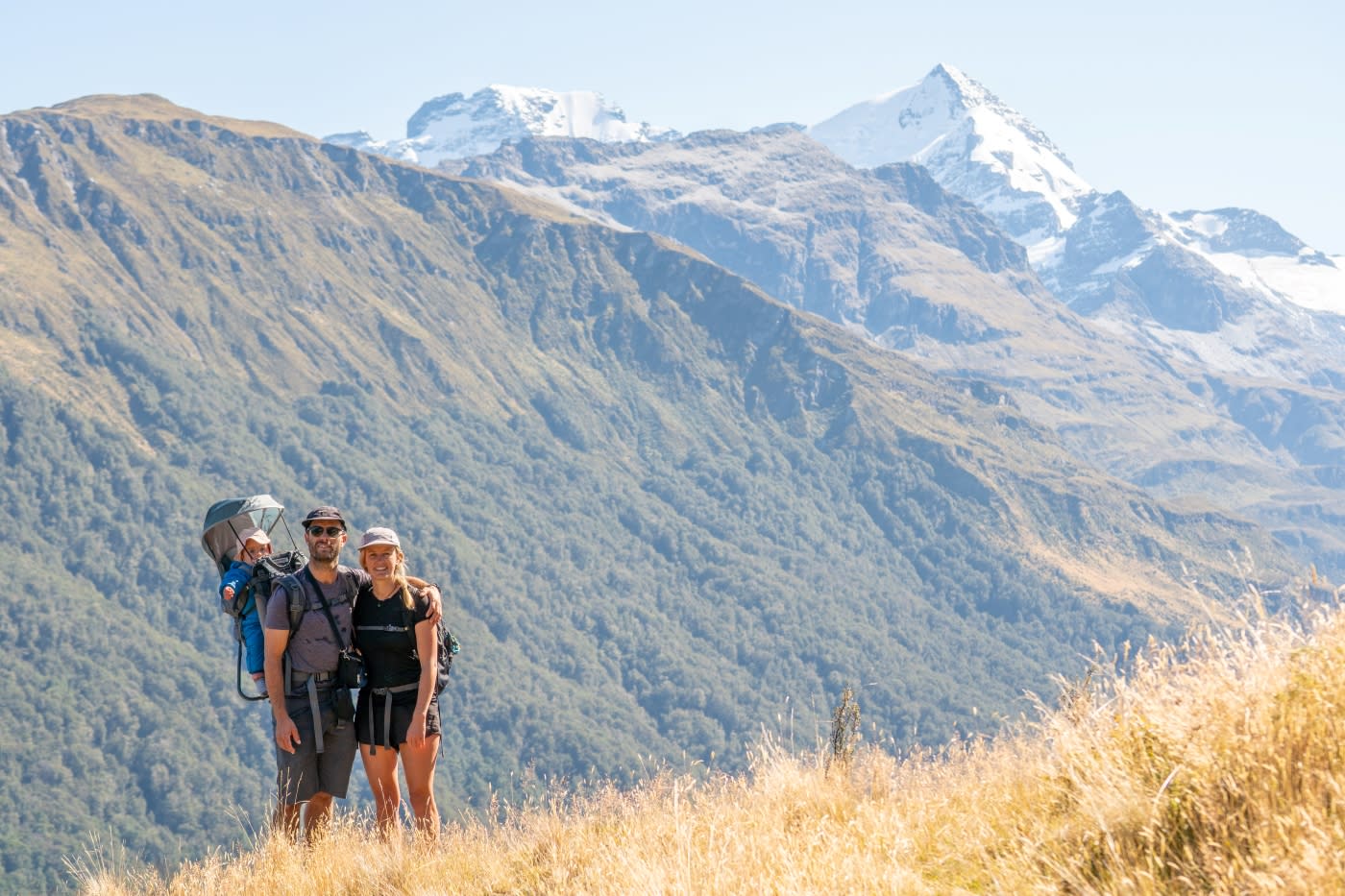 Pete and his family on the Invincibles Track. Credit Nathan Brown
Plan your Queenstown winter adventure
There are even more ideas for winter getaways in our guide to winter in Queenstown. As you explore Queenstown this winter, share your Queenstown winter adventures with us on Instagram.