A family holiday in Queenstown provides countless opportunities to safely push boundaries while creating amazing memories together, whether it's a hike to an alpine lake, a playground with a breathtaking view, or one of our many adrenaline-peaking experiences.  Here's your guide to fun family-friendly adventures to be had in Queenstown.
Getting air in Queenstown
Got a budding adrenaline junkie on your hands but not quite ready to let them jump off a bridge? Understandable!
A less nail-biting but equally fun option is available right in town at New Zealand's first and only indoor skydiving centre. Kids as young as five can step into the specially designed wind tunnel and experience the thrill of a freefall.
After a fall, fancy a zip? From the quick thrill of the Kawarau Zipride in Gibbston Valley, to a journey through the trees up Bob's Peak or out in the wilderness of Glenorchy, there are ziplining options to satisfy most ages and stages in our adventure capital.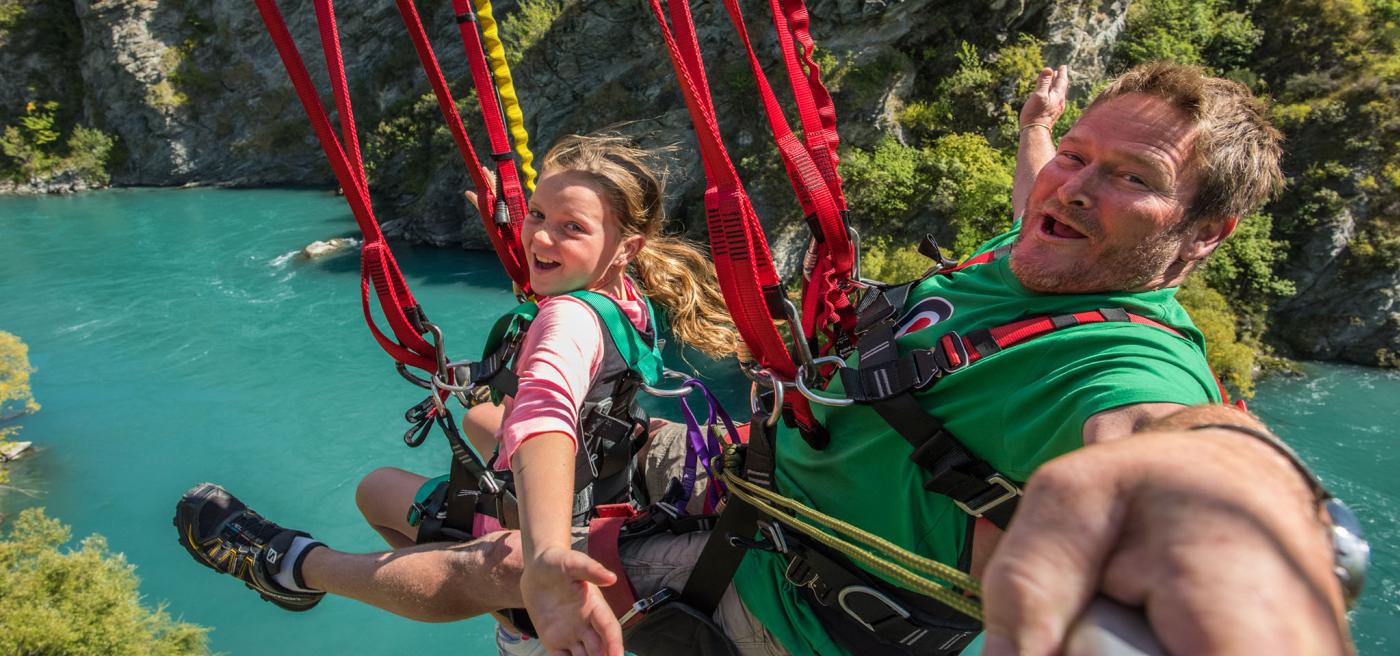 AJ Hackett Kawarau Zipline
Adventure playground with a view
The Skyline Gondola is a great way to see the town from on high - and this area of Queenstown has many amazing options for showing the kids a great time. It can also be a good place to divide and conquer if you have kids with varying adventure needs.
Head to the top of the gondola for the headquarters for Ziptrek Ecotours and the Skyline Luge. For keen mountain bikers, this is also home to New Zealand's first-ever, gondola-assisted bike park, boasting 30 world-class downhill mountain bike trails, totalling over 450 metres of vertical descent!
Back at the base of the gondola is iFly indoor skydiving and the Kiwi Park with its amazing array of native wildlife including tuatara and kiwi. This is an excellent spot for a more low-key wander through native bush with the younger members of the tribe.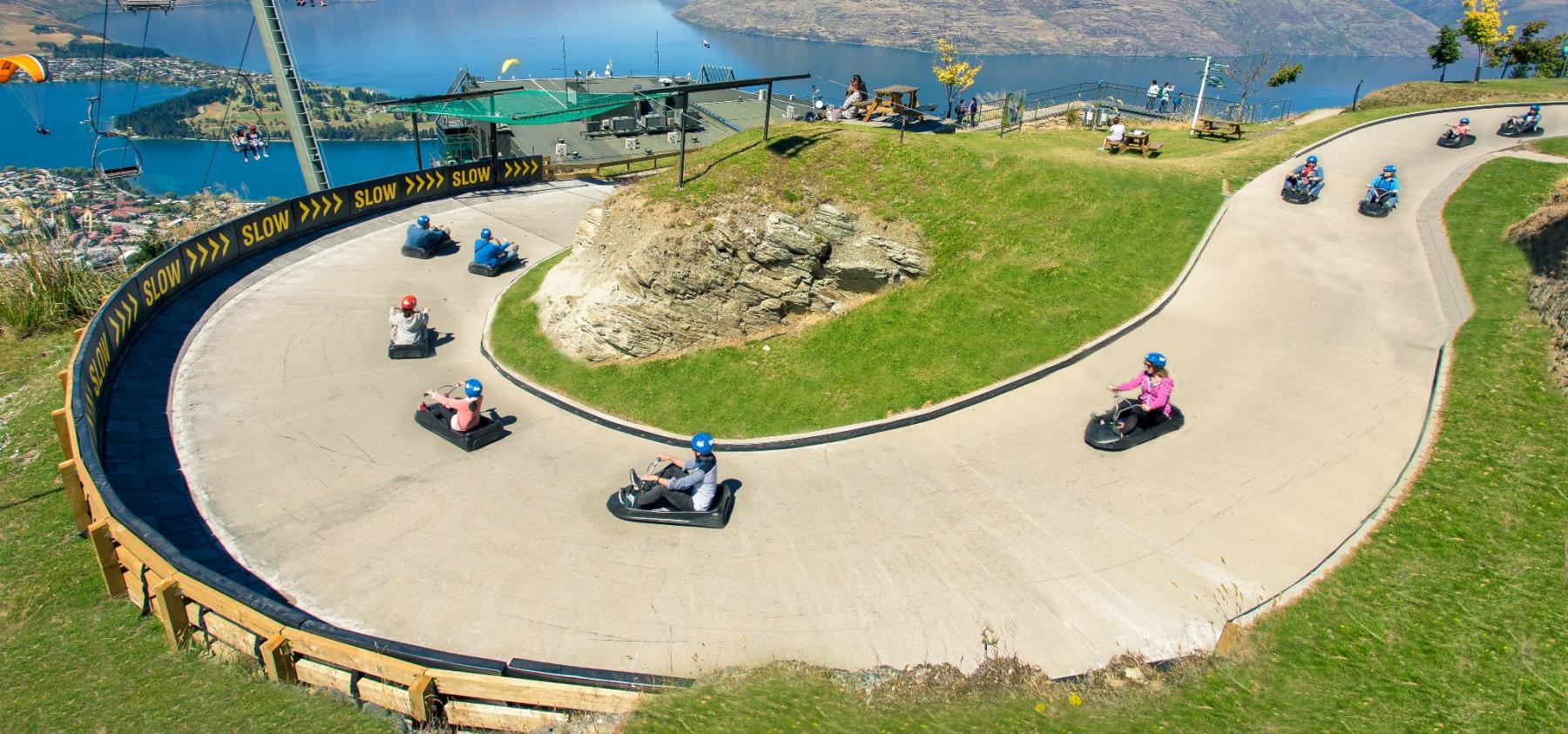 Skyline Queenstown Luge
Queenstown's water-based experiences
No trip to Queenstown is complete without getting out on the water, whether it's a peaceful journey in our old lady TSS Earnslaw - or something a bit quicker!
The first-ever commercial jet boating operation was born here sixty years ago and the thrills haven't dwindled since! With 360 degree turns and breathtaking speeds, a jet boat ride is a great family adventure that can be taken right from the lakefront downtown. On the same wharf, other adventures include the Underwater observatory and Time Tripper, a a state-of-the-art animated show about the creation of the Wakatipu.
Also launching from the downtown wharfs, kids can't go past the Hydro Attack! This shark-shaped, semi-submersible watercraft leaps, dives and rolls around the lakefront, leaving its passengers with a truly unusual story to take home to their classmates.
A little further afield in the wilderness of Glenorchy, friendly expert guides at Funyak can take the whole family up the Dart River in a jet boat, then gear everyone up for the journey back downstream in specially designed inflatable kayaks, taking in the unique flora and fauna of this UNESCO World Heritage site on the descent back to the headwaters of Lake Wakatipu.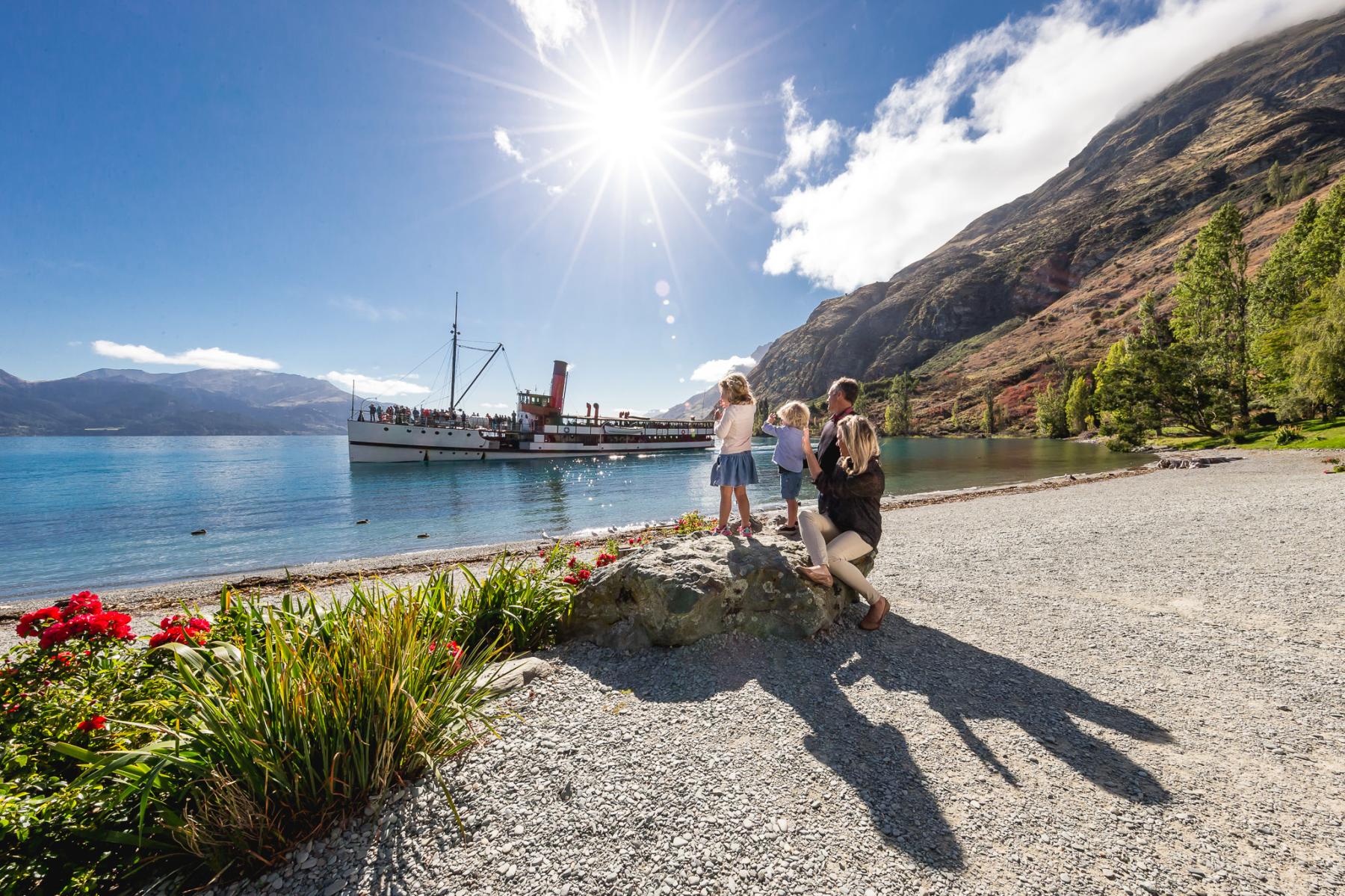 TSS Earnslaw at Walter Peak
Free things to do with kids in Queenstown
For those on a budget, Queenstown is a goldmine of fabulous free activities.
Take a drive to the new subdivision of Hanley's Farm, with its breathtaking backdrop of the Remarkables, and visit the adventure playground complete with a full-size pump track for skaters and bikers.
Downtown, the lakefront playground (handily located next to the Bathhouse for parental caffeine needs), is truly unique, with a stream rolling through it, bridges and climbing structures that will keep the kids busy for an entire afternoon. And at the adjacent Queenstown Gardens, a frisbee golf course will keep teenagers out of your hair too!
There are many day walks and strolls all around Queenstown, from the easy Arrow River loop with its old Chinese mining settlement, to the slightly more challenging but equally beautiful three-hour stroll around Moke Lake on the road to Glenorchy. Or why not head up The Remarkables and hike to the pristine Lake Alta?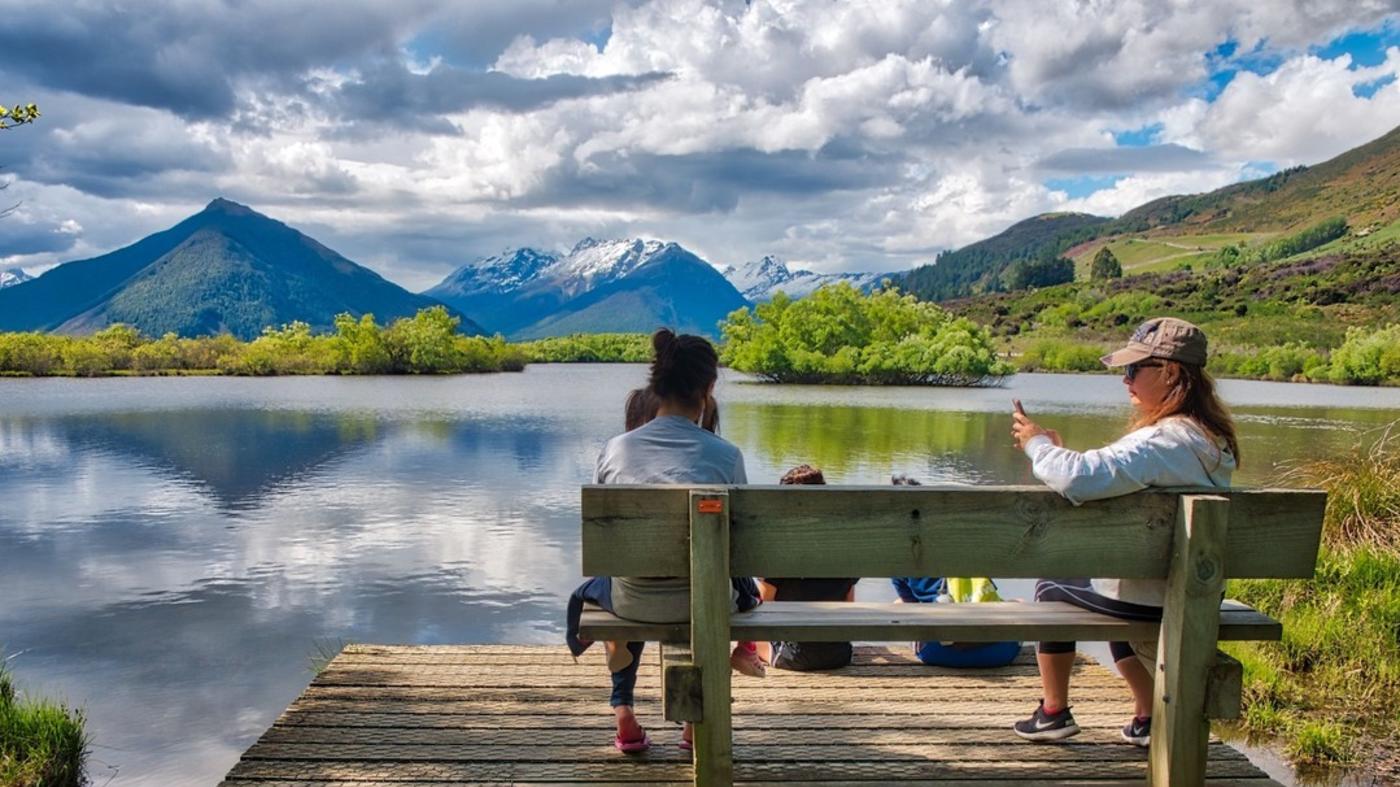 Family walks in Glenorchy. Credit: @lostinresfeber on Instagram
Wet weather options in Queenstown
If rain spoils your plans, never fear, Queenstown has indoor activities for all ages.
Why not let them climb the walls at our indoor climbing centre, or get their jump on at the trampoline park in Frankton?
There's nothing like some healthy competition on the racetrack or the laser strike course at Game Over, try a round of paintless paintball and VR games at Thrillzone, or take flight indoors at iFLY.
For the water babies in the family, the local swimming pool complex boasts a lazy river and two speedy hydroslides. And for those who like to test their limits, try the Odyssey Sensory Maze or let them get scared silly at Fear Factory!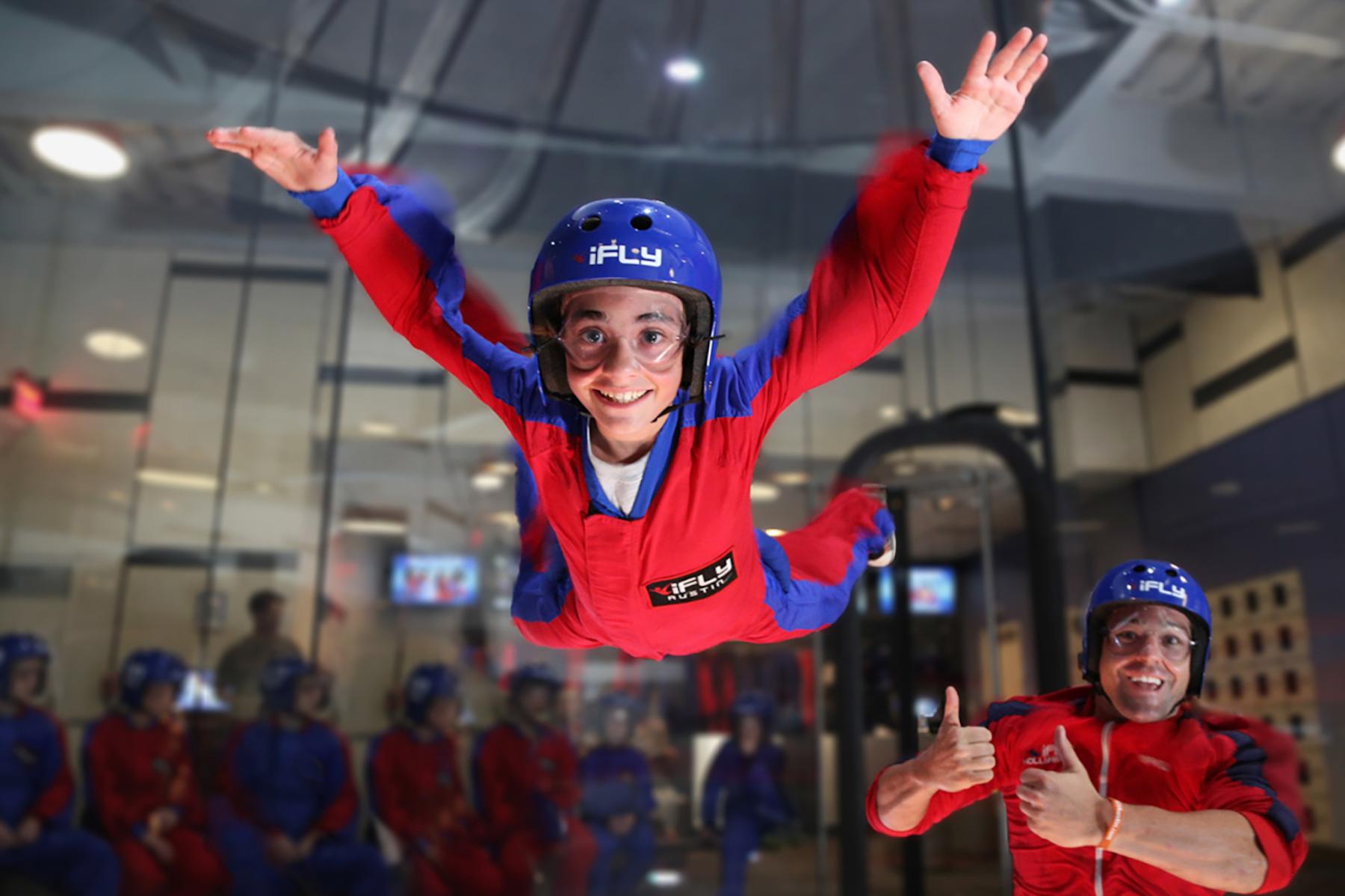 iFLY Indoor Skydiving 
For more family fun activity ideas, check out local family travel guide, Kidz Go Queenstown, on their website or app.