Glenorchy Brew Co.
At the head of Lake Whakatipu, the Glenorchy Brew Co brew beers with water from the nearby mountains and glaciers – now, you can't get much more refreshing than that!
This under-the-radar micro-brewery uses New Zealand and American hops to create easy-drinking mountain ales, red IPAs, pilsners and a "mountain twist" on the classic Munich helles lager.  
You can stock up at The Headwaters Eco Lodge – an eco-retreat named by TIME magazine as one of the world's greatest places of 2019, and a great place to camp if you've tasted a beer or two and don't want to drive back to Queenstown.  
Altitude Brewing
Altitude brews for the adventurous and it's easy to be inspired with these views – the brewery and tap room looks across the lake and mountains. Whilst there is parking nearby, the best way to find the brewery is by walking (or cycling) along the beautiful Frankton Track. It's right next to the brand new marina and Altitude has quickly turned this scenic spot into a craft beer destination.
It was founded by Eliott Menzies in 2013, back when there were no craft breweries in the Whakatipu region. The idea whetted the appetite of business teacher, Eddie Gapper, so much so that Eddie gave up teaching for a career in beer.
"We're both in Queenstown because of the mountains and adventure," says Eddie, "the Altitude Brewing journey has been one giant adventure for us all. We had no idea it would end up like this!
"We've become known for our Mischievous Kea IPA, a multiple gold medal-winning beer, and having the best view out of any roller-door in the country…"
The team has steadily climbed the ranks of craft brewing in New Zealand. Their award-winning hefeweizen beer dubbed 'Persistent High' is a must-try if you're after something a bit different. As well as in bars and restaurants across Queenstown, you can find Altitude beers in all good liquor stores and supermarkets.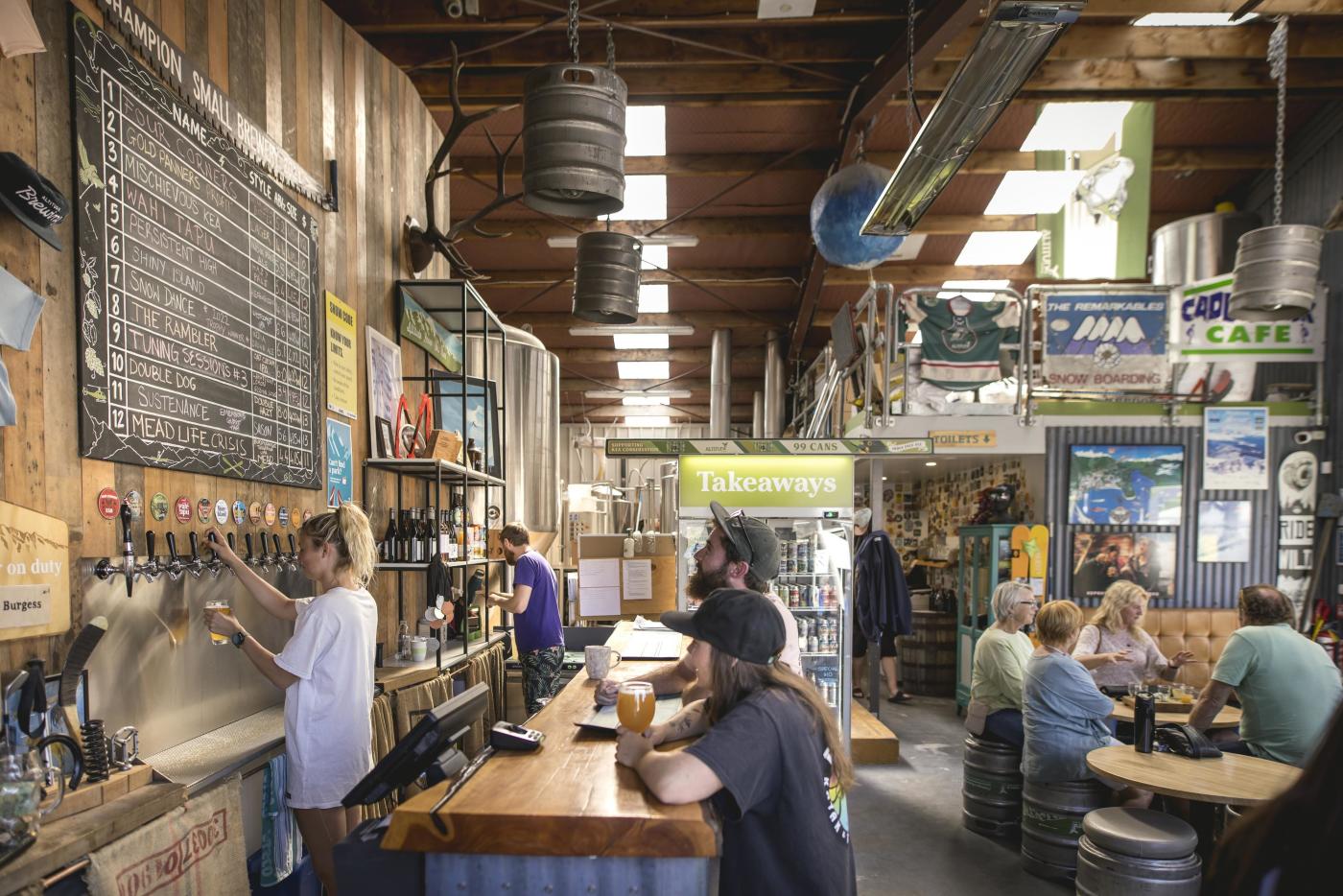 Altitude Brewery
Canyon Brewing
Canyon Brewing is another Queenstown craft beer favourite and home to one of New Zealand's most scenic beer gardens. This micro-brewery and restaurant crafts all its beer onsite, and if you peer in through the brewery doors you'll see head brewer Kit Clinton-Baker and his team hard at work. Kit truly embodies Canyon's motto - beer for the bold - constantly creating exciting beers based on what's currently in season.
"While we're certainly making a name for ourselves with our tasty hazzies, I'm very passionate about working collaboratively with local farmers and suppliers in the Central Otago region to produce new brews that truly push the boundaries of what beer can be."
Canyon Brewing is located in Arthur's Point next to the Shotover Jet base, a ten minute drive from downtown Queenstown. 

Canyon Brewing, Arthur's Point
Lake & Wood
Anna Kerslake (Lake), Jay Sherwood (Wood), Sam Gill, Sam Gruar and Penelope Johnson are the passionate people behind Lake & Wood Brew Co located in Arrowtown.
What started in the corner of a mate's shed has become a small-scale brewery that's big on taste. Sip a beautifully tart and floral hibiscus sour or try their unfiltered pilsner that's a homage to the region's pristine lakes and rivers.
Small brewery tours are available and the full range of beers is served at another Arrowtown favourite – Slow Cuts restaurant, which specialises in meats cooked low and slow.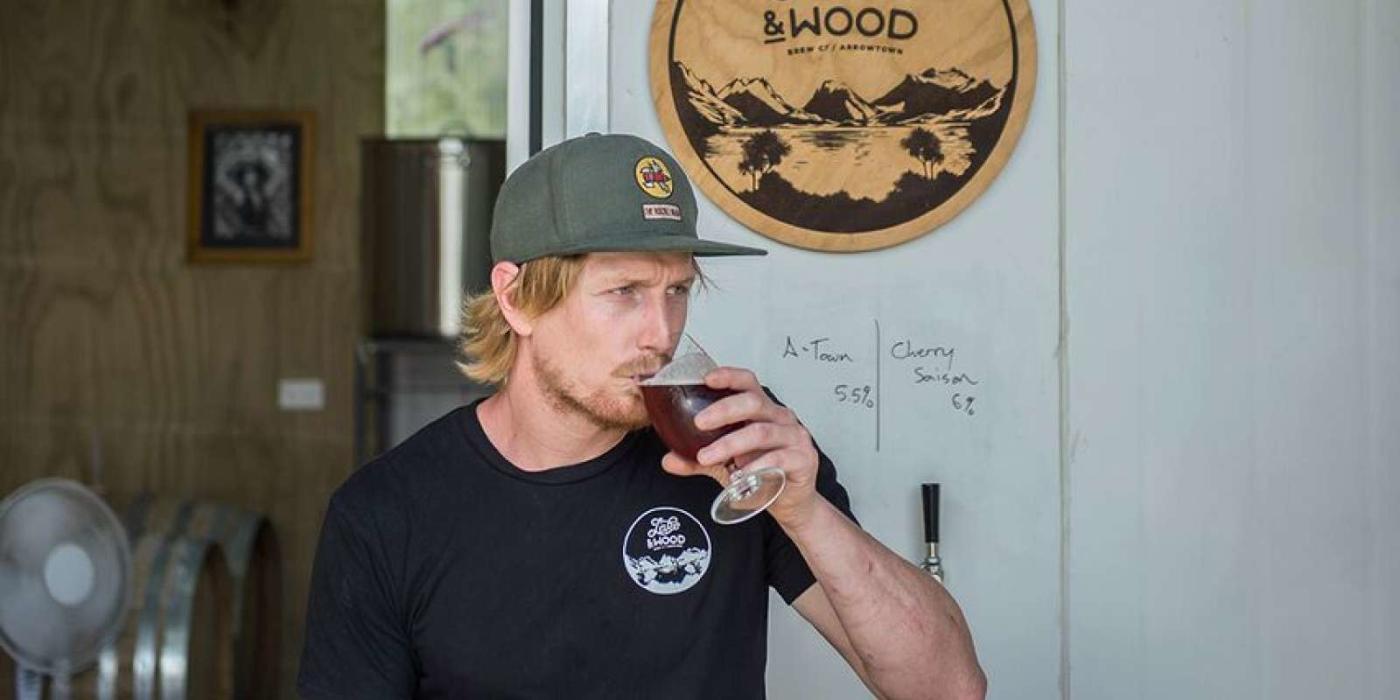 Jay Sherwood, Lake & Wood
Searchlight Brewery
This hidden gem is well worth seeking out if you love craft beer and with a motto like 'search, seek, evolve' you know you're always going to find something creative and new on their 18 taps. This independently owned and operated brewery started as the passion project of head brewer and founder Lewis Gaskin but has quickly become a best kept local secret.
Big things are on the horizon for Searchlight with the addition of a new head brewer, Steve Woods, and their new range of cans set to launch in the coming months. Head on over for an easy-going Session Hazy Pale Ale and keep your eyes peeled on their socials for the can launch.
Searchlight Brewery is located in Queenstown's industrial area, a five minute drive from downtown Queenstown.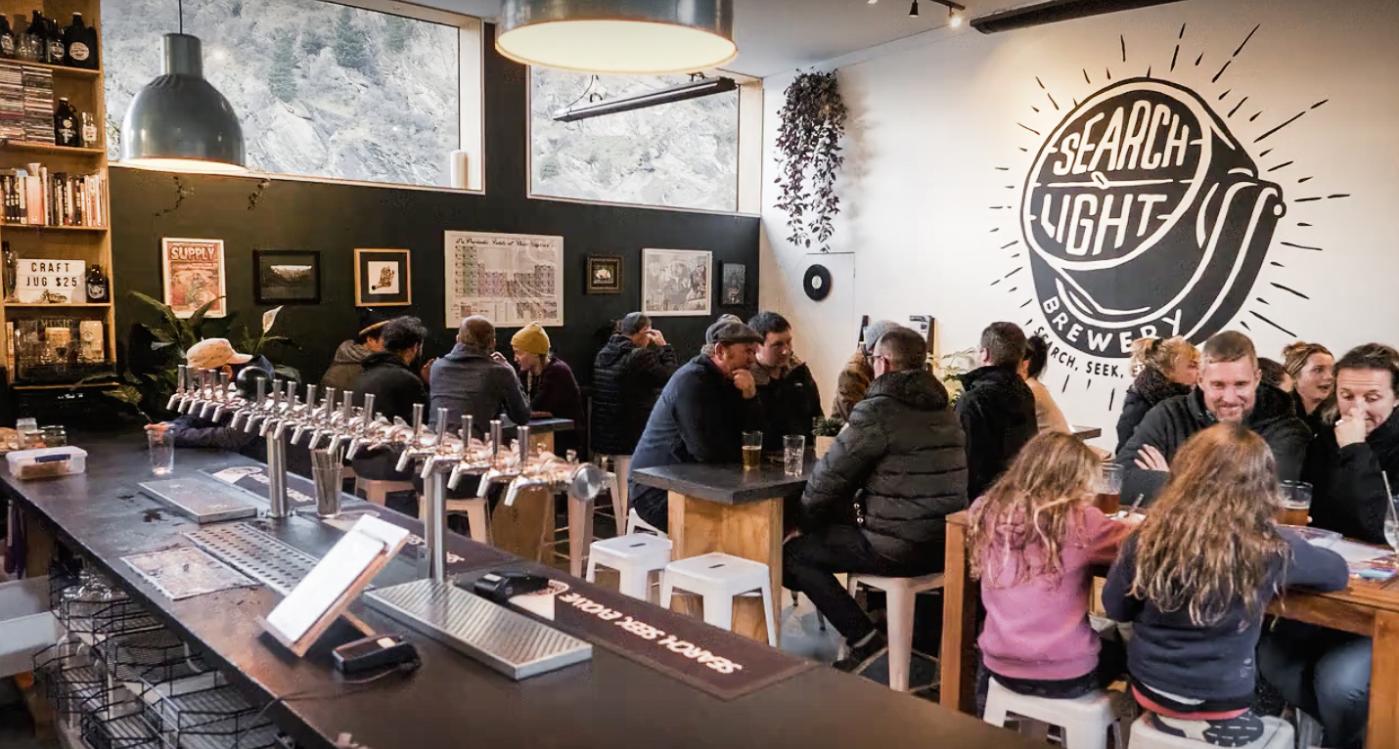 Searchlight Brewery
Whakatipu Brewing 
Right in the heart of downtown Queenstown you can get your hands on a freshly brewed, craft beer at Whakatipu Brewing. Displaying a range of beers to cater to everyone's palates, including some interesting seasonal brews.
Pop down to their brew-pub located on Beach Street to try their Sundown Hazy – it's "juicy and hazy… which sums up the Queenstown lifestyle and sums up this low bitterness hop bomb" says Dan the brewer, "the Hazy is bursting with citrus flavour – think pineapple, passionfruit and guava. It's a delicious hoppy brew that can match the meatiest, richest burger you can throw at it".
Whakatipu Brewery has a stand out menu – choose between burgers, delicious pub-style meals, shared snacks, desserts and more.
Whakatipu Brewing
The Arrowtown Brewing Co.
A photographer, a musician and a Knight of the Realm… walk into a bar, and walk out with a great idea.
No, it's not a joke, this is how an unlikely trio started Arrowtown Brewing. Photographer Michael Thomas, The Exponents bass player Dave Gent and Navman founder and businessman, Sir Peter Maire have dreamed up four beers that can be found across Arrowtown. The idea was born in Arrowtown's Fork and Tap, a cosy pub in which to sit with a local beer and dream up your own unlikely adventures.
There's a tasty IPA that's light on the malt with a touch of tropical flavours and a 'Sawpit Pilsner', inspired by an Arrowtown hike that's sweet… with some moments of bitterness. You can try the range at the Fork and Tap, or at any good bar or restaurant in Arrowtown.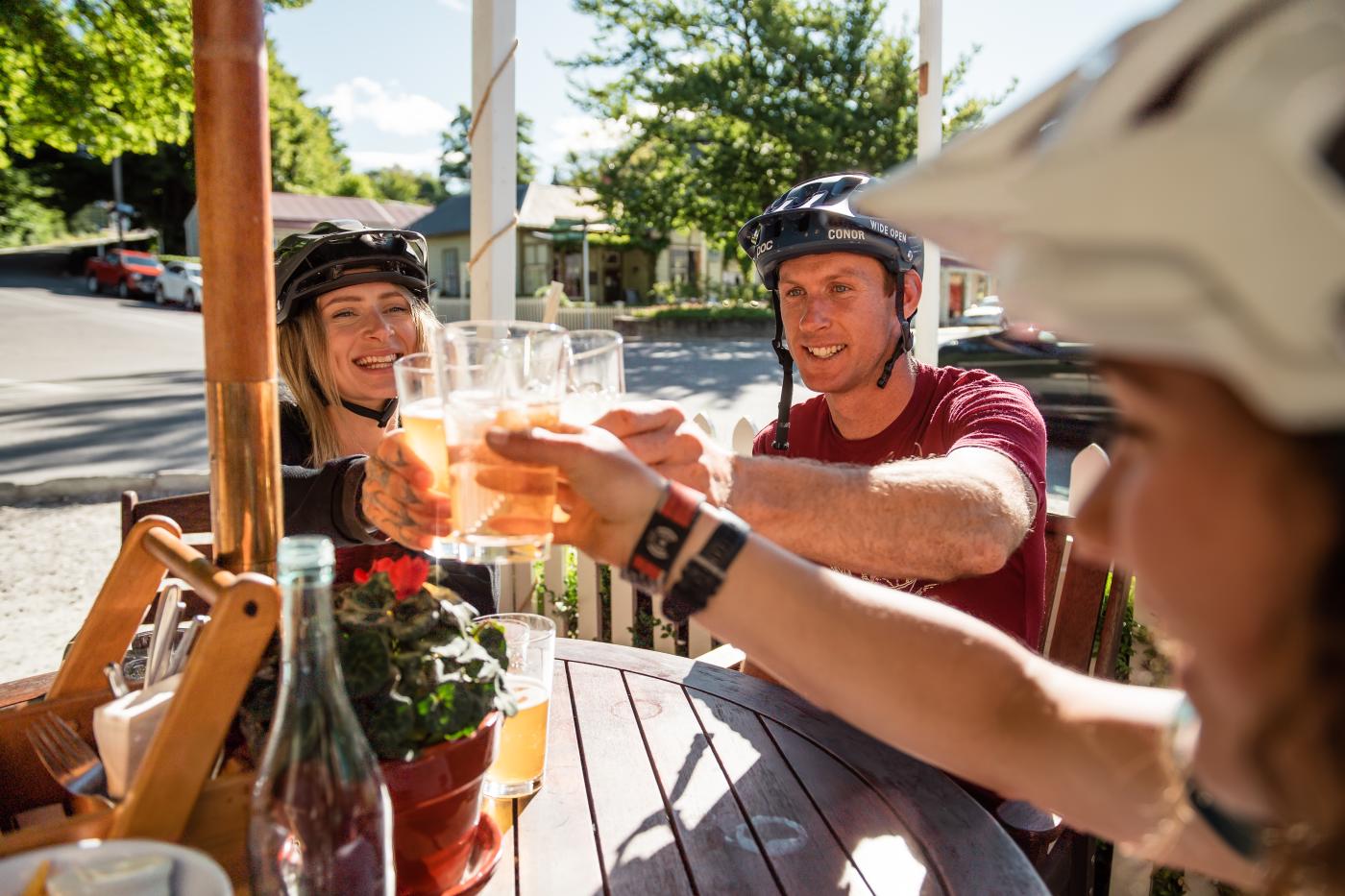 Post-ride craft brews at Fork & Tap
Where to sample craft beer in downtown Queestown
There's more than you'd expect to Queenstown's craft beer scene. If you don't know where to start that's where our local craft beer houses come in. While only some of Queenstown's best craft beers are available at supermarkets, almost all can be found in the craft beer houses.
Atlas Beer Café has long been a favourite and a champion of everything cool and refreshing. Situated on the lakefront in central Queenstown, this small bar is a big supporter of everything local. You'll find good vibes, a selection of regular and seasonal craft beers and quite possibly New Zealand's best stake and chips here.
Smiths Craft Beer House is another must for beer lovers. They serve a wide range of New Zealand's beers and the team are happy to guide you through the best of the local craft brews. Order a plate of pulled pork loaded fries and settle in for a craft beer adventure. Stick around for an unusual array of local events from comedy to painting classes.
Beech Tree is a laid-back local joint which welcomes beer lovers and their four-legged friends. As well as 23 taps of rotating local craft beers, locals love it for the regular games nights and as a sweet spot to watch all the big sports games.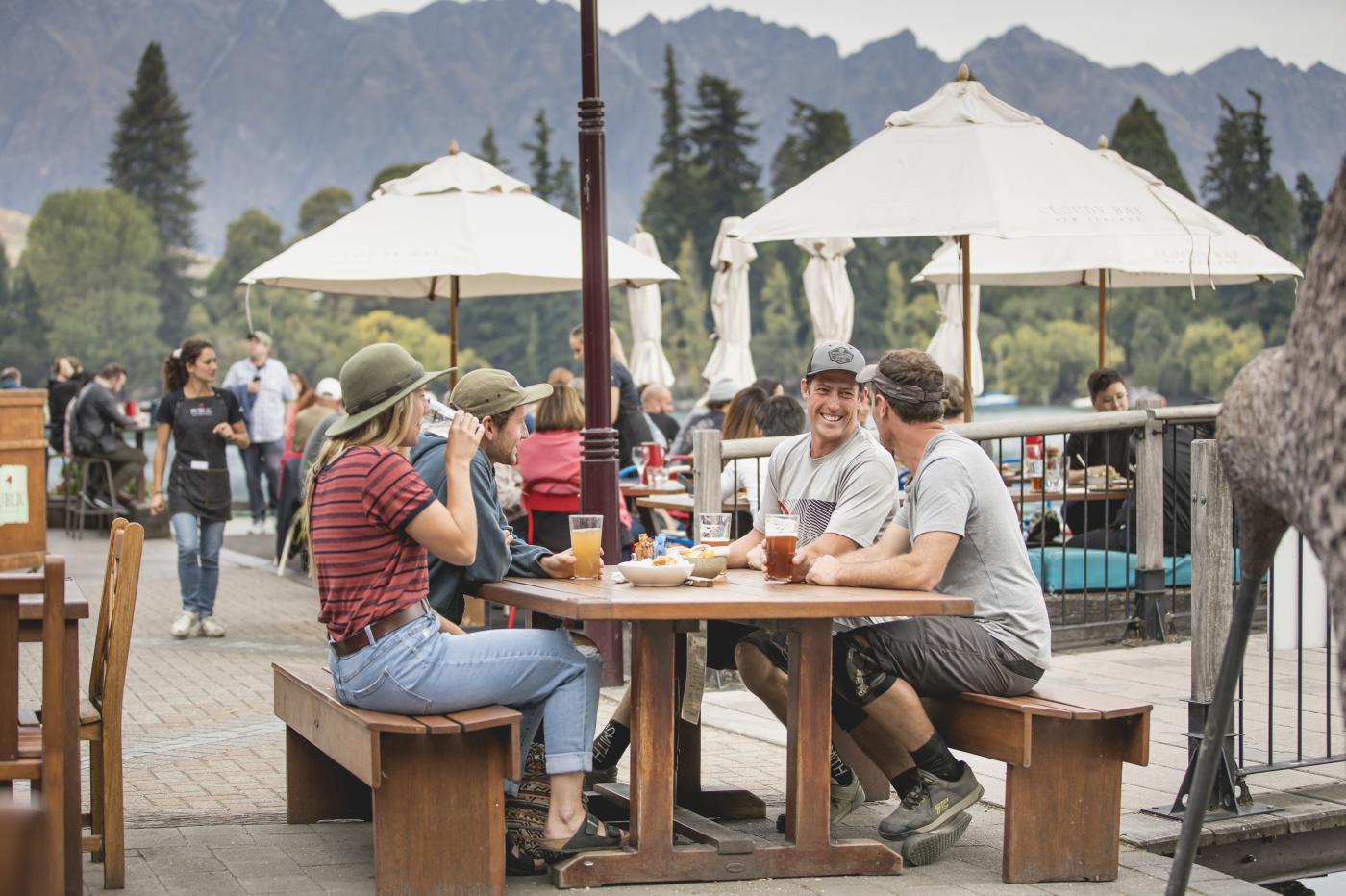 Atlas Beer Cafe
Craft Beer Tours
If you want to get a great taste of the region's breweries with the added touch of an insider's opinion, hop on a craft beer tour. These local beer aficionados will guide you to the best craft beer in Queenstown – and do the driving.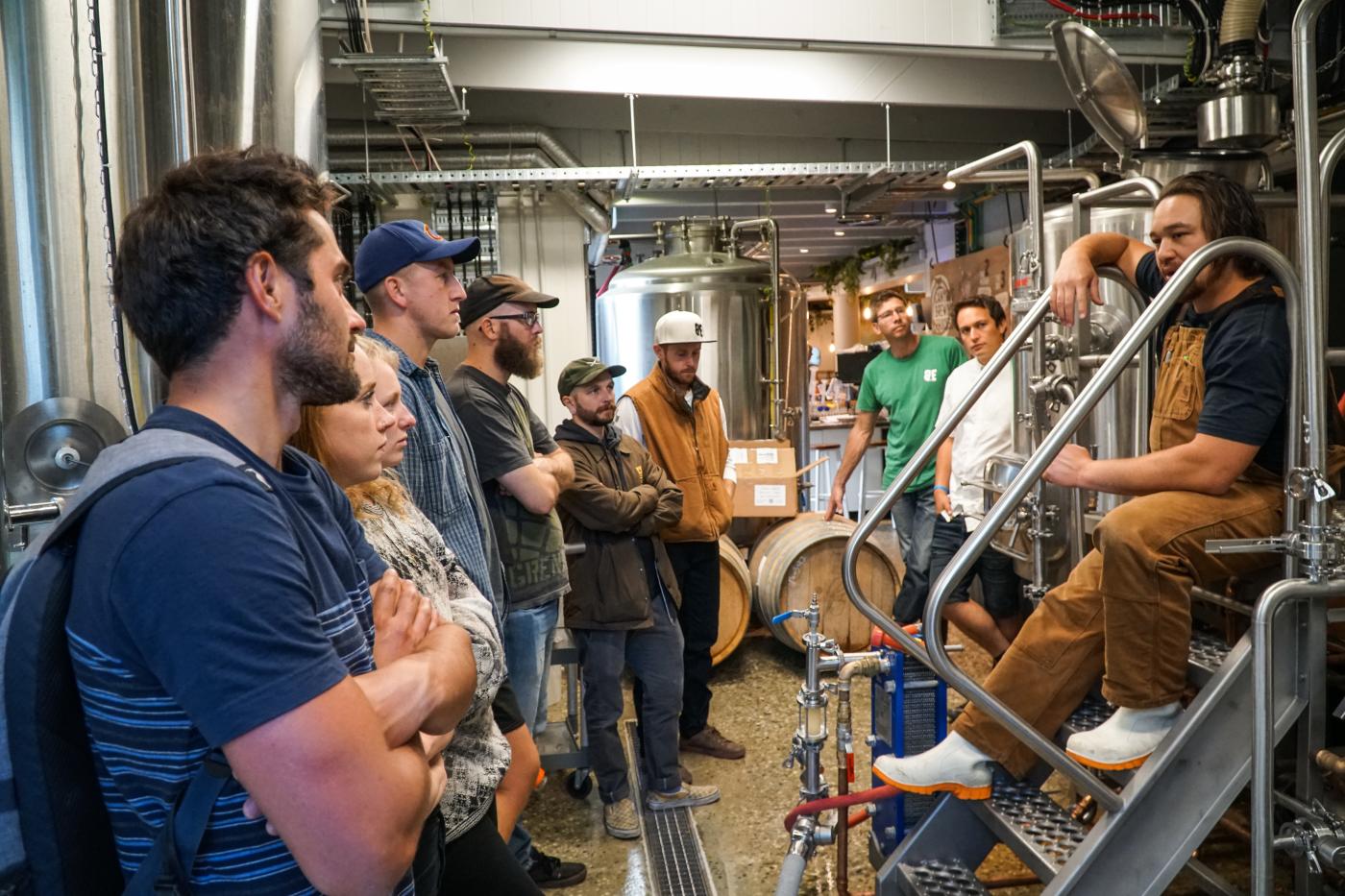 Queenstown Beer Tours