Rivers of Gold at Nugget Point
Where: 146 Arthurs Point Road, Arthurs Point, Queenstown
Services: Spa, massages, facials, waxing and threading, brows, lashes and nails
Perched above the Shotover River, near Coronet Peak, Nugget Point has taken the Roman spa experience and updated it with a serious dose of twenty-first century luxury.
Queenstown spa connoisseurs keep coming back to Nugget Point for its remarkable combination of superb massage and beauty treatments, decadent spa, and treatment rooms with panoramic views of the surrounding mountains and river. Scenic outdoor hot tubs allow you to immerse yourself more in the beautiful natural surroundings. 
Enthusiasts rave about exquisite attention to detail, divine massages, and luxurious facial treatments. Nugget Point's popular signature package Rivers Of Gold includes a body brush, exfoliation, nourishing body mask and wrap followed by a full body massage and facial.
All treatments give you access to the Nugget Point spa, with its saltwater plunge pool, marbled bath, steam room, sauna, hot tub and rose mosaic rain showers. After your spa and treatment, enjoy your new-found zen in the relaxation area, while enjoying food from The Point Restaurant and Bar and a cup of delicious blood orange tea.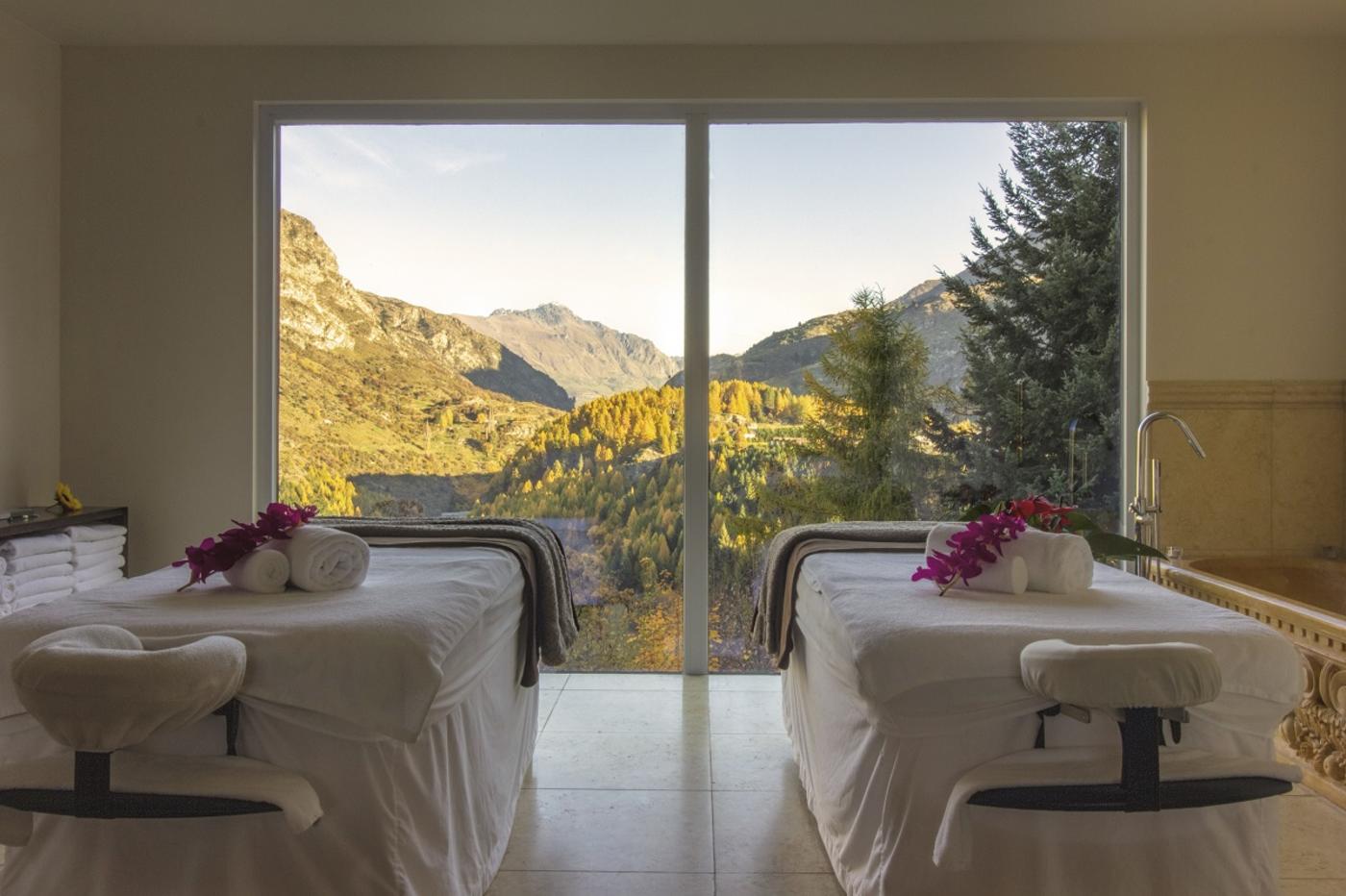 Nugget Point Spa
Mānuka honey facial at Body Sanctum
Where: Level 1, 10 Athol Street, Queenstown
Services: Massage, facials, body treatments, and beauty treatments
Multi-award-winning Queenstown day spa, Body Sanctum specialises in delectable massages. Their treatments include their mountain menu of remedial massages for skiers and hikers, couples' massages and couples' spa packages, reflexology and hot stone massage. They'll even come to you, with their mobile massage service.
But the other treatment everyone raves about is their hydrating mānuka honey facial. A relaxing and nourishing treatment, the facial includes a deep cleanse, exfoliation, a warm mānuka honey masque, moisturisers, and a soothing scalp massage. Enthusiasts describe it as "liquid gold," and a guaranteed go to for gorgeous glowing skin.
Body Sanctum's Peace and Quiet package includes a full body relaxation massage followed by the mānuka honey facial, for those struggling to choose between a massage and facial.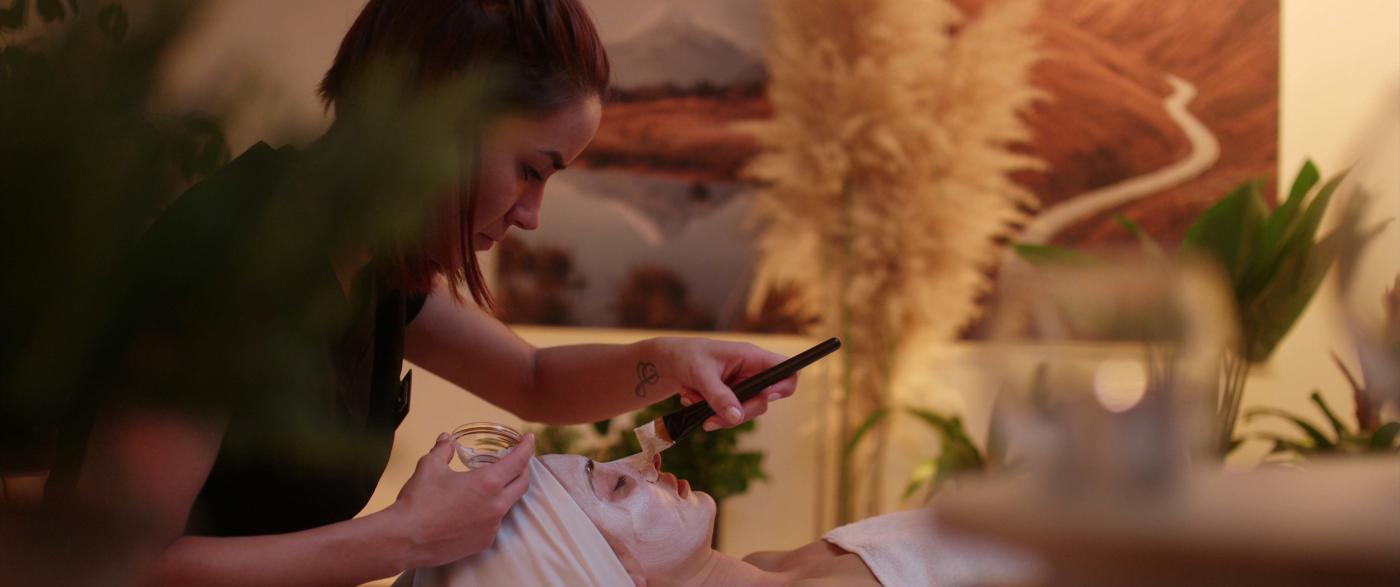 Facial at Body Sanctum Day Spa
Soak under the stars at Onsen Hot Pools
Where: 162 Arthurs Point Road, Arthurs Point, Queenstown
Services: Hot pools, massage, facials
When a spa cleans up at the World Luxury Spa Awards in 2018, 2019, 2020, 2021 and 2022, you could be forgiven for rolling your eyes and going, "come on, they can't be that good." But Onsen Hot Pools really are that good and more.
A stunning spot for soaking aching muscles after hiking or skiing, the Onsen Hot Pools are nestled on the mountainside above the Shotover River. As you relax in the cedar-lined hot tubs, you have breathtaking views of the valley below. Enjoy the changing moods of the mountains, and spy jetboats careening past on the river.
Beautiful at any time of day, locals' favourite time to go is at dusk, where you can watch the sun go down, and the mountains slowly become silhouettes as the stars blanket the sky.
Be sure to book in advance. While Onsen is famous for its tubs with a view, they also offer spa treatments in a tranquil day spa. The Serenity Soak and Spa experience combines a scented soak in a private hot tub, with a face or body treatment of your choice. Insiders recommend the hot stone massage as the perfect partner to your soak. Your skin will feel amazing afterwards.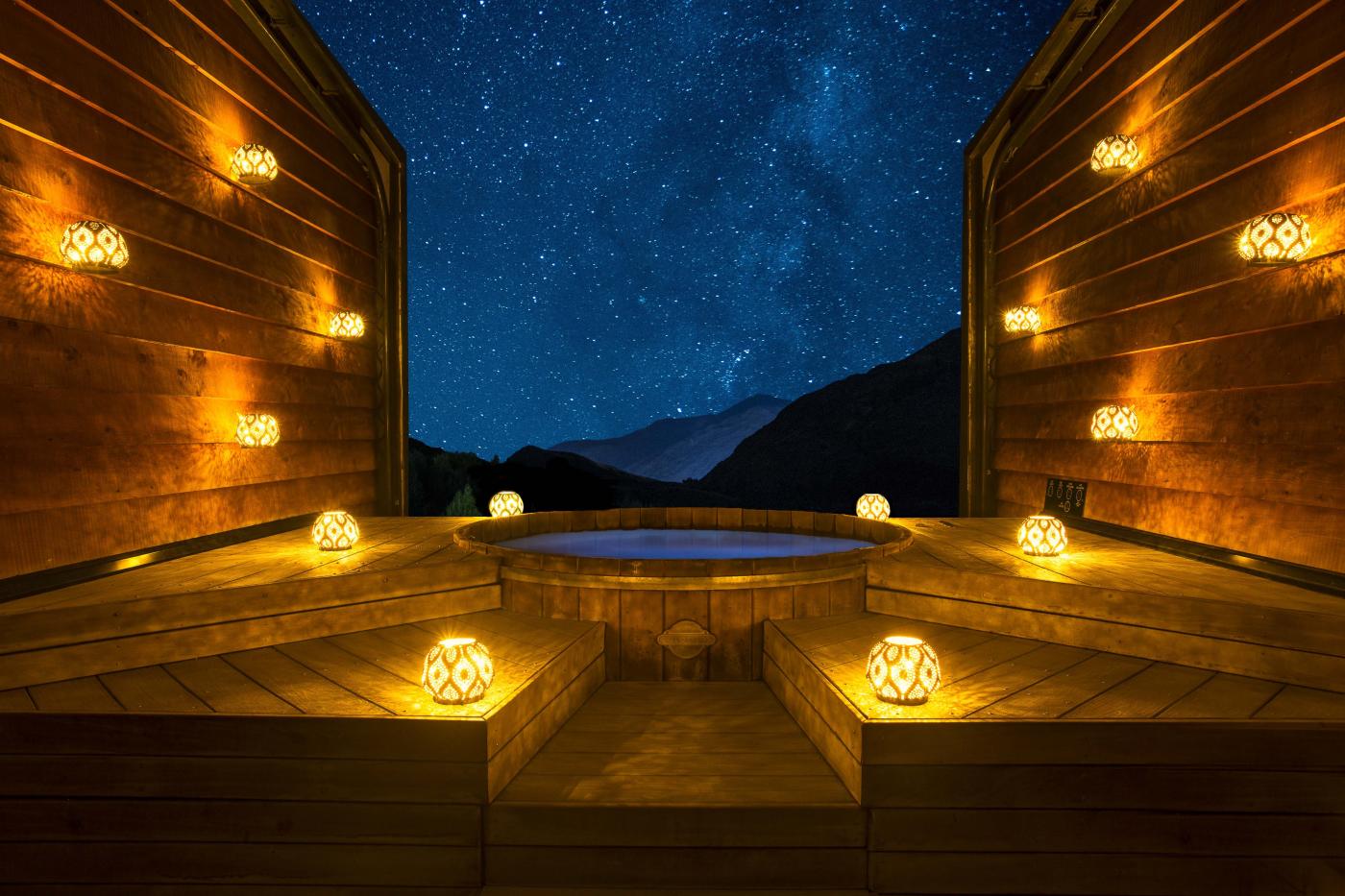 Onsen Hot Pools by night
Thousand Flower Detox Wrap at Millbrook Spa
Where: Millbrook Resort, 1124 Malaghans Road, Arrowtown
Services: Pool, hot tubs, massage, facials, body treatments, waxing, brows, lashes and nails
The Spa at Millbrook is set in a beautiful villa on the hotel grounds, a wonderful place to relax during your Queenstown adventures. The setting is beautiful and serene, the service is warm and welcoming, and the treatments are divine. Booking a treatment at the spa also gives you use of the swimming pool and hot tubs.
Their intriguing treatments include the Thousand Flower Detox Wrap by Elemis. Omega-rich green tea seed oil is massaged into the skin, followed by an earth wrap enriched by Somerset soil, which is packed with tree, flower and grass-rich nutrients, along with pollen grains rich in vitamin B. This treatment helps stimulate the elimination process and restore equilibrium.
Millbrook Spa also offers the Vichy Hydro Bliss treatment, a whole-body water massage designed to increase blood circulation, hydrate the skin and soothe the nervous system.
Once your treatment is over, you're led into the lovely relaxation room, a tranquil space with comfortable seating and beautiful views over a stream flowing through native bush. Enjoy the quiet music and the sound of running water through open windows in summer, while you sip a refreshing tea.
Millbrook was voted New Zealand's best spa at the World Travel Awards five years on the trot, as well as taking out New Zealand's top spa in the World Spa Awards, the World Luxury Hotel Awards, and the World Luxury Spa Awards. You're in good hands.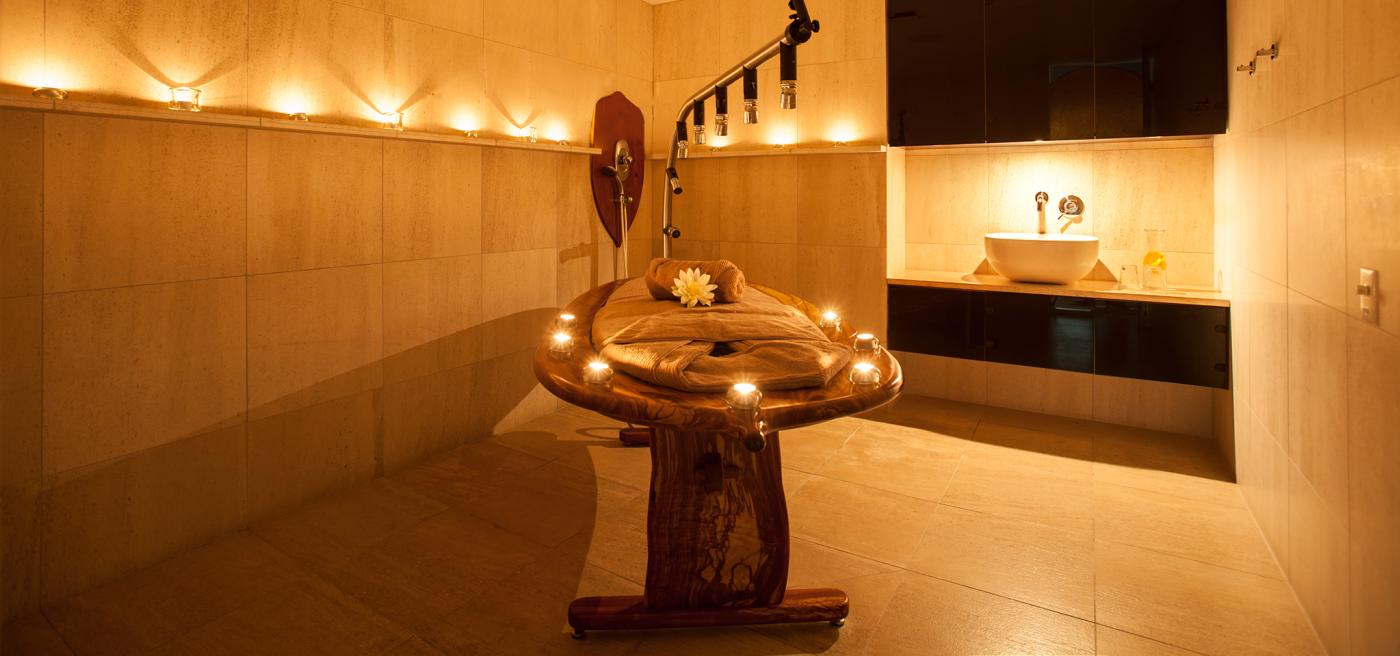 The Spa at Millbrook vichy bed
Aroha Goddess Escape at eforea Hilton
Where: Kawarau Village, 79 Peninsula Rd, Queenstown
Services: Pool, hot tubs, sauna, steam, massage, facials, body treatments
Hilton Queenstown's eforea spa's extraordinary Aroha Goddess Escape includes a full body aromatic massage with a back exfoliation and a full facial. The unique thing about this treatment is its use of locally mined rose quartz crystals sourced from historic gold mines, thought to enhance peace, healing and comfort.
Eforea's spa manager explains that the stone boosts positive energy and supports the heart chakra, symbolising unconditional love.
Whether or not you subscribe to the healing power of crystals, the Aroha Goddess ritual is a delightfully unique experience. Rose quartz paddles are used to massage your face, said to help drain fluids and flush out toxins. Another rose quartz is placed on your chest to help drain toxic energy and negative emotions.
Crystal enthusiasts will be pleased to know the spa team treat their crystals with great respect and practice a cleansing and recharging ritual, placing the crystals under a full moon to eliminate negative energy and restore purity.
As part of your treatment, you're welcome to use the indoor heated pool, hot tub, saunas and steam rooms, as well as the hotel fitness centre.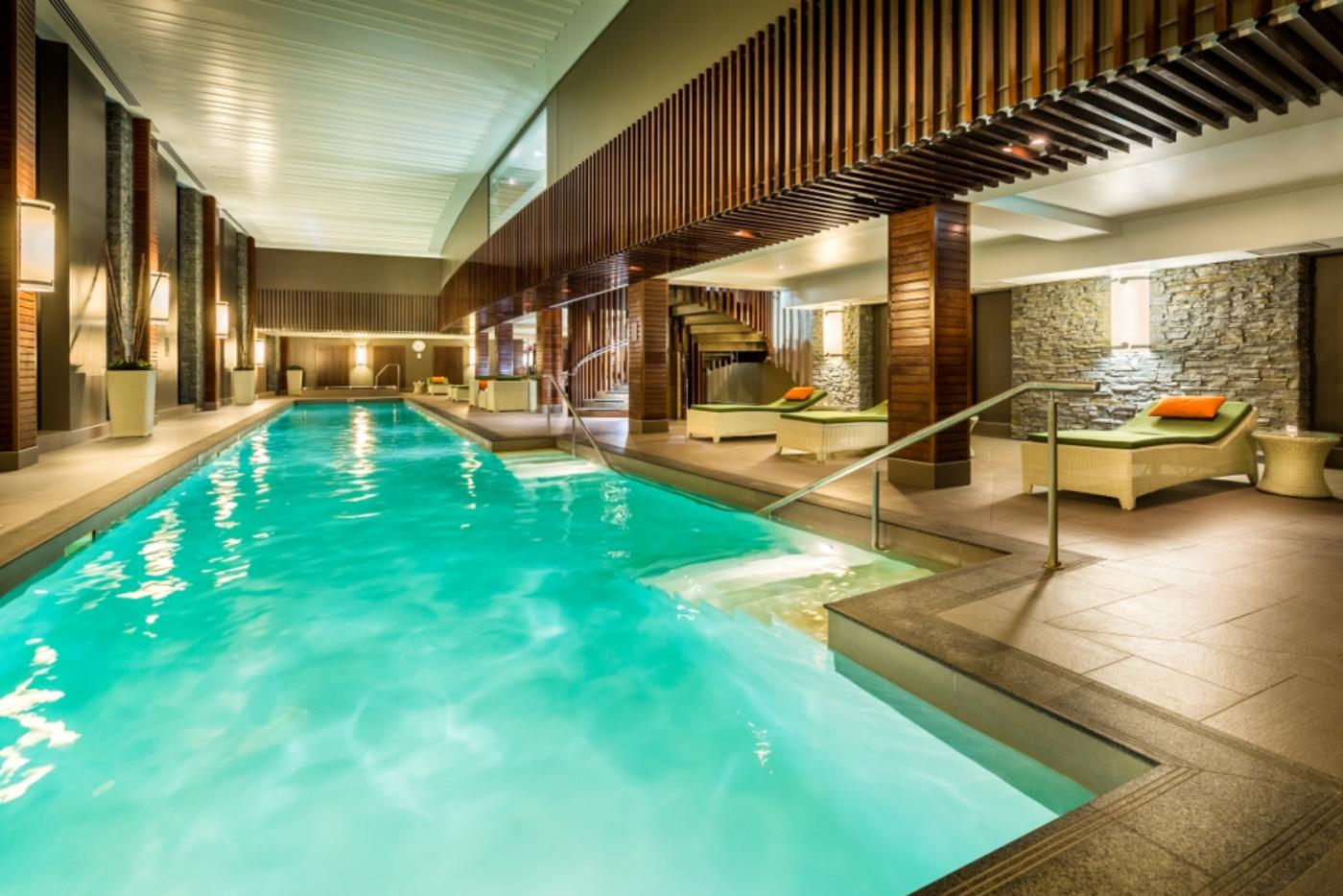 eforea spa, Hilton Queenstown
A holistic approach at Nadi Wellness
Where: 55 Gorge Road, Queenstown
Services: Yoga, floatation therapy, massage, sauna, cold immersion 
In a newly renovated location, Nadi Wellness houses a holistic suite of revitalising therapies. Whether you prefer to relax with a yoga class, massage, salt float, infrared sauna, or even an ice bath, Nadi is the perfect location to rejuvenate during your Queenstown stay. 
Nadi offers an extensive massage therapy menu including relaxation, therapeutic sports deep tissue massage, hot stone and couples, along with yoga classes daily.
For those suffering from stress, illness, or injury, why not try an ultra-deep relaxing float therapy experience?
Float therapy pods hold Epsom salts dissolved in body-temperature water, creating a buoyant environment where you float weightlessly. The pods remove sensory overload by insulating you from the sensations of touch, sight, and sound. This allows your body to reach ultra-deep relaxation, accelerating recovery.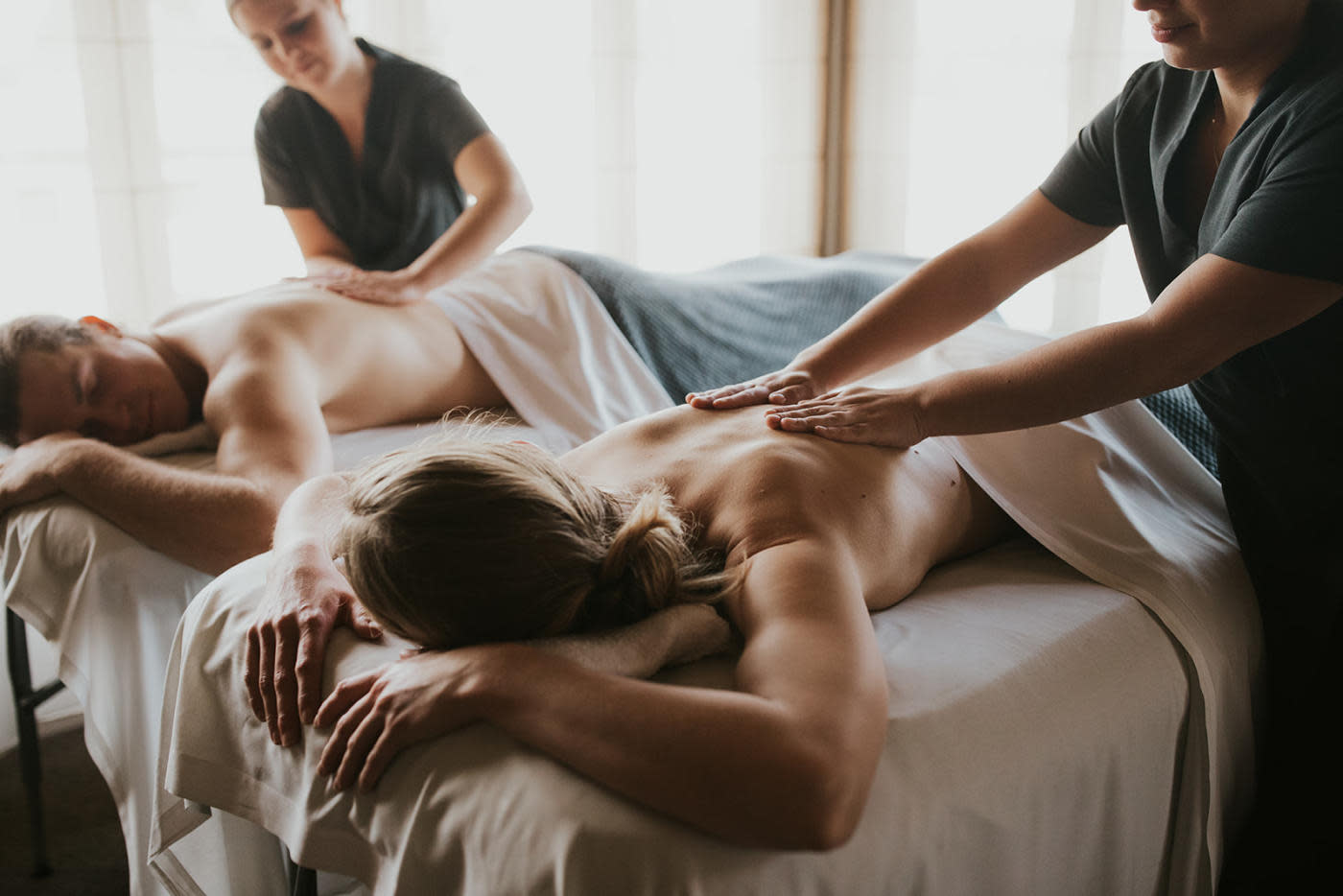 Couples massage at Nadi Wellness
More ways to re-energise and relax in the spectacular surrounds of Queenstown
Slow down and take the time to immerse yourself in Queenstown's natural beauty, connect with the locals, and ground yourself in a true, authentic sense of this incredible place.
Reconnect with nature on one of these 10 Beautiful Walks or immerse yourself in the region's foodie scene with one of Six Immersive Food and Beverage Experiences in Queenstown. 
As you explore Queenstown slowly and mindfully, share your experiences with us on Instagram by tagging #QueenstownLive.