Our region's breath-taking landscape and love of adventure has inspired the gourmet food and beverage scene here. Discover extraordinary gourmet food experiences which speak to the breath-taking surroundings and fascinating people who make Queenstown truly special.
Here are six must-try immersive gourmet food and beverage experiences that are uniquely Queenstown.
Delight in a degustation experience
Top chefs from around the world have made Queenstown their home, each offering more gourmet and rustic food experiences than you can shake a fork at.
At Amisfield Restaurant & Cellar Door in Lake Hayes, executive chef, Vaughan Mabee offers a signature degustation menu – an eleven to sixteen course gastronomic lunch or dinner experience, designed to be matched with a selection of the winery's award-winning organic wines.
Sophisticated, inventively presented dishes are designed using classic techniques with a creative twist to bring out the best of the locally sourced, seasonal produce. For an extra-special experience, book one of their two private glasshouse conservatories. 
"At Amisfield, we're dedicated to making organic wines with local ingredients because we believe this enables the land to speak through the wines. It's the same with the food and we wouldn't want to pair our wines with anything less exciting."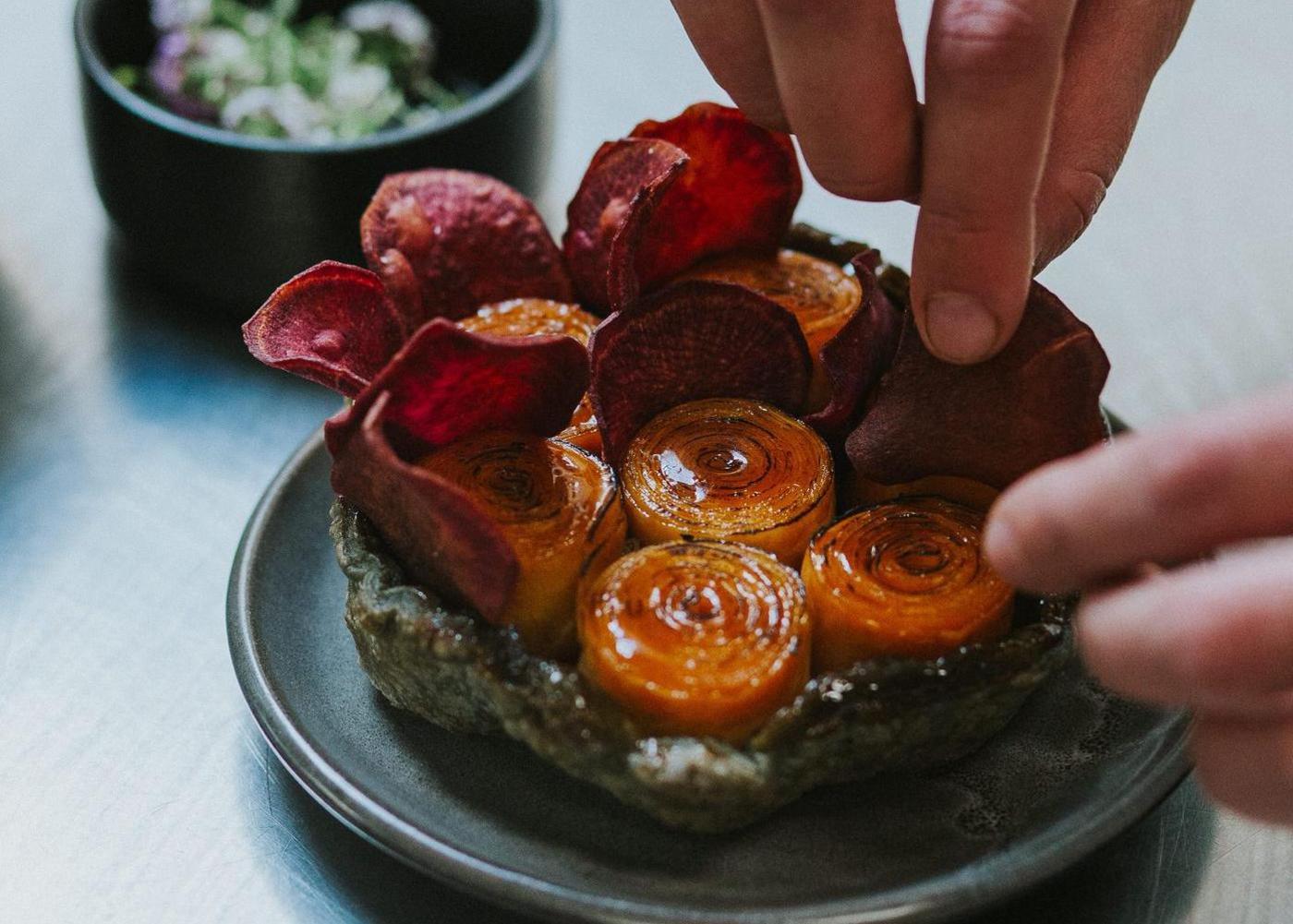 Amisfield Kumara Tarte Tatin, Credit Sam Stewart Photography
Tour and taste at Gibbston Valley Winery 
Queenstown is home to many vineyards, cellar doors, and wineries, and amongst them, you'll find one of Central Otago's founding vineyards, Gibbston Valley Winery. 
It all started with journalist and wine enthusiast Alan Brady in the early '80s. He moved to Gibbston (just 30 minutes from Queenstown) and decided to do something different with his backyard. Despite the expert consensus saying the region was too cold to produce wine, Alan planted grapes. He soon discovered that the dry days and cool nights, mountainous terrain and unusual soil makeup are perfect for producing pinot noir and several white wine varieties.
More than 30 years on and Alan's Gibbston Valley Winery is at the centre of a local industry that's become world-renowned for its award-winning wines. The winery's wine cave, carved by Alan Brady himself from the side of a schist rock mountain, is the largest in New Zealand. The cave's temperature and humidity mean it's perfect for maturing wine.
Join a tour and taste some of Gibbston Valley's wines and gourmet cheeses here, whilst learning more about how Gibbston's unique climate shapes the flavours and compositions of the wines. You'll also be able to take a peek at the winemaking facilities to see how grapes on the vine are transformed into a bottle of the region's best tipple.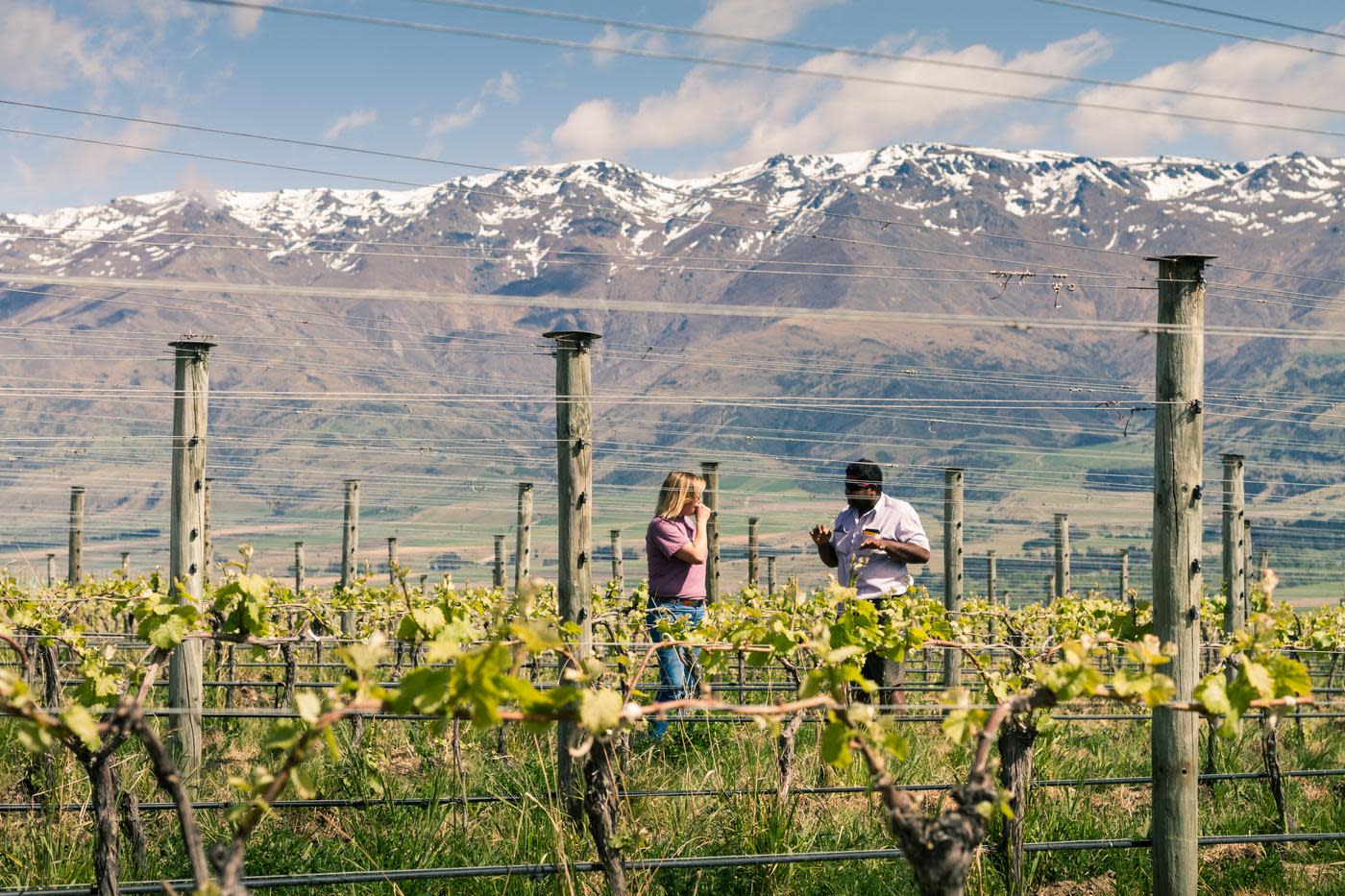 Gibbston Valley Winery
Sharpen your culinary skills
Feeling inspired to get into the kitchen yourself? Chef Fabien Simon will show you how to create gourmet food experiences in his home kitchen in Jack's Point. Book your own private masterclass and try your hand at preparing and cooking gourmet dishes, guided by professional Chef Fabien.
There's a range of themed menus available, which are customisable to your dietary requirements and preferences – and he'll be sure to share his secrets along the way.
Chef Fabien moved to the region more than 12 years ago and says he started the cooking classes to offer a "fun and educational masterclass".
"Knowing how to create great food is an important skill and it'll continue to be important. I like taking the time to teach people, for me it's that sense of legacy that everyone looks for. I want people to become better and push their boundaries.
"People get caught up in modern life and they end up eating carb-heavy foods that aren't very healthy. I want to show people how to value and prioritise their food again, though cooking with fresh, local and seasonal produce."
Bee a beekeeper
Just 10 minutes from the centre of Queenstown in a rustic, converted sheep-shearing shed is the Buzzstop Bee and Honey Centre. The delicious honey-inspired café and gift shop also offers a sweet visitor experience – the opportunity to be a beekeeper for an afternoon and walk away with your very own jar of honey.
Nick Cameron is the founder and general manager at Buzzstop, a third-generation beekeeper who's passionate about beekeeping and everything his amazing bees produce. Not content to simply sell honey and beeswax products through the café and shop, Nick encourages people to get hands-on in the process.
You'll don a beekeeping suit and learn about beehives and how a bee colony creates honey. Then, it's then time to get sticky; remove the capping from a frame to reveal the sweet honey underneath and then watch the honey being spun. The final step is to filter your honey and put it in a jar personalised with your picture, to savour at home. Nick will guide you through each step and the experience is suitable for children and adults.
After the tough work of being a beekeeper, refuel in the café. There's a honey-themed menu, made complete with local craft beers and great coffee.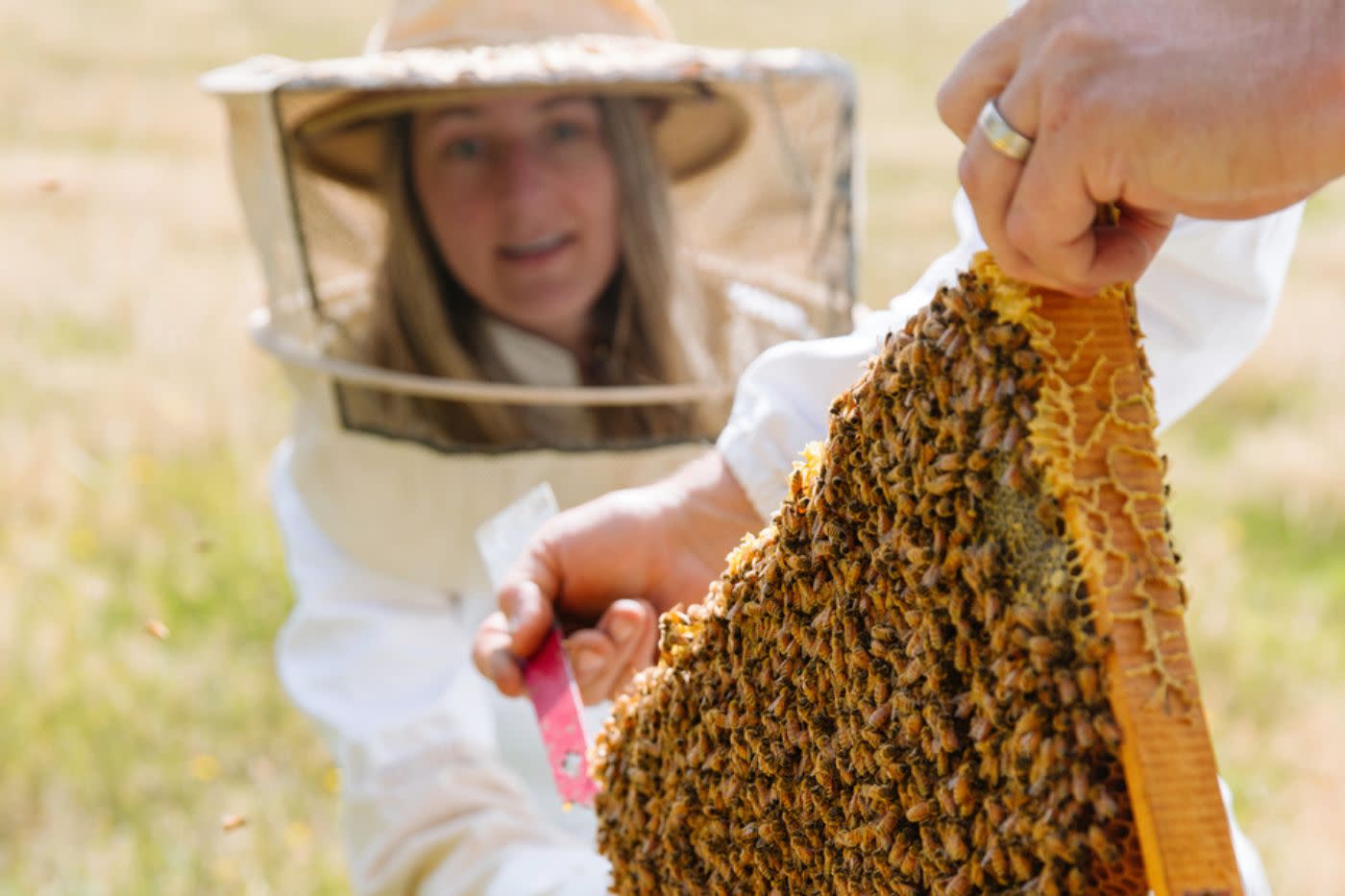 Buzzstop beekeeper experience
An adventure for all senses
Take a culinary journey through three of Queenstown's most iconic restaurants on one of Alpine Wine Tours' progressive dining tours.
Choose from a lunch or dinner progressive dining experience and sip and savour your way through three courses of gourmet dishes carefully paired with world-class Central Otago wines.
With a knowledgeable local guide by your side, you'll learn about the region's unique terroir and winemaking techniques and have time to take in the stunning Queenstown scenery as you're escorted between dining locations.
Enjoy local brews with a view
What better way to immerse yourself in Queenstown's thriving craft beer scene than with a Queenstown local by your side? With Queenstown Beer Tours you can do just that. Born and raised in Queenstown, local operator Lewis will accompany you to three small locally owned breweries around the Whakatipu Basin.
On the guided tour you'll taste over 13 unique craft beers and get the chance to interact with local brewers at three different locations before enjoying a beer-paired lunch.
"I look forward to meeting whoever's going to get on the tour and spending a good day with them. Really, at the end of the day I'm just sitting around having a good yarn," says Lewis.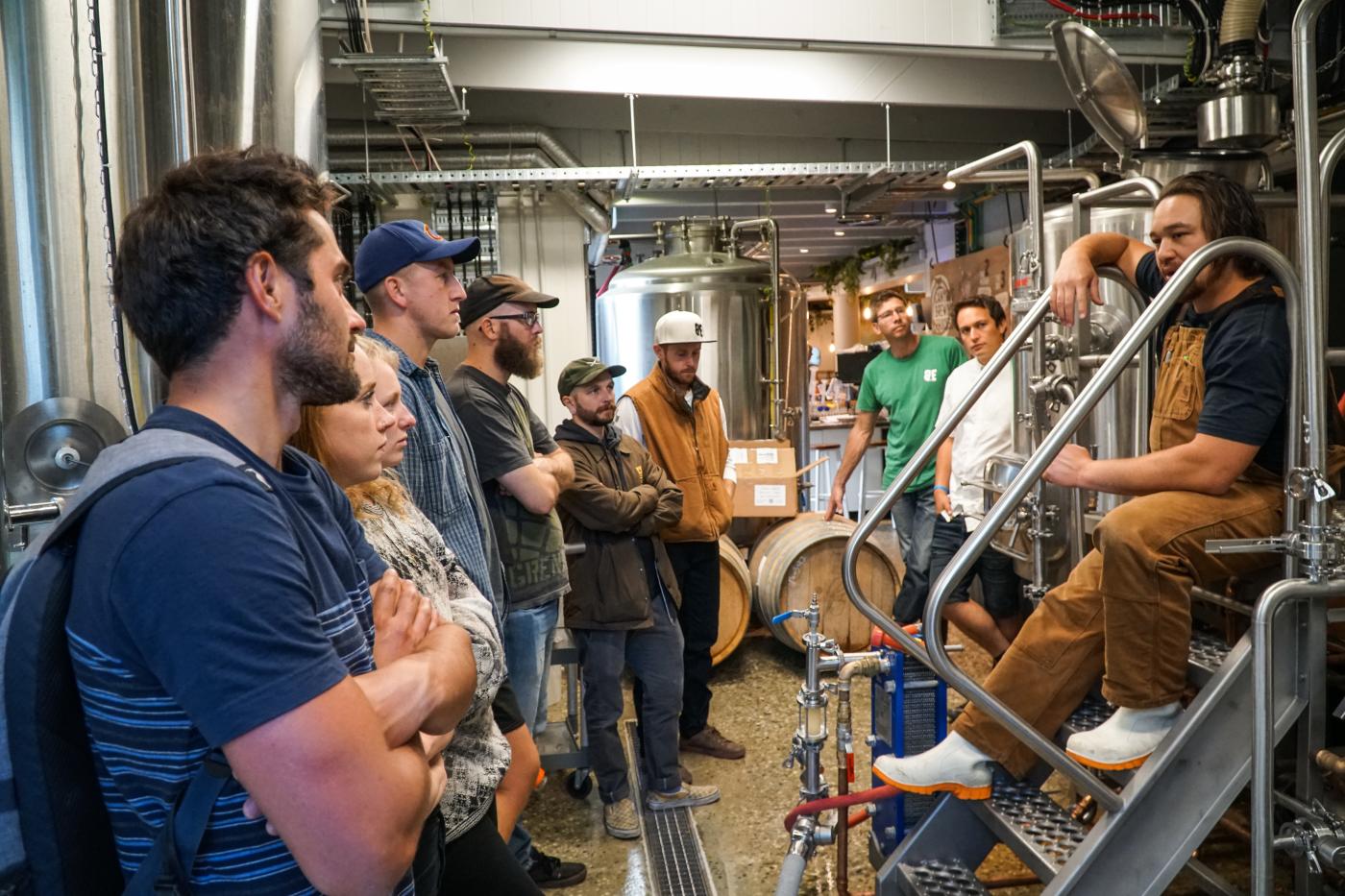 Queenstown Beer Tours
So, what are you waiting for? Dive into a whole new world of gourmet food experiences in Queenstown.
Our Queenstown stories are packed with ideas to inspire you to experience Queenstown, Arrowtown, and the surrounding beauties in a more meaningful way. Share your Arrowtown Autumn Festival adventures with us on Instagram and #QueenstownLive.