The Central Otago Touring Route is a 341km journey through dramatic landscapes full of natural wonders and unique attractions. The stunning route follows the road less travelled from the Pacific Ocean in Dunedin to the foot of the Southern Alps in Queenstown, via the beautiful Strath Taieri and Maniototo Plains. 
Here's your low-impact guide to the route from our friends at Roady.
Know before you go
The Central Otago Touring Route begins in Queenstown and winds through the heart of Central Otago taking in the charming small towns of Arrowtown, Cromwell, Clyde, Alexandra, Oturehua, Ranfurly and Middlemarch.
As people's curiosity about low-impact travel grows, it's wonderful to see a wide range of experiences available on this route that allow you to enjoy the natural beauty, history, culture, and cuisine of these beautiful regions while also being mindful of your impact on the environment.
One way to enjoy the Central Otago Touring Route in a low-impact way is to travel by electric vehicle. The route is well equipped with eleven Chargenet stations all in convenient locations, making it easy to recharge your vehicle along the way. Additionally, the experiences in this guide have been selected to ensure that you can feel good about the choices you're making while exploring the region.
You can take as little or as long as you like, but a journey of 3–5 days is recommended to relax and really soak up the scenery as well as experience some of the beautiful attractions along the way. The route offers incredible accommodation options from simple off-grid camping, holiday parks, cute cottages, luxury eco-lodges and historic New Zealand pubs & hotels. 
So pack up that rig! It's time to go discover the places that define our country's rich history and know you've got the option to make a conscious choice for the good of the planet.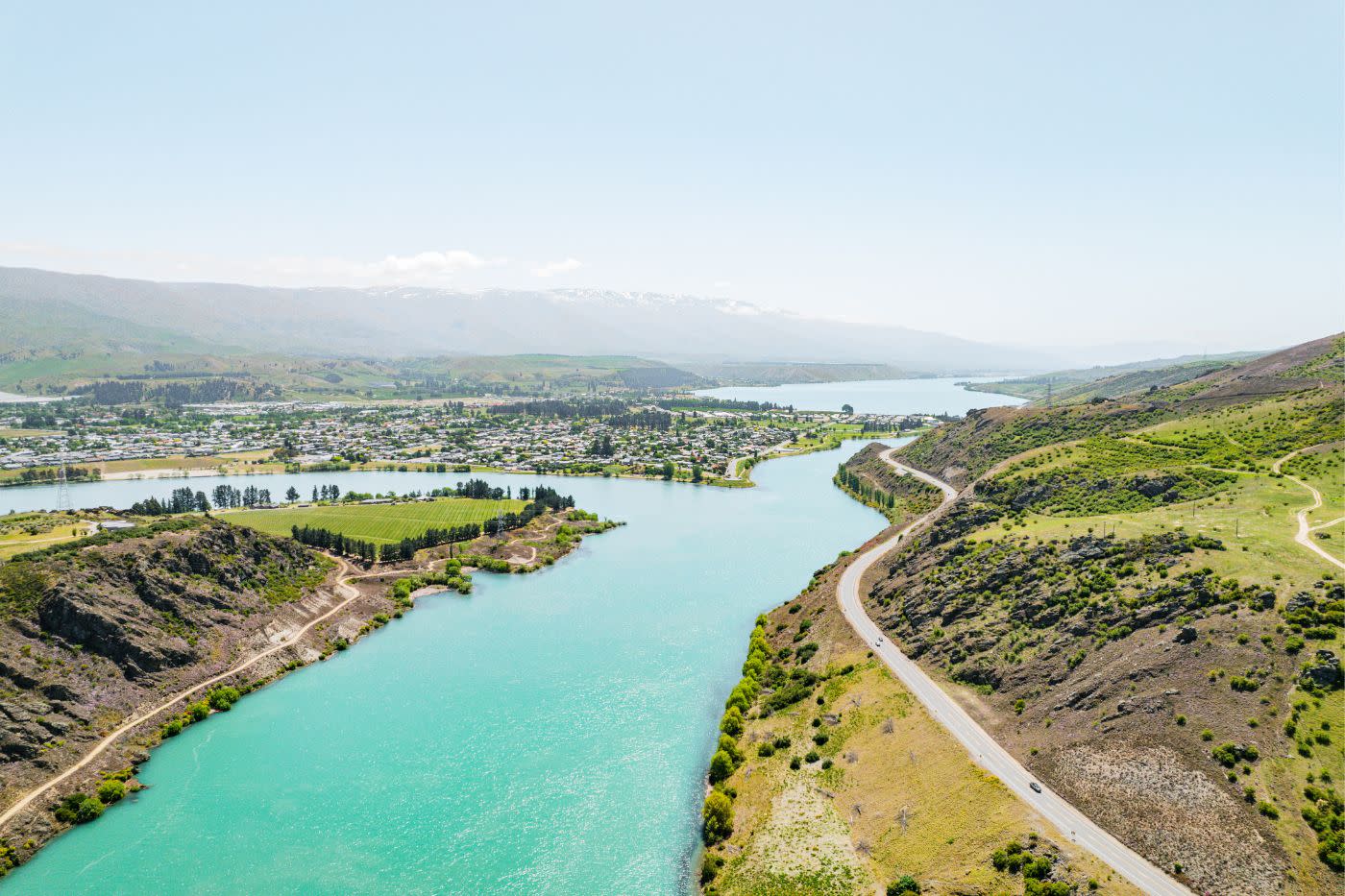 Cromwell, Central Otago Touring Route
First stop, Queenstown
Begin your journey flying into the stunning Queenstown, breathing in that mountain air. You're off to a great start as Queenstown Airport has got to be one of the most scenic airports in the world! Carbon offsetting is one way the aviation industry is taking immediate action to combat climate change and it's great to see that most NZ airlines offer the ability to offset the carbon emissions of your flights.
To pick up your EV for the trip, head to the Sixt depot inside the airport and grab your choice of whip. Sixt currently has six depots around New Zealand, including the in Queenstown and Dunedin — perfect for the Central Otago Touring Route. Sixt are stocked with the classy and comfortable Polestars which we highly recommend for an EV roady.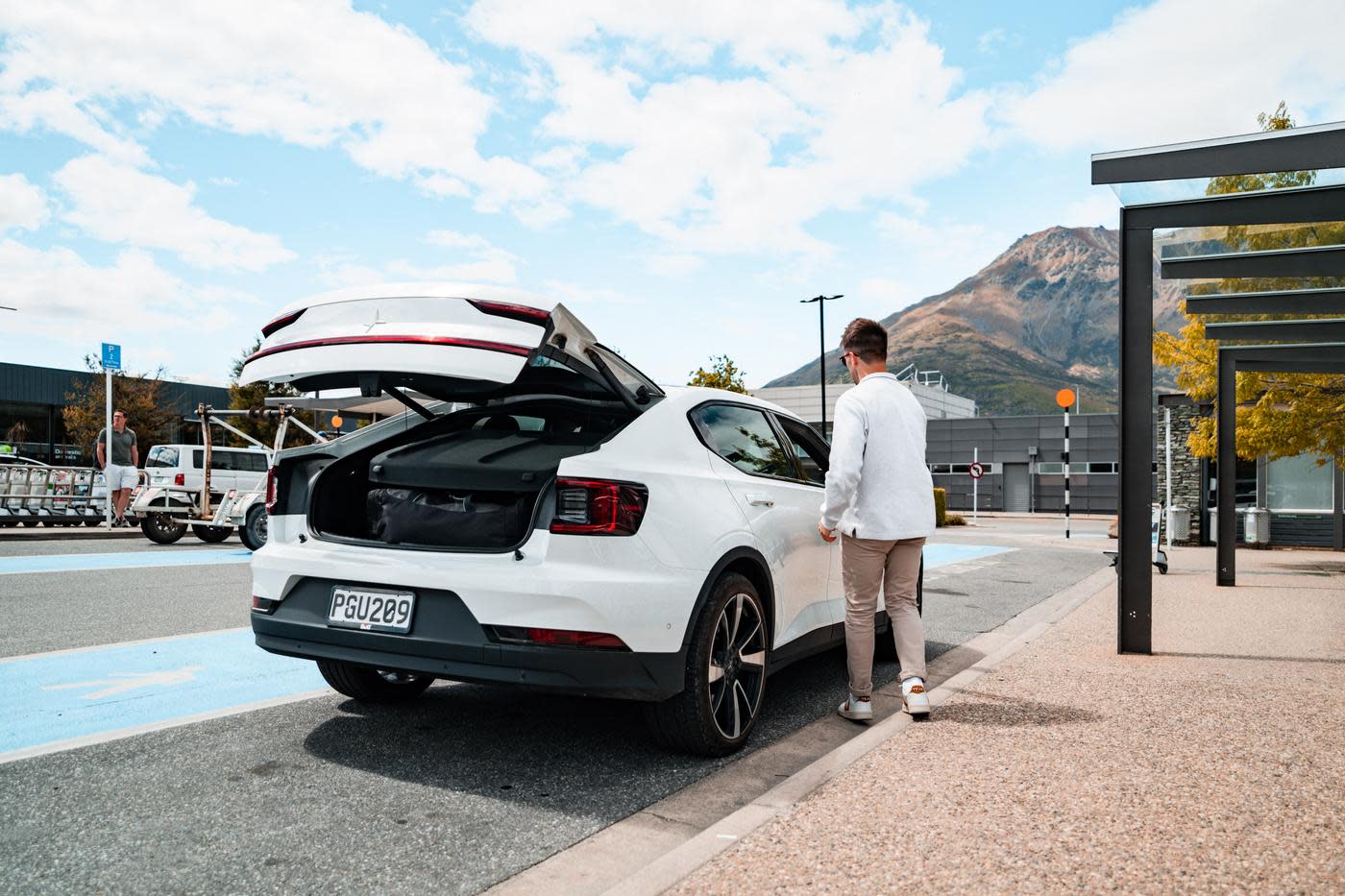 Queenstown Airport
Accommodation in Queenstown
Queenstown, with its towering mountains and beautiful lakeside location, is the hub of adventure. You'll never be short of amazing things to do in this alpine town. Head to your accommodation to check in and settle into holiday mode.
Driftaway Queenstown has got to be one of the best holiday parks in the country. Redefine your holiday park experience and spend a night in one of their idyllic lakeside villas. The views from this spot are just unreal and the park offers some great facilities for the whole family, including private hot tubs with lake views. Conveniently Driftaway also provides the ability to charge your EV with a charger on-site.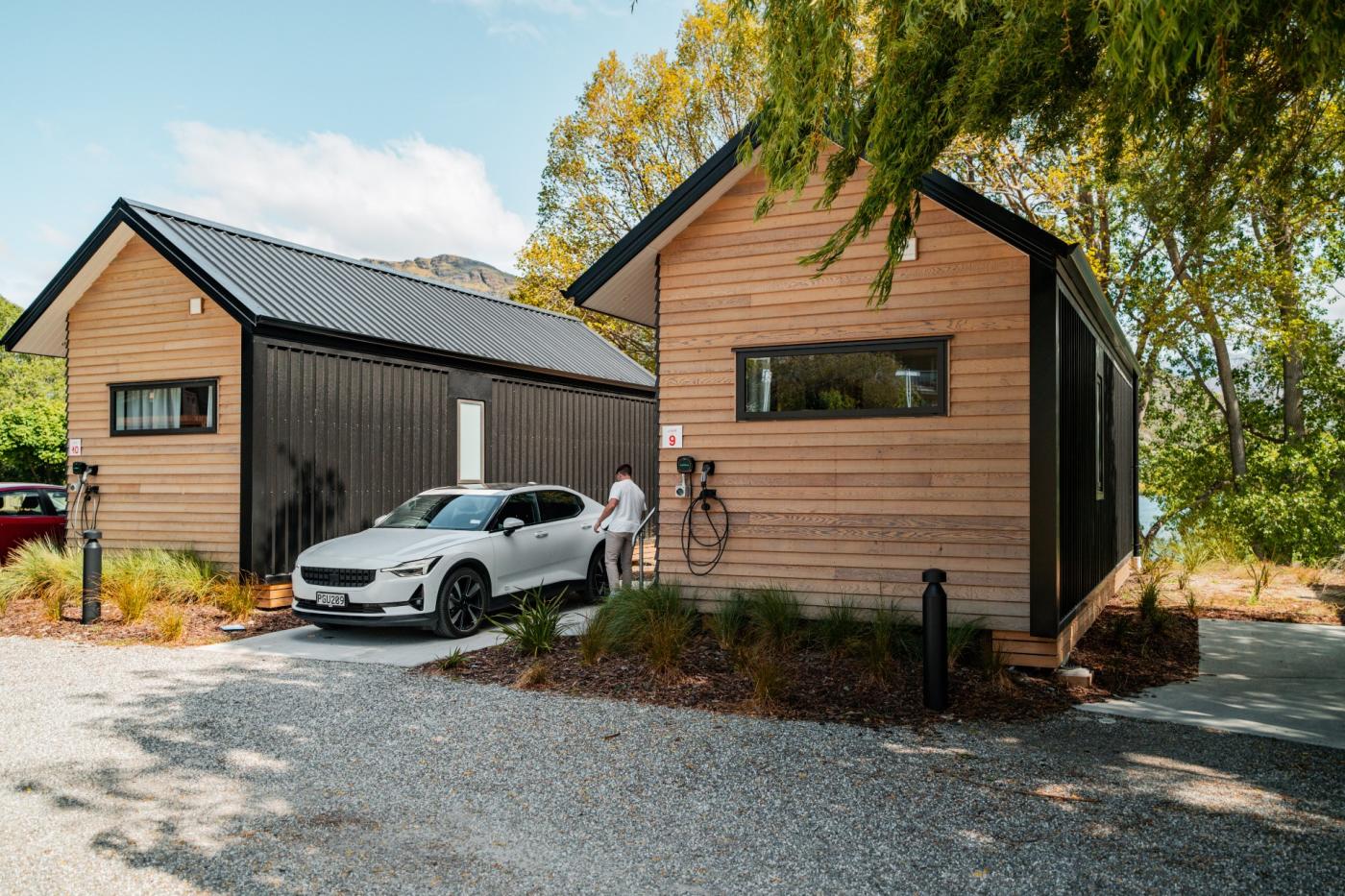 Driftaway Holiday Park, Queenstown
See and do in Queenstown
After settling in you'll be ready to head out exploring. A great way to see more of Queenstown and one of the best low-impact ways of appreciating our beautiful landscapes is on one of the many walking and hiking trails.
For a nice and easy walk look no further than at the Lake Hayes Walkway and the Moke Lake Loop Track. Both walks are located on the edge of the lake and take you on a beautiful 2-3 hour scenic circuit.
For a little bit more of a challenge, the Queenstown Hill Time Walk takes you up to a viewpoint overlooking Queenstown. You're greeted by stunning panoramic views of The Remarkables, Cecil Peak, Lake Whakatipu and parts of the Kawarau River. Another great option with a bit of a climb and stunner view is Tobin's Track in Arrowtown.
If you're feeling adventurous, a business doing great things and a must-do Queenstown experience is a ziplining adventure with Ziptrek Ecotours. You'll be flying through a forest canopy while taking in the stunning views around you. Ziptrek Ecotours are also Queenstown's first carbon-neutral tourism business and their tours provide a real insight into the natural environment and some of their key sustainability initiatives. They've even planted over 6000 native trees to strengthen the ecosystem they operate in! It's a heap of fun and planet-friendly which is a big win. 
Watch the sun go down at your accommodation, have a soak in Driftaway's Hot Tubs or pop into town and enjoy a meal at one of the many delicious restaurants.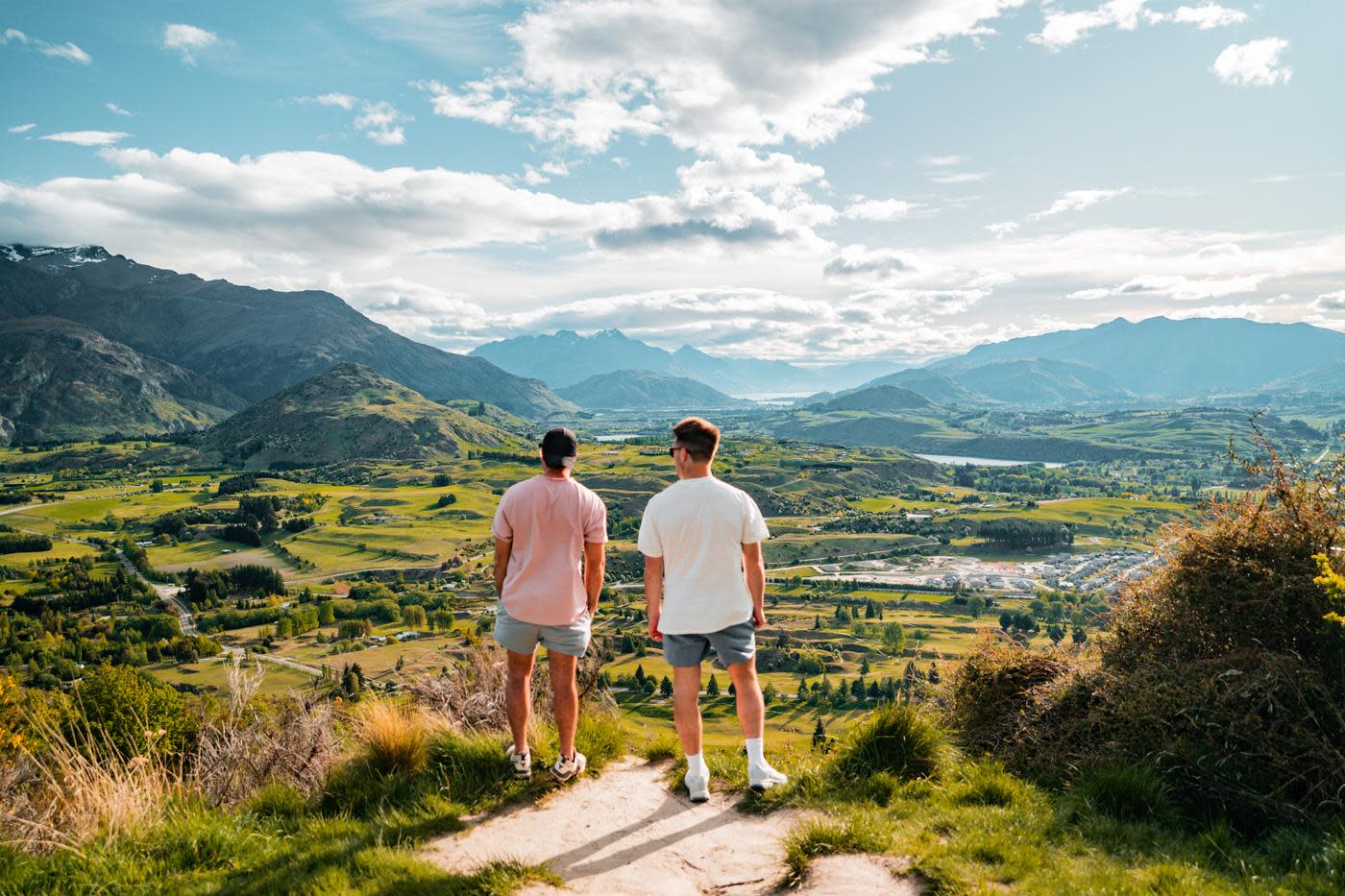 Tobin's Track, Arrowtown
Queenstown to Arrowtown
What better way to start your day than with a visit to Arrowtown, an adorable gold-rush village nestled below the beautiful peaks that surround the Arrow River.
Stroll along Buckingham Street and peep inside the many restored huts at the Chinese Settlement on the edge of town. The huts have been restored from the Otago Gold Rush of the 1860s where they had 3500 Chinese workers searching for gold in the region at one time.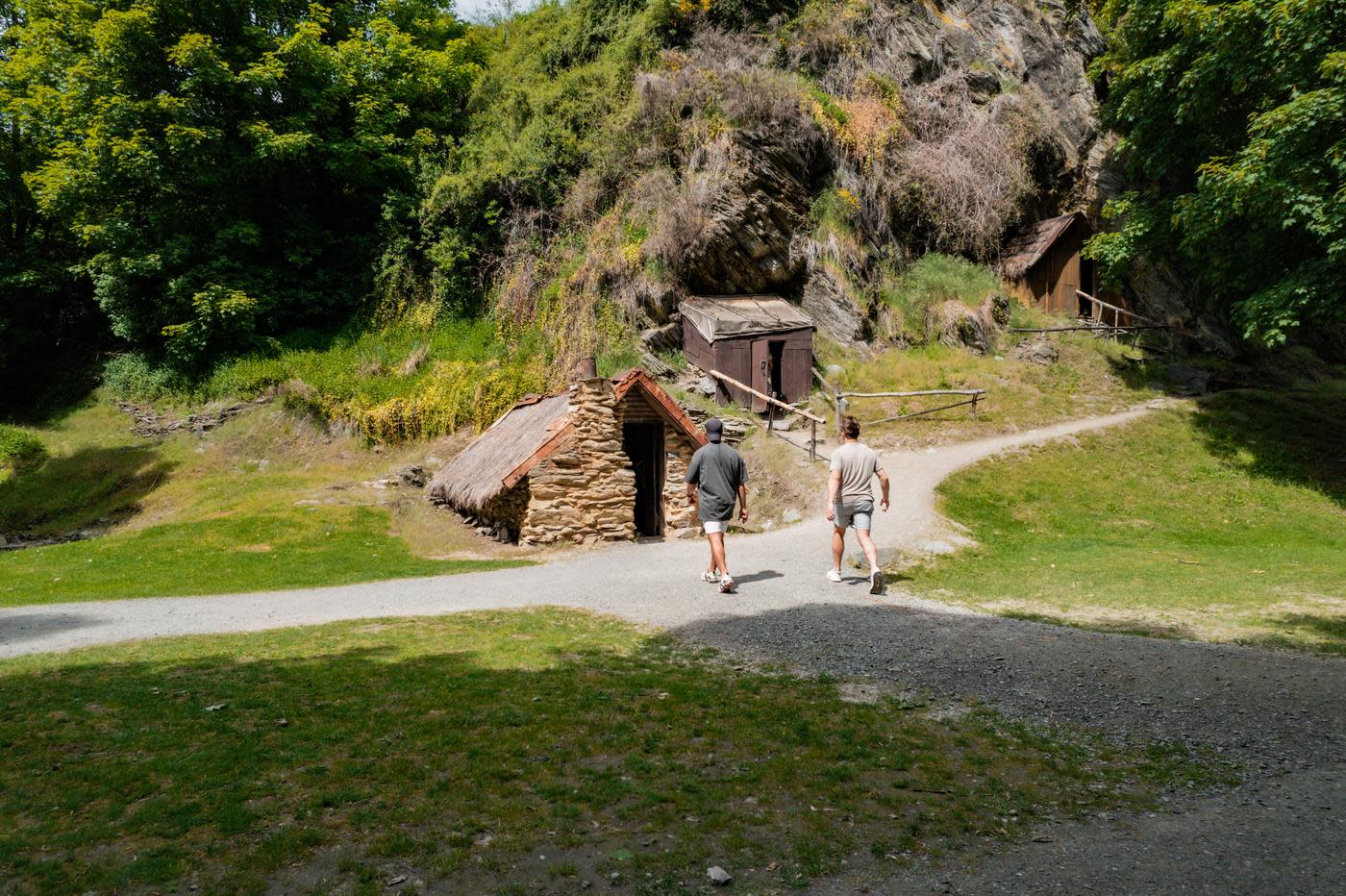 Chinese Settlement, Arrowtown
Arrowtown to Gibbston Valley
The Central Otago region has been captivating visitors with a wide range of excellent cellar door facilities and wine-tourism activities. Home to some of the world's best Pinot Noir, not to mention impressive, vivid white wines. Jump on an E-Bike from Better by Bike in the heart of Arrowtown and make your way into the Gibbston Valley to try the world-class Pinot Noir for yourself! 
The 16km ride is super flat and easy. It takes you passed stunning river gorges, across seven bridges including the famous Kawarau Bridge Bungy before ending up at your first stop, Mt Rosa Winery. Mt Rosa was originally a sheep farm, though in 2000 with wool prices declining, the owners made the decision to plant some vines as they heard the soil was great for Pinot Noir. The rest is history!
Just up the road, another incredible location to spend some time at is the Kinross Winery. Kinross offers the full experience. Enjoy a wine tasting from the cellar door, grab a takeaway dinner from their delicious bistro and enjoy a picnic on their beautiful grounds, chance your arm at petanque, soak in their hot tubs and even spend a night in one of their cottages. A beautiful option to soak up some more time in the vines.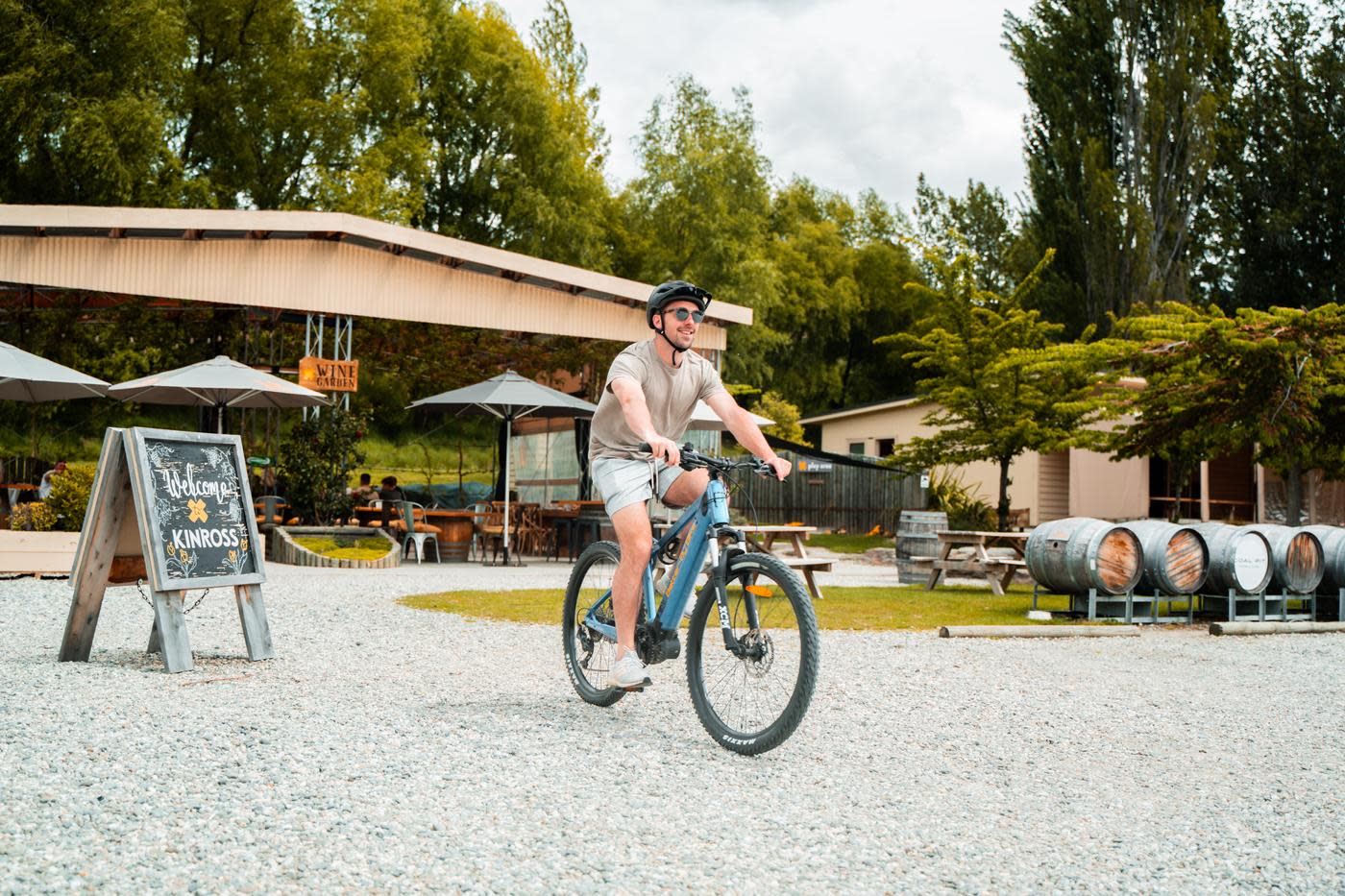 Kinross Winery, Gibbston Valley
Gibbston Valley to Bannockburn, via Cromwell
Head to Cromwell, located on the shores of Lake Dunstan, it is an ideal location for swimming, fishing, boating and water sports in summer. In winter, there are five epic ski fields all within comfortable driving distances.
It is also home to the famous Highland's Motorsport Park, a popular visitor attraction with options to get behind the wheel or be driven by pro drivers. We recommend the EV option — a Porsche Taycan Takeoff which takes you from 0-100 in 2.4 seconds — an incredible experience and a lower impact option for those conscious travellers! They also offer an experience called the Power Hour where you get to ride E-bikes around the track as well as their museum and "Loo with a View" collection (you've gotta see this). 
Make your way across the Cromwell Bridge and into the Bannockburn area, also known for its incredible wines. These vineyards occupy one of the warmest, driest sites in the region. Harvest can be up to a month ahead of other sub-regions, and the wines produced are highly distinctive and complex. There are plenty of wineries to choose from so go for an exploration while enjoying the stunning views.
After lunch at one of the nearby wineries, make your way to Bannockburn Sluicings, a spectacular man-made landscape of cliffs and pinnacles. Choose one of several tracks that take you past the remains of dams, tunnels, walls and water races that were built to flush out gold.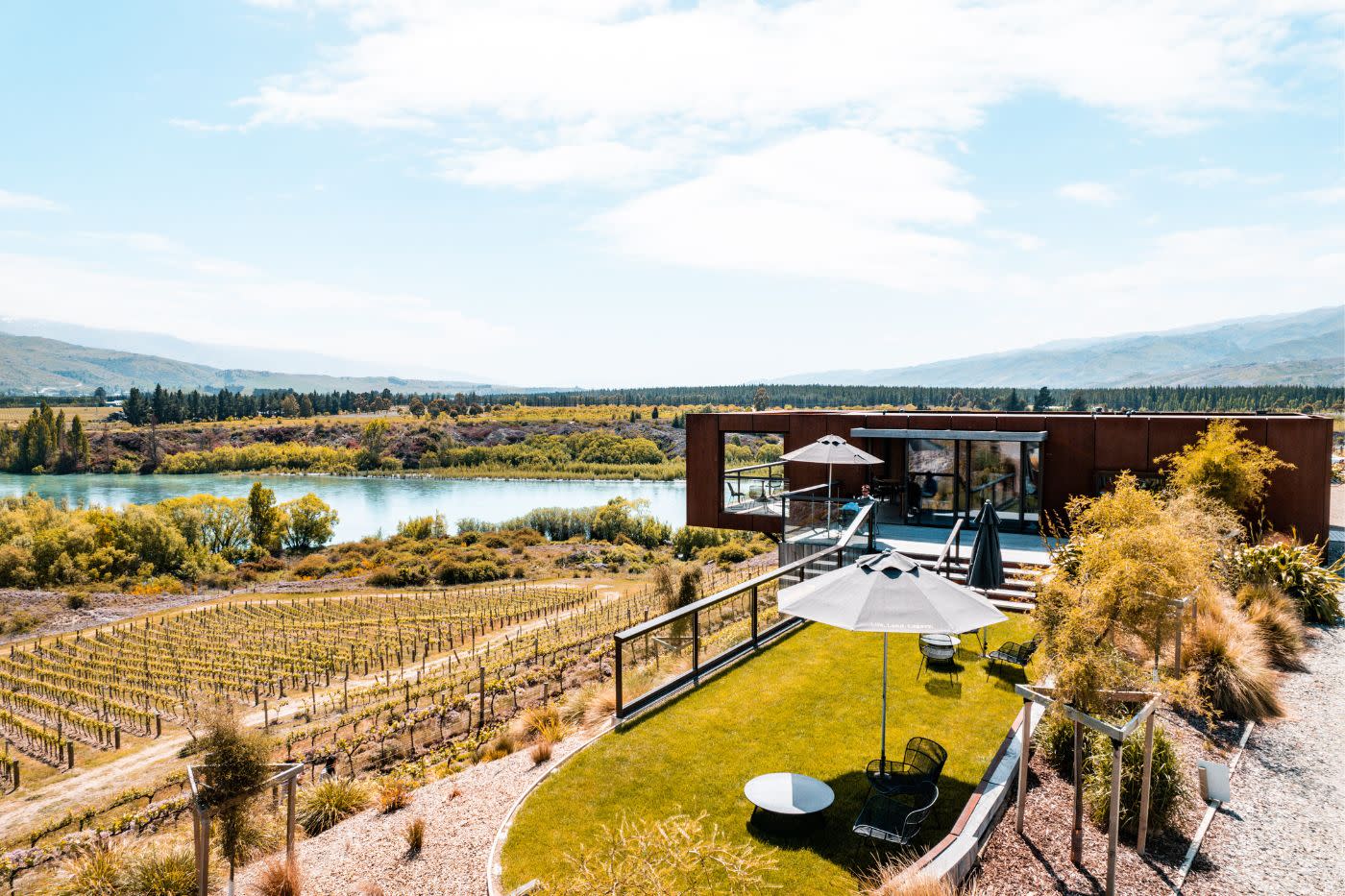 Te Kano Estate, Bannockburn
Clyde to Dunedin, via Danseys Pass
A stop-off in Clyde is a must. It's such a gorgeous little town with the cafe lifestyle in a scenic setting that's rich in history. The heritage buildings are just beautiful and it really feels like you've stepped back in time. Pop in to Oliver's and enjoy your lunch amongst the trees in their relaxing outdoor area. 
It's been great to see that the installation of the EV stations along the Central Otago Touring Route has been giving keen travellers the opportunity to adopt sustainable low emissions transport options while enjoying their road trip. If you opted for an EV, you might be due for a bit of juice, so head twenty minutes up the road to Omakau and pop it on at the Chargenet station. Conveniently the Omakau Golf Course is just up the road where you can have a round of nine holes while you wait. 
Back on the road and into Danseys Pass you go. Danseys Pass is a mountain pass at an elevation of 910m (2,985ft) above the sea level. It's an absolutely stunning stretch of road zig zagging through the Kakanui Range.
Located inside the pass is the Danseys Pass Hotel, a unique and historic pub and accommodation built back in 1862. The food is top notch and you really can't beat cuddling up in front of their fire with a drink to end the night. A lovely unique stay and no doubt a place that will leave a mark in your mind.
Make your way out of the Danseys Pass heading for Dunedin via the small quaint village of Patearoa. For those that love a pristine water swimming hole — you will find one of the very best here. Dykes Dam can be found if you park at the bridge on Chirnside Terrace. An easy 15-minute walk south along the Sowburn river will bring you to stunning naturally formed rocky pools, the perfect place to cool off on a hot day.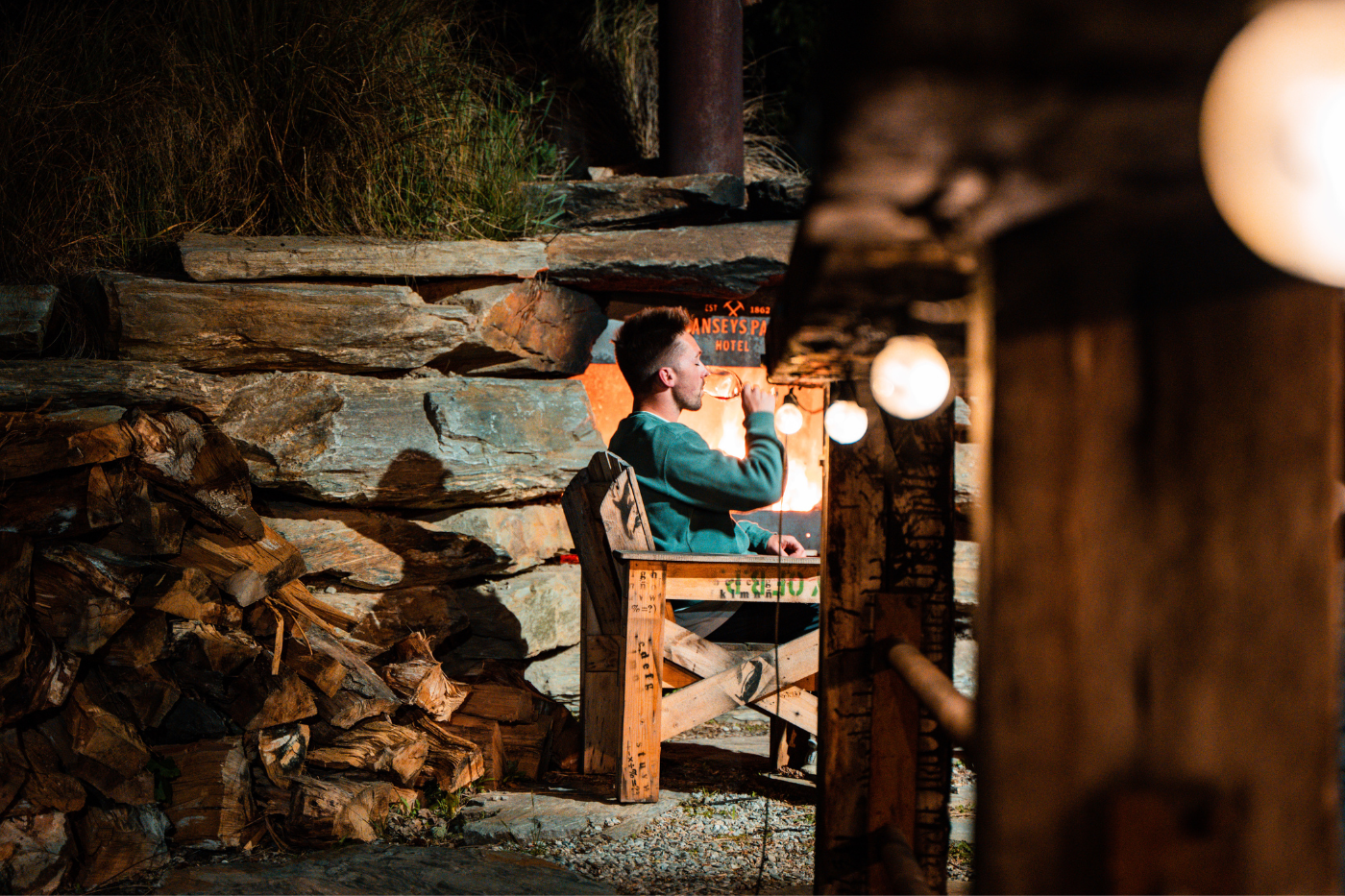 Danseys Pass Hotel, Naseby
Last stop, Dunedin
History, wildlife and thriving nightlife — a coastline mixed with culture is how we would describe this beautiful city. Known as the Wildlife Capital of New Zealand, Dunedin prides itself on its beautiful built heritage, stunning scenery, and unique biodiversity. 
There is so much to see and do in Dunedin you really are spoilt for choice. Here are some must-dos we don't think you should miss.
See and do in Dunedin
Dunedin provides plenty of excellent surfing opportunities with about 30 beaches within 30 minutes' drive of the city centre, and most have great surf. Whether you're a beginner or experienced, there's something to cater to everyone's needs.
St Clair is the epicentre of the surf culture in Dunedin, a popular beach lined with cool cafes and restaurants that make some pretty incredible food and coffees. For some stunning coastal views, you'll love the Sandymount Track or visit the iconic Tunnel Beach, the walk back up is a bit of a workout but it gives you the chance to really take in those beautiful views.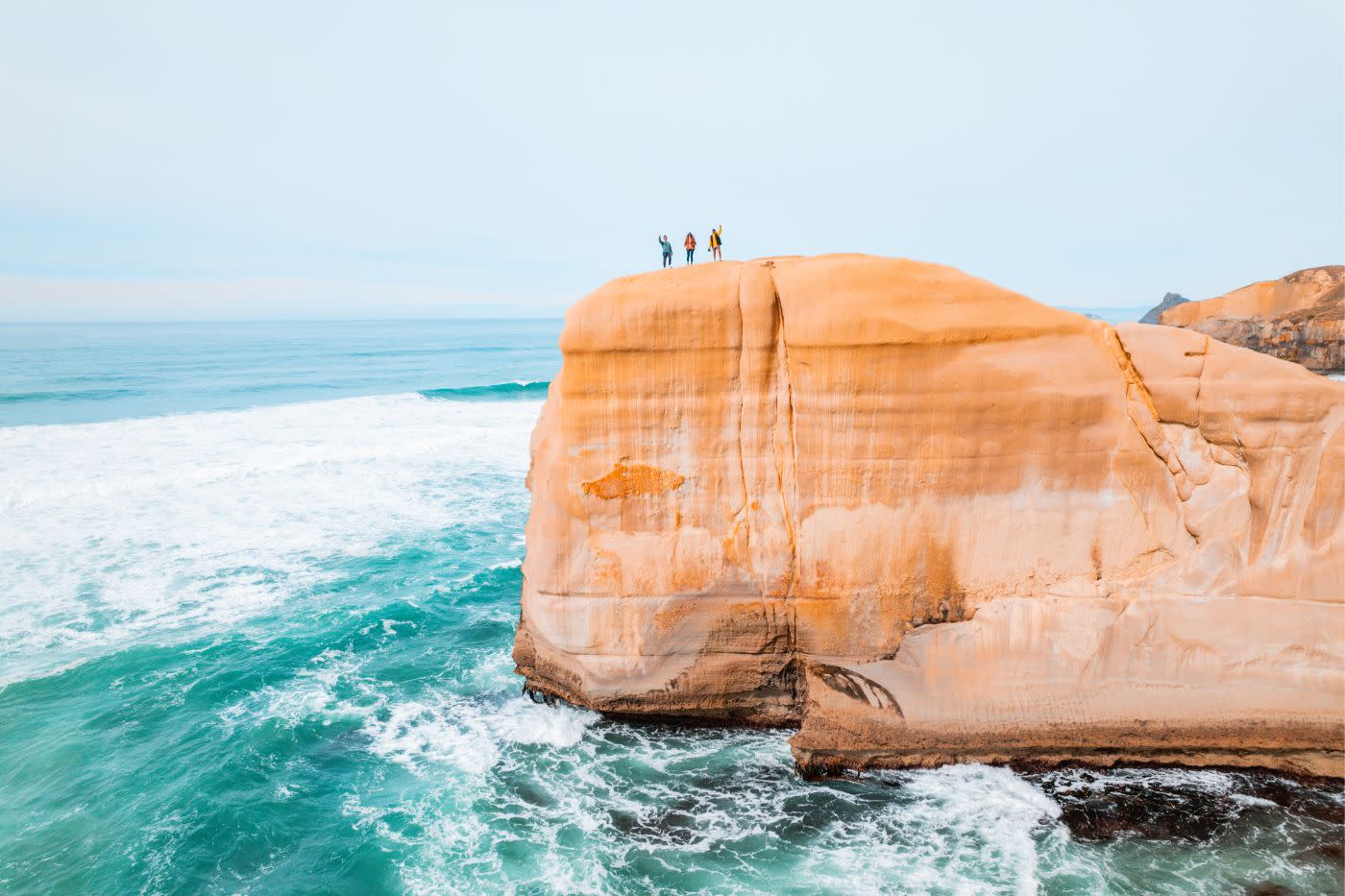 Tunnel Beach, Dunedin
Speaking of thigh-burning inclines — have you really been to Dunedin if you haven't walked up the world's steepest street?
Dunedin is home to the world's steepest street, Baldwin Street. It's quite an interesting tourist attraction but you've really got to walk it for yourself to truly get a sense of how steep it really is. The view from the top is also pretty spectacular. 
Walking up Baldwin Street is thirsty work and Dunedin is home to some pretty awesome breweries. Do a tour at the Speights Ale House or grab a tasting tray and pizza and sit back and relax at the epic Steamer Basin Brewery — a small family-run brewery that makes seasonal beer from local ingredients.
A couple of other great dining options are the Emersons Brewery — an awesome venue with great beer and the food here is super tasty. Good Good is another epic venue and the burgers are absolutely delicious! If you happen to visit Dunedin on a Saturday, the Otago Farmers Market has all your fresh goodies and there's just nothing quite like supporting local.
Right on Dunedin's doorstep is incredible wildlife including some of the world's rarest penguin colonies. Visit Natures Wonders for an unforgettable experience getting close views of the little penguins/kororā and the adorable fur seals. Nestled at the foot of Taiaroa Head is the Royal Albatross Centre, the only mainland place in the world where you can view Northern Royal Albatross in its natural habitat. Head out on a cruise with Monarch Wildlife Cruises to explore the beautiful area and witness rare and endangered wildlife. 
Another bucket list experience is seeing the world's smallest penguins emerging at dusk, returning from a day at sea to the Takiharuru/Pilots Beach Nature Reserve. With Blue Penguins Pukekura you're guaranteed to see the little blue penguins and this really is something not to be missed.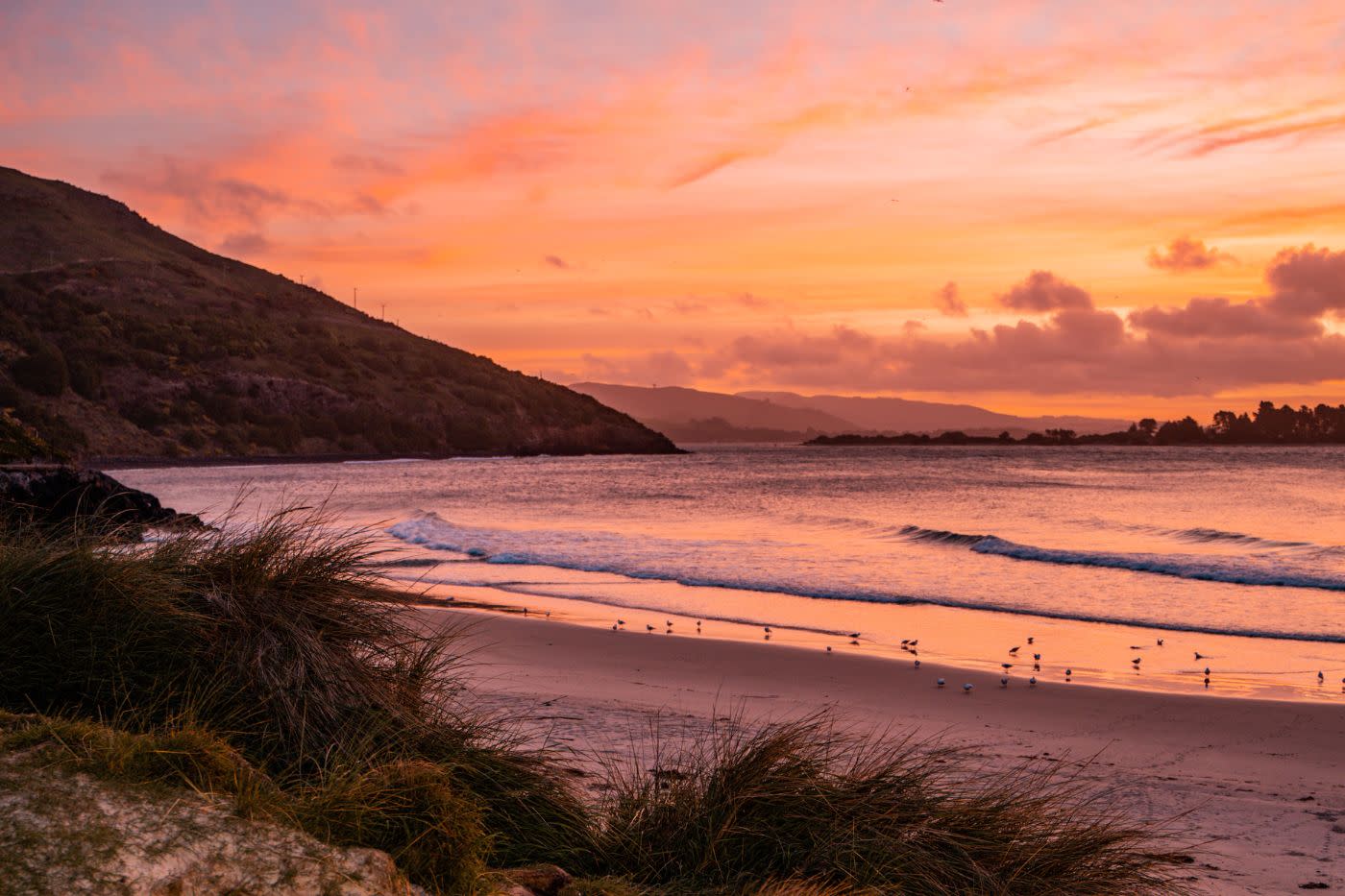 Takiharuru Pilots Beach Nature Reserve
Accommodation in Dunedin
With several options to choose from, why not finish your trip off with a stay in beautiful environmentally friendly accommodation? Kaimata Retreat is a luxury eco-retreat nestled on the hillside overlooking the Otago Peninsula. The lodge was built with timber harvested from the property and is designed to blend in with its environment. It's an idyllic retreat and would be the perfect place to relax and soak up the last few days of your travels.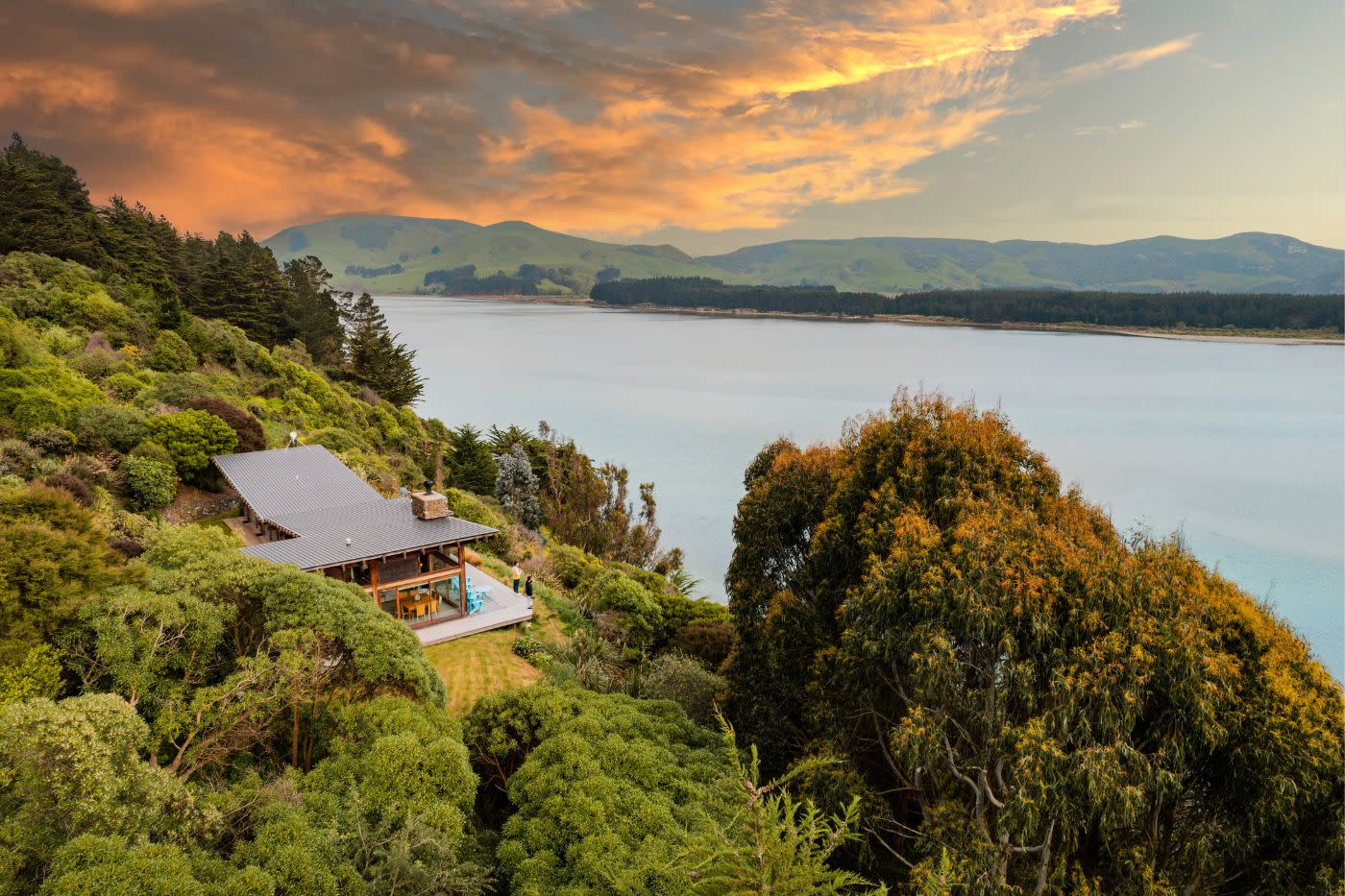 Kaimata Retreat, Dunedin
Ending your journey at the Dunedin Airport, you're ready to fly home or onto your next adventure. If you opted for the EV for this route, there is a Sixt depot ready to collect the keys to your trusty road trip rig.
Thanks to our friends at Roady for sharing their low-impact adventures from Queenstown to Dunedin. Find more information about The Central Otago Touring Route here.