Accessible accommodation in Queenstown
Inclusive adventure advocate and accessible tour organiser Jezza Williams says, "Accessible accommodation's good and plentiful in Queenstown, everything from backpackers to five-star hotels. Queenstown is hilly so it's a good idea to book accommodation close to the centre of town, so you're near all the action."
Accessible accommodation options rated by accessibility experts include the Rees Hotel, which rates five stars on the Wheelchair Jimmy Accessibility Ratings (WJAR). You can read their review of the hotel here.
Grab Your Wheels lists six Queenstown accommodation providers in their guide to accessible accommodation in and around Queenstown, including;
The Queenstown iSite visitor information centre regularly recommends the following accessible places to stay:
You can browse all the accessible places to stay in Queenstown here.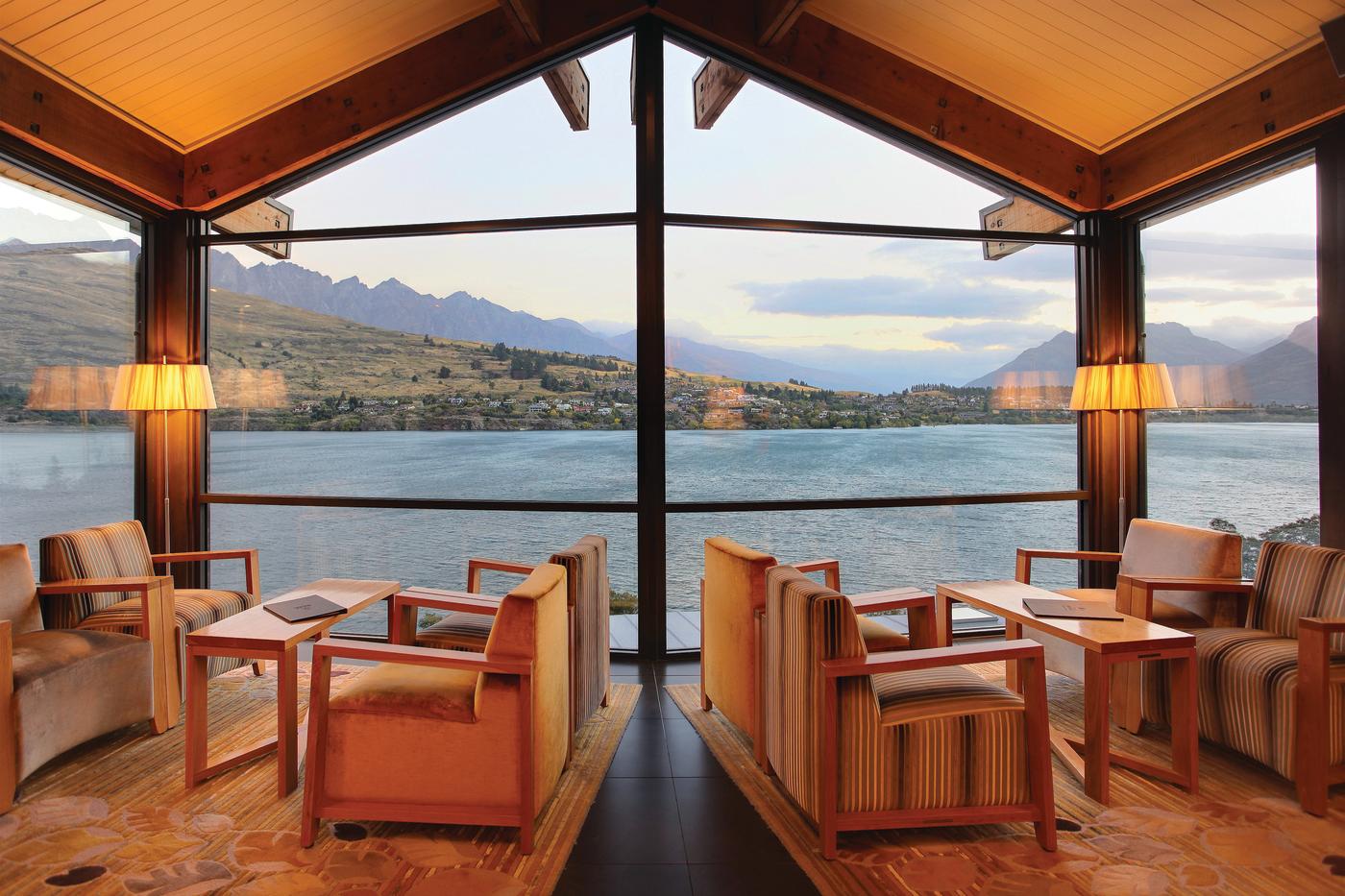 The Rees Hotel and Luxury Apartments
Accessible adventures in Queenstown
Inclusive tourism specialists Makingtrax have created a directory of inclusive adventures in the Queenstown area. All activities listed in this directory have worked with Makingtrax to make their adventures inclusive. Even if their activities are not accessible in the traditional sense, their team will make you welcome, and give you all the support you need to enjoy the adventures they offer. 
The directory of accessible Queenstown adventures includes cliff jumping, indoor skydiving, jet boating, ziplines, 4WD off-road adventures, scenic flights, and paragliding. Makingtrax recommend that when you book your adventure, you provide the activity organisers with information on your abilities, mobility and explain how much support you think you'll need to take part.
You can also check out our guide to accessible Queenstown adventures. Browse our full directory of accessible adventures in Queenstown here.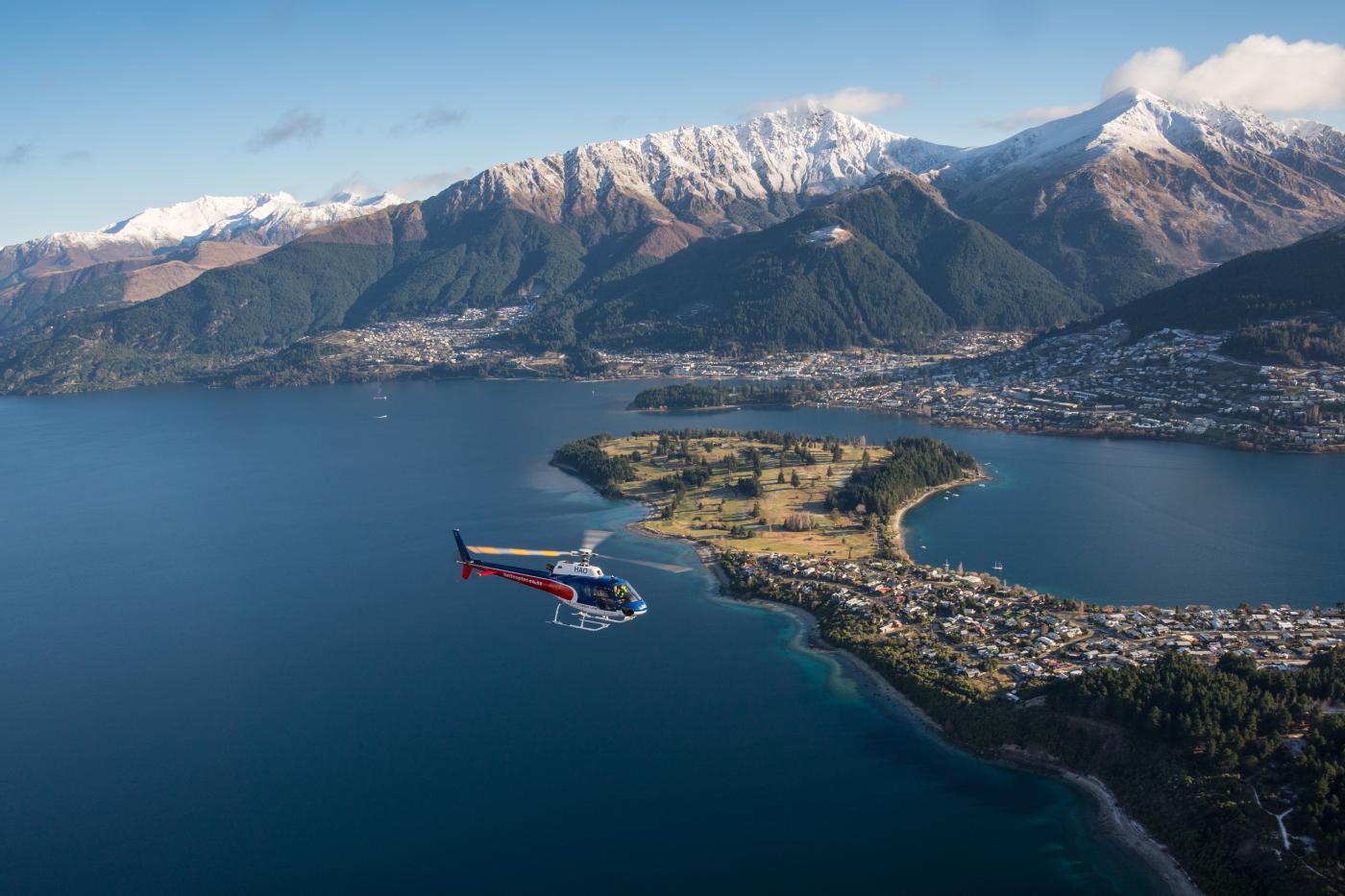 The Helicopter Line Scenic Flights
Accessible skiing and snowboarding in Queenstown
Anyone can experience snow sports in Queenstown. Whatever your age or abilities, our adaptive ski instructors can offer you a magical experience on the slopes.
You don't need any previous experience of skiing or snowboarding. Simply reach out and tell our local adaptive ski coordinators your snow sports dream at adapative@nzski.com. Tell them how mobile you are, and they can advise you on your options, and arrange any special equipment you may need. If you become a member at Snowsports NZ you get 50% off lift passes and equipment, and 40% off lessons.
The ski fields are very accessible, with gondola access at Coronet Peak and lifts at the Remarkables, along with wheelchair access to take you to the very edge of the snow. There are qualified adaptive ski instructors at Coronet Peak and the Remarkables, and you can hire adaptive ski gear from the Remarkables. A group of local volunteers act as snow buddies, offering support and company if you need it.
Queenstown is also home to the annual Adaptive Snowsports Festival, hosted at the Remarkables in early August. There are free ski lessons, fun events, prizes and support to ensure you have a great time on the snow. Register in advance so the organisers can make sure they've the right equipment for you.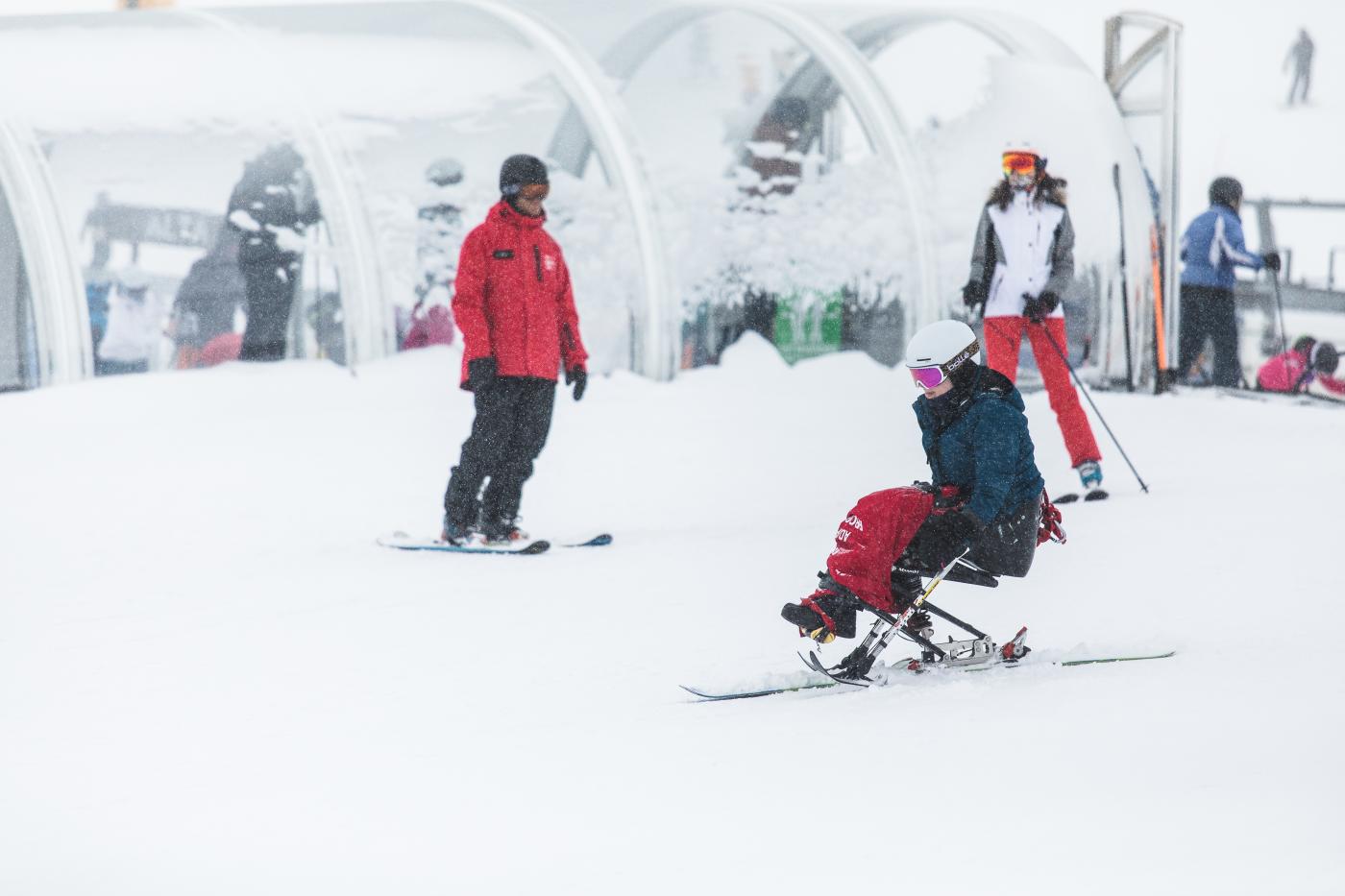 Adaptive snowsports at The Remarkables
Accessible trails in and around Queenstown
Because Queenstown is in the Southern Alps, many trails are steep and rough, but there are beautiful scenic options for visitors with wheelchairs or other mobility issues, including the Queenstown Gardens, trails along Lake Whakatipu, The Arrowtown Chinese Settlement, and Gibbston River Wine Trail. Check out our guide to accessible trails near Queenstown for more information.
Several of these accessible trails are part of the Queenstown Trail network, which runs around Queenstown, up to Arrowtown and into Gibbston. The trails are used by cyclists and walkers. Local cycle tour organisers offer e-bike hire, which can make trails more accessible for some people with access issues.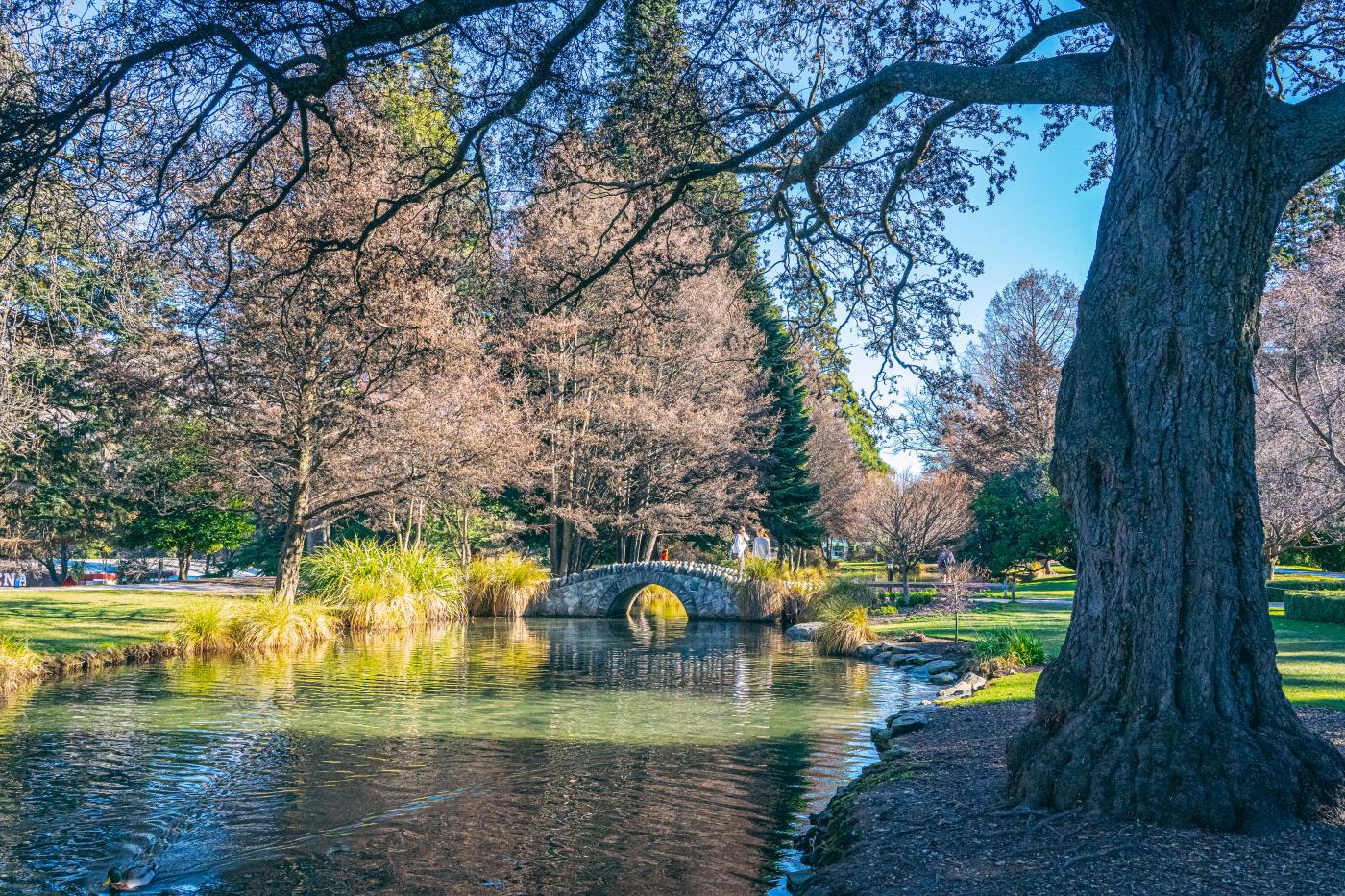 Queenstown Gardens
Accessible places to eat in Queenstown
Jezza explains, "Queenstown CBD is quite accessible. There are lots of inclusive and accessible bars and restaurants in the Mall and along the waterfront."
Wheelchair Jimmy recommends Fergburger, FINZ Seafood & Grill on Steamer Wharf, friendly local Pub on Wharf and Public Kitchen and Bar as accessible places to eat.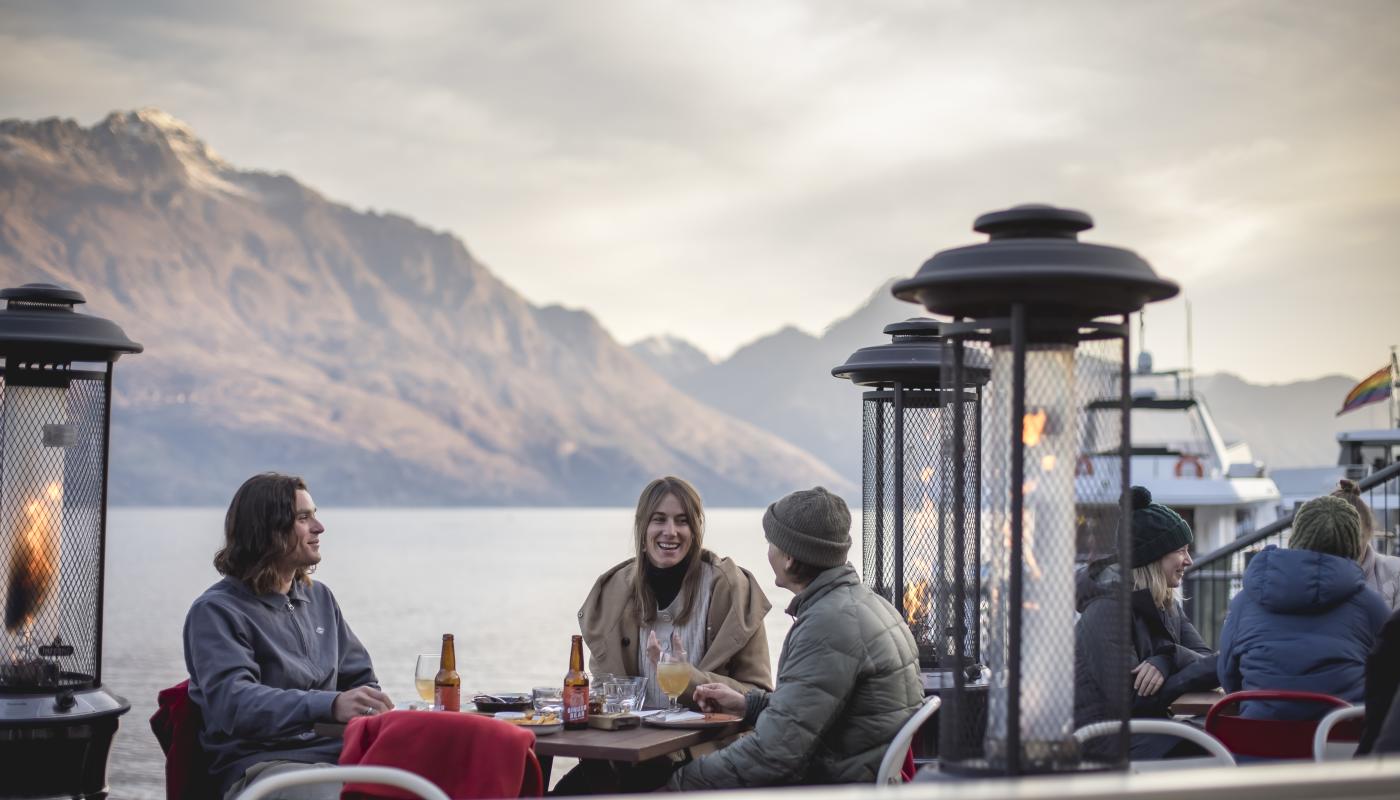 Public Kitchen and Bar
Arriving in Queenstown & getting around
Flying
Queenstown airport is accessible, with automated doors, accessible bathrooms, lifts to airport lounges, and easy parking. There are no jetways, so airport staff use hydraulic lifts to put wheelchairs on planes. Air New Zealand staff are trained to help passengers with access needs and have an assisted travel site to help you plan your trip.
Queenstown Airport has also recently introduced Sunflower Lanyards to support those with hidden disabilities to help make our community more accessible.
People with special needs travelling through Queenstown Airport can now do so a little easier thanks to the introduction of the Hidden Disabilities Sunflower Scheme. Sunflower lanyards are a way for passengers to discreetly let staff know they have a non-obvious disability and may need additional support or extra time to access services, move through the airport and process important information.
Driving & public transport
If you need a car for your visit Freedom Mobility have a base in Queenstown. They're New Zealand's largest mobility vehicle rental company, offering modified cars and vans for drivers and passengers with access needs. Mobility Vehicle Rental will drop off and pick up mobility vehicles from any national destination. If you can drive a regular car, and use a slide board to access the vehicle, there are plenty of Queenstown car rental options.
Queenstown Blue Bubble Taxis offer mobility vehicles with wheelchair access. Corporate Cabs has large sedans which can accommodate passengers with wheelchairs that fold up or dismantle. We recommend pre-booking taxis.
The local bus service operated by The Otago Regional Council runs from the airport into central Queenstown. All buses are wheelchair-accessible with access ramps, and the ability to kneel close to the kerb to make it easy for you to get on.
Wheelchairs can be hired from St John Wakatipu. Send an email to queenstownreception@stjohn.org.nz for rates and more information.
Jezza has a few words of advice when it comes to packing for your Queenstown adventure. "Keep your gear simple and minimalist. You're going to an adventure paradise. If you can get around in your manual chair, leave your electric chair behind. It's more flexible. But pack plenty of warm layers. Queenstown gets nippy at night and in winter, so make sure you're dressed for it."
Getting the most out of your Queenstown visit
Jezza says, "Queenstown's a very inclusive destination and everyone's very willing to assist. If it's organised beforehand, anything is possible. If you want to arrange anything special or out of the norm, you can contact Trax Travel, our accessible travel service. We're always here to help and offer advice."
James Isted-Salmon from inclusive adventure Canyon Swing agrees. "Everyone in Queenstown wants everyone to be able to experience all this place has to offer. Never assume anything is impossible. We'll do all we can to make things work for you. Communication is massive. So, if you want to experience an adventure, don't be shy to call or email ahead and explain your needs. That way activity organisers can think about what you need and how to make it possible for you."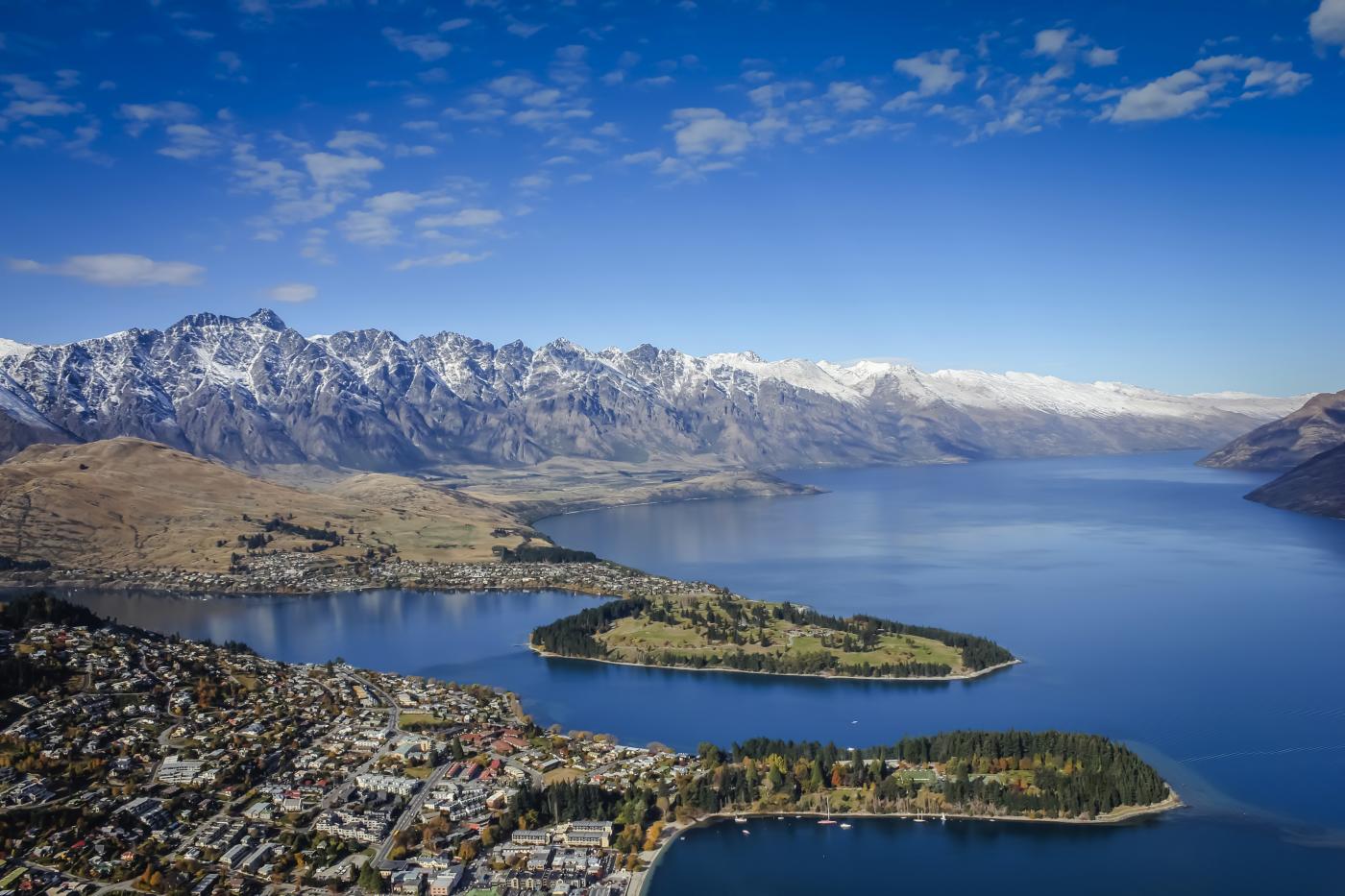 Queenstown from above
Travelling further afield
If you're looking to travel further afield than just Queenstown, First Port's Accessible Day Out Library is a helpful resource that highlights accessible facilities across New Zealand, with reviews from real people. The Accessible Day Out Library lists tourism activities, attractions, venues and retail businesses that provide accessible features such as wheelchair access, mobility parking, accessible toilets and sensory sessions. The search feature allows you to find places throughout the country that cater to your individual needs.