The spectacular terroir of Gibbston
Gibbston is part of the Central Otago Wine Region. The southernmost wine region in the world, cold winters, long hot summers and arid stony soils create intensely flavoured wines.
The Valley of the Vines is a spectacular wine region. The vineyards nestle between the steep slopes of the surrounding Pisa mountain range, and the precipitous rocky gorge of the Kawarau River. This stunning setting makes Gibbston a visual treat to explore by bike.
Gibbston most famous wine is their celebrated pinot noir. Robust and spicy, it's the perfect evocation of the region's uncompromising terroir. Other varietals include fragrant pinot gris and flinty rieslings, and you'll also find distinctive chardonnays.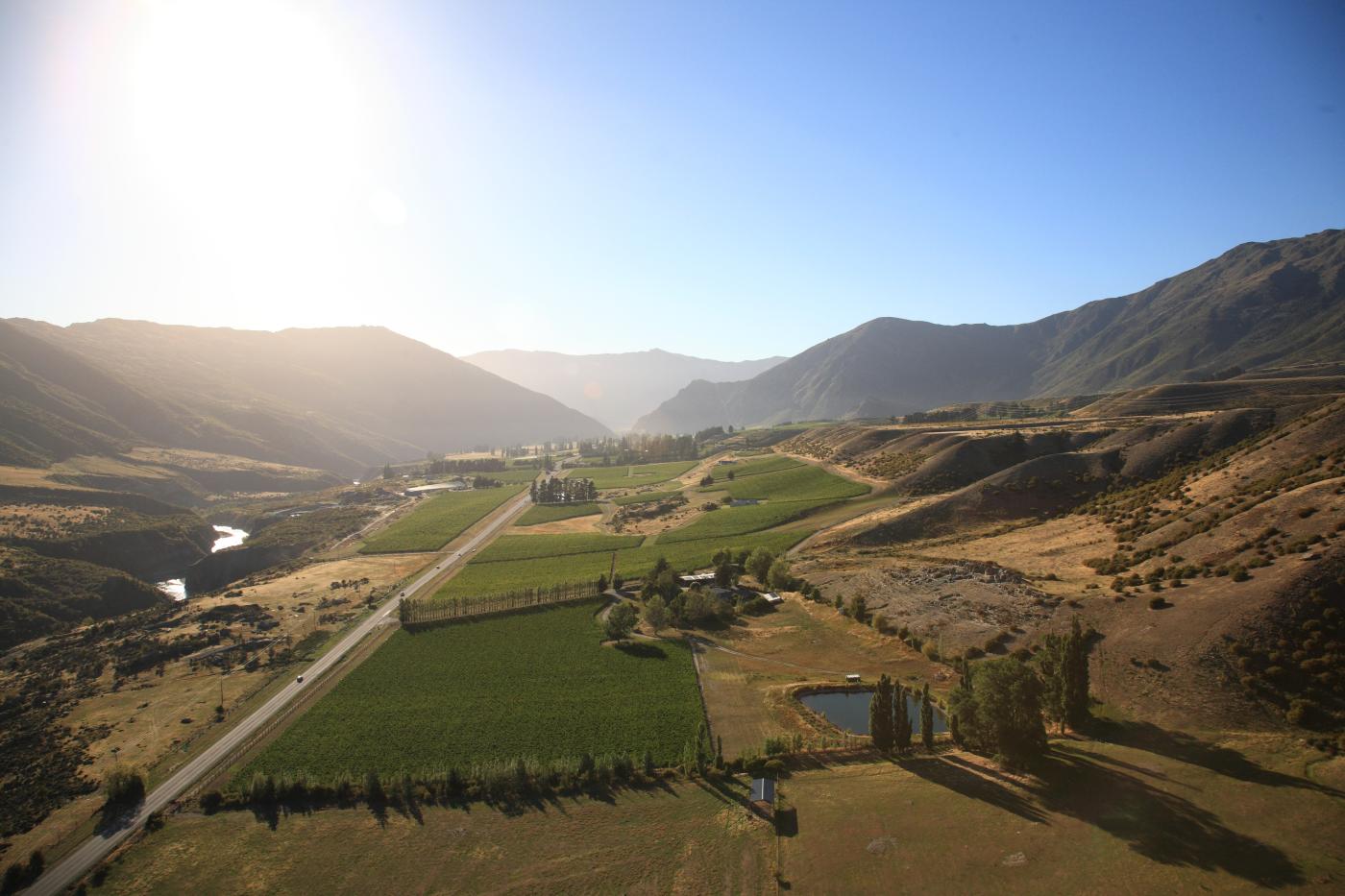 Aerial view of Gibbston Valley Station
Cycling to Gibbston
For a full day's riding, start your Gibbston bike ride from Queenstown or Arrowtown.  
From Queenstown to Gibbston is a 40 km ride taking 6-8 hours. There are a couple of decent climbs, so it's one for those with a reasonable level of fitness. Or you can hire an e-bike to make those hills a breeze. Bike shuttles can pick you up from Gibbston and take you back to Queenstown.
Starting from Arrowtown, you'll ride 13.7 km along the gorges and historic suspension bridges on the Arrow River Bridges Trail. This is a gentle ride taking 2-3 hours.
If you're keen to get straight to the wineries, you can take a bike tour or a bike shuttle and start your Gibbston adventure from the beginning of the Gibbston River Trail.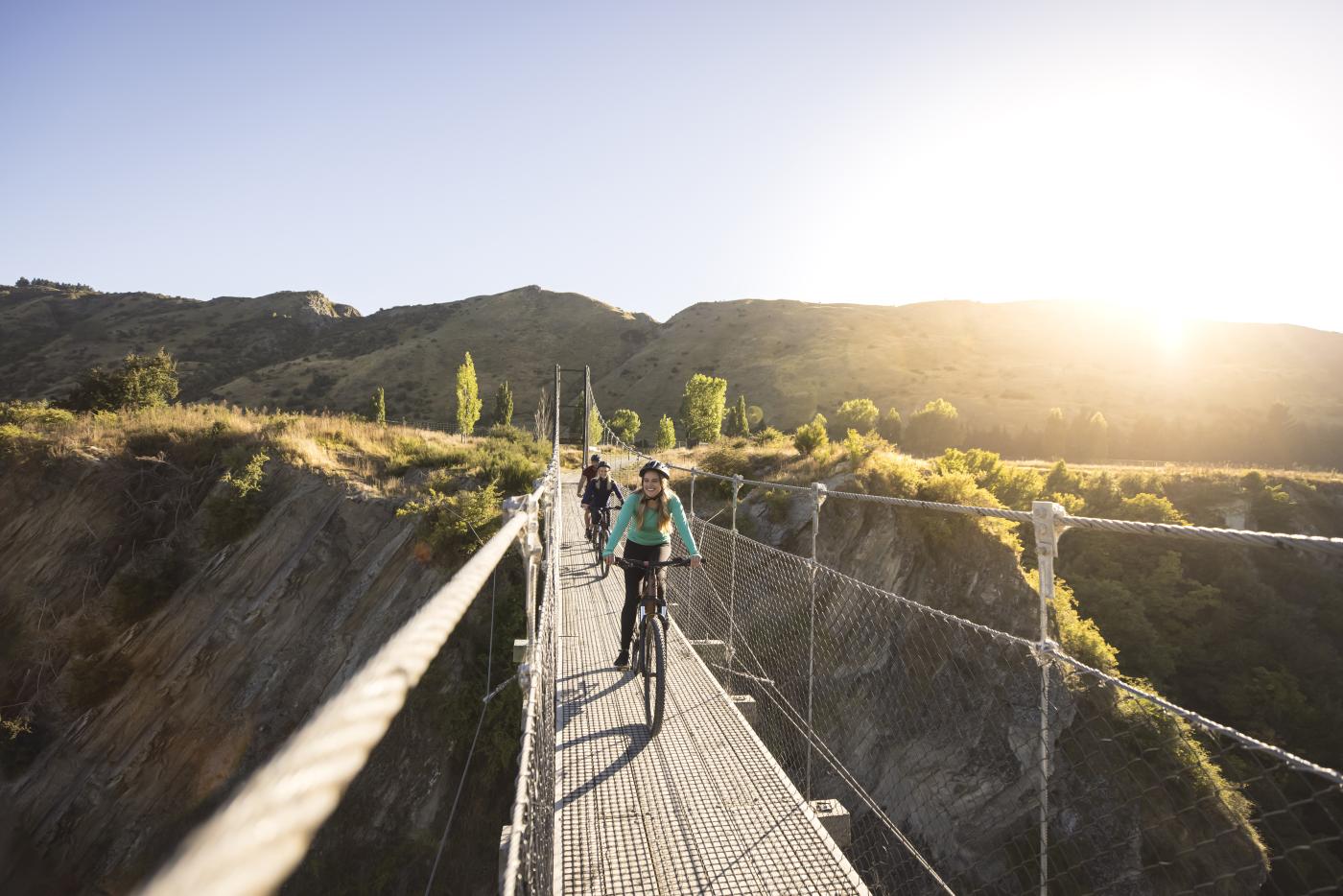 Cycling over the Edgar Bridge
The Gibbston River Trail
The 8.7 km Gibbston River Trail starts from the AJ Hackett bungy car park at Kawarau Bridge. The trail's an easy ride that can be done in a couple of hours, but of course, that doesn't account for stopping to sightsee and sip.
Before you start peddling into wine country, take a few minutes to watch the bungy jumpers plunge towards the river from the Kawarau Bridge. Or give yourself a mighty adrenaline boost by taking a jump yourself. Then head east into wine country.
The first winery you'll come to is Gibbston Valley Winery and Restaurant. Here there is a bike hire centre, the cheese shop, and a gift store. Next is Peregrine Winery, with its landmark winged roof.
From Peregrine push on deeper into the Gibbston, passing many more wineries. You'll also pass the Gibbston Tavern if you fancy a cold beer. The trail ends at Gibbston Back Road, where you can visit Mt Rosa Winery or Brennan Wines.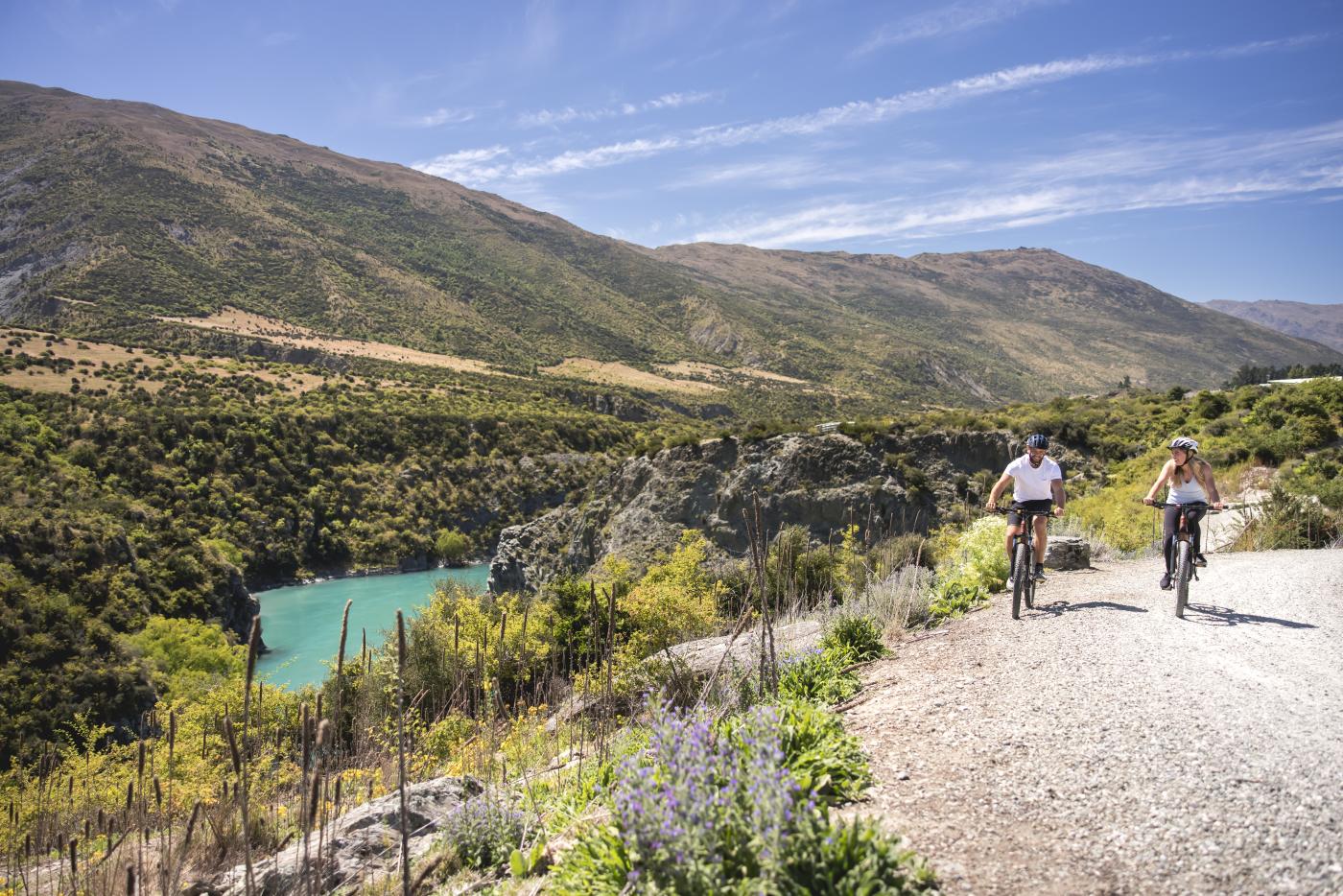 Biking alongside the Kawarau River
Bike hire and bike tours
Wine tours by bike
There are many bike wine tour options for exploring the Gibbston Wine region by bike. Try a guided e-bike wine tour starting in Arrowtown or a self-guided ride around the wineries, with transport from Queenstown included.  
Bike shuttles make it easy for you to get to the start of the Gibbston River Trail. Or you can arrange for a pick-up at the end of the day, so you can taste local wines and enjoy food, knowing that you don't have to cycle back to your hotel.
Bike hire
Hiring a bike is easy, with everything from e-bikes to mountain bikes, and all the gear you need.
For a couple of convenient local options, pick up a bike from the Gibbston Valley Bike Centre in the heart of wine country. You're easy riding distance from all the wineries, and you can book return transport on the Gibbston Valley Shuttle. On the main street of Arrowtown, Arrowtown Bike Hire can sort you out with e-bikes or push bikes to take you into the Valley of Vines.  
If you're starting your adventure from Queenstown, you can hire a bike, book a bike wine tour or book a shuttle. Whatever your riding experience and fitness level, there's a Gibbston wine region biking adventure waiting for you.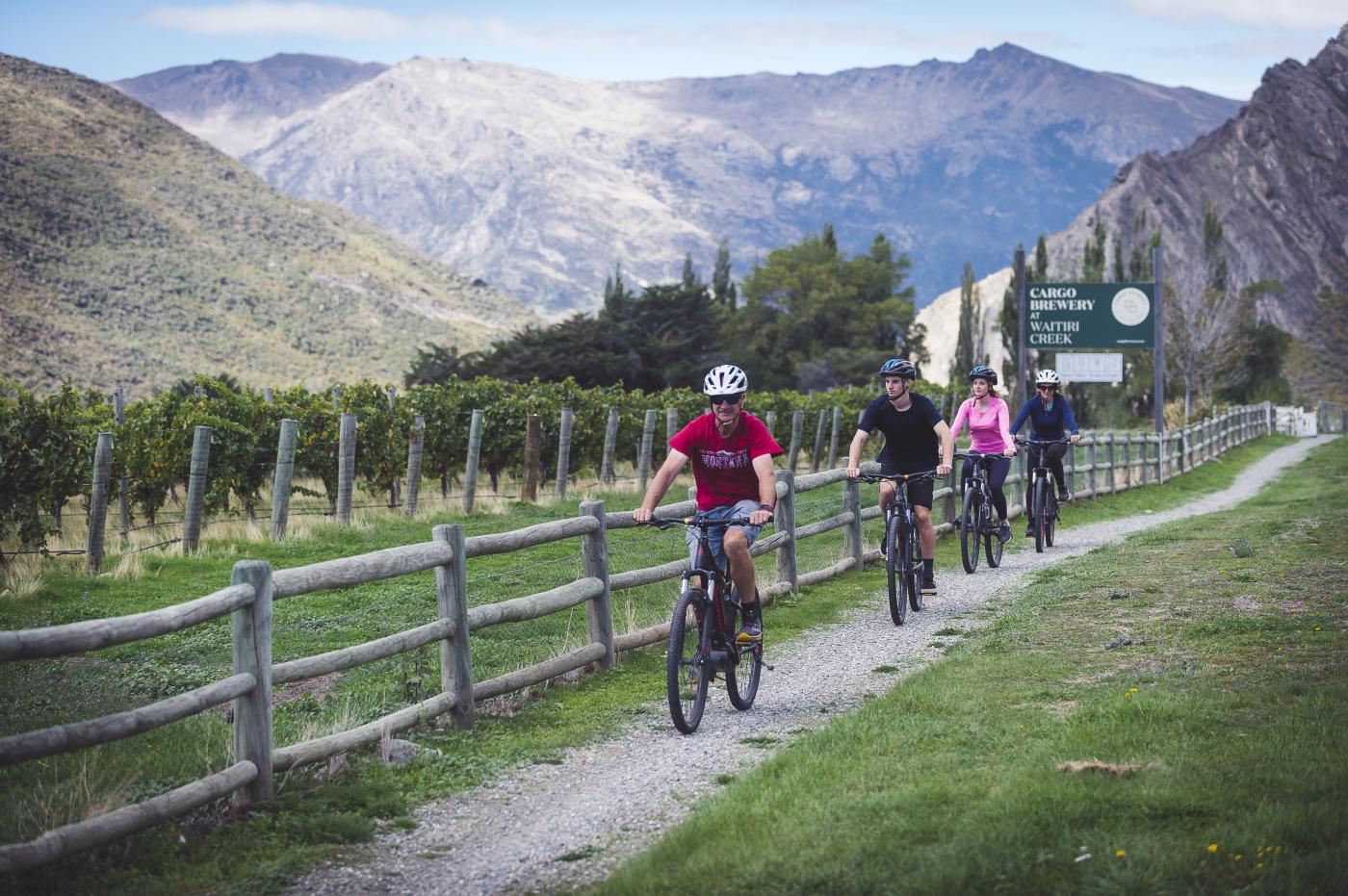 Biking the wineries with Around The Basin bike tours
The wineries of Gibbston
Does a wine tour on bikes sound like your ideal day out? Gibbston is full of boutique wineries with reputations that punch far above the size of their output.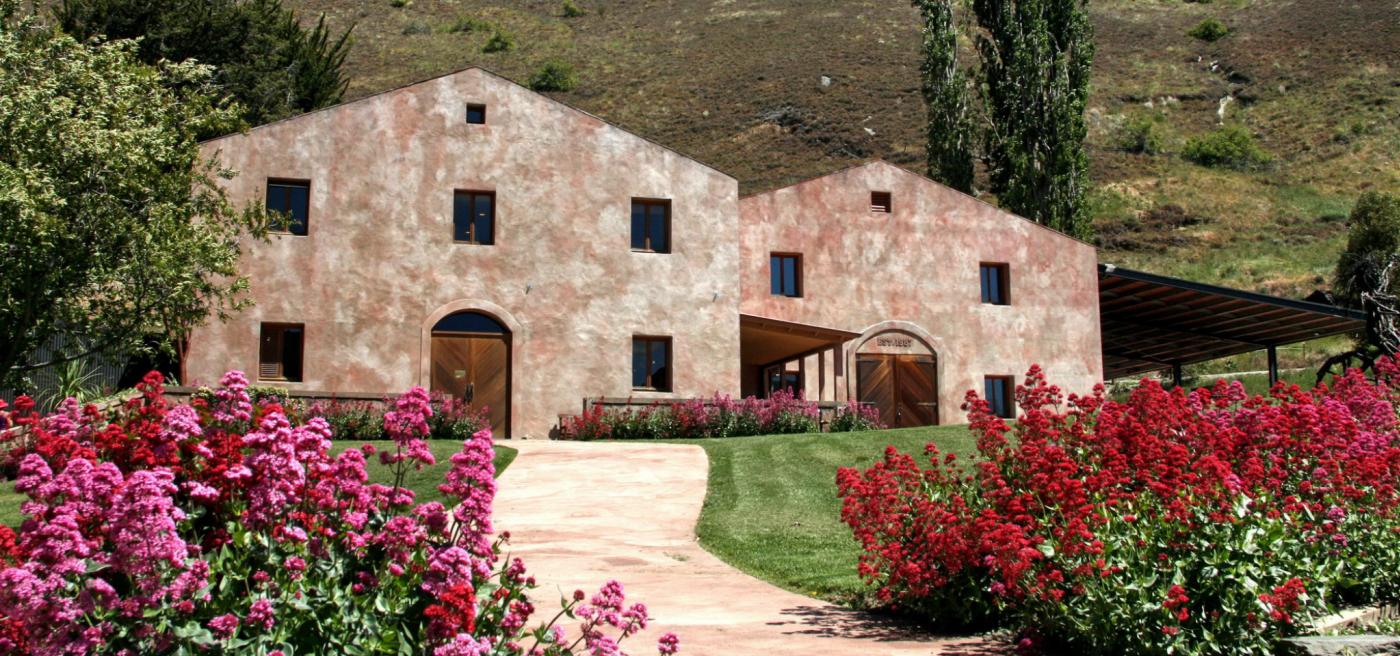 Chard Farm Winery
Gibbston eats
After all that sipping, you're going to need some sustenance. Gibbston Valley Wines offer a cellar door menu of platters, coffee and cake. Or you can book a table at their winery restaurant for an inspiring Central Otago wine and food experience.
You're also just around the corner from two acclaimed bistros. Amisfield Bistro is renowned for its use of seasonal local produce. And Chef Vaughan Mabee was Chef of the Year at the 2019 Cuisine Good Food Awards. Kinross Bistro does five-course food and wine-matched dinners along with pizzas for a quick tasty snack.
If a spot of al fresco dining is more your speed, pick up a picnic hamper from the Gibbston Valley Cheesery & Deli featuring their delicious washed rind and sheep's milk cheeses and a range of chutneys and pastes made with Central Otago fruit.
For a casual bite to eat, the Gibbston Tavern does wood-fired pizzas and a bar menu is packed with crowd-pleasing favourites like burgers, fish and chips and nachos. Enjoy their sunny sheltered garden.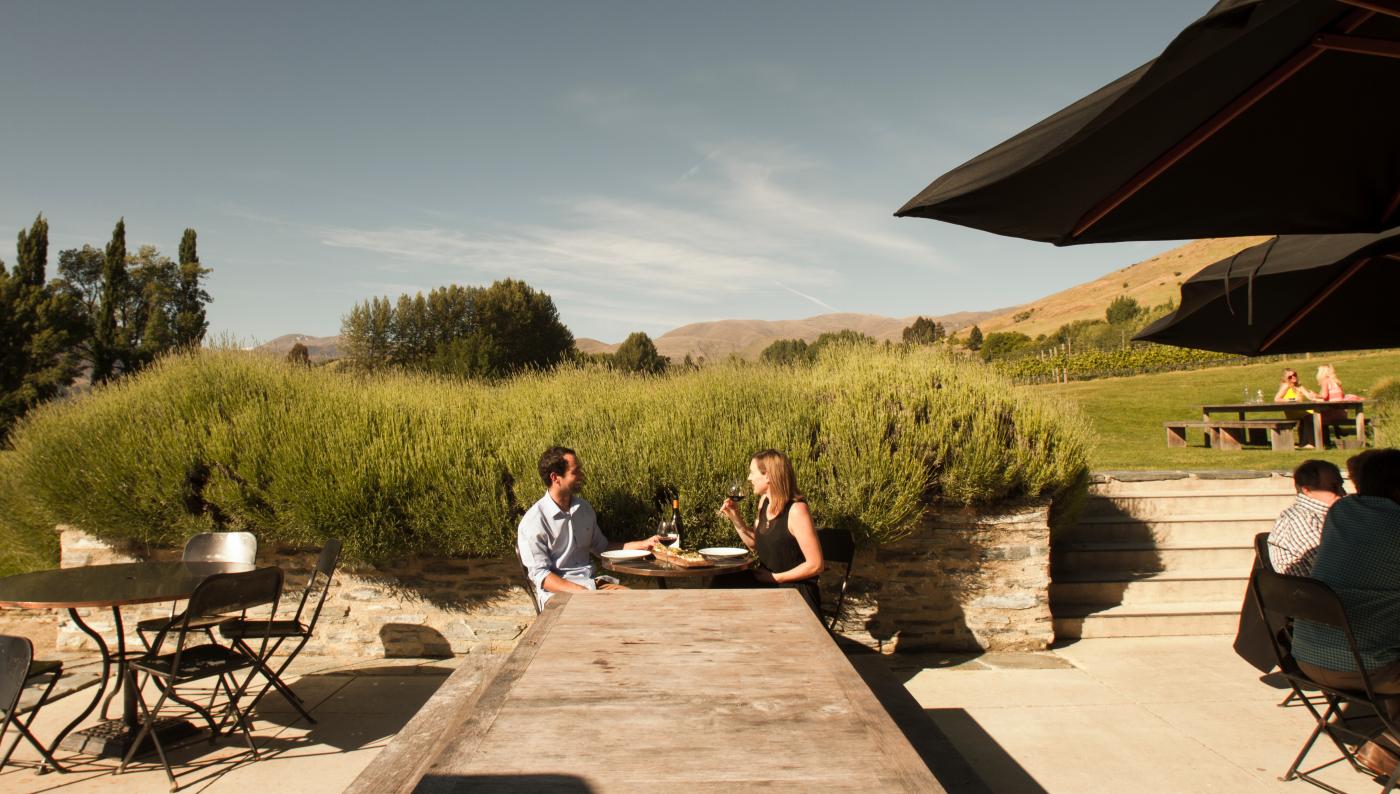 Amisfield Winery & Bistro
Gibbston heritage sites
Gibbston has some interesting historic sites that you can explore by bike. Experienced cyclists can take the steep Peregrine Loop track for a 2 km detour from the Gibbston River Trail along the Kawarau Gorge. Enjoy river views, historic timber bridges, and traces of Central Otago's goldmining heritage. You can access this track from the Peregrine Wines car park.
A detour down Rafter's Road leads to Rum Currie's hut and its heritage orchard. This historical site is preserved by the Gibbston Community Association.
The Gibbston Tavern is built on the historic site of an 1800s gold rush hotel, that catered to miners walking between Cromwell and Queenstown. The old coach road used to run past the door, and you can still see some original stone buildings surrounding the current pub.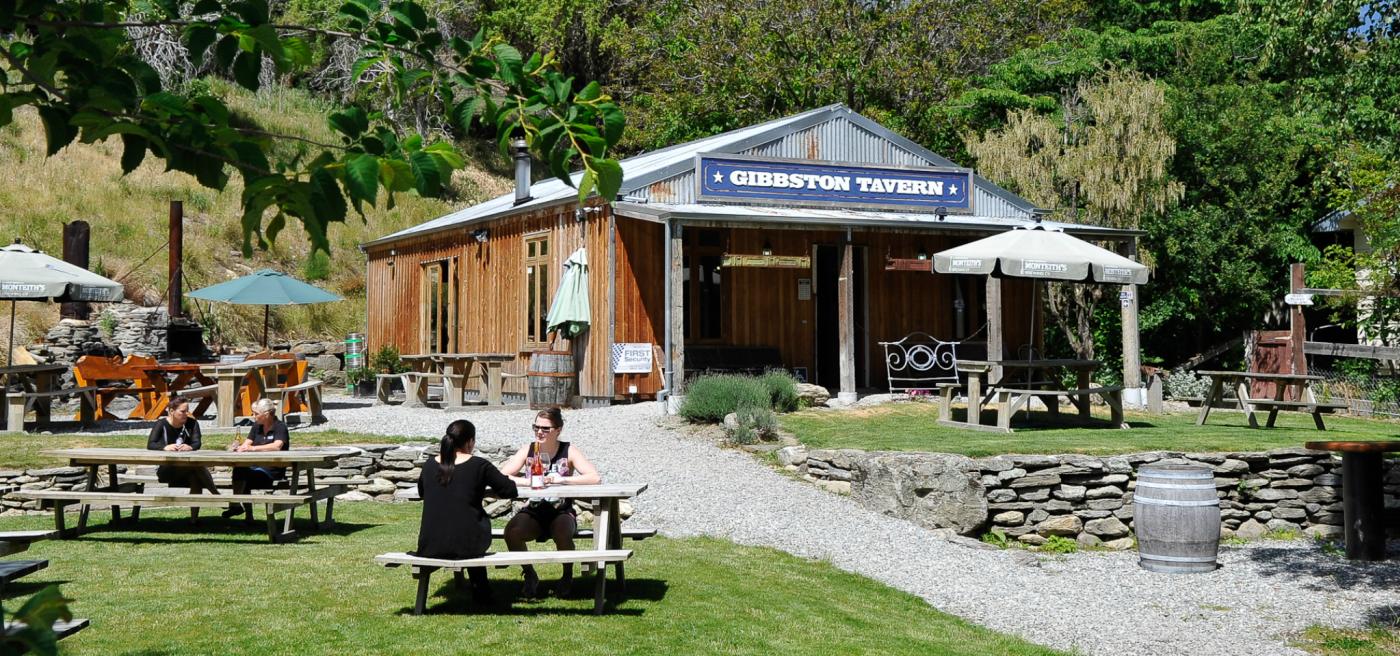 The Gibbston Tavern