Queenstown's ski fields play host to internationally renowned competitions across freeride, freestyle and alpine racing. With a stacked calendar of events every winter, the world's best skiers and snowboarders gravitate to this alpine mecca of the south. From internationals such as Eileen Gu and Shaun White, to New Zealand's own Blake Marshall and Zoi Sadowski-Synnott, these pros are shaping the sport every day they go out riding.
We've asked some of our home-grown heroes to weigh in on our guide to The Remarkables, Coronet Peak, Cardrona Alpine Resort and Treble Cone - read on for their tips to have the best day out on the slopes.
The Remarkables
The Remarkables
Looking east from Queenstown, the jagged crown decorating the skyline is the dramatic border of The Remarkables Ski Field. An easily-accessible 40 minute drive from town, this impressive alpine vista is a whole lot more approachable than it looks from town.
The Remarkables is best known for its incredible freeride terrain but also boasts extensive pistes, up to seven terrain parks including the only Burton Stash concept park and architecturally designed facilities. Home to the Freeride World Qualifier events including The North Face Frontier, The Remarkables has been a launch pad for many professionals freeride skiers such as Queenstown's Blake Marshall.
Pro-Tip: To put your freeride skills to the test, check out the The North Face Frontier competition venue located in the Alta Chutes: Elevator + Escalator. A 20-minute hike from the top of the Shadow Basin chairlift, be sure to know the route before you go and pay attention to all safety and avalanche instructions.
The Remarkables Strengths + Style:
Freeride
Freestyle
Great for progression
40 minute drive from Queenstown
Blake Marshall's 'Best Day at Remarks' Checklist:
Blake Marshall is a freeride skier from Queenstown, representing New Zealand on the Freeride World Tour. Shaped by the mountains and skiing community of Queenstown, Blake's roots have played a big role in his journey to the top level of freeride skiing.
Start the day with a flat white from the Rastusburn Coffee Bar (in The Remarkables base building)
Ride the Shadow Basin chairlift and watch all the freeriders shredding Shadow Basin and jumping the infamous Breakfast Cliff
Lap Shadow Basin and get some air under your skis
Hike up to the top of Alta Chutes and then ski Elevator Chute
Loop back to Shadow Basin. Hike the Weather Station and ski out to Homeward Bound (skiers left). This takes you past the ski area boundary, but you can catch the mountain shuttle on the access road back up from 10am – 3pm
Sunny afternoon park laps
Lakeside beers at sunset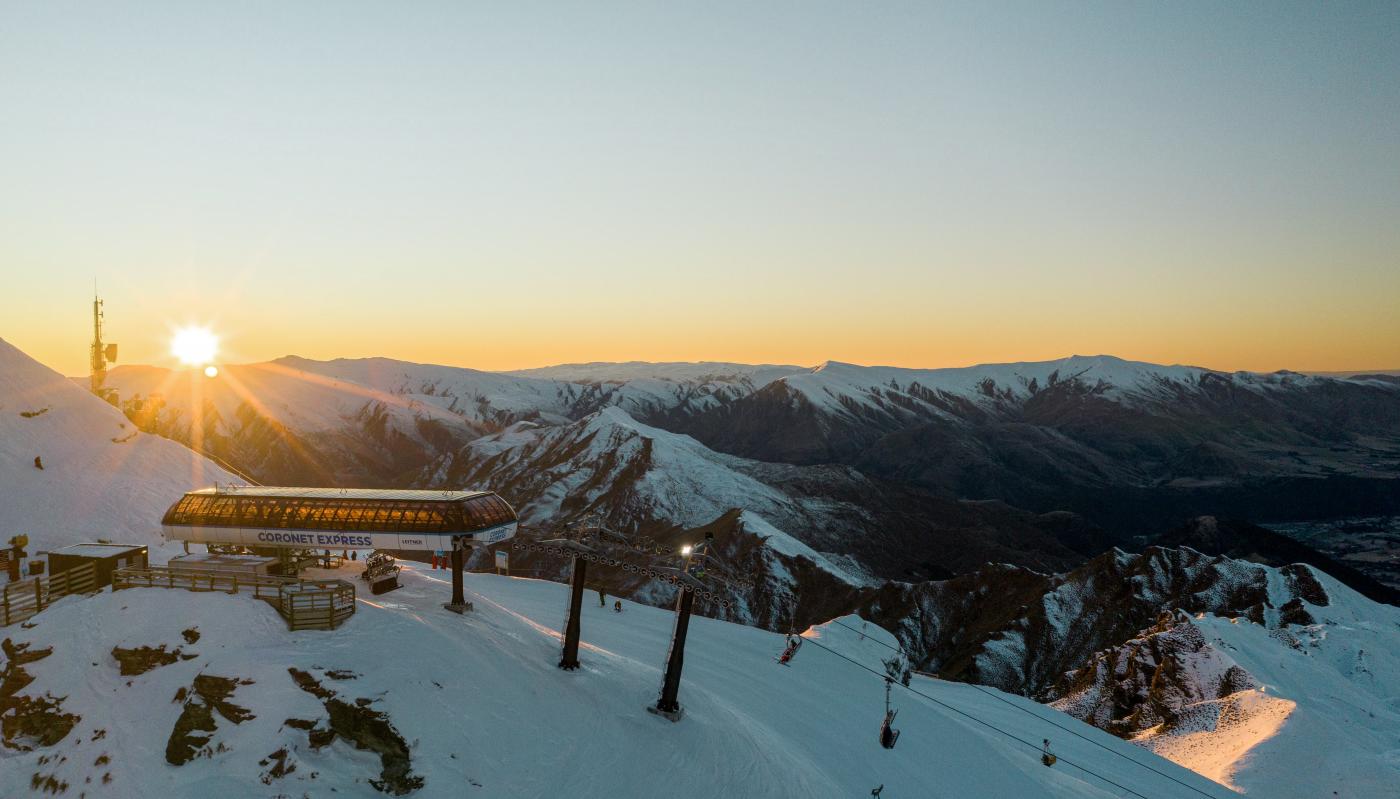 First Tracks at Coronet Peak
Coronet Peak
For those who have a love of squashing early morning corduroy, look no further than Coronet Peak. You can find most local skiers here between 8am and 9am on weekdays, getting their fix in before work with First Tracks. There's nothing like a stunning sunrise and fresh air to start the day. Most of Coronet Peak's First Tracks enthusiasts top off their early laps with a delicious coffee and hearty breakfast. 
In addition to the carefully prepared runs that make Coronet home to piste enthusiasts and alpine racers alike, the playful, rollercoaster terrain also makes the resort popular for off-piste pursuits. Most runs have fun drops and detours off trail that will appeal to skiers and snowboarders with a range of abilities. Exchange Drop is a black run that stands out as a top contender for those who favour Coronet's steep, leg-burning terrain.
Pro Tip: Because Coronet Peak has more tussock (alpine grass) than rock hiding beneath it's snowpack, the fun off-piste terrain is accessible in the early season - no matter the snow coverage - making it the best choice for testing out your new skis or board.
Coronet Peak Strengths + Style:
Leg burning piste runs
All-Mountain terrain
Alpine Racing
Closest ski area to Queenstown (a short 20 minute drive)
Alice Robinson's 'Best Day at Coronet' Checklist:
Alice Robinson is New Zealand's most prolific World Cup Alpine Racer. Fast becoming a household name around the globe, Alice is building towards her Olympic debut with three Giant Slalom World Cup titles to her name in the last two seasons.
Set out on the drive from home to Coronet, an easy 15 minute trip
Grab a coffee from Coronet Peak's base café
Boot up and head out to the Coronet Express
Head down the M1 and lay down some arcs on the freshly groomed slopes
Grab some mates and head to Green Gates Express and race them down
Make my way over to the Rocky Gully T-bar to grab some pizza at Heidi's Hut (and more coffee obviously!)
T-bar laps skiing through the Race Arena
Afternoon laps on Exchange Drop's perfect wind buffed snow
Hang out at the base buildings while the sun sets over Whakatipu Basin
After dark, the lights come on and night skiing is on!
Enjoy the pretty lights of Queenstown over a hearty dinner before driving home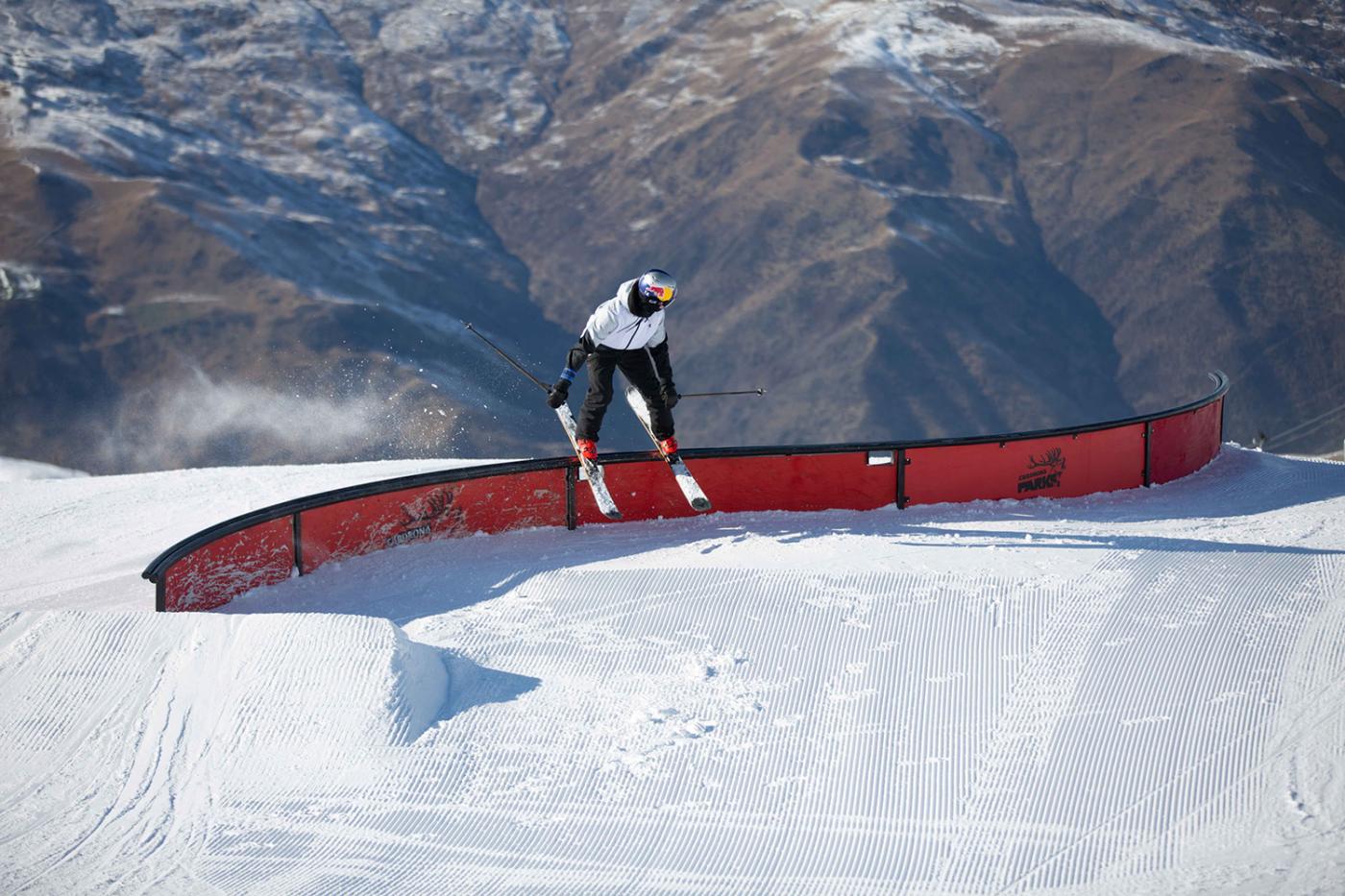 Cardrona Alpine Resort
Cardrona Alpine Resort
Cardrona Alpine Resort is the hub of freestyle skiing in the Southern Hemisphere, playing host to a multitude of competitions such as FIS World Cups in Big Air, Halfpipe and Slopestyle. The world's best freestyle skiers and snowboarders flock to Cardrona for competitions and intensive training every (COVID-free) winter. This means that you can see the likes of Eileen Gu, Chloe Kim, Jamie Anderson and James Woods progressing the sport of freestyle alongside homegrown heroes such as Jossi Wells, Zoi Sadowski-Synnott and Nico Porteous.
Get ready to be inspired by the biggest names in freestyle and take on Cardrona from whatever level you are at. Cardrona's extensive terrain parks span from beginner (Lil' Bucks) to the global gold standard of freestyle (Big Bucks).
Cardrona is bringing a new and exciting offering to the table this winter: the Willows Quad chairlift, opened up 65 hectares of new freeride terrain in Soho Basin. Not only does this diversify the offering for Cardrona enthusiasts, but it increases their uplift capacity meaning more wide-open spaces for everyone.
Pro-Tip: Imagine using 'sleep-in' and 'first lift' in the same sentence. Cardrona's luxurious apartments can make this a reality. If you see a powder day on the horizon, book a night at the apartments so that you can wake up in an alpine wonderland, ready for action.
Cardrona Alpine Resort Strengths + Style:
Freestyle Skiing – the hub of freestyle in the Southern Hemisphere
All Mountain terrain
Freeride in Soho Basin, Captain's Basin and Arcadia Chutes
60 minute drive from Queenstown
Janina Kuzma's 'Best Day at Cardies' Checklist:
Janina Kuzma is a professional skier who represented New Zealand on the Freeride World Tour, before switching focus to a career in halfpipe that landed her in 5th place at the 2014 Olympic Games in Sochi. 
Wake up well-rested and discover an epic powder day outside
Sunrise laps in the freshly shaped Olympic superpipe
Take the first Willows Quad chairlift and lap the fresh pow in Soho Basin
Head through the Arcadia Chutes down to the Valley View Quad for a long black at little Meg Cafe 
Ski over to the Big Air to cheer on the next generation of freestyle skiers
Snack on oodles of noodles at Cardrona's Noodle Bar
Embark on a sunset ski-tour up Cardrona's Skyline run with a flask of hot choccy
Book a night at Cardrona's lush apartments with your loved one and enjoy a delicious dinner at Mezz Café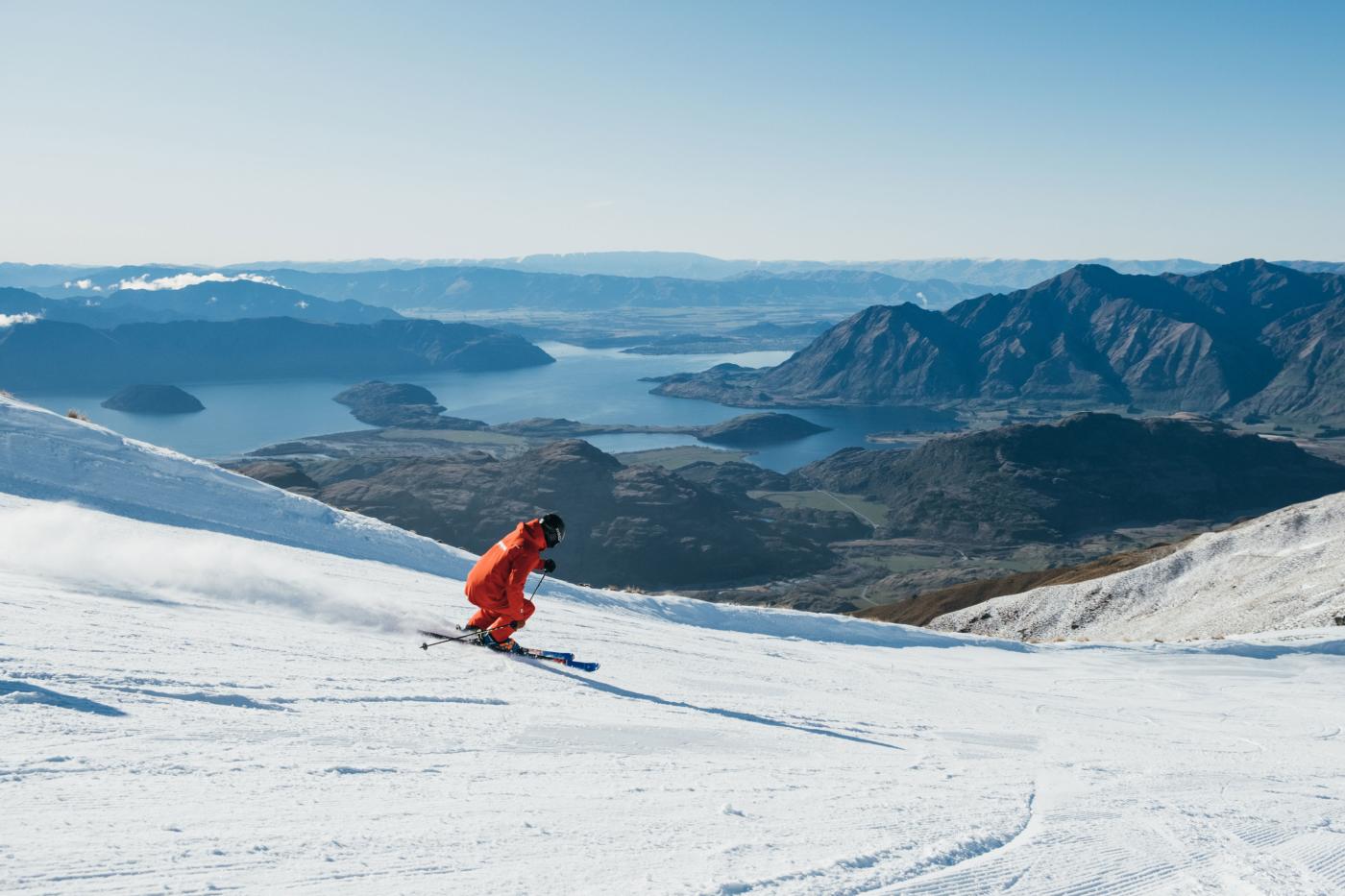 Treble Cone
Treble Cone
Treble Cone (TC) is the largest ski area in the South Island, with 550 hectares of incredible terrain across 700 metres of vert. Popular with freeriders, TC is packed full of natural halfpipes, playful features and steep off-piste runs to challenge the most demanding skiers and snowboarders. The Saddle Chairlift is a piece of live theatre: watch for skiers sending it off Glory Rock and rat-packing their way down the mountain amid much heckling, hooting and hollering.
In addition to absolutely showstopping views across Lake Wānaka, Treble Cone also serves up a beautiful panorama of the Southern Alps. With some of the longest groomed runs in the Southern Hemisphere, TC is the place to go to spend less time on the lift and more time ripping it up.
Pro-Tip: Pocket pizza might be the chairlift snack of choice in the USA, but Treble Cone's pastries provide a more refined on-mountain experience. From the delectable almond croissant, to the hearty and yet light jambon/fromage croissant. It's rumoured to be better than French patisseries and will keep your ski legs going strong from first lift till last.
Treble Cone Strengths + Style:
Freeride and off-piste terrain for all levels
Longest pistes and largest ski resort in the South Island
Showstopping views
90 minute drive from Queenstown
Sam Smoothy's 'Best Day at TC' Checklist:
Sam Smoothy made an international name in skiing via his exploits competing on the Freeride World Tour. Racing big mountain lines is still his game, but these days he skis in Teton Gravity Research films, or for himself at his home mountain: Treble Cone.
Down an oat flat white and shove an almond croissant in your pocket, lunch runs late on a powder day 
Powder Bowl is open and firing! Out skate everyone along the cat track before diving into the fresh below the old tow shed
Head up to Saddle Basin, heckle anyone skiing under the chair for showboating, pick your glory line and send it
Mosey up the boot pack to the summit for the best view around. Milk powder 8 jump turns past the teenagers throwing (crashing) flips off Summit Rocks
Motatapu Chutes are open and it's so silky good that you "accidentally" miss the high traverse out. Swear you will make it next time
Drop off the back of the summit to tour a few laps of Gold Rush chutes until your legs crumble. Cry with joy when you find the croissant in your pocket
The burn in your legs is telling you its burger time. So slash your way down Gun Barrel run and grab a burger from The Southern BBQ
Soak away the aches with a rejuvenating dip in the brisk waters of Glendhu Bay. Stare at the last light slipping over Tititea/Mt Aspiring and crack open a frosty boy