A road trip to Queenstown should be one of the top items on everyone's travel bucket list. With prime views of some of the world's most spectacular scenery, you'll feel like an extra in a Lord of the Rings movie as you cruise through it. So throw your skis in the back, your snacks in the front and a mate in the passenger seat and get ready to hit the road.
The Perfect Route
Prior to your drive, map out your ultimate route with stopovers that make the most of the towns you'll be passing through. If you're coming from the south then a stop at Devils Staircase for photos is a must, if you're coming from the north then hit up the Kawarau Bridge bungy, or rather, just jump.
Drop into the Gibbston Valley Winery for a wine tasting through New Zealand's largest wine cave. Then as you approach Queenstown, pause for a moment in charming Arrowtown for photos of the main street, a sticky bun from Provisions and a great coffee from Akarua Wines and Kitchen by Artisan.
What to pack
Layer up to take you from crisp early mornings to blue bird snow days to stars and moon at twilight. Gloves, thermals and beanies are a must, they're easy to throw in your bag and keep your extremities warm when needed. A warm coat and closed shoes for night. Like most ski towns Queenstown is cold in winter! If you're a first timer to the snow then goggles, gloves and wool socks are a must for skiing. You can rent all other gear but you can't rent these essentials.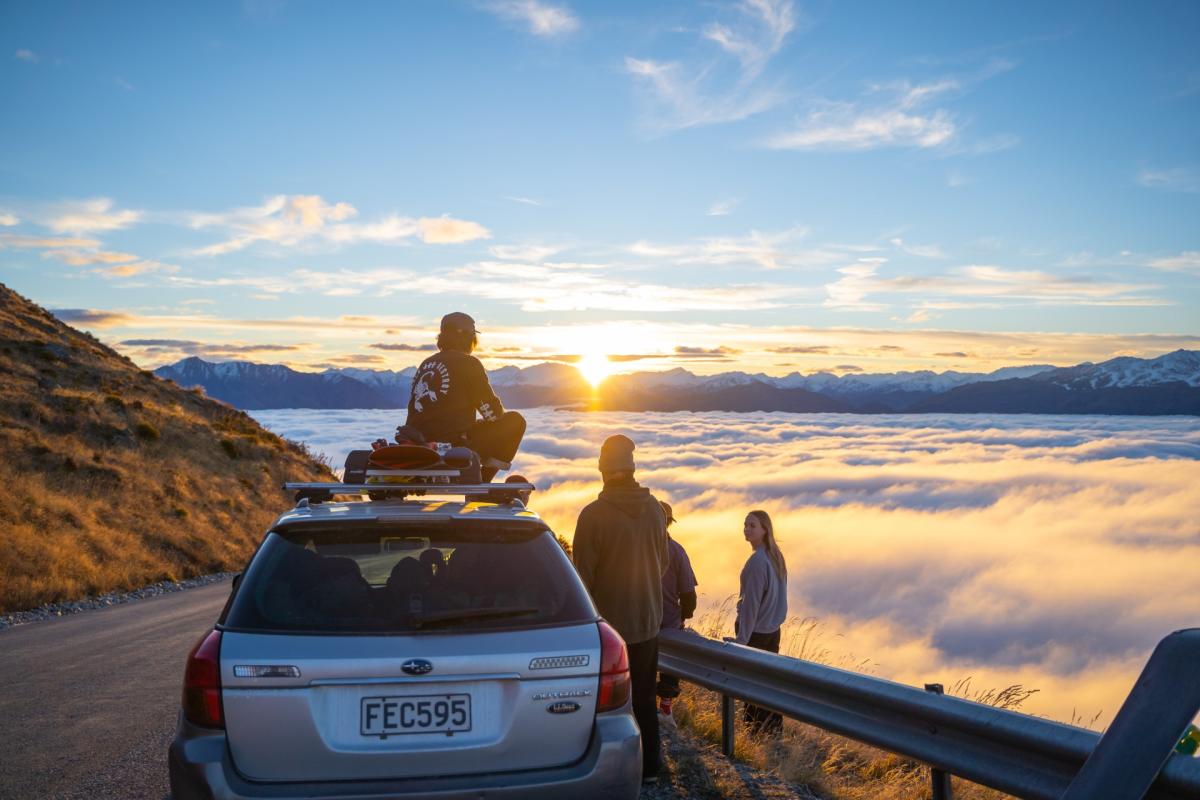 Snacks for the drive
Us Kiwi's do snacks well. Make sure you pack the favourites to fuel your journey: Whittakers Chocolate (from hokey pokey to peanut butter to dark salted caramel, its hard to pick which!), pineapple lumps, chocolate marshmallow fish and afghan biscuits.
Feeling particularly fancy? New Zealand is known for its dairy, with award-winning cheeses coming out of the country each year. Pick up a couple of varieties at the above-mentioned Gibbston Valley Winery for a roadside cheeseboard on one of your rest stops.
However you snack, make sure you save room for Queenstown's famous Fergburger, the chocolate après fondue at Patagonia, donuts at Balls and Bangels and a Cookie Time sandwich – just some of the must-eat moments of downtown.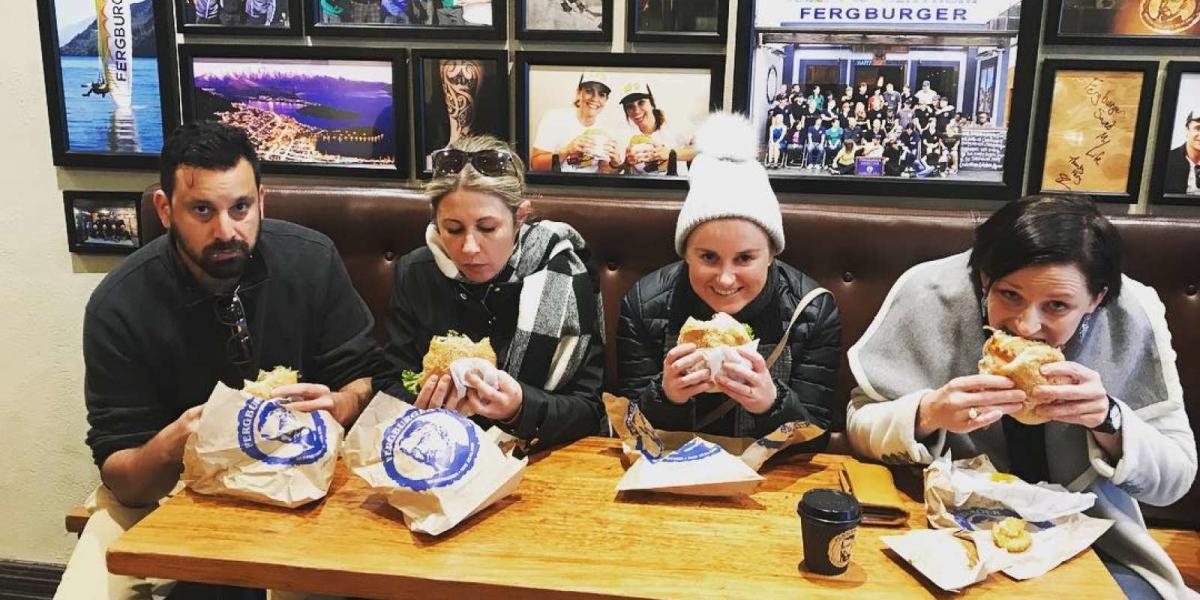 Tunes for days
No road trip is complete without a playlist, of course. Search 'New Zealand hits' on Spotify, or make your own playlist – just be sure to include the best of New Zealand's exports and sing all the way to Queenstown.
Favourites from Lorde, Fat Freddy's Drop, Opshop, The Naked and Famous and semi-controversial Crowded House all have to be included along with, of course, some comedic relief in the form of Flight of the Concords.
More of a podcast lover? Get into the New Zealand spirit by listening to their very own award-winning true crime podcast, Black Hands, which reached number one on download charts in the country shortly after release.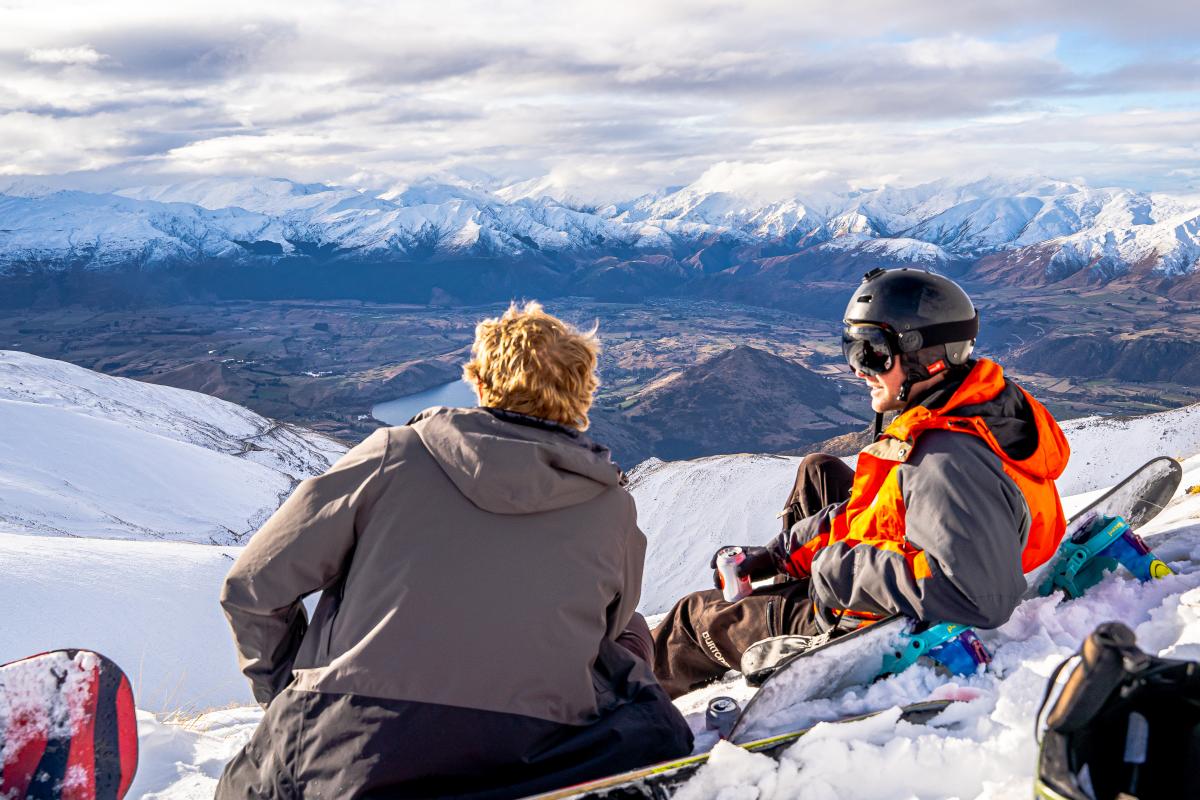 Capture the action
Try to time your drive so that you're getting the best of the daytime along with some dusk. Then turn up the music and turn on your camera to ensure you're capturing every moment of the South Islands' beauty along your drive. Whether you're working with a DLSR camera or an iPhone with selfie stick attachment, your Instagram followers will be experiencing serious #fomo.  
Make sure you snap yourself in the Treble Cone Insta Frame on their mountain with the view behind you, take a hike to the lookout on the top of The Remarkables for a view of Lake Wakatipu, at Cardrona grab a glass of Mumm and settle in for a selfie on the snow bean bags and a night selfie on the stationary chairlift at Coronet Peak is also a must.
Safety first
It's winter, after all. Be prepared with extra layers in the car (including coats and possibly even a blanket) in case of a car breakdown, along with water, a first aid kit and a phone. Be sure to also pre-download your road trip map onto Google Maps so that you can safely find your way to your destination, even if there's no wifi around.
Lastly, make sure you have a set of chains in the boot and know how to fit them if you're doing any alpine driving. This includes going over the Crown Range to Cardrona Alpine Resort or Treble Cone, as well as driving up all ski area access roads (even if there are no chains required in the morning). The weather can change at any time, meaning you might require chains to get down the mountain later in the day.