Whether you're a local heading to the Southern Alps for a weekend of shredding, you're down from the North Island for a slice of the action, or you're over from Aussie to catch some snow, a road trip to Queenstown can't be beaten.  
So, throw your skis in the back, your snacks in the front, and a mate in the passenger seat, and get ready to cruise through the world's most spectacular scenery.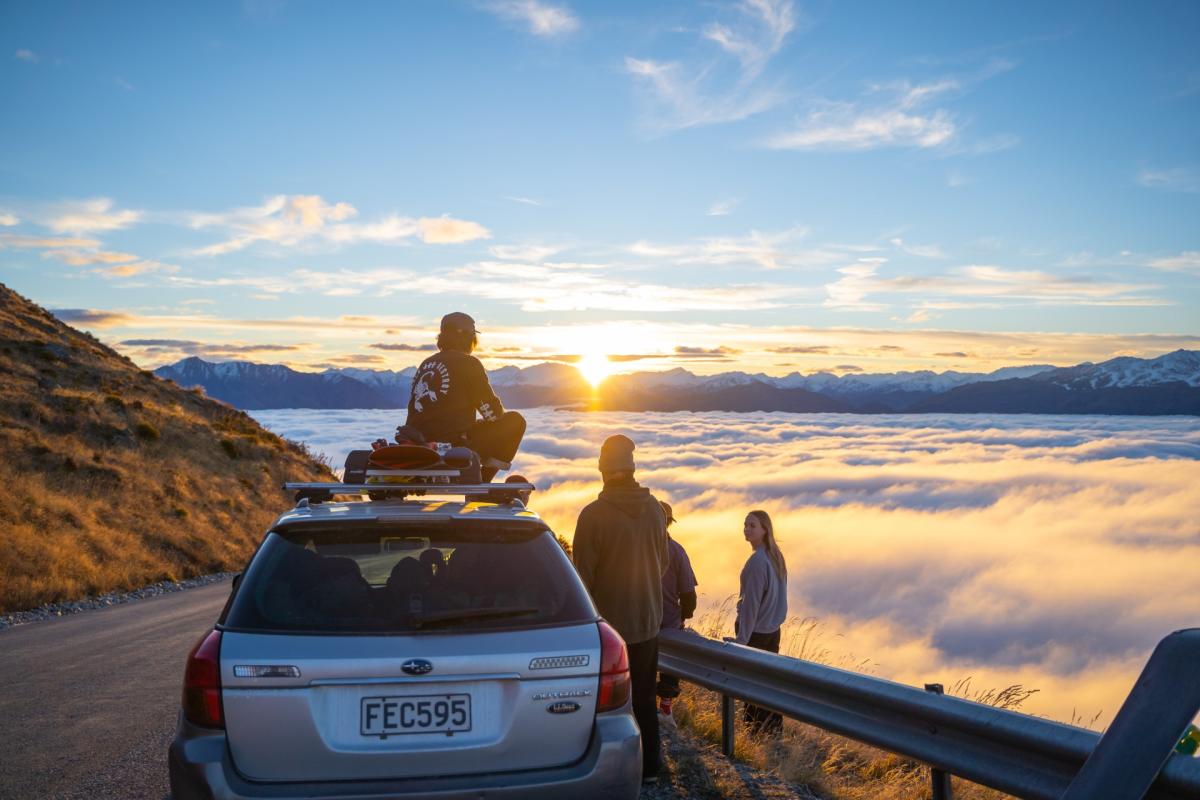 Queenstown road trip views
What to pack
Layer up. Like most ski towns Queenstown is cold in winter. Think crisp early mornings, bluebird snow days, and starry winter nights. Gloves, thermals and beanies are a must. They're easy to throw in your bag and they'll keep your extremities toasty. And make sure to pack a warm jacket and sturdy waterproof boots.
If you're a first-timer to the snow, then take goggles, gloves and wool socks for skiing. You can rent all other ski gear, but you can't rent these essentials. 
Pack to party into the night, winter style. Queenstown has a spectacular après-ski scene and food and wine second to none. Everywhere has a down-to-earth welcoming vibe, so no need to get too formal, but a bit o' bling never goes amiss. Just keep it cosy!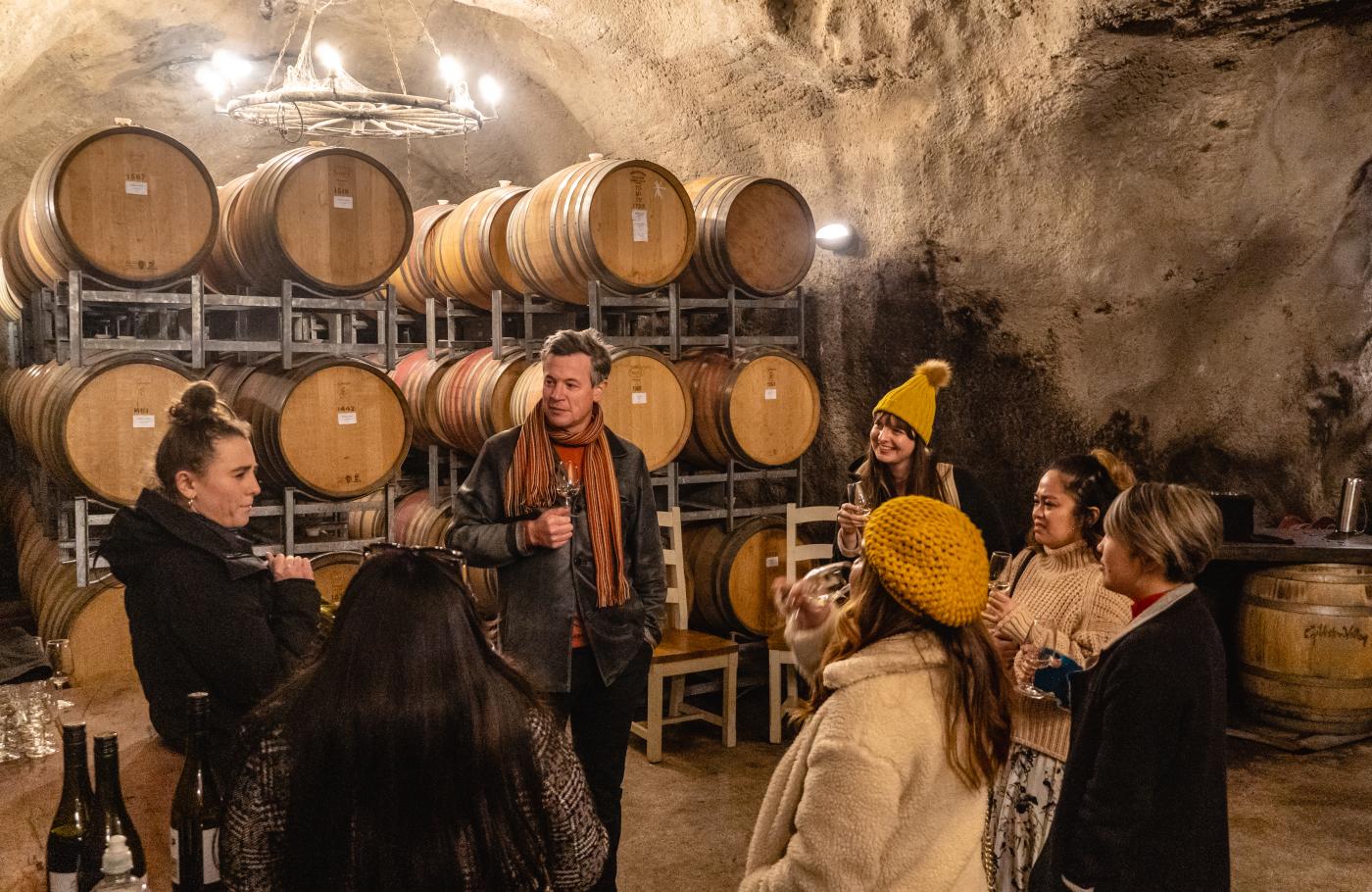 Gibbston Valley Winery
Must stop spots along the way
Whether you're cruising south from Christchurch, or heading north from Dunedin, the fun starts long before you hit the outskirts of Queenstown. Make time for some epic stopovers that'll get you in the mood for winter adventures.
Driving through Gibbston is the perfect opportunity to stock up on fine local vintages to sip after a long day on the slopes. With eight cellar doors, a brewery, New Zealand's largest wine cave, and a selection of places to eat, make Gibbston a pitstop to sample a beautiful range of Central Otago varietals.
As you leave Gibbston, watch out for the signpost to your right for the Kawarau Bridge bungy. Pull on in and explore this icon of the Queenstown adventure scene. The viewing platform over the Kawarau Gorge is a great place to grab some selfies and soak up the vibes as brave visitors hurl themselves off the bridge. If you're feeling game, take the leap yourself and kick your ski holiday off in style.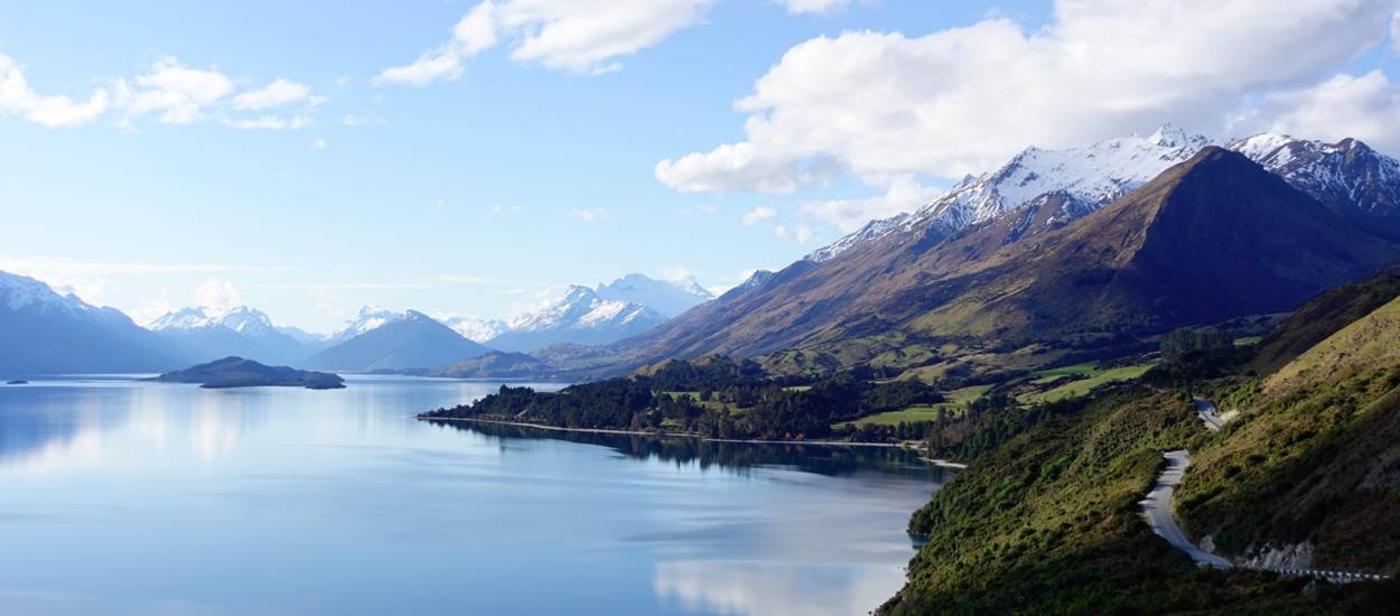 The road to Glenorchy
Downtime must-dos
Even the most devoted snow fiends need to take a day off from the slopes now and again. Seeing as you've got a set of wheels, what better chance for a mini roadie to some of the must-see destinations near Queenstown?
Glenorchy
Glenorchy is where Queenstown locals go for off-the-beaten-track alpine adventures. Set at the northern end of Lake Whakatipu, at the foot of soaring mountain peaks, the charming village of Glenorchy is basecamp for some of New Zealand's best walks and hikes, but be sure to check conditions before you set off on foot, and ensure you have the appropriate attire.
Other Glenorchy activities include wilderness jet boating, horse trekking, and scenic flights. Glenorchy's awe-inspiring scenery stars in films like Narnia, The Hobbit and The Lord of the Rings, and a movie location tour will show you the sights. Don't miss beautiful Paradise, a tiny scenic settlement 10km from Glenorchy.
Arrowtown
Charming Arrowtown is well worth a day trip. This gold mining town is rich in heritage and historic buildings. Stroll down the main street, popping into local boutiques and galleries. Refuel with a sticky bun in the cottage garden from Provisions or brunch in the sunny courtyard at the Chop Shop.
Stroll along the Arrow River, hike some of the gorgeous Arrowtown tracks, or hire an e-bike and ride into wine country. The Hills Golf Course and Millbrook Resort both offer some of the finest championship golf on the planet. And don't miss the local museum, for fascinating insights into the history of the region.
Kingston
Head south down the lake to the village of Kingston, stopping at the Devil's Staircase for photos of the panoramic views en-route.
If you're in town for a visit say hello to the Kingston Flyer. The historic steam train is parked up in a siding, but hopefully one day she'll be steaming along the rail line between Kingston to Fairlight again, giving visitors a taste of the past.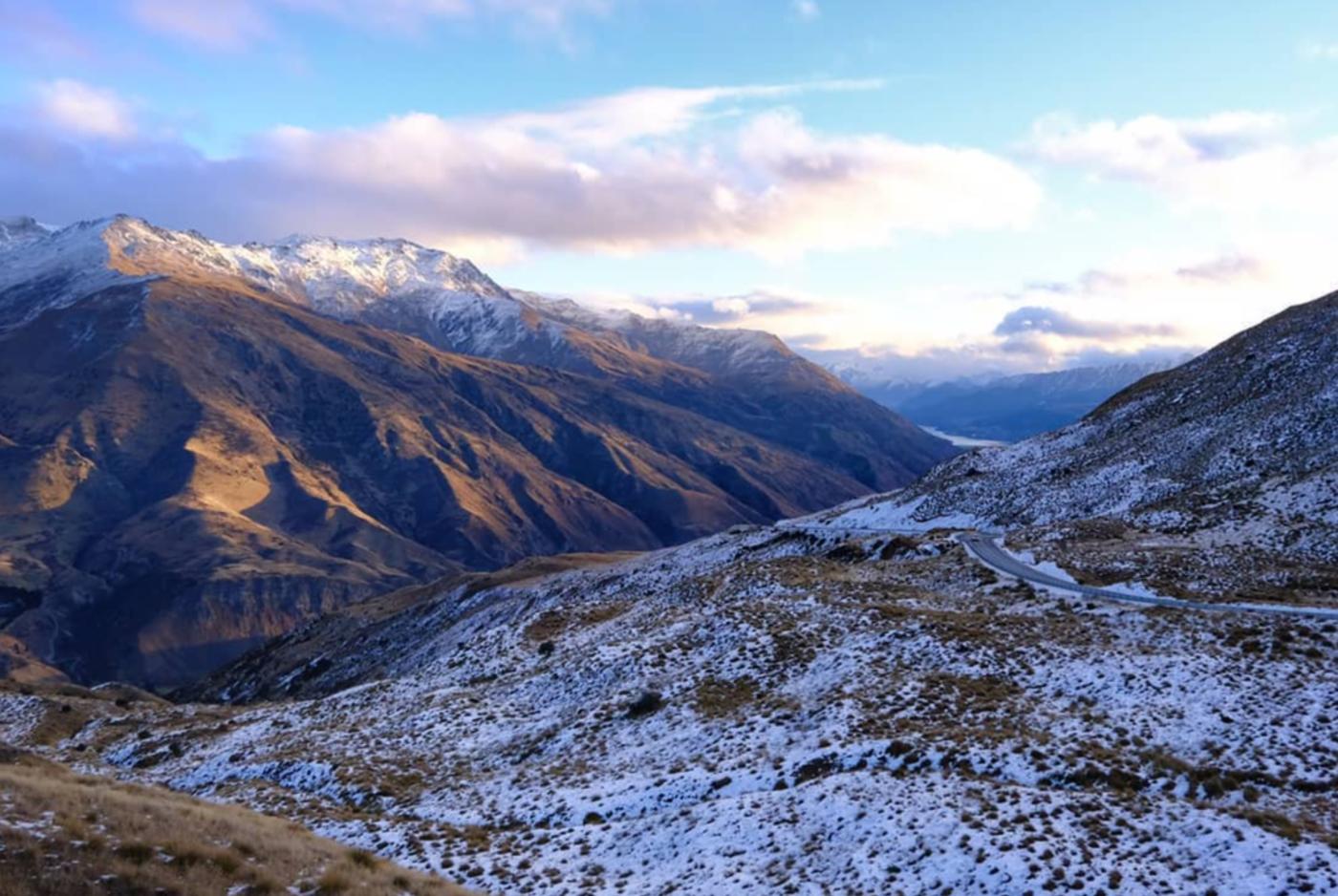 Crown Range. Image credit @hanamadenz on Instagram
Safety first for a winter road trip
It's winter, so be prepared with extra layers in the car and a blanket, water, a first aid kit and a phone in case of a car breakdown. Download your road trip map so you can safely find your way to your destination, even if there's no cell phone coverage.
Make sure you have a set of chains in the boot and know how to fit them if you're doing any alpine driving. This includes going over the Crown Range to Cardrona Alpine Resort or Treble Cone, as well as driving up all ski area access roads. Even if no chains are required in the morning, the weather can change at any time, meaning you might require chains to get down the mountain later in the day.
Be cautious of icy roads first thing in the morning so drive safely, and allow plenty of following distance.
But don't forget to have fun! Queenstown winter roadies are all about good times with mates, shredding the slopes, seeing the sights and spinning yarns.