Eating out in Queenstown, there's a strong focus on plant-based dishes because of the quality of our produce. Our top chefs are increasingly hyper-seasonal with their menus, serving up what grows locally, along with herbs and mushrooms foraged in the mountains.
Almost every restaurant has vegan and vegetarian options and you'd be hard-pressed to find a café that doesn't offer non-dairy milks. Queenstown restaurateurs and café owners are very accommodating to dietary needs. Often meals can be made vegan or vegetarian with simple substitutions, and some places have dedicated vegan menus. So, whether you're a committed vegan, or simply looking to reduce your carbon footprint by eating less meat, you definitely don't have to compromise on taste in Queenstown. 
Vegan and vegetarian food in Central Queenstown
Vegan breakfast, brunch and treats
Head to one of our award-winning cafes for a delicious start to the day. Bespoke Kitchen's bowls of house-made muesli and local fruit compote will set you up for the day and their vegan baking is superb. Yonder is a vegan hot spot with amazing pancakes, vegan breakfast butties, and rice bowls. Vudu Cafe & Larder is a long-time local favourite with an organic philosophy peppered throughout their menu and a cabinet packed with great veggie goods.
If you're looking for a sweet treat later in the day, you don't have to miss out on an iconic Queenstown favourite. Cookie Time does a delicious vegan shake and both Patagonia and Mrs. Ferg's Gelateria serve up dairy-free sorbet.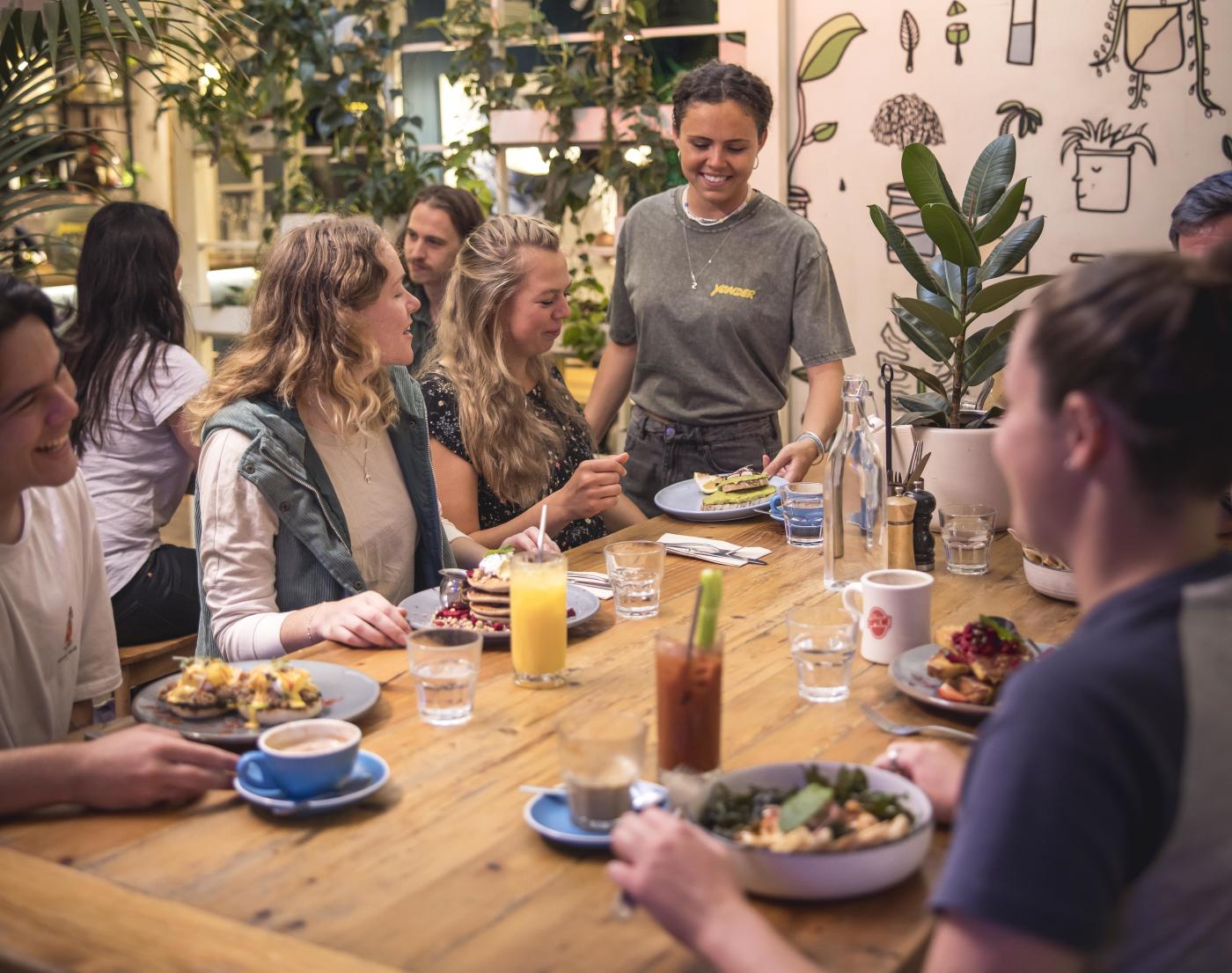 Yonder 

Vegan and veggie fast food
Dinner on the beach is one of Queenstown's quintessential dining experiences. Grab one of these vegan fast food options if you're on the go. Lord of the Fries is a fully vegan takeaway, while Fergburger and Devil Burger both have vegan and vegetarian options. We're not biased, but Fergburger's Holier Than Thou is probably the best tofu burger in New Zealand. Taco Medic in Searle Lane make fresh corn tortillas daily and offers a great selection of vegan and veggie fillings.
Fergburger
Vegan bars in Queenstown
When you fancy a locally brewed pint and something tasty on the side, Queenstown doesn't disappoint. Atlas Beer Café is famous for its views, the friendly crowd, and its great value steak dinners, so, of course, they do a vegan steak. Beech Tree Craft Beer Bar label all their vegan beer options and serve up vegan bar food. World Bar offers vegan burgers and nachos in rustic surrounds with a side of party vibes. Sports fans will love the Locker Room because it has big screens for that essential game and a dedicated vegan menu to fuel your cheers.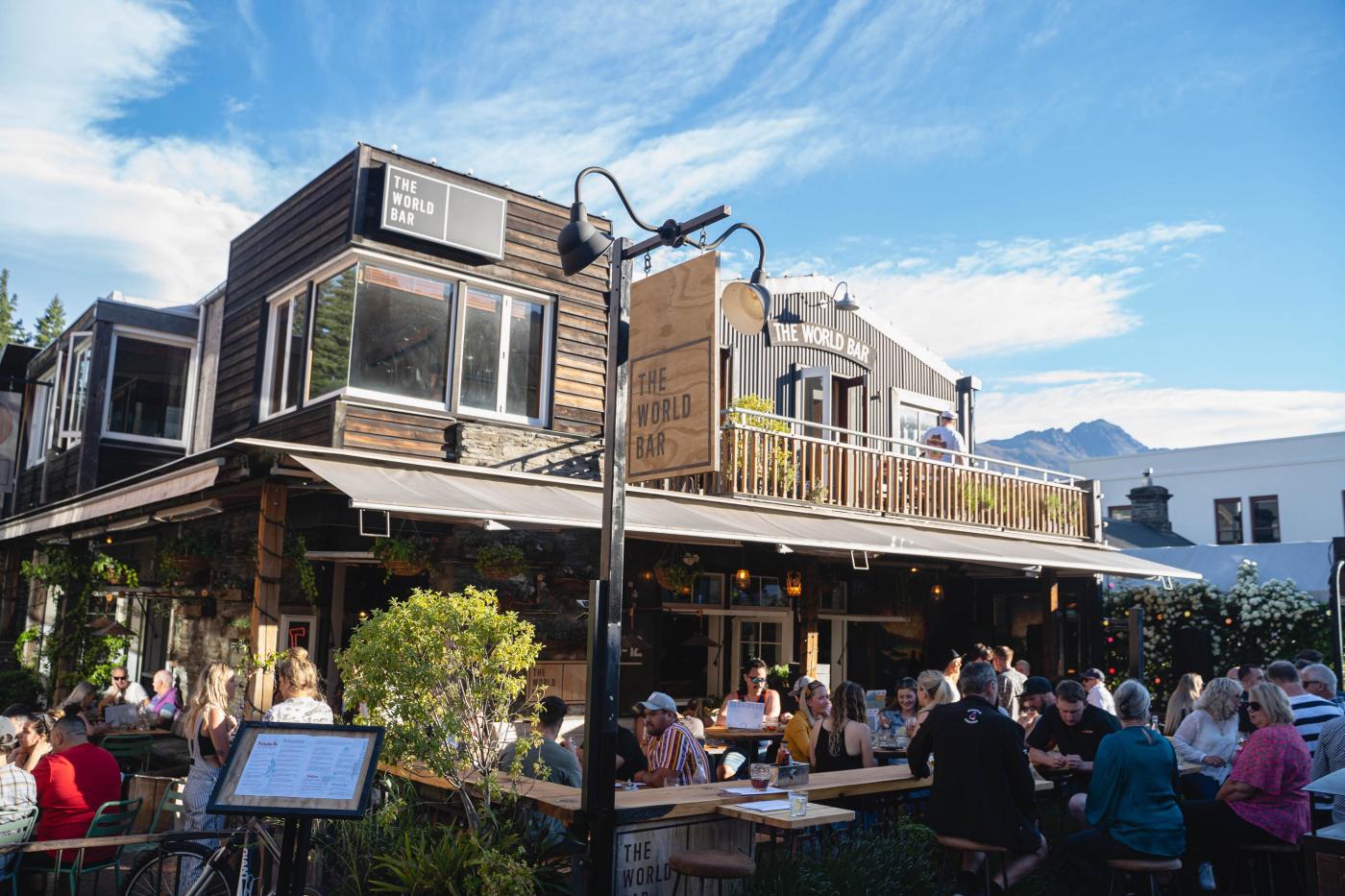 World Bar
Vegan and vegetarian restaurants in Queenstown
Saigon Kingdom, with restaurants on Steamer Wharf and in Frankton, does excellent traditional Vietnamese food and has a separate vegan menu. The Stratosphere buffet at the Skyline Gondola has a whole plant-based section, although you may not notice how good the food is as you'll be too busy soaking up the panoramic views.
For fine dining head to Rātā, a restaurant tucked away on Ballarat Street, where chef Michael Bickford sources most of his ingredients from Otago and Southland local producers. Their dedicated vegan menu is packed with bold flavours and creative juxtapositions of top-quality ingredients.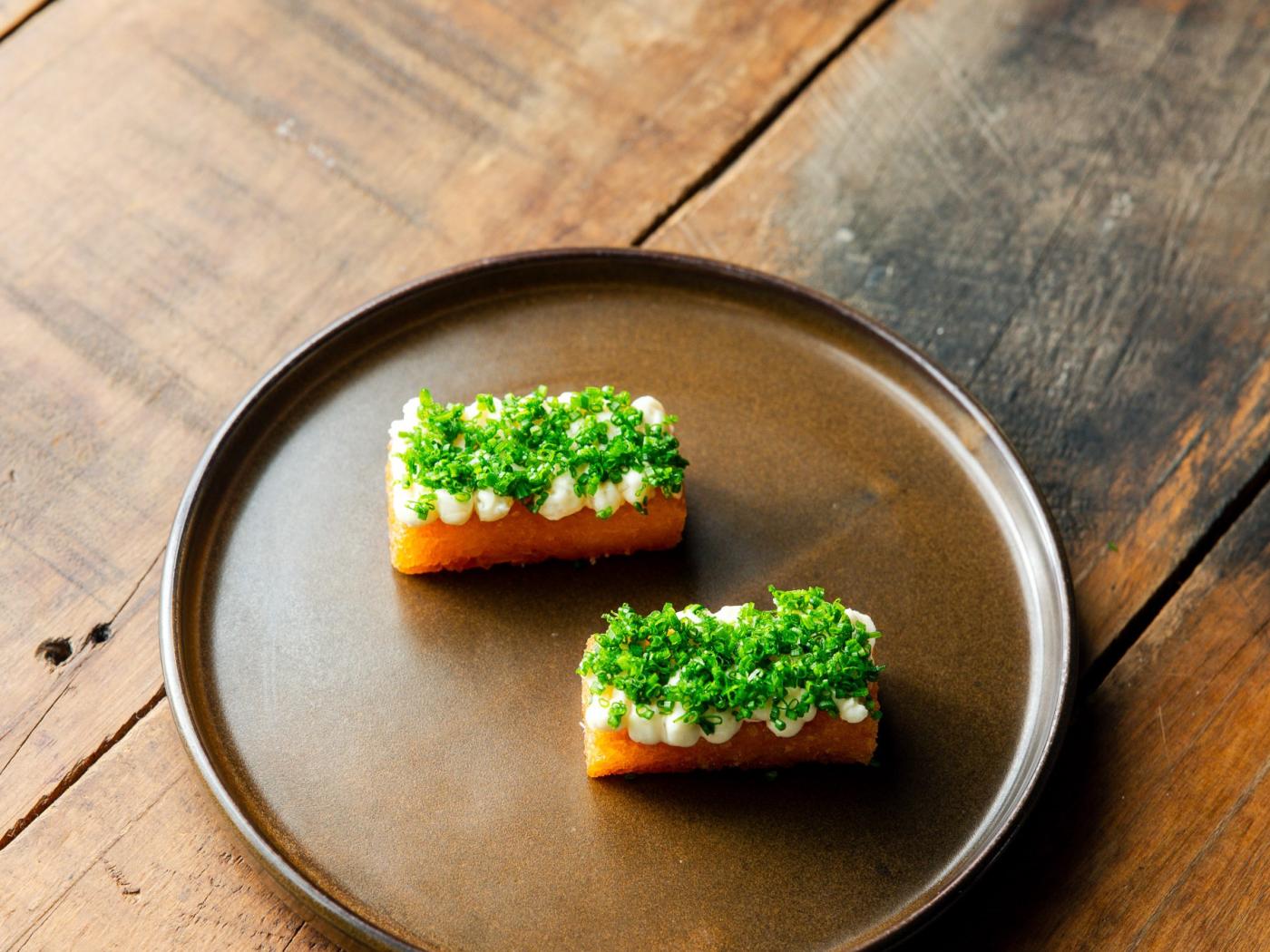 Rātā 
Local vegan and vegetarian favourites in Frankton
Just a short distance from the CBD, Sherwood's menu is inspired by their organic kitchen garden and chef Chris Scott's close ties with local growers and foragers. Perhaps best suited for vegetarians than vegans, their woodfired flatbreads, homemade pastas and seasonal flavours earned them two hats from Cuisine in 2022.
Heading further out of Central Queenstown towards the airport and Arrowtown, you'll come to Frankton, home to a cluster of great cafes and restaurants that enjoy best kept local secret status.
The popular Hustl. Cafe is single use cup free with sunny outdoor seating, and almost the entire menu, including their delicious pastries, is vegan or can be adapted to be plant-based. Odelay Café is good on vegan options and the owners grow herbs and veggies in their garden, as well as using free-range and organic produce from local suppliers. Meanwhile, Café Society has a full vegan menu, with goodies like vegan bagels, black rice porridge, and buddha bowls.  
Shelter Bar and Kitchen is a gastro pub with vegetarian pizzas and nachos. They also make tasty vegan meals on request, like quinoa salad, risotto, and mushroom burgers. Tanoshi Five Mile is a Japanese restaurant and sake bar with great veggie and vegan ramen, donburi, veggie gyoza, and tofu bowls.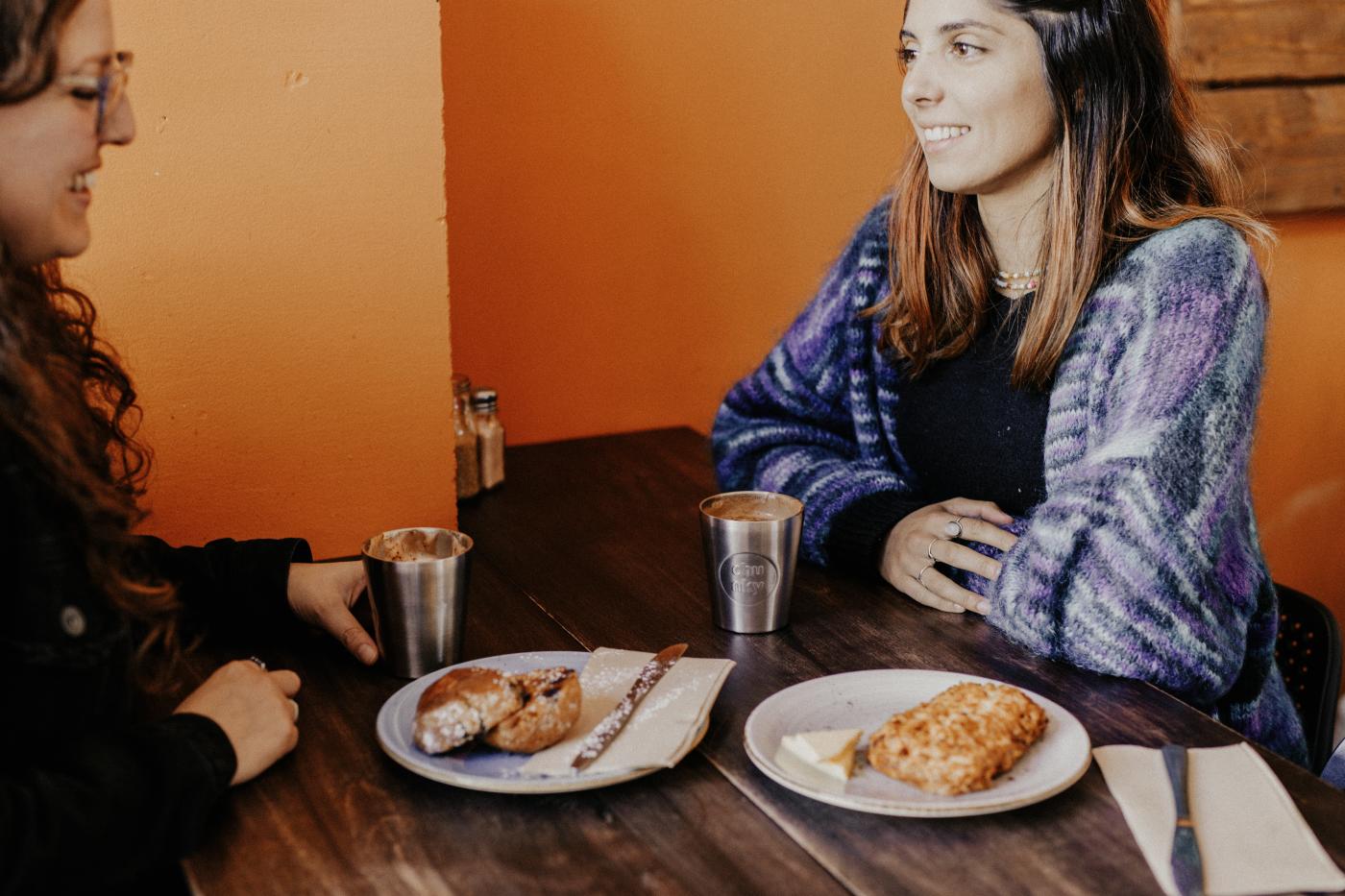 Hustl. Café. Credit Neat Social
Vegan and vegetarian delights in Arrowtown, Gibbston and Glenorchy
If you're staying longer in Queenstown and exploring the surrounding regions, good news, you won't go hungry. You can find fantastic vegetarian and vegan options even in the smaller towns around Queenstown.
Veggie goodies in Arrowtown
Lovely little Arrowtown is a foodie destination, and it delivers on the veggie food front too. Postmasters do a great vegan fry up with sausages, avocado, and rosti, along with regular specials and vegan desserts. Little Aosta has a menu packed with veggies, we love the Fritto Misto and the fungi pizzetta. Slow Cuts do a delish crispy tofu burger. Grab it to go and sit by the Arrow River or on the village green under the shady trees.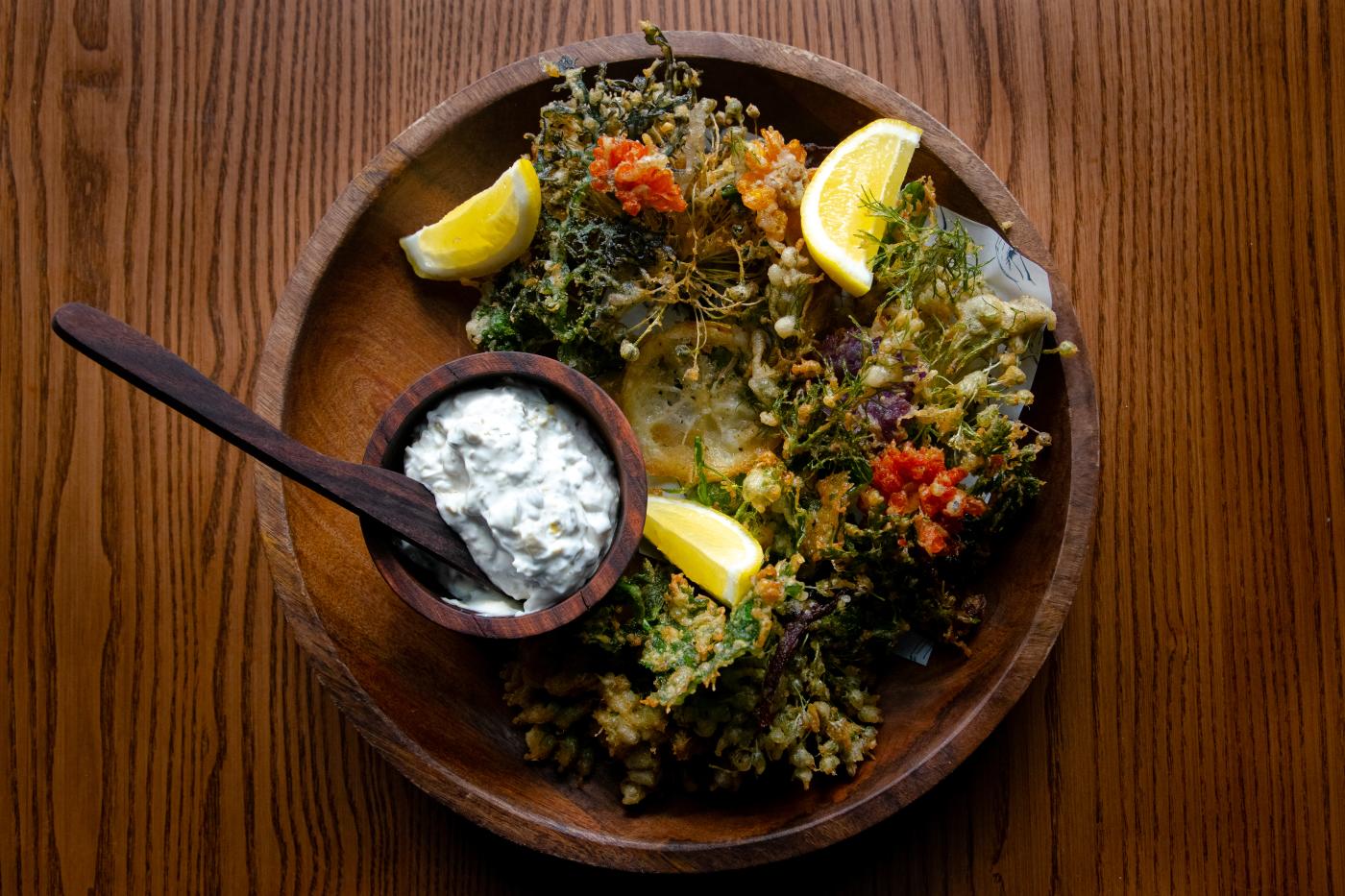 Little Aosta. Credit Sam Stewart
Wine and vegan platters in Gibbston 
Mt Rosa Wines cellar door doesn't just pour moreish vegan Central Otago wines, they do an amazing plant-based platter laden with hummus, vegan cheese, pickled vegetables, olives, dried fruits, polenta fries and a bunch more delights as well. Over at the Gibbston Tavern, they serve up a full vegan menu, with wood-fired pizzas, nachos, burgers, loaded fries, and vegan craft beers if you fancy a change of pace from wine.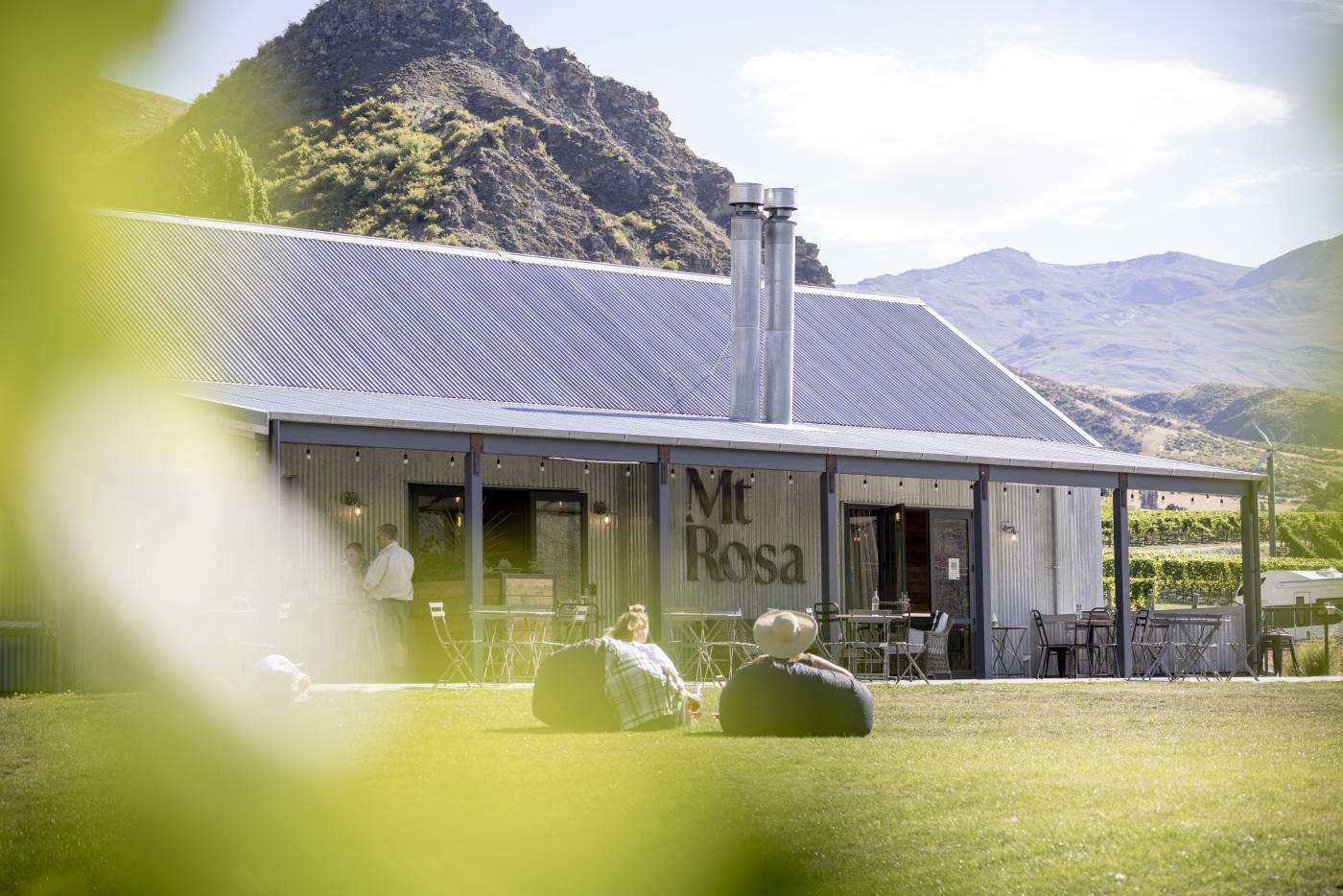 Mt Rosa Winery
Eat your greens in Glenorchy
Mrs Woolly's General Store is a foodie oasis at the northern end of Lake Whakatipu. They do tasty vegan cabinet food, layered veggie salads, and chickpea wraps, along with plenty of vegetarian baking and offer almond, soy and coconut milk for your coffee and chai. Nearby, Kinloch Wilderness Retreat is another local restaurant with a seasonal ethos and a kitchen garden. Start the day with toasted organic granola or polenta pancakes, and end it with hearty soups, salads, and vegan stews. The crew are very accommodating to dietary requirements.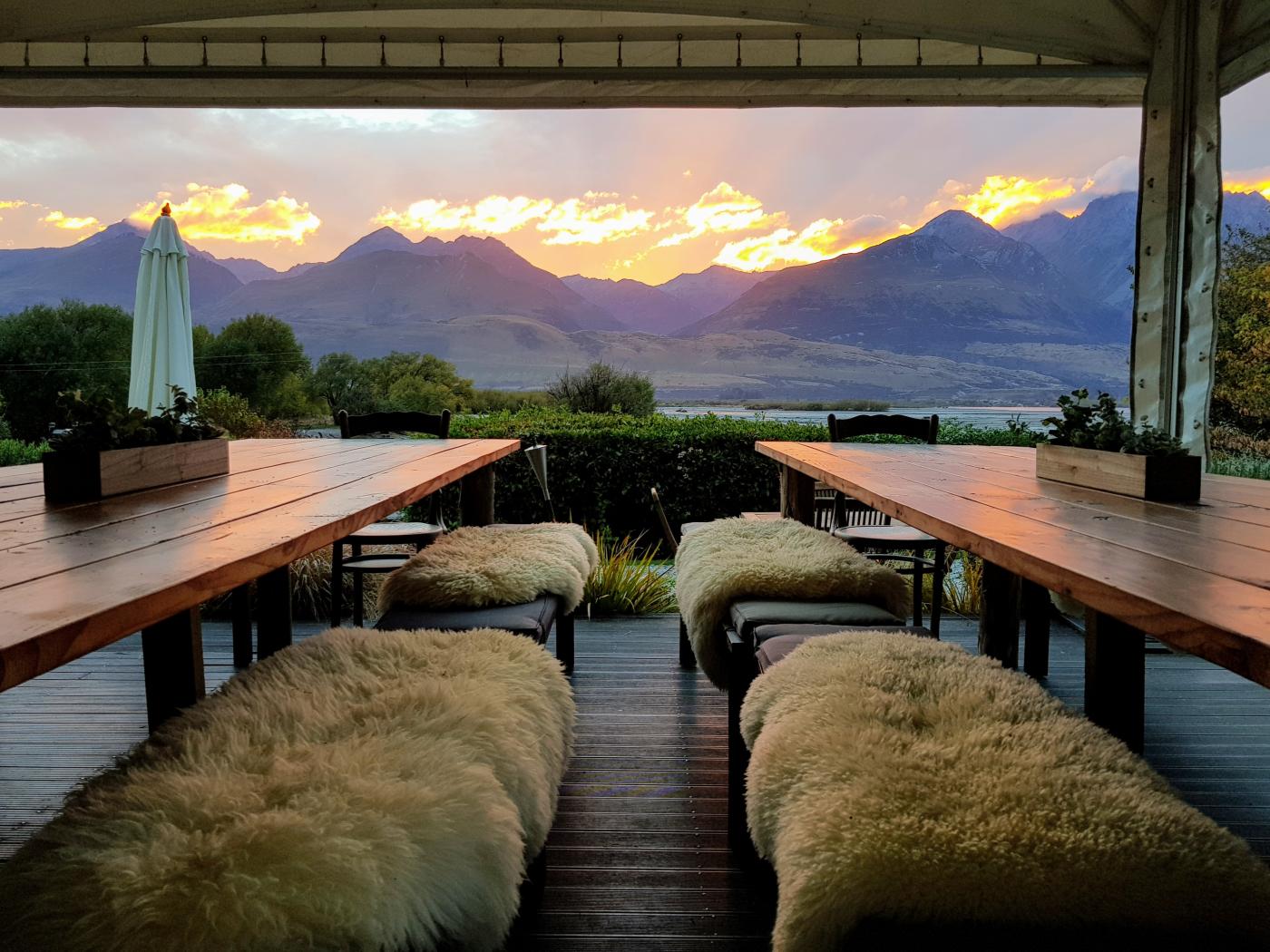 Kinloch Wilderness Retreat Restaurant
Plan your Queenstown local experience
Be sure to plan to stay a bit longer to really get a taste of everything Queenstown has to offer – discover ways to immerse yourself in Queenstown's natural beauty and connect with the locals in our 6-day travel itinerary.
As you explore Queenstown, share your experiences with us on Instagram by tagging #QueenstownLive.