There's a good reason why Queenstown is known as the adrenaline capital of the world. If you've got adrenaline activities on your bucket list, there's a strong chance that activity was invented right here. 
We're the birthplace of commercial bungy. Home of the world's highest cliff jump, the world's steepest zipline, the world's biggest human catapult, and one of the world's largest giant swings. Tandem skydiving and paragliding were also pioneered here. The first commercial jetboat rides in the world were right here on the Kawarau River. Queenstown is the birthplace of New Zealand whitewater rafting, New Zealand's first commercial ski resort and the home of the ski-plane.
Now we're home to a new generation of adventure firsts; adrenaline activities on a journey to give back to the environment and the local community. That means even more fun for you, as these adventures immerse you in Queenstown's epic landscapes and connect you with intrepid Queenstown locals on a whole new level. 
So, gather your courage and test your limits with the new pioneers of more meaningful adventures. 
Do a Queenstown bungy, swing or zip
To misquote Jane Austen, it is a truth universally acknowledged that when you're in Queenstown you must proceed straight to a very high place and pay a nice, trained professional to throw you off it.
Queenstown has a wide range of vertigo-inducing options for you to get high with. Start with those bucket list bad boys, the bungys, swings and ziplines to get your fix of plummeting towards the earth.
AJ Hackett
The granddaddy of big bungy thrills, AJ Hackett Bungy New Zealand offers a smorgasbord of bungys, swings, ziprides, and catapults, with the knee-trembling Nevis Bungy the highest in New Zealand at 134 metres (that's 8.5 seconds of freefall, and we're here to tell you, that's a long time).
But it's not just about living more for AJ Hackett. It's also about doing more for the community and taking less from the planet. They've declared their intention to be carbon neutral by 2030. But that's not all. They have a strong sense of social purpose, working with youth charities and community organisations in Queenstown, Taupō and Auckland to deliver life-changing camps and adventure experiences.
Ziptrek Ecotours – Queenstown's first carbon neutral adventure 
Exhilarating zipline adventure, Ziptrek Ecotours is Queenstown's first carbon neutral tour operator. Take their Kea Tour to experience the world's steepest tree-to-tree zipline. You'll glide through the forest with views across Lake Whakatipu to the Remarkables, while your guides tell stories about local ecology and conservation.
Ziptrek's beautiful treehouses made from local timbers sit in Douglas fir trees, so 90% of their infrastructure is living. They offset their modest emissions by planting native forests in New Zealand (certified by Ekos).
Canyon Swing, making adventure accessible to all
Canyon Swing is the world's highest cliff jump. That's every bit as terrifying and exhilarating as you'd imagine. But they're also serious about accessibility, working with inclusive tourism expert Jezza Williams from Makingtrax to improve their experience for all.  
With a quarter of the population identifying as disabled or experiencing special access needs, more accessible adventures are good news for everyone.
The Canyon Swing team do all they can to make access possible, which is why they're a Gold Seal member of the Makingtrax directory of inclusive adventures and listed in our guide to inclusive Queenstown adventures.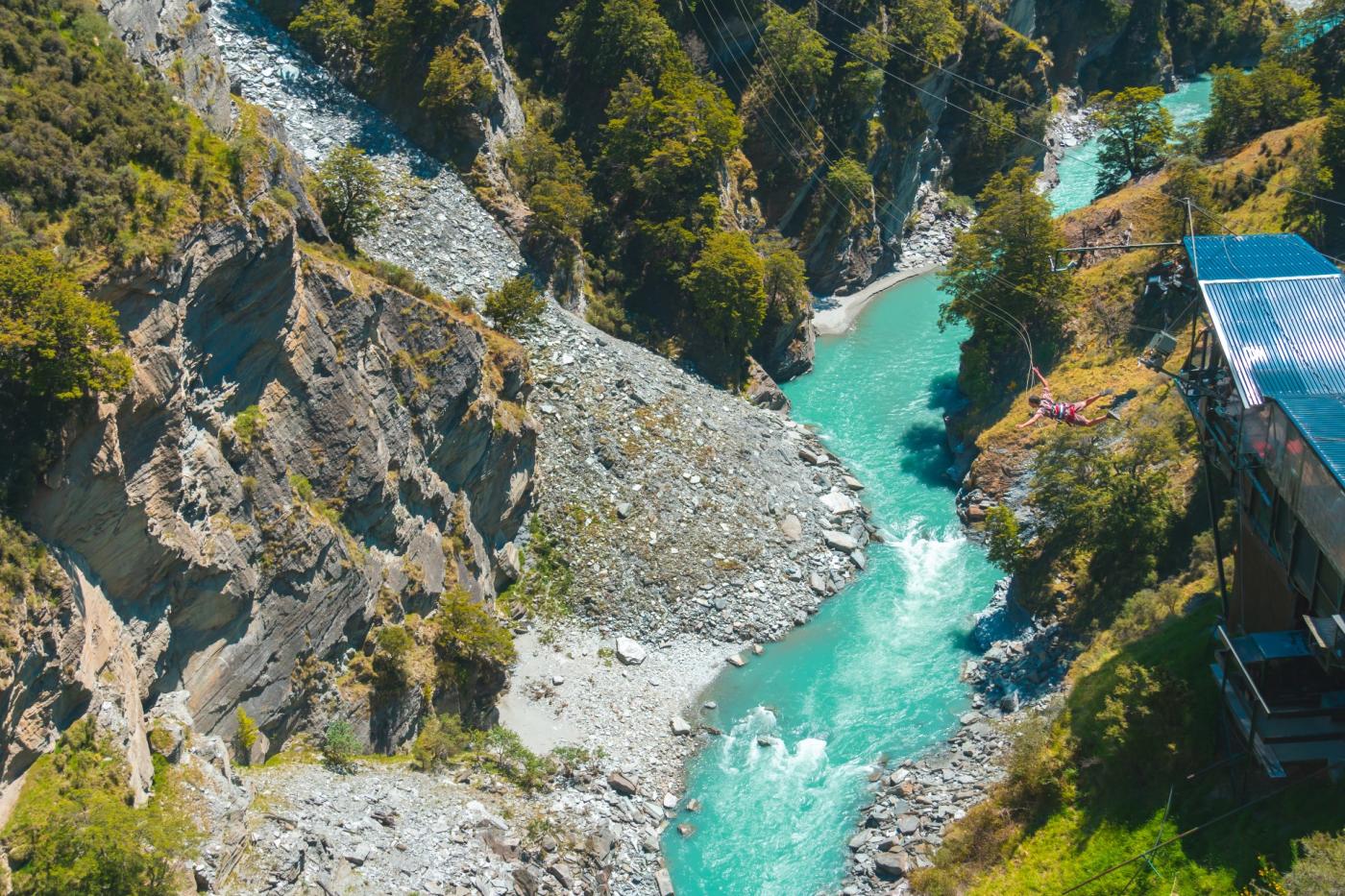 Canyon Swing
Climbing & mountaineering in the Southern Alps
The Queenstown region is a playground of crags and cliffs, and the Remarkables offer a range of mountaineering challenges from gentle slopes, to rock and ice climbing. You can also try your hand at abseiling and canyoning, or warm up on indoor climbing walls.
Hire an expert mountaineering guide
Connect more deeply with the landscape and the people of Queenstown by adventuring with a local guide. Not only will a guide help you climb safely, but they'll also help you match your climbing experience to your skill level.
Queenstown Mountain Guides operate guided mountaineering, skiing and rock climbing trips on the Remarkables mountain range. Their team of ski and mountain guides have a vast wealth of experience guiding in the Southern Alps and other mountain ranges around the world. When it comes to a personal introduction to the peaks around Queenstown, you couldn't ask for a more storied crew.
Meet the locals on indoor climbing walls
Locals like to practice indoors at Rockatipu Climbing Wall and Basecamp Adventures, and both climbing walls are the perfect place to find a climbing partner or hang out on a rainy day.
The Rockatipu wall is 12 metres high, offering over 30 climbs for intermediate and expert climbers with vertical and overhanging rock features. While Basecamp Adventures is a new Sport Climbing wall with over 40 top-rope and lead climbing routes, an Olympic-style speed wall, and a family-friendly Clip 'n Climb.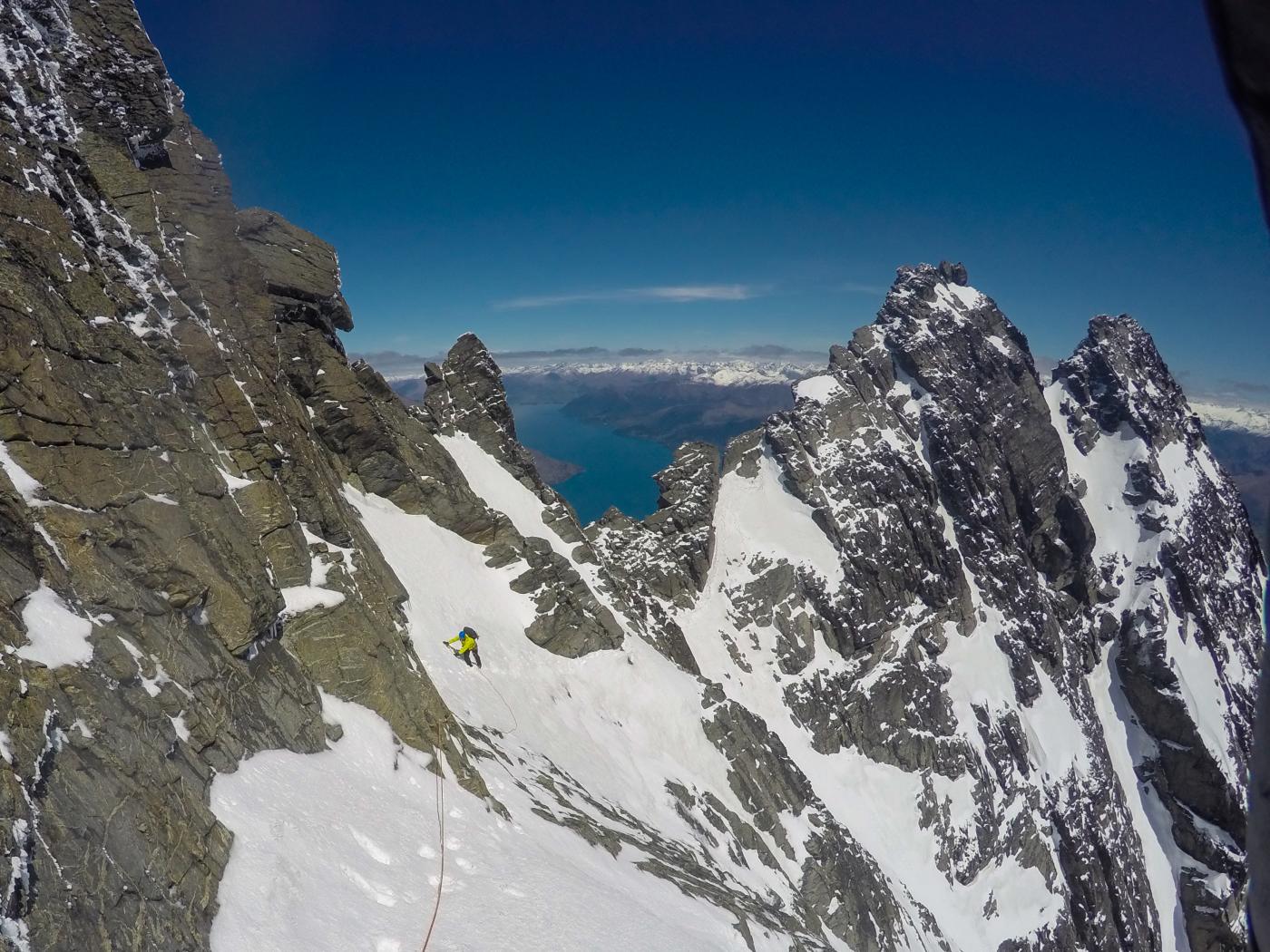 Queenstown Mountain Guides, Guided climbing adventure
Jet boating & whitewater rafting in Queenstown's wild rivers
For big thrills in the water, jump in a jetboat. This is a spectacular way to get up close and personal with the landscape, rocketing up mountain rivers between steep cliffs through whitewater rapids.
If riding on the water isn't enough of a buzz, and you want to immerse yourself (literally), Queenstown is a whitewater rafting paradise. The Kawarau and the Shotover offer a grade of rapids for everyone, from family-friendly grade 2 fun to gnarly grade 5 rollercoasters.
An electrifying ride on Shotover Jet
Shotover Jet is the only jetboat allowed to take you into the Shotover River canyons. Ride the rapids, rocket between the cliff faces at up to 90 kilometres an hour and experience hair-raising stunts. Owned by Ngāi Tahu Tourism, Shotover Jet has always been committed to reducing its environmental impact. Māori people are mana whenua, the people of the land, and feel a strong sense of kaitiakitanga, or guardianship, over the environment.
Shotover Jet recently began testing an electric jet boat prototype. The electric jets have no engine noise, so in future, your ride up the Kimiakau, or Shotover River, will be even more immersive, as you slice through the icy alpine water with no sound but the wind in your ears.
The Shotover crew have also done their best to make the experience as accessible as possible, so get in touch when you make your booking so they can give you all the support you need to enjoy the wild ride.
RealNZ raft the wild rivers
RealNZ also offer adventures on the Shotover River. But you'll be getting even more up close and personal with the whitewater, experiencing grade 3-5 rapids in a raft, followed by a paddle through a 170m tunnel. RealNZ takes you into some of the world's most remote wilderness areas from whitewater rafting on Queenstown's alpine rivers, to conservation expeditions into Dusky Sound.
Their love for these wild places makes RealNZ passionate about preserving them for the future. They're working on a line-up (or should we say raft) of environmental initiatives including renewable power, pest trapping, and supporting hydrogen technology.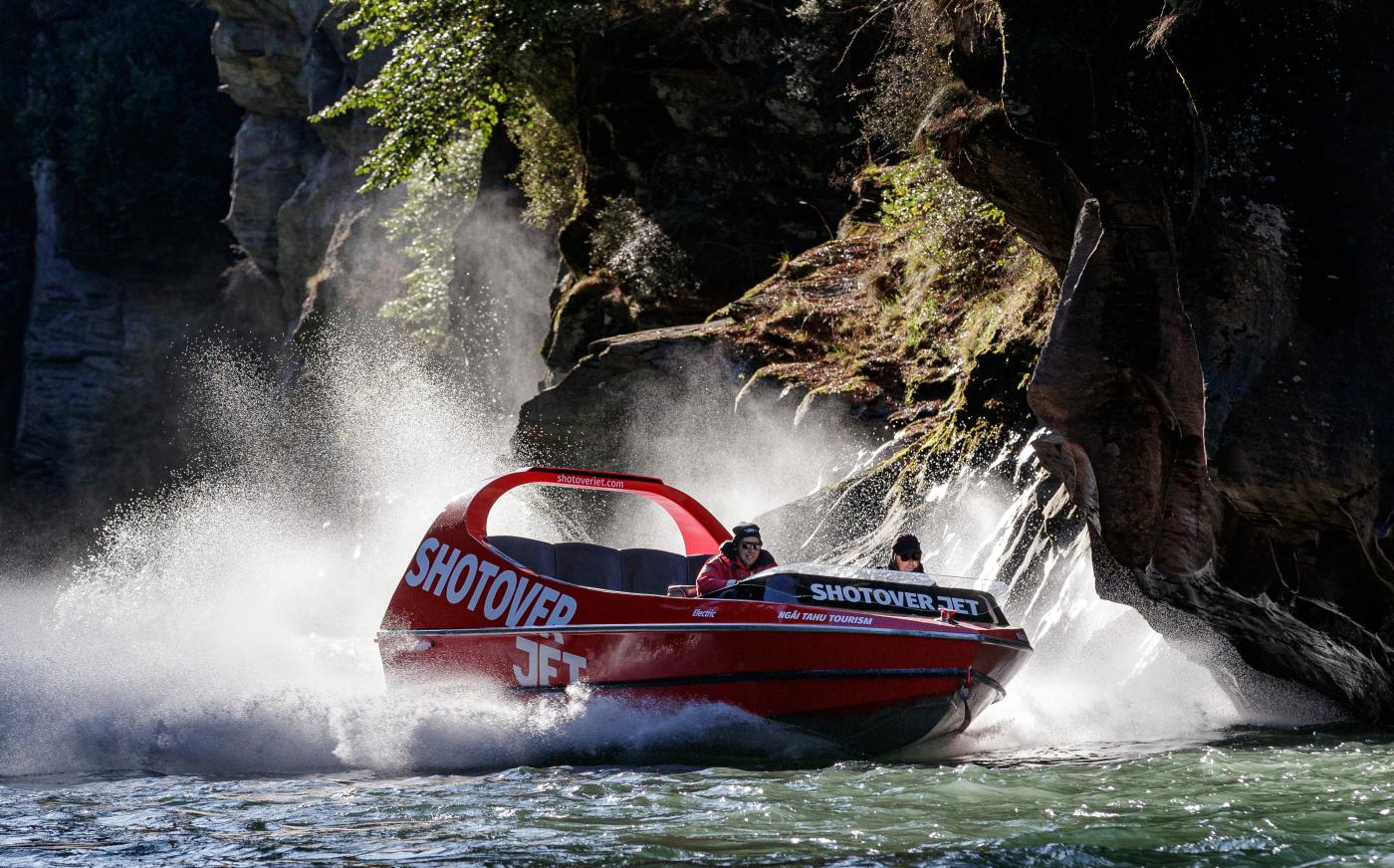 The new electric Shotover Jet
Grow some wings paragliding and skydiving
If you're more of a jump-off-a-mountain kind of person, paragliding and hang gliding off Coronet Peak is an epic way to get your heart pumping and see Queenstown from the sky. If running off the edge of a mountain isn't high enough for you, try skydiving from 15,000 feet above the Whakatipu Basin. That should raise your resting heart rate a little.
Hang glide with a New Zealand champion at SkyTrek
SkyTrek Tandem Hang Gliding and Paragliding co-owner and pilot Ian Clark is a New Zealand Hang Gliding National Champion. He says, "It's my passion. It's very quiet up there and it's as close as you can get to actually having two wings on your back and flying like a bird … It's something people remember the rest of their lives."
SkyTrek fly from Coronet Peak and their launch areas range from 1143-1676 metres high. You're in safe hands. Not only is Ian a (several times) champion, but he has also flown hang-gliders for 30+ years, and his co-owner and pilot Shai Lanuel is the most experienced paragliding instructor in New Zealand. Meet these redoubtable locals and experience the awe of swooping silently through the wide-open skies in one of the most scenic places in the world.
Plummet to earth and plant trees with NZONE Skydive
NZONE Skydive was New Zealand's first tandem skydive operation. Established in 1990, they have 30+ years of experience throwing people out of planes. Harnessed to an experienced jumpmaster, you'll freefall for about 60 seconds at 200kph, before your chute opens and you drift gently to earth.
By jumping with NZONE, you'll be supporting their efforts to develop a native plant nursery. When the baby beech trees, lancewoods, and kōwhai plants are big enough, they'll be planted around the drop zones in Wānaka, Queenstown and Glenorchy.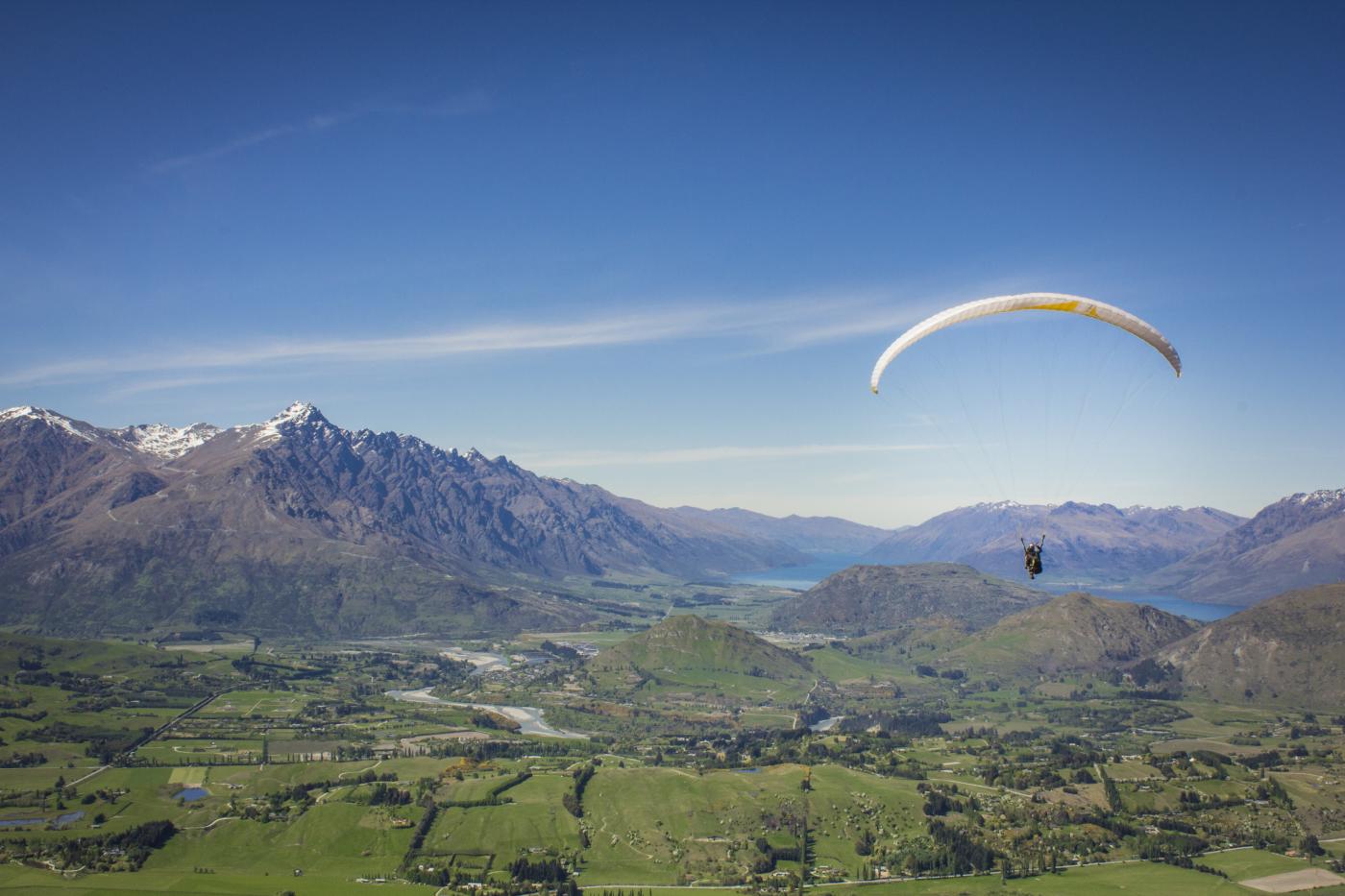 Hang gliding at Coronet Peak with Skytrek
Cycling or mountain biking for the ultimate off-road adventure
There is no better way to experience the Queenstown landscape than to hire yourself a set of wheels and take to the trails. The sheer wealth of Queenstown bike trails, from gnarly downhill tracks to cruisy lakeside trails, means there's a cycling adventure for everyone, and it really doesn't matter if you haven't biked since you were a kid. This is a situation where two wheels are definitely better than four, and rolling along at a chill pace is just as much fun as sending it down a vertical slope.
Explore the network of trails
Over 130kms of spectacular cycle trails make up the Queenstown Trail, managed by the Queenstown Trails – a not-for-profit trust. One of the best ways to immerse yourself in the scenery and meet Queenstown locals is to hire a bike and hit the trails. From Lake Whakatipu to Arrowtown, and the vineyards of Gibbston Valley, this huge network of bike trails is now even more accessible with the advent of e-bikes.
Favourite local cycle adventures include a ramble around the wineries in Gibbston's Valley of the Vines. The Arrow River Trail from Arrowtown to the wine region is a scenic treasure, and there are shuttles back to Arrowtown and Queenstown if you enjoy a few too many samples of the exceptional local vintages. Another winner is the Frankton Track, which starts from the Queenstown Gardens, is ideal for beginners and links up with the Kelvin Heights Sculpture Trail.
Ride with the locals 
If you like your two-wheel action a bit spicier, hire a mountain bike instead, and discover Queenstown's epic mountain bike scene. With three lift-assisted mountain bike parks, world-famous trails, and a legendary dirt jump park, there's no shortage of downhill gnarl.
The trail-building legends at the Queenstown Mountain Bike Club make sure there's always something new to explore. Every Wednesday evening is Dig Night, when club members and mountain biking enthusiasts meet up to keep the trails shipshape and build new adventures. Everyone is welcome and it's a great way to meet local riders. Follow Queenstown Mountain Bike Club on Facebook for more.
If you crave getting right off the map, get dropped into remote backcountry for a mountain biking experience off the beaten trails. Heli biking will introduce you to rolling tussock-covered ridgelines, steep sheep tracks, and old miners' trails.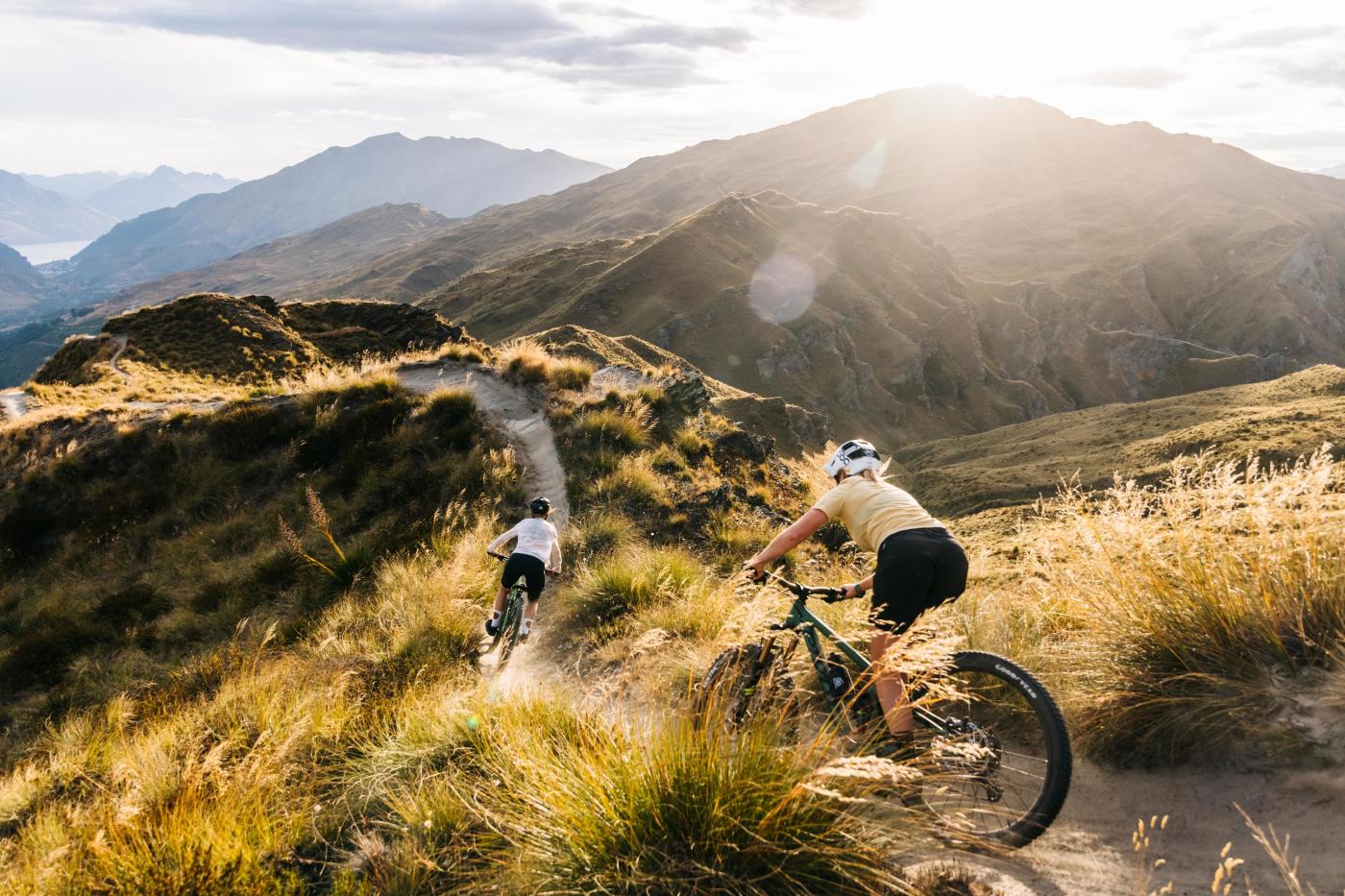 Mountain biking at Rude Rock
Skiing & hiking Queenstown's alpine slopes
Queenstown is nestled in the Southern Alps, with mighty mountains and challenging alpine terrain on our doorstep. During the winter, backcountry skiing and snowboarding is the purest adrenaline activity there is. In summer, you don't need a set of skis to get your adrenaline pumping. iking to the top of Ben Lomond is all it takes to feel like you're on top of the world.
NZSki take care of the mountains
Queenstown's two nearest ski fields are Coronet Peak and The Remarkables. Coronet Peak is only a 20-minute drive from Central Queenstown, and offers skiing for all abilities, along with night ski, where you can hit the slopes at sunset and do laps of the mountain after dark before partying with the locals.
45 minutes away, the Remarkables offer 380 hectares of terrain with a range of parks, piste trails to explore, some of NZ's best freeride terrain and an ice bar for those après- ski vibes.
Both ski fields are managed by NZ Ski. Energetic kaitiaki (guardians) of their mountain playgrounds, NZ Ski run a number of biodiversity initiatives which your lift tickets will be helping to support.
Skyline guided walks
In spring and summer, Skyline Guided Walks will take you to the summit of Ben Lomond. A four-hour return trip will get you to the Ben Lomond Saddle, with views of Moonlight Station, Mount Crichton Station, and Mount Aspiring National Park as you eat your lunch. If you have a few more hours to spare, you can push on to the summit, for 360-degree views of Queenstown, the Whakatipu Basin, Fiordland and Mount Aspiring National Parks. On a clear day, you can see as far as Westland National Park.
The trail is a continuous incline to the saddle and becomes steeper and rougher beyond that point. You'll need to have a decent level of fitness as you'll be climbing 1,748 metres. The spectacular views and sense of satisfaction, when you make it to the peak, makes every bit of effort worthwhile.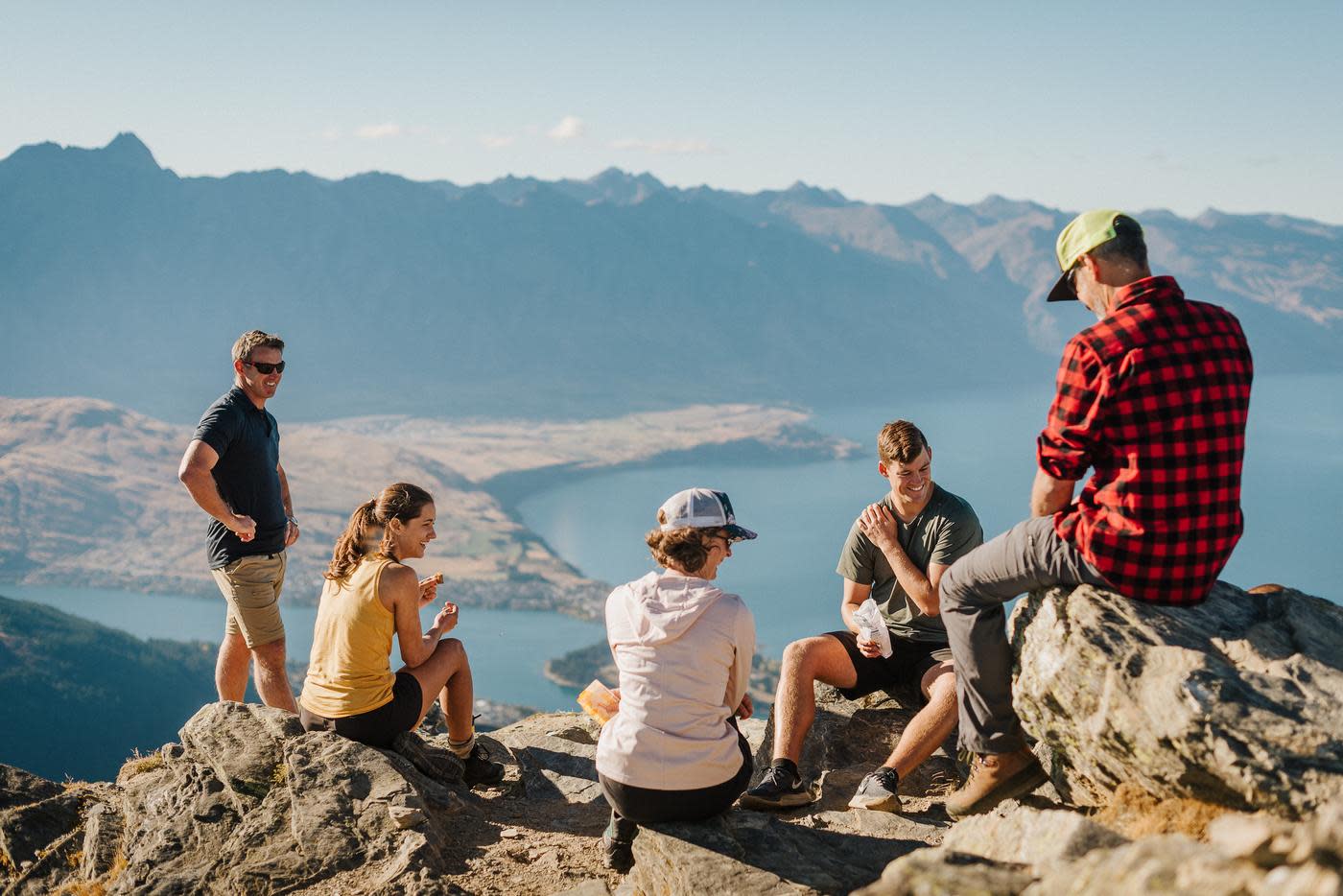 Ben Lomond guided walk with Skyline
Go big or go bigger in Queenstown
Queenstown is one beautiful, expansive, natural playground, inviting you to go large. We do adventure bigger and better than anywhere else on this planet, with all the thrills, spills, and wild rides adrenaline seekers could ever wish for. How will you test your limits while you're here?
But adventure isn't the only way we're pushing boundaries. Queenstown is the first tourism destination in the world to commit to becoming carbon zero by 2030, and we're doing it properly, by removing carbon, not using offsetting. You can help us spread the word by sharing your Queenstown adventures on social - showing the world adrenaline adventure can be a real force for good.
If you'd like to learn more about our big exhilarating goal of becoming a regenerative tourism destination you can check our plans out over here. There's no bigger buzz.