Here are some of our favourite e-Bike-friendly trails that embody scenery, diversity of terrain and trail features. Whether you are looking for iconic experiences, half a day or full day, Queenstown has a ride for you. All mountain bike trails can be found on Trailforks and results can be filtered by those suitable for electric mountain bikes, or  have a chat to a friendly bike shop in Queenstown, Frankton or Arrowtown. If you don't have your own e-Bike, there are plenty of excellent bike hire options in town that will kit you out for your e-biking adventure.
Easy Trails 
Frankton Track 
Grade: Easy, Grade 2
Distance: 7km out to the Frankton arm, 13kms to the start of the Kelvin Heights Sculpture Trail
Best time to ride: year round
Easily accessible and rideable throughout all seasons, the Frankton Track is perfect for beginners due to its relatively flat gradient and generous width. Starting at the Queenstown Gardens and following along the side of Lake Whakatipu, the Frankton Track dips in and out of willow trees and offers iconic views over the lake and across to The Remarkables mountain range. Approximately seven kilometres in length, the Frankton Track hugs the Frankton arm and links up with the Kelvin Heights Sculpture Trail, taking you out towards the Kelvin Heights Golf Course. Start your ride from the Queenstown Gardens in the centre of town or join the trail from various entry points along Frankton Road.
Insiders tip: Stop at the Boat Shed Cafe for a coffee and delicious snack or Altitude Brewery for some excellent craft beer.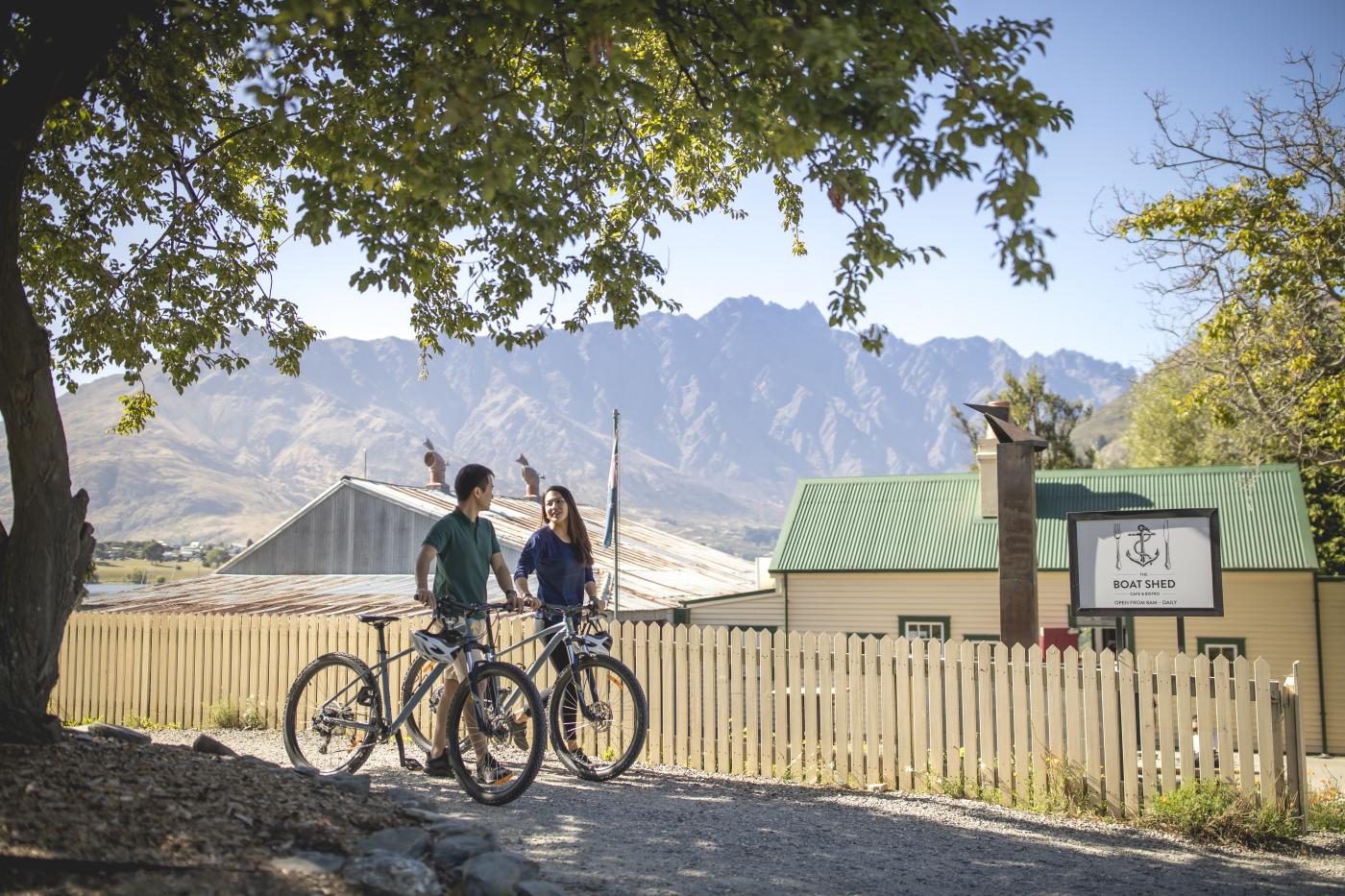 Frankton Track beside Boat Shed Cafe
Arrowtown Hayes Loop
Grade: Beginner Grade 2 and Intermediate Grade 3
Distance: 35km
Best time to ride: year-round, but particularly spectacular in autumn
Part of the Queenstown Trail 'Great Ride' network, this scenic loop around the Lake Hayes district is made up of three connecting trails; the Twin Rivers Trail, Arrow River Bridges and Countryside Trail to form a stunning loop with iconic Whakatipu Basin scenery. Rated green (intermediate grade 3) and moderate physicality, this is the perfect loop if you desire a longer ride with no tricky features or punchy climbs. 
The Twin Rivers Trail – Grade 3
Start your journey at the Old Lower Shotover Bridge, hugging the riverbank as you pass Shotover Country and Lake Hayes Estate communities. Follow the trail up and over Thompsons Hill (the longest and biggest hill on this ride), ending at Morven Ferry Road where the trail connects with the Arrow River Bridges Trail to take you in to Arrowtown.
The Arrow River Bridges Trail – Grade 2
Follow the Arrow River Bridges Trail from Morven Ferry Road along the willow lined edges of the Arrow River, crossing multiple bridges into the historic Arrowtown township for a coffee stop and a re-fuel before linking up with The Countryside Trail to complete the 35km loop.
The Countryside Trail – Grade 3
This section of the trail allows you to enjoy quiet countryside and historic architecture, taking you from Arrowtown back to Old Lower Shotover Bridge via Millbrook. Start this trail adjacent to Dudley's Cottage by the Arrow River, pedalling past galleries and old cottages, through tree-lined Millbrook Resort and up and over Christine's Hill. Enjoy expansive views of the basin and from Domain Road, follow the trail back along the Shotover River, arriving back at the Old Lower Shotover Bridge where you started your journey.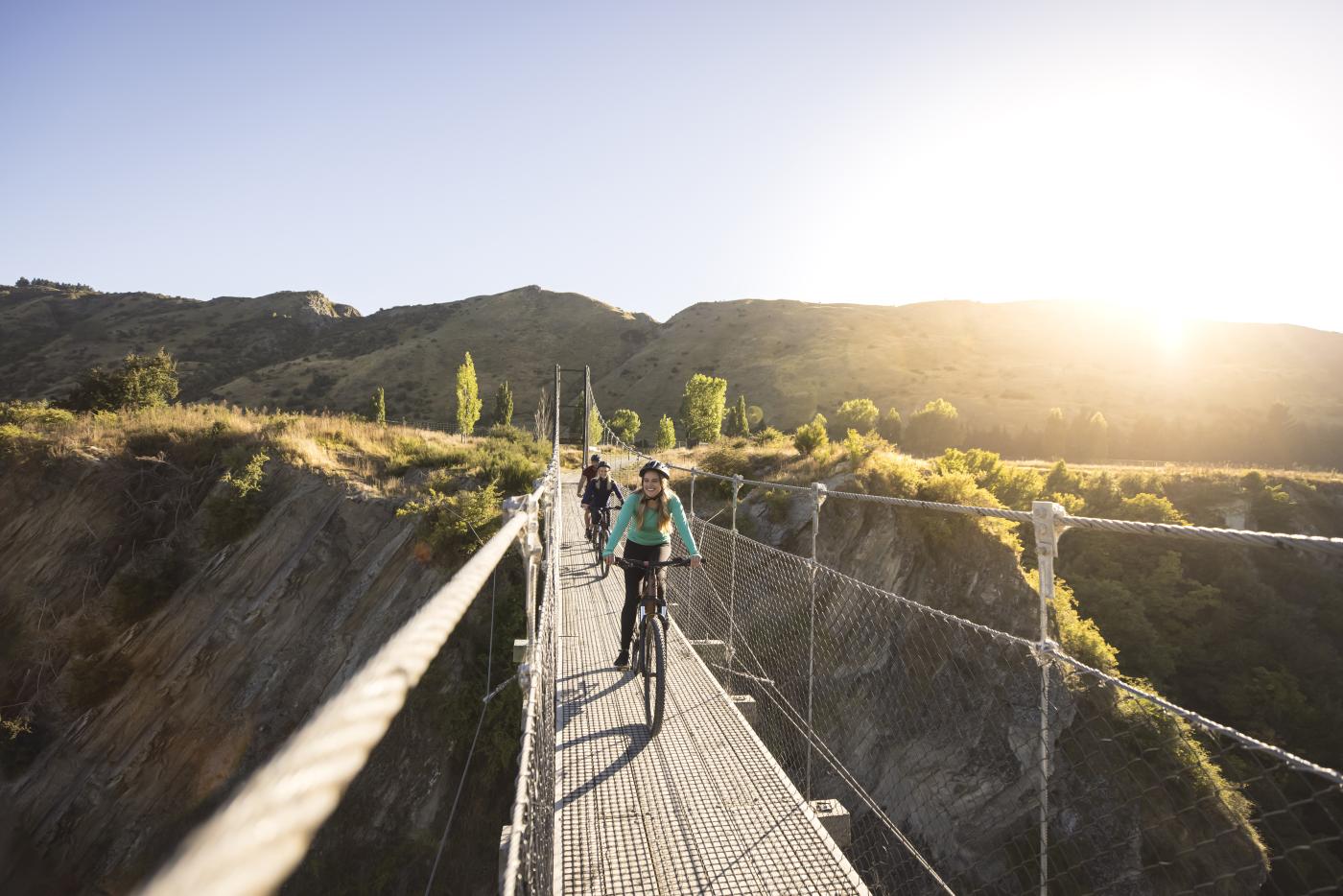 Arrow River Bridges Trail
Gibbston River Wine Trail
Grade: Easy, Grade 2
Distance: 8.7km one-way
Best time to ride: ride year round
The Gibbston River Trail stretches eleven kilometres from the historic Kawarau Suspension Bridge along the banks of the Kawarau River and into Gibbston, the 'Valley of the Vines'. Dotted with world class vineyards, cellar doors and breweries, this is also a perfect trail if you need refreshments along the way.
Insider's tip: No need to worry about pedalling back either, there are plenty of bike transport operators to pick you up at the other end.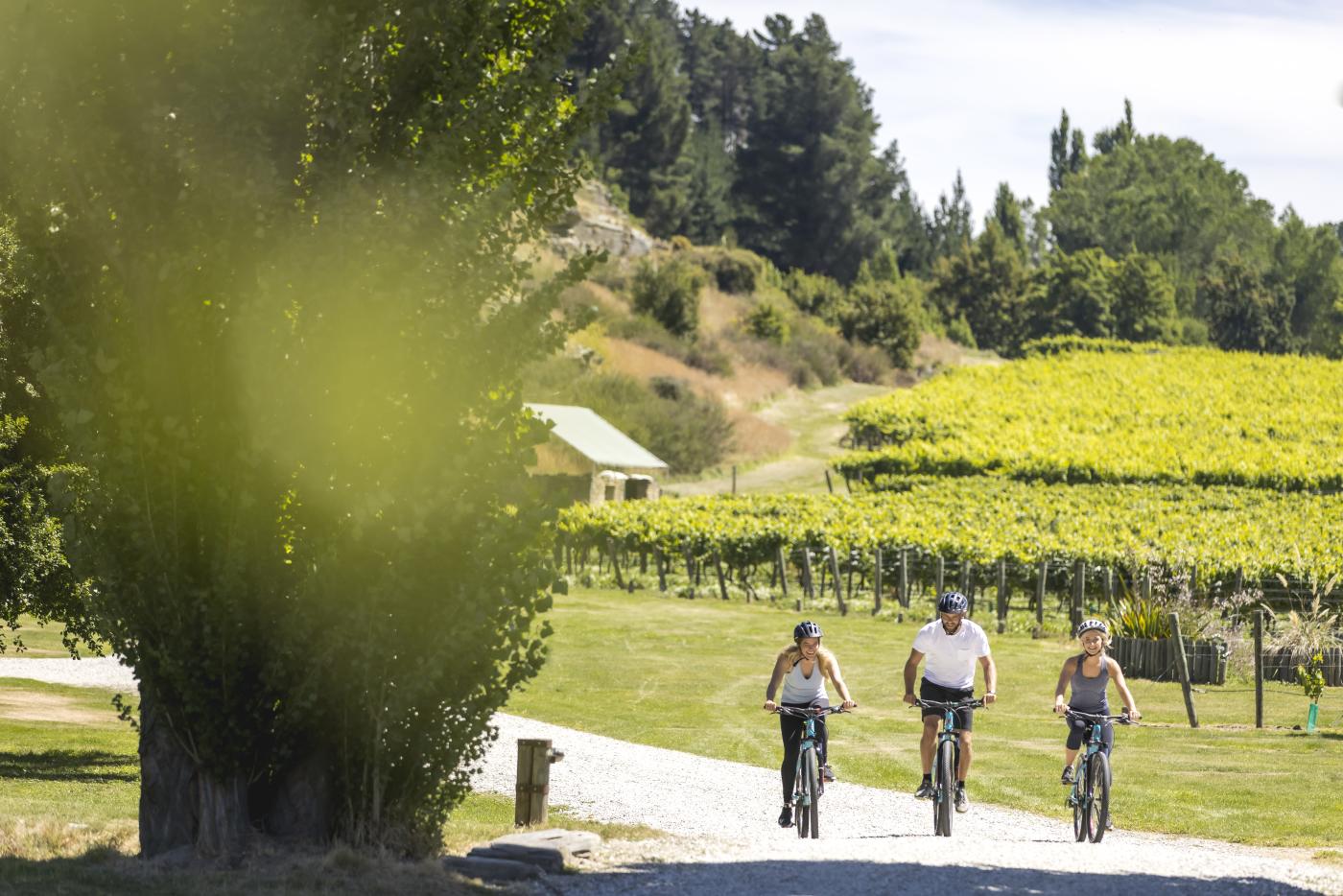 Gibbston Wineries 
Intermediate Trails
Jack's Point Trail
Grade: Intermediate (Grade 4),
Distance: 7.1km one-way
Best time to ride: ride year-round, can be ridden in either direction. 
This trail is one of the most spectacular segments of the Queenstown Trail and is the ideal ride for those wanting a little more out of their e-Bikes. Starting at Jardine Park in Kelvin Heights, this trail is rated intermediate due to its steep climbs, descents and tight corners. The last three kilometres are particularly steep and technical but your efforts are rewarded by elevated views of Lake Whakatipu, Cecil Peak and the dramatic Remarkables. Don't forget to stop at Jack's Point Clubhouse Restaurant for a well-earned beverage at the end of the ride.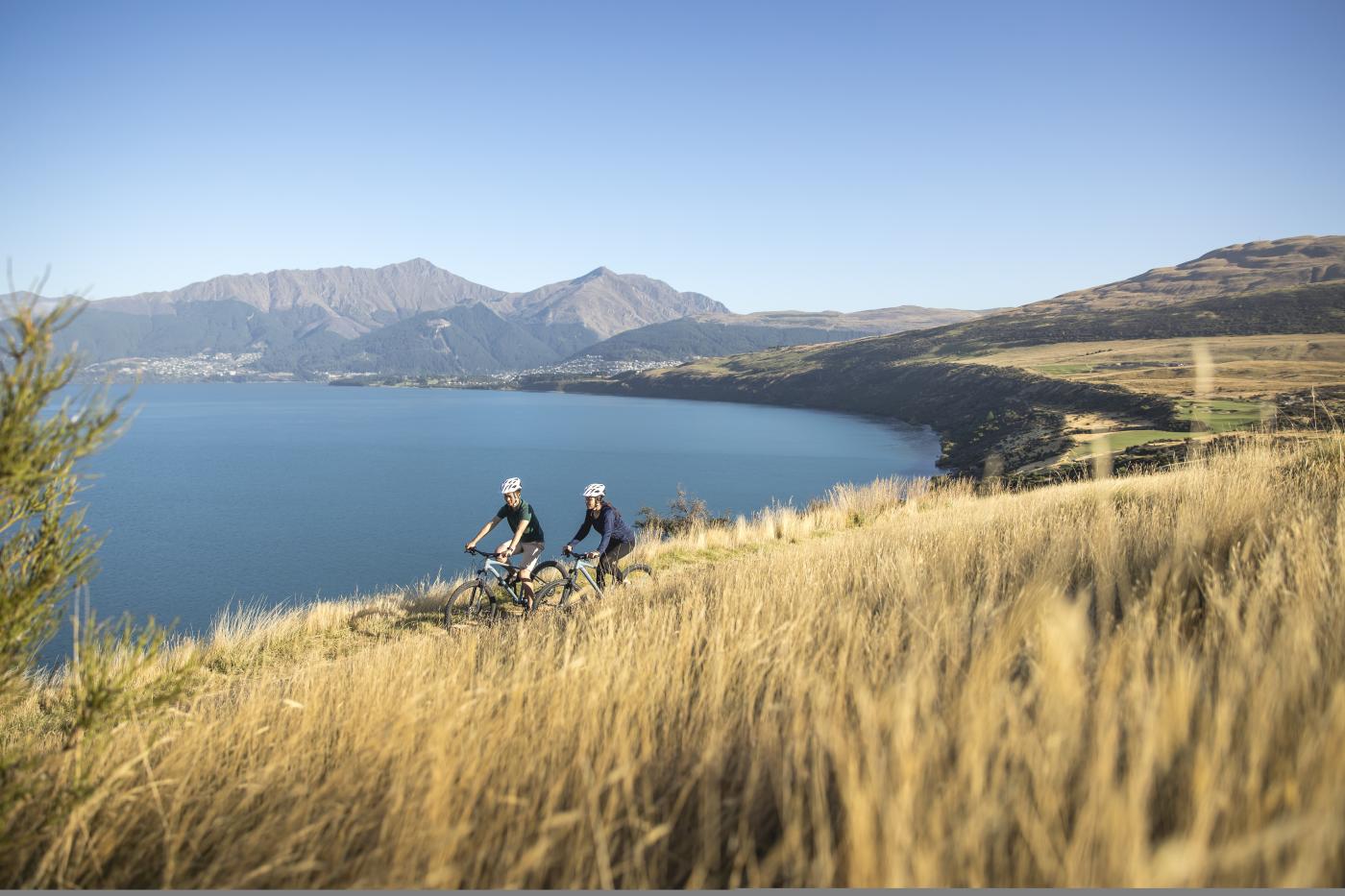 Jack's Point
Coronet Peak Water Race
Grade: Intermediate
Distance: 6km one way
Best time to ride: late spring to autumn
Accessed via Coronet Peak Road or a climb up Dan O'Connell's Track, this trail captures the sheer beauty of the Whakatipu Basin. The first section has fun and flowing corners across farmland. Once past the trailhead of Hot Rod, the single track begins through tussock and streams. Be prepared to get wet feet after rain!
Insider's tip: Make a day of it and pedal the road back via Cargo Gantleys Pub in Arthurs Point with the locals.
Coronet Peak Cross Country Track
Grade: Intermediate
Distance: 4.8kms
Best time to ride: late Spring to Autumn
The Coronet Peak XC track is a two-way trail that begins at the base of Coronet Peak Ski Area. Lap around the five-kilometre loop of 500m vertical, switchbacks, loose and flowing purpose-built single track for as long as your battery allows. Paired with unparalleled views, this trail is an absolute must. If you are feeling fit and have plenty of battery left, add on the newly built Hot Rod trail (accessed via Coronet Peak Water Race) which takes you all the way down to the valley floor.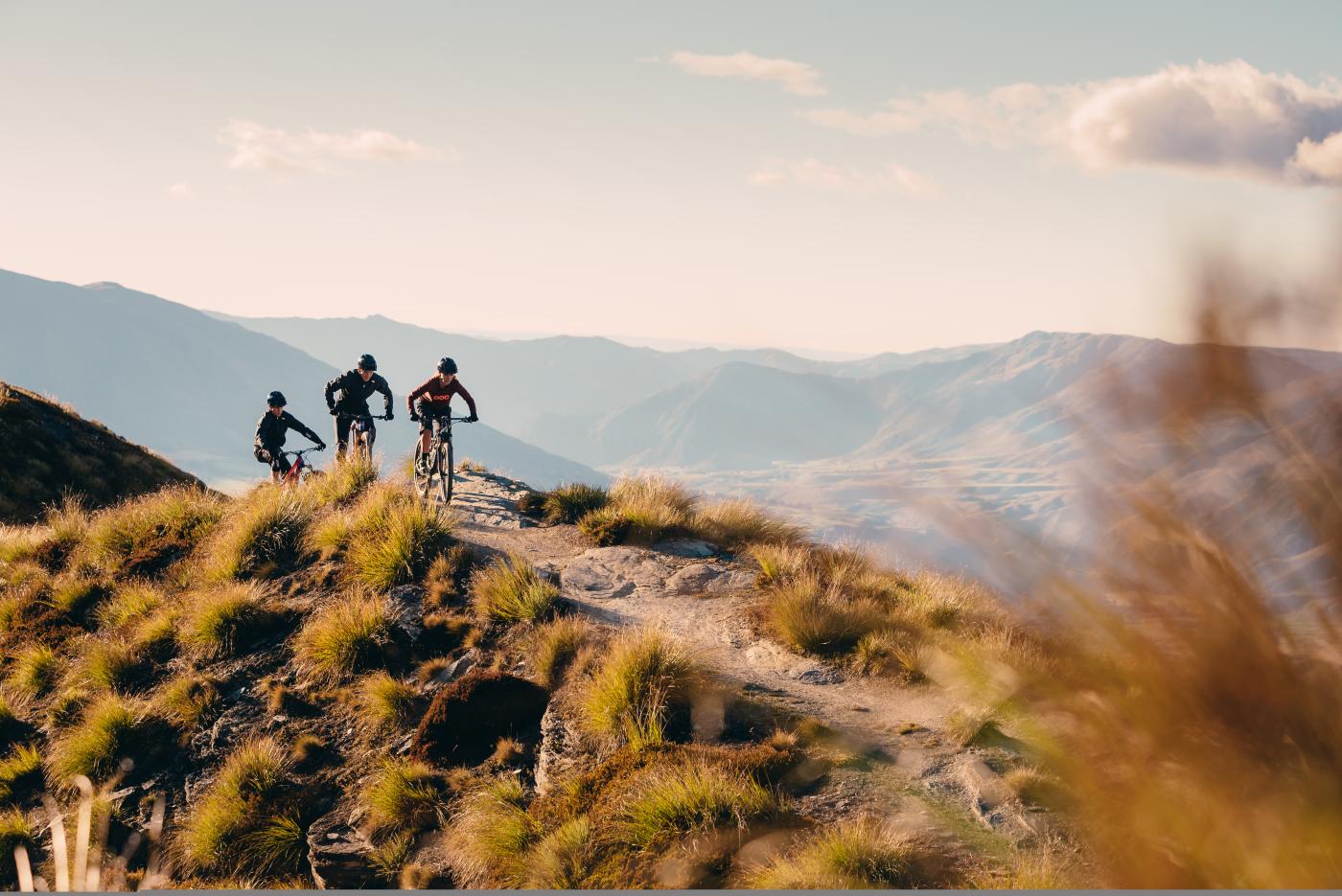 Coronet Peak Mountain trails
Advanced Trails
Fernhill Loop
Grade: Advanced, grade 4
Distance: 6.8km
Best time to ride: year-round – but best time to ride Spring through to autumn
A classic Queenstown trail, chock-full of roots through beech forest that initially started its life as a DOC track. Access from Wynyard Bike Park enjoy a gentle climb up to McNearly Gnarly then a steep climb to the McGazza Table. The Fernhill Loop can also be accessed via Beeched as – another fantastic classic with the perfect mix of technical climbing and flow. Take in the iconic Queenstown scenes before taking your pick of trails down.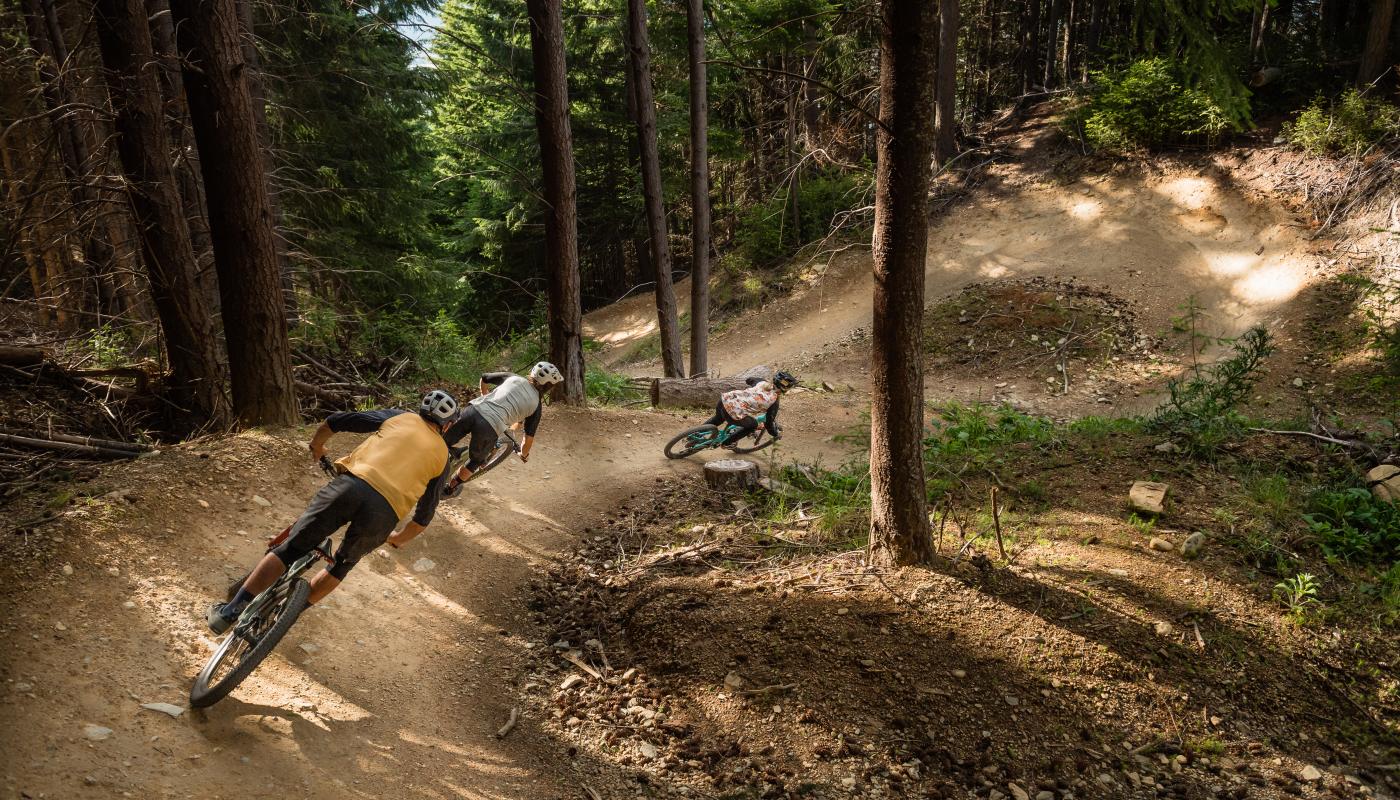 McNearly Gnarly, Fernhill
Moonlight Single Track to Ben Lomond Saddle
Grade: Advanced
Best time to ride: late spring to autumn
A backcountry e-Bike mission through gold mining history. This epic single-track traverses from Arthurs Point to Ben Lomond saddle. The Moonlight Trail will take approximately five hours of undulating riding with some steep climbs - this is for the more experienced e-biker. Your efforts are rewarded with picturesque Central Otago views over Skippers Canyon and beyond. Once over the Ben Lomond saddle enjoy descending Missing Link into the Queenstown Bike Park or carry on to the Fernhill Loop. A real adventure!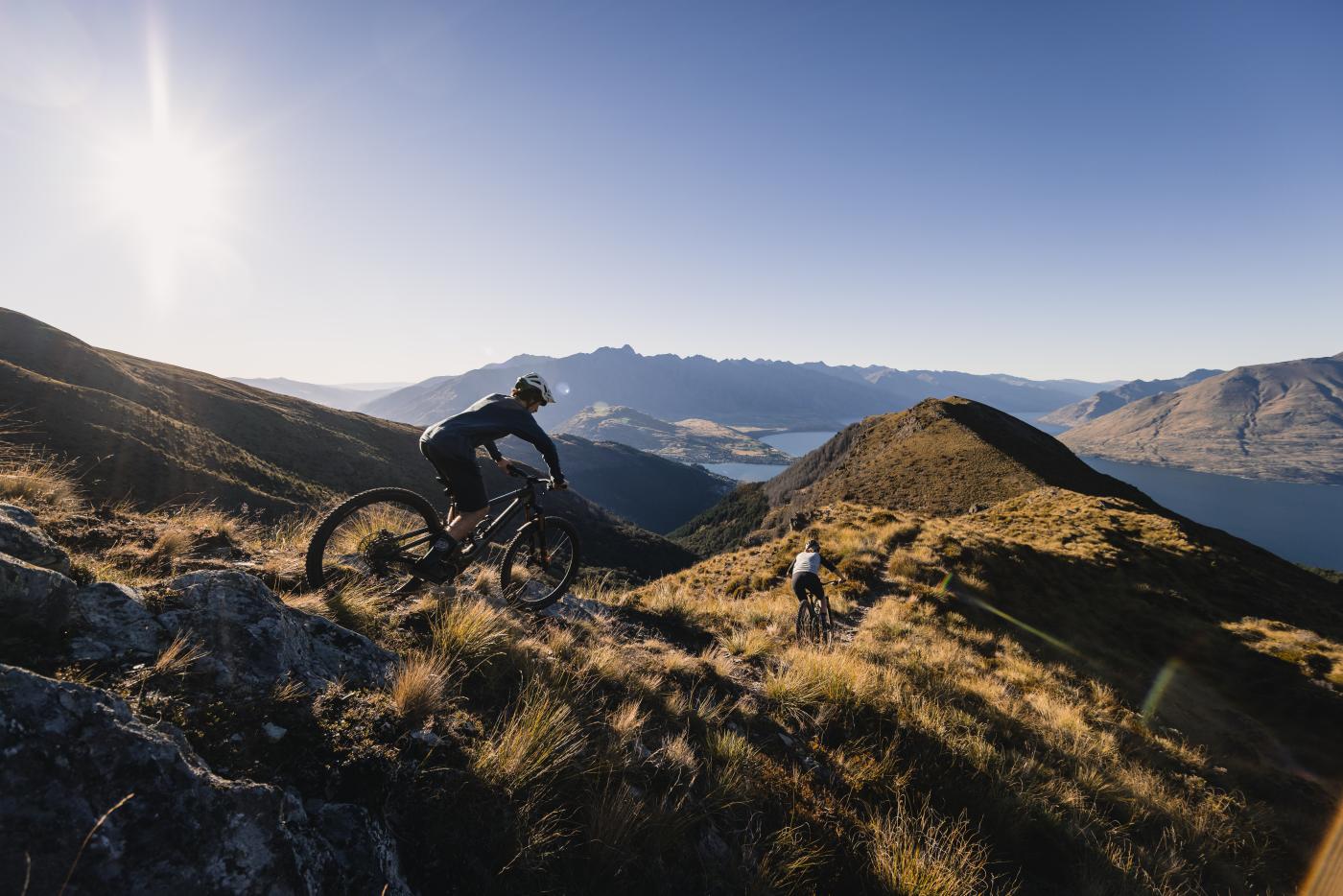 E-Biking Ben Lomond
Rude Rock - Pack Sack and Track - Skippers Canyon
Grade: Advanced
Best time to ride: Spring through to autumn, closed during winter
For the ambitious e-Bikers who are seeking tech and flow, sub-alpine terrain and a thrilling descent with some decent climbing. Start at Skippers Road where the trail ends and pedal with eye watering scenery to the start of Rude Rock. After a world class descent, enjoy a five kilometre gentle gradient climb out.