Chard Farm
Open daily for tastings and cellar door sales
Chard Farm is one of the first vineyards you come across when entering Gibbston, located across the road from the Kawarau Bungy Bridge. A small family owned winery committed to the production of the finest cool climate wines, Chard Farm was established by Rob and Gerdi Hay in 1987 making it one of the pioneering wineries in the region.
The beautiful tasting room is located at the end of an exciting and scenic drive along a private road off the main highway overlooking the Kawarau River.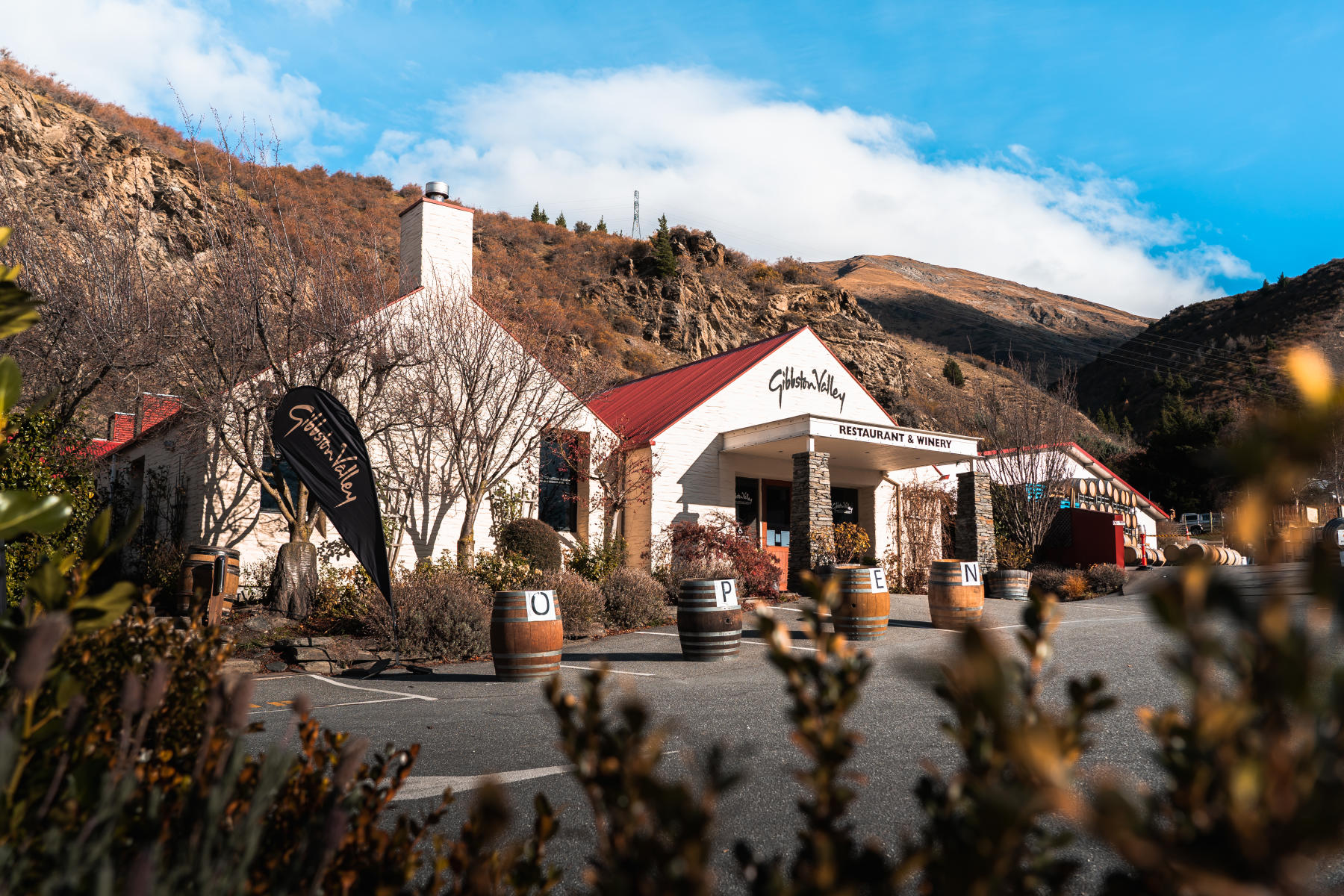 Gibbston Valley Winery
Gibbston Valley Winery
Open daily for tastings, cellar door sales, lunch
Gibbston Valley Winery is the region's oldest vineyard, releasing their first commercial vintage in 1987 which helped to put the area on the map. The winery is also home to a bistro-style restaurant, a tasting room, the country's largest wine cave, a cheesery, bike centre and the newly opened luxury lodge and spa. 
The on-site restaurant features dishes designed by Head Chef Anthony Gradiska utilising produce from the chef's onsite gardens. 
Return transportation from Queenstown is available on Gibbston Valley's daily shuttle service.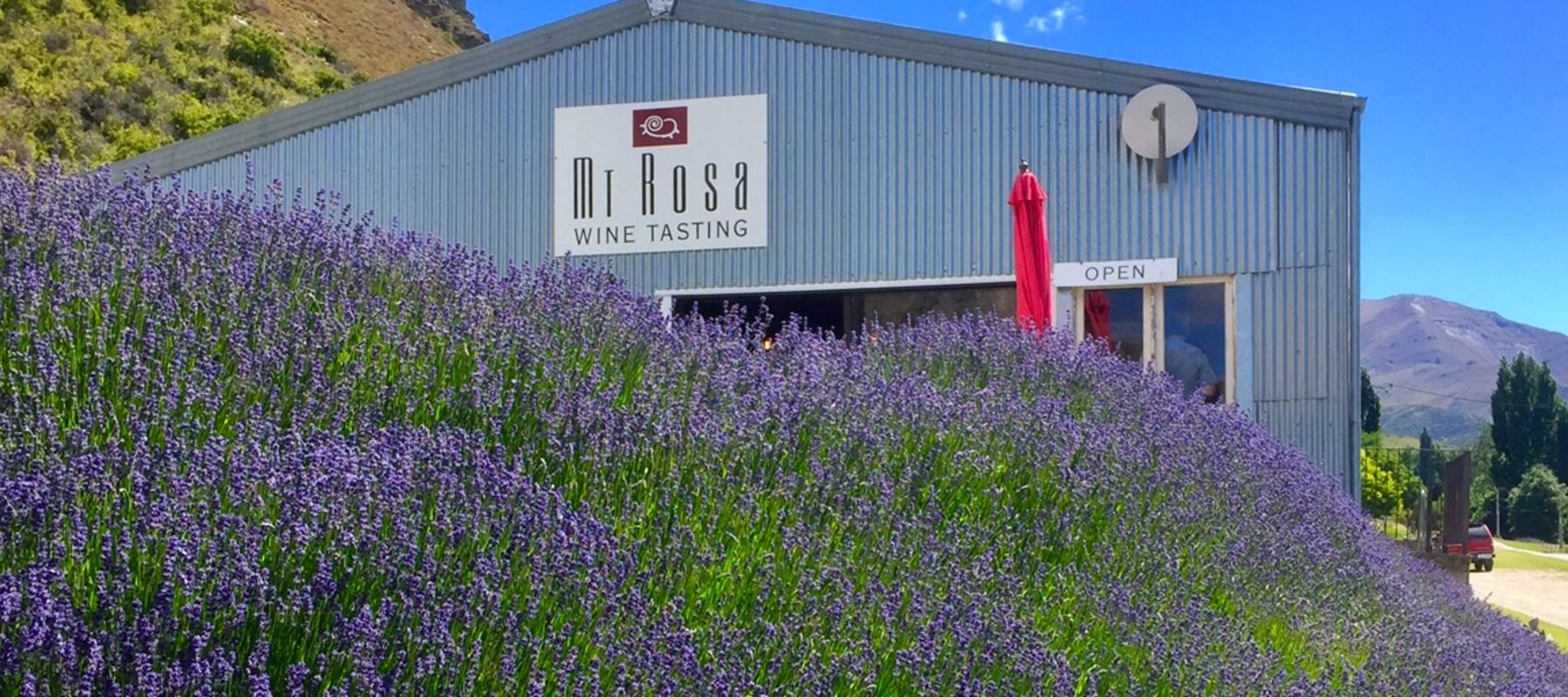 Mt Rosa
Mt Rosa Wines
Open daily for tastings, light lunch, cellar door sales
Mt Rosa Wines is a long established vineyard and cellar door located in a renovated wool shed in Gibbston. The vineyard is set on the original ram paddock for Kawarau Station and still has merino sheep, rabbits, wild deer and goats roaming the station.
Producing pinot noir, pinot gris, pinot blanc, sauvignon blanc, riesling, rose and their now famous mulled wine, Mt Rosa is the perfect place to spend the afternoon with a platter and a tasting flight.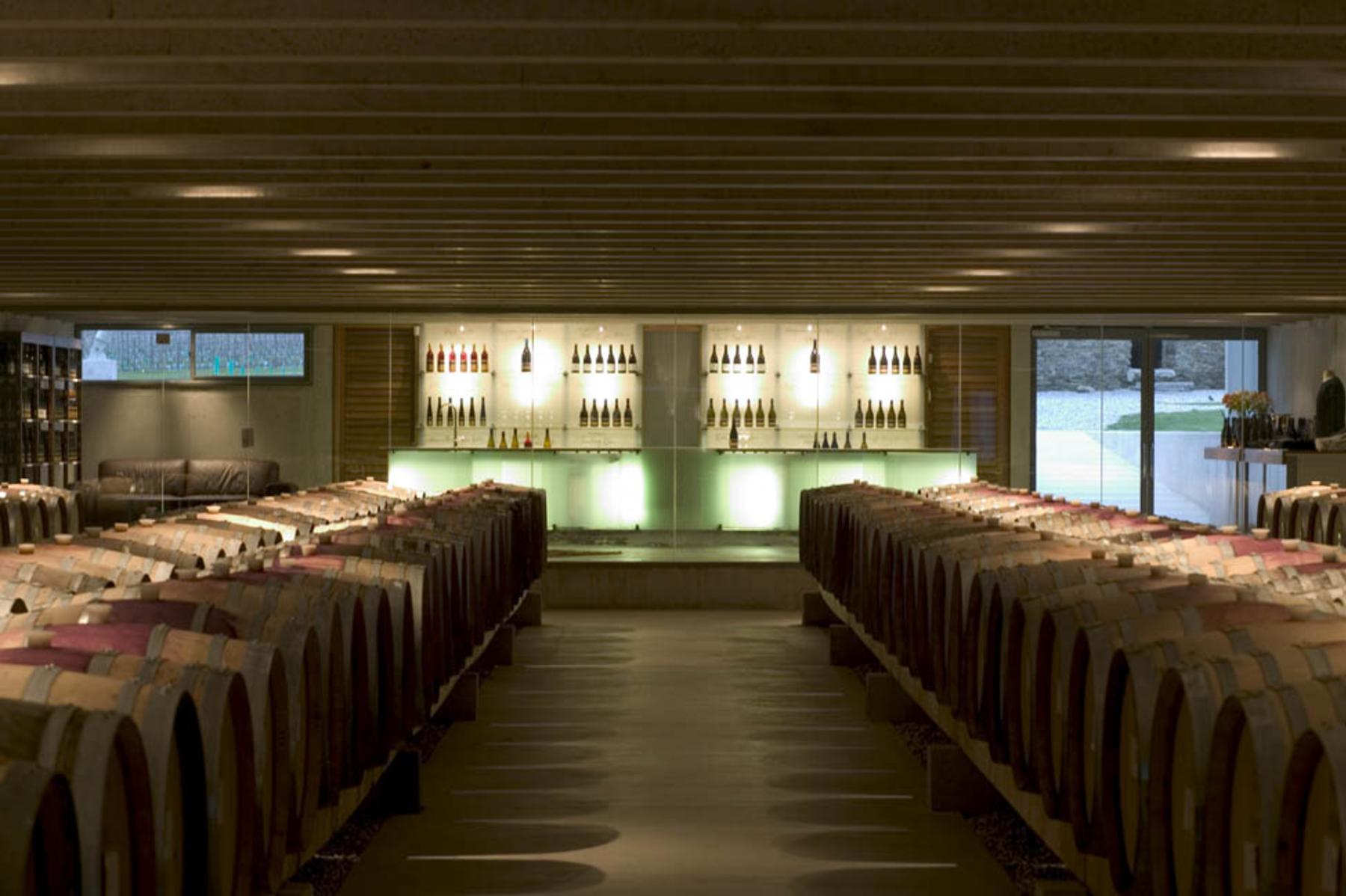 Peregrine 
Peregrine Wines
Open Monday-Saturday for tastings, cellar door sales
Peregrine is a family owned wine producer committed to enhancing the environment both with their organic wines and their 'hands on' involvement in the conservation of New Zealand's native birds, the Saddleback, Mohua and Karearea. Wines are produced on site, and a tour through the winery is well worth it. 
The tasting room is set inside an architecturally designed and awarded building that was designed to mimic the rotation of a falcon's wing in flight, next door you'll find a historic rustic wool shed in stark contrast with the stunning modern tasting room. 
Rockburn Wines (appointment only)
Open Wednesday-Friday for tastings and cellar door sales
Located in the art gallery space at the iconic Gibbston Tavern, you'll find a selection of Rockburn Wines' award-winning pinot noirs as well as sauvignon blanc, pinot gris, riesling, rosé and fumé blanc, available to taste. Enjoy lunch or dinner at the tavern next door to top off your tasting.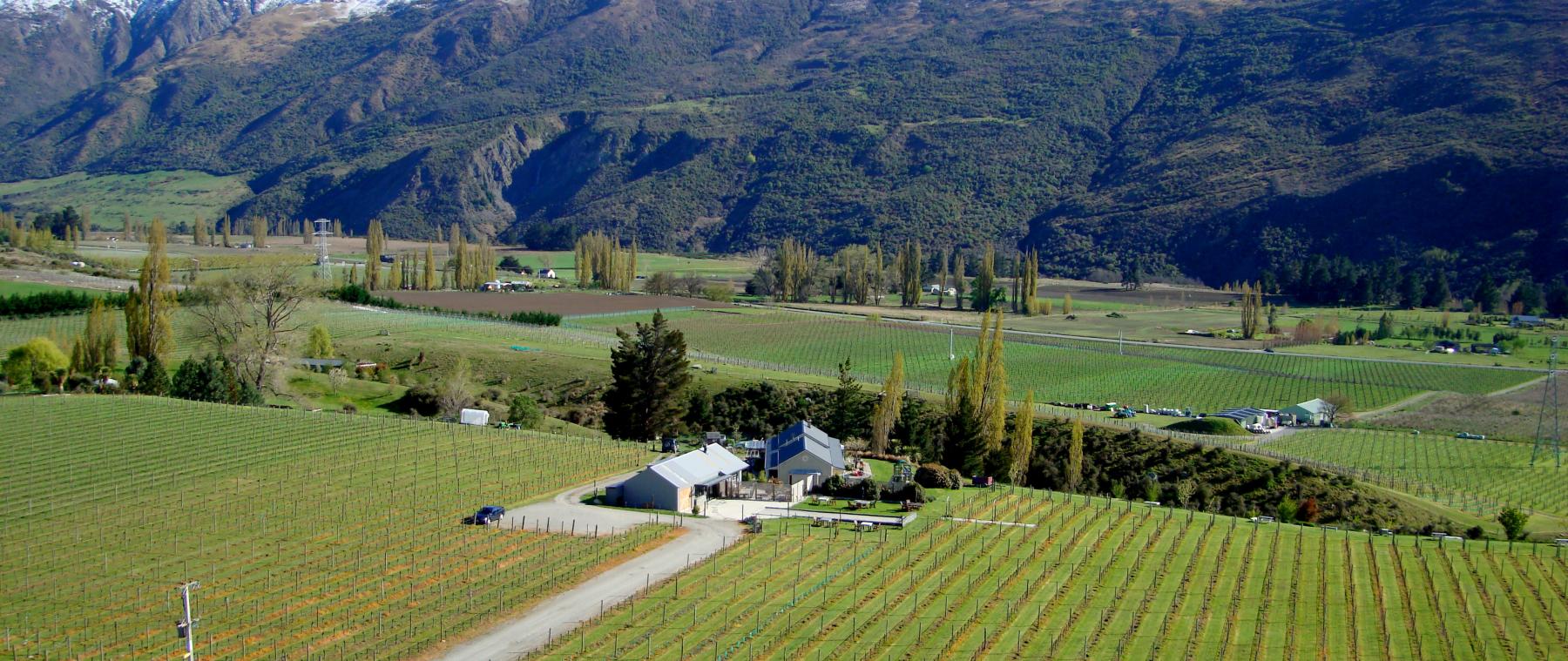 Brennan Wines 
Brennan Wines
Open daily for wine tasting, platter lunches and cellar door sales
Brennan Wines produces limited quantities of iconic wines that are grown and produced on site. Owner and wine maker Sean Brennan launched the label with the intention of producing limited quantities of iconic, aged wines that truly represent the potential of this exceptional wine region.
Brennan is the perfect place to pull up for the afternoon, taste some wine, enjoy a platter lunch and play some petanque in the beautiful garden setting.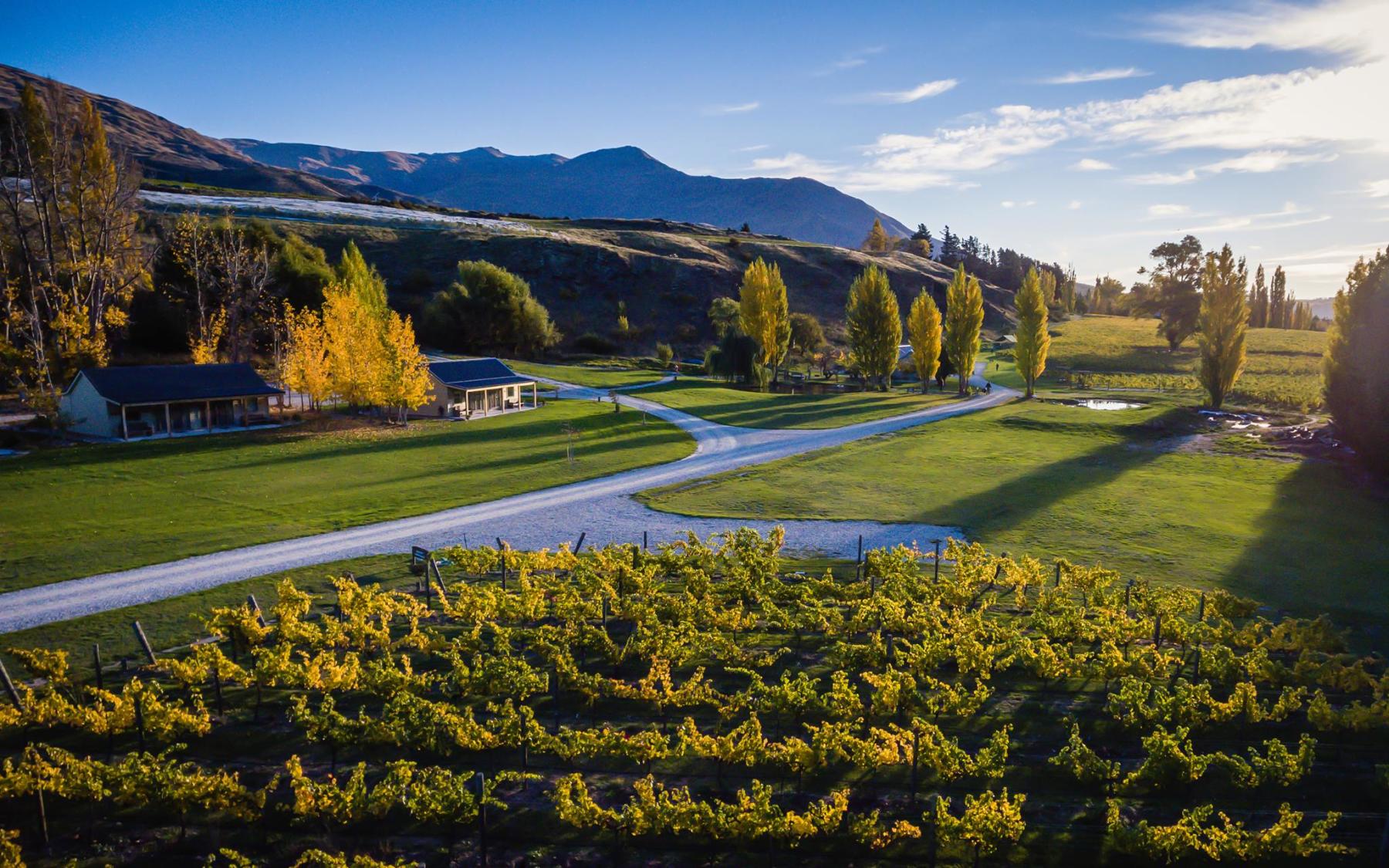 Kinross
Kinross
Open daily for tastings, lunch, dinner and accommodation
Kinross is the official cellar door for five boutique wineries including Coal Pit, Hawkshead, Kinross, Valli, Wild Irishman: some of the top wines available in the region. A great spot to dine al fresco in the covered garden bar by the outdoor fire or inside the cosy main cottage, and if it really tickles your fancy you can even stay the night.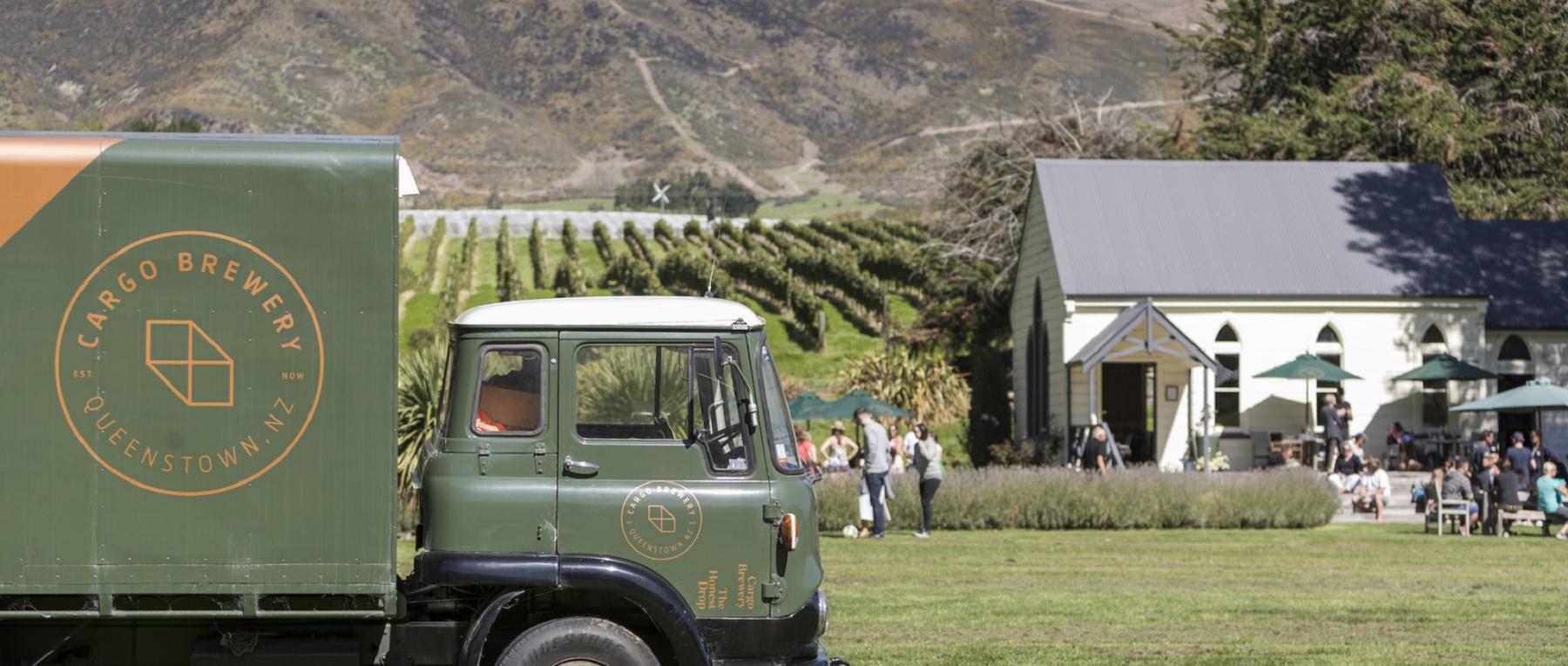 Waitiri Creek
Cargo Brewery at Waitiri Creek
Open daily for tastings and lunch
Cargo Brewery at Waitiri Creek offers a tasting experience for Cargo Beer,  Providore, Wild Earth and Pagan Wine, and a tasty light lunch menu to match. Set in a beautifully restored church dating back to 1894, Waitiri Creek has a large garden area and lawn to sprawl out on. Family and dog friendly, this is a great place to spend an afternoon.
Tasting boards of the beer and wine make it easy to taste a selection of the different wines and beer on offer, and the tasting platters kitchen are design to complement your drinks. 
Cox's Vineyard
Tasting available by appointment
Coxs' Vineyard is a second-generation, family-run vineyard in Gibbston.
The cellar door, vineyard and family home is all set on a north facing section with an ideal combination of soil, climate and position that has led to the small producers winning a number of awards for the pinot gris and pinot noir wines produced. 
The tasting room is set in a disused classroom from Takitimu Primary school in Nightcaps which has been restored and is now used as the tasting room and Pacific and New Zealand heritage art gallery. You're bound to walk away with a few bottles and maybe even a rare piece of art after a wine tasting at Coxs Vineyard 

Amisfield Winery & Bistro
On the way from Queenstown
Amisfield Winery
Open for tastings and cellar door sales daily, open for lunch and dinner Thursday - Sunday
Enjoy a glass of wine, wine-tasting or a cocktail at Amisfield's Cellar Door bar along with something from their new bar menu, or stay for longer and sample their famous Trust the Chef menu. 
Wet Jacket
Set in a working wool shed built over 150 years ago, Wet Jacket is a fantastic wine tasting experience located just after Lake Hayes en route from Queenstown to Gibbston. A great spot to stop in and taste some Whitestone cheese and Wet Jacket wine, whilst getting a glimpse into rural New Zealand farm life. Or, spend the afternoon with a glass of wine in the relaxed outdoor garden space.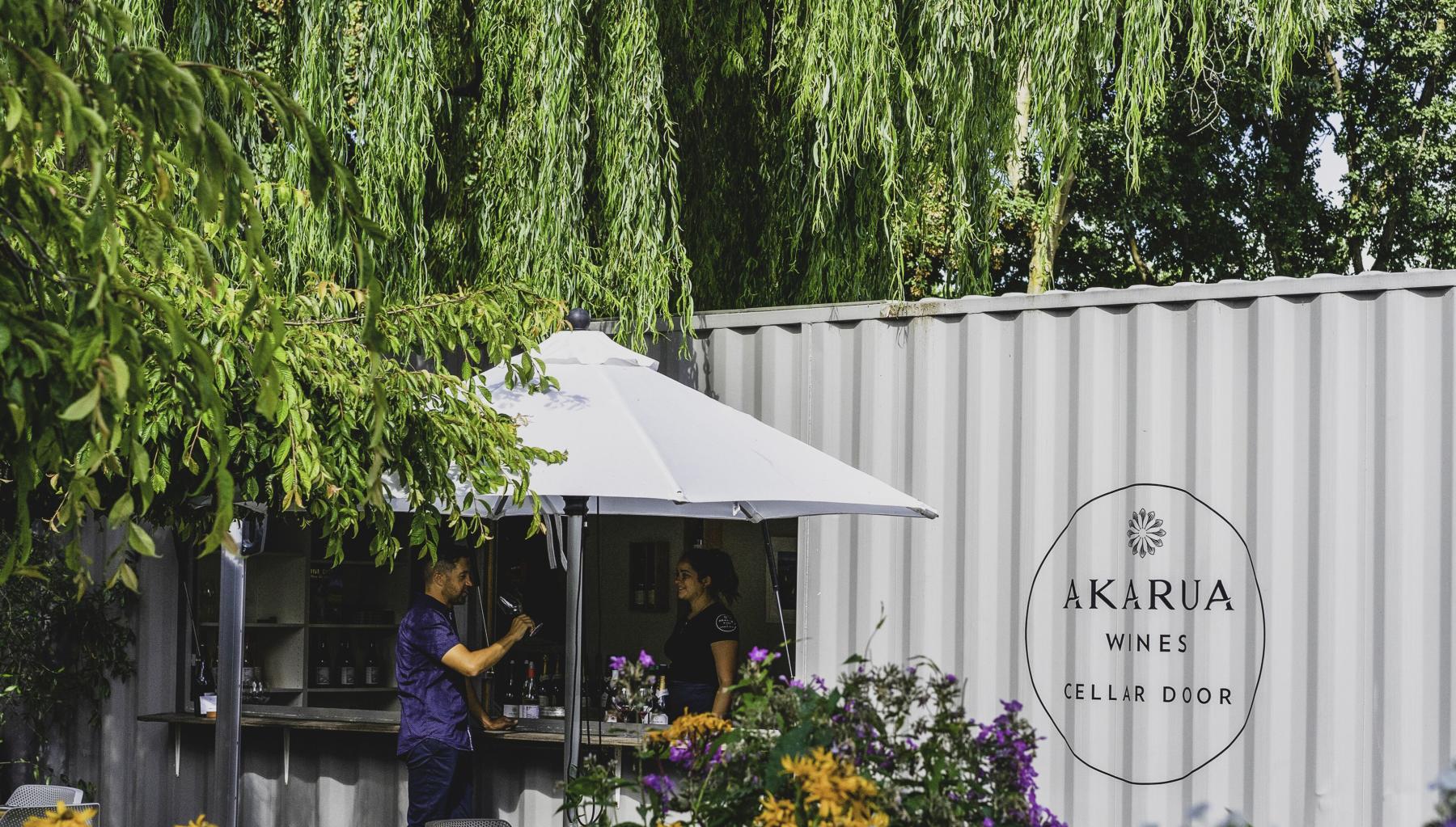 Akarua Wines & Kitchen by Artisan
Akarua Wines and Kitchen by Artisan
Akarua Wines and Kitchen by Artisan is a marriage between Akarua Wines and Artisan Catering, located in a restored historic cottage next to Lake Hayes.
Open for breakfast and lunch daily, and dinner on Friday nights, spend the afternoon sampling wine from Akarua matched with tasty dishes from the Artisan kitchen.  
Exploring further afield
Gibbston is just the beginning of the Central Otago wine experience. Extend your Gibbston wineries tour into Bannockburn or Cromwell for the afternoon, or stay in Central for a while and explore all that the region has to offer. Find out more here.