Visit artists' studios and art galleries
The dramatic central Otago scenery and clear southern light are a magnet for artists. Queenstown and Arrowtown are a home to a cluster of wonderful galleries and artist's studios.
Galleries include:
Nadene Milne Gallery, for celebrated New Zealand artists like Shane Cotton, Judy Millar, Fiona Pardington, Max Gimblett, Gretchen Albrecht, and Tony de Lautour.
Milford Gallery, for painting, sculpture, glass and ceramics from significant New Zealand contemporary artists and emerging talent.
Dedicated artist's gallery's include Romer Gallery, David John Gallery and Jenny Mehrten's studio
​Take a Art tour with Black ZQN and go on a journey to explore exhibitions from local artists and sculptors, or explore the Queenstown art trail to discover our public collection of contemporary sculpture, and more artists' spaces.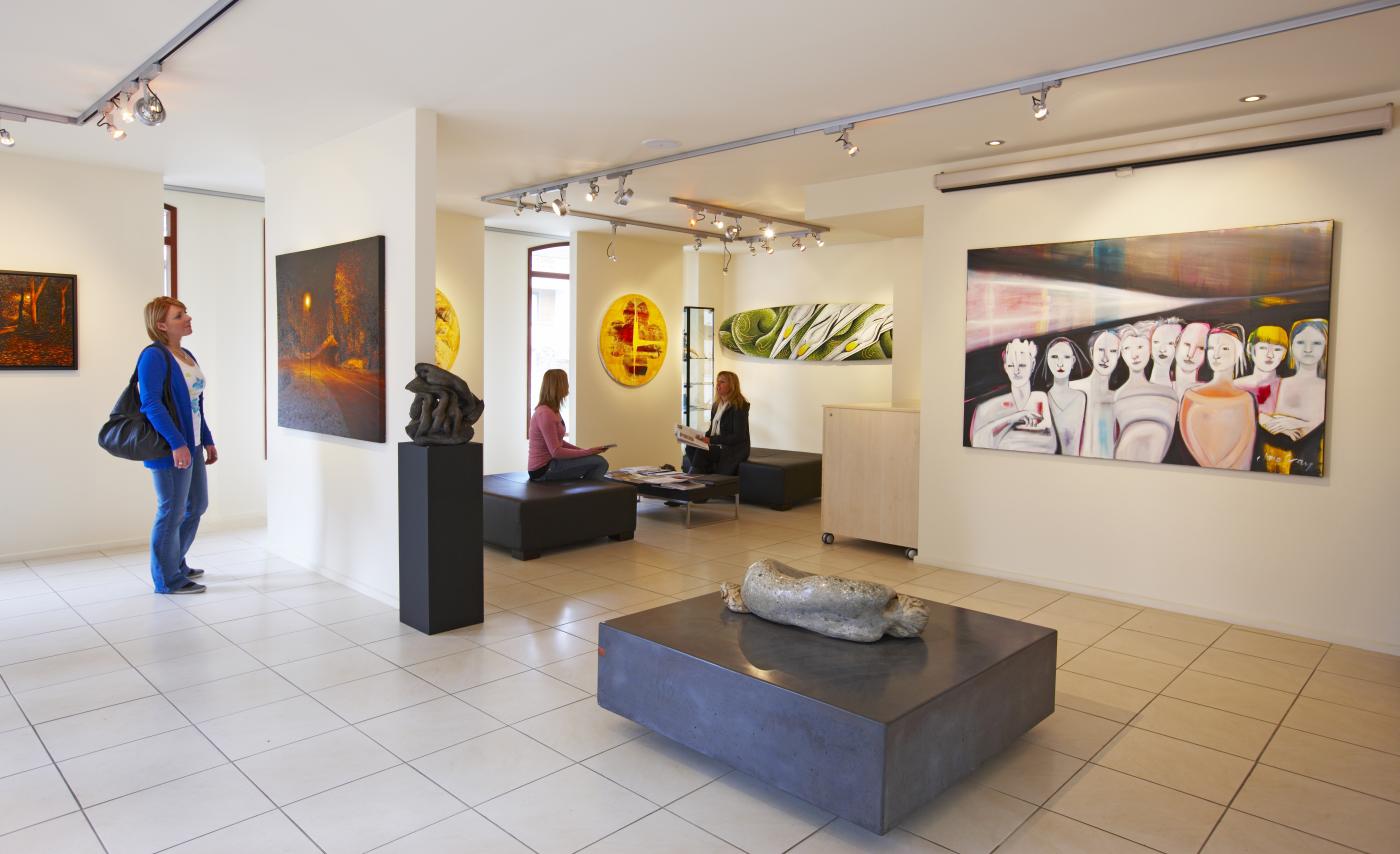 Art Gallery in Queenstown
Enjoy a walk with views to remember
Lace-up your boots and hit the trails just a short stroll from your accommodation. 
Queenstown Hill, The Queenstown Gardens, and the Tiki Trail, are all excellent short walks starting from downtown. The Ben Lomond Track is a serious day hike to the peak behind Queenstown, but you can get a head start with a ride up the gondola.
If you're feeling like more of a mission, drive out past Glenorchy and hike to the Routeburn Flats or Falls Huts and back (4-6 hours return). Check in at the DOC office at 50 Stanley Street for weather and track warnings before you go.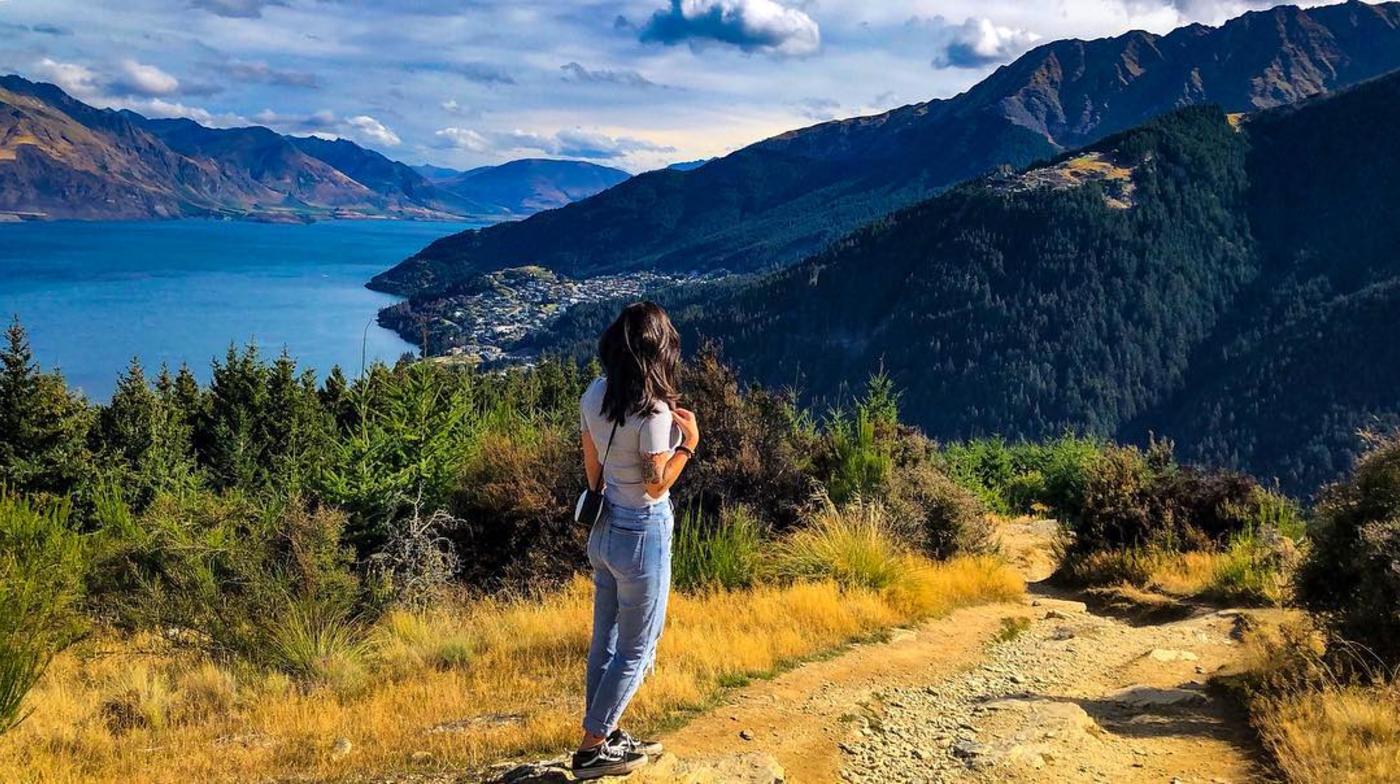 Views from Queenstown Hill. Credit @cehind on Instagram.
Get out on the water
Getting out on the lake is a must for a visit to Queenstown. Depending on your appetite for adventure you can take a leisurely cruise on the historic TSS Earnslaw, float above the lake on a parasail adventure, or experience the rush of the semi-submersible Hydro Attack.
If you prefer a more active adventure, join an organised kayak tour, or hire kayaks or paddleboards to explore Lake Whakatipu and see Queenstown from the water.
Check the weather before you go as conditions on the lake can change quickly. Always have a mobile communication device with you and wear a lifejacket. 
TSS Earnslaw Vintage Steamship
Experience a swim in a mountain lake
If you're looking for a pick-me-up, nothing beats a quick dip in the crystal clear (and icy cold) water of a mountain lake on a hot summer day. Chilly but refreshing, there's no better way to feel alive.
Whether you're craving a secluded beach to spread out your towel and chill, or looking for a spot to cool down from the Central Otago sun, check out this guide to the best beaches and wild swimming spots near Queenstown.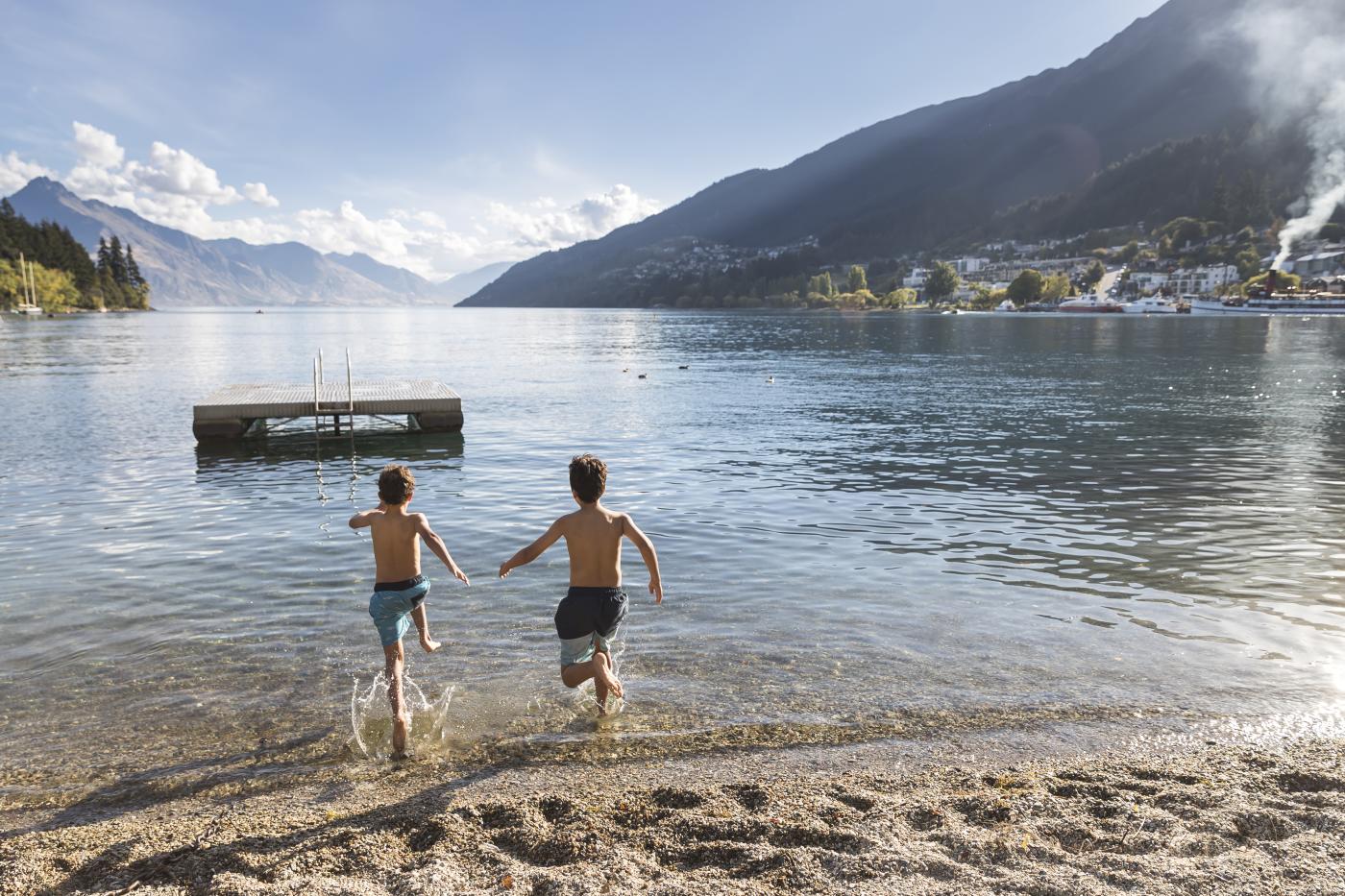 Queenstown Bay in Summer
Eat alfresco and enjoy the Queenstown summer vibe
Queenstown is an alfresco foodie's delight. With street stalls, art installations and buskers, there's always something on downtown. So, pull up a seat outside one of the restaurants on the Mall, Steamer Wharf or Marine Parade and enjoy the action.
For a more casual outdoor dining experience with a million-dollar view, grab fish and chips, a burger or a takeaway and head to Queenstown Beach. Enjoy your meal as jet boats, shark-shaped submersibles and paraflights perform an aquatic dinner cabaret. 
Visit our dessert shops and award-winning cafés for a sweet treat and an expertly crafted coffee, before heading to one of our rooftop bars like Sundeck, or The Balcony on the 3rd floor of the Crowne Plaza Queenstown, for a sundowner with a view.
Find more great places to eat and drink outdoors, with this guide to alfresco dining in and around Queenstown.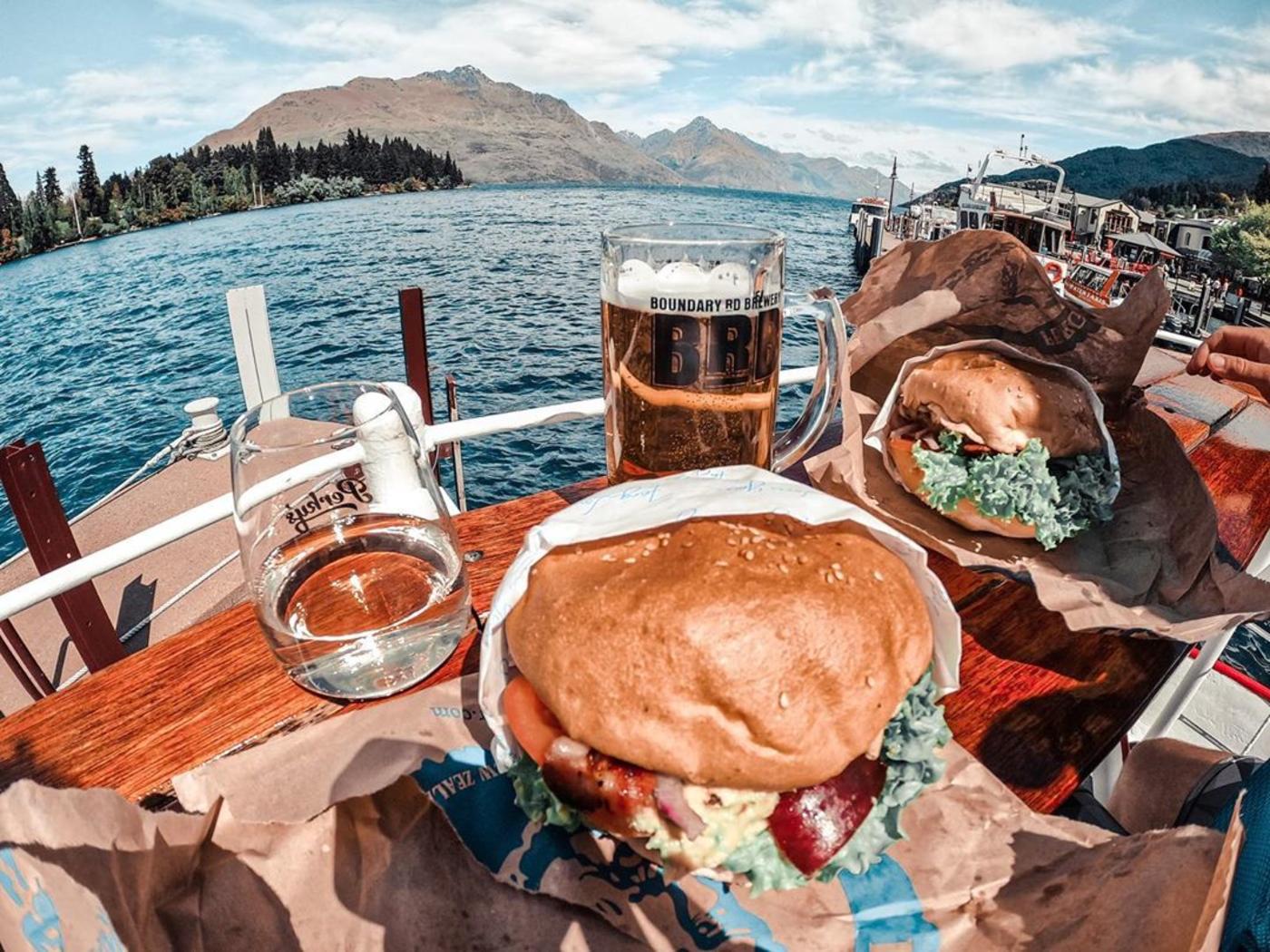 Fergburger onboard Perkys Floating Bar. Credit @charly_harris on Instagram.
Follow the wine trail or sip some craft beers
Many Queenstown wineries have cellar door tasting, and several have excellent restaurants on-site, so drop in for a taste, a meal or a winery tour.
Between Queenstown and Arrowtown, don't miss Lake Hayes' small cluster of wineries, Mora and Amisfield both offer superb food, as well as wine, and Wet Jacket has tasting rooms in an old woolshed and guest summer sessions with local foodies.
Gibbston Valley has 12 wineries and makes a fantastic day trip. The Central Otago wine story started here, with the first commercial vintage bottled by Gibbston Valley Winery in 1987. Today wineries include Peregrine Wines, Chard Farm and Kinross Cellar Door, which represents five wines from the region.
Queenstown is also home to a growing number of craft breweries. Try beers from Altitude Brewing, Cargo Gantley's, or Searchlight Brewery, or pop into Smith's Craft Beer House to sample a range of tasty local ales with evocative local names like Mischievous Kea.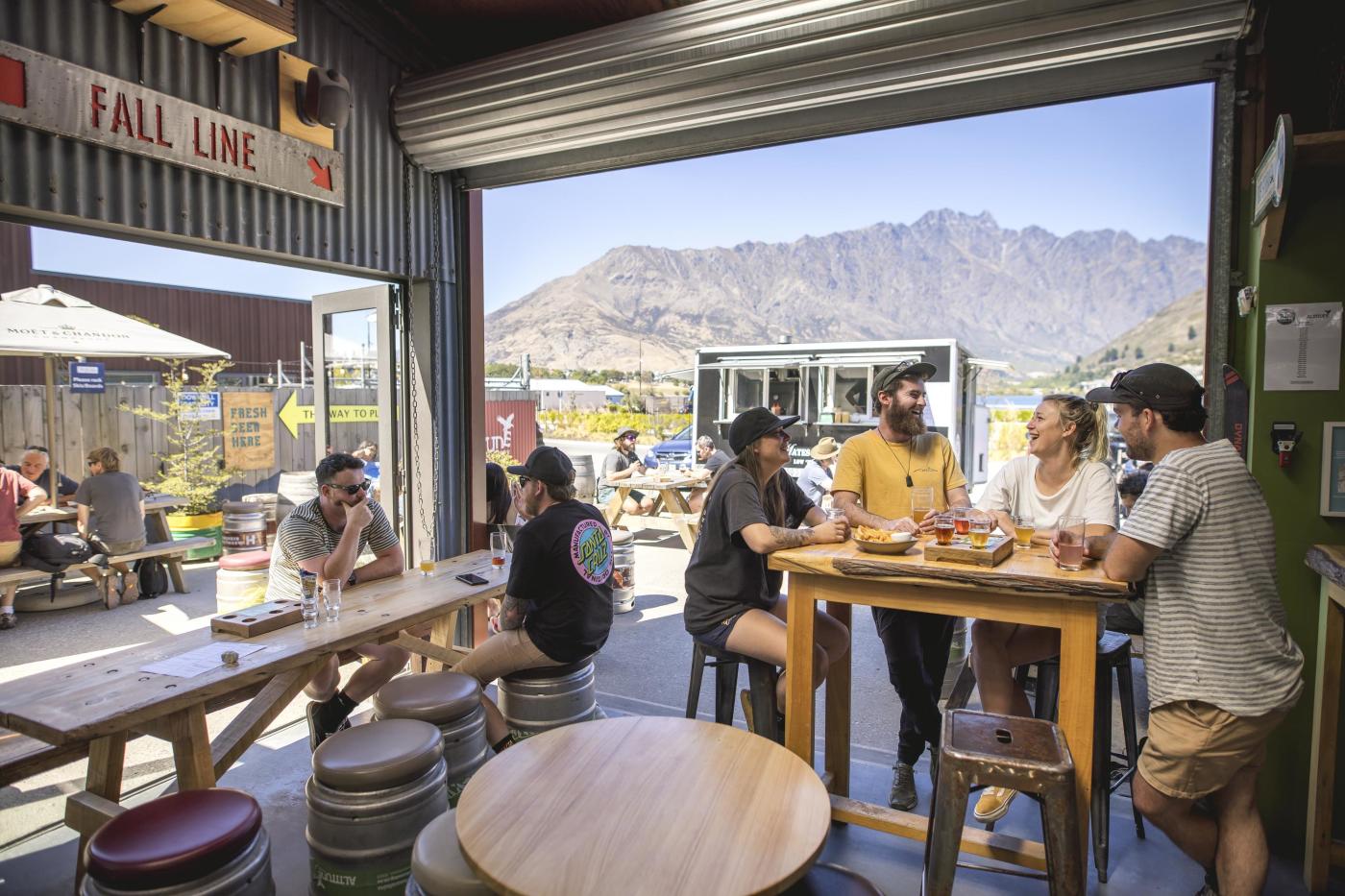 Altitude Brewing
Experience Adrenaline Zen in the home of adventure
Queenstown's spirit of adventure leaves a lasting impression on those who visit. Our iconic adrenaline activities include bungy jumping and canyon swinging, skydiving, whitewater rafting and thrills on a jet boat.
These extreme adventures can get your heart pumping and your adrenaline sky high. But they can also give you a heightened sense of calm focus. This phenomenon has been called Adrenaline zen, a meditative flow state where people become completely engaged and immersed in the moment, sometimes finding deeper meaning.
And it's not all big thrills and adrenaline highs in Queenstown. The cruisy side of our idyllic alpine resort is full of leisurely experiences with wow-factor from lake cruises to scenic tours on land and sightseeing expeditions by air. Adventure is what you make it.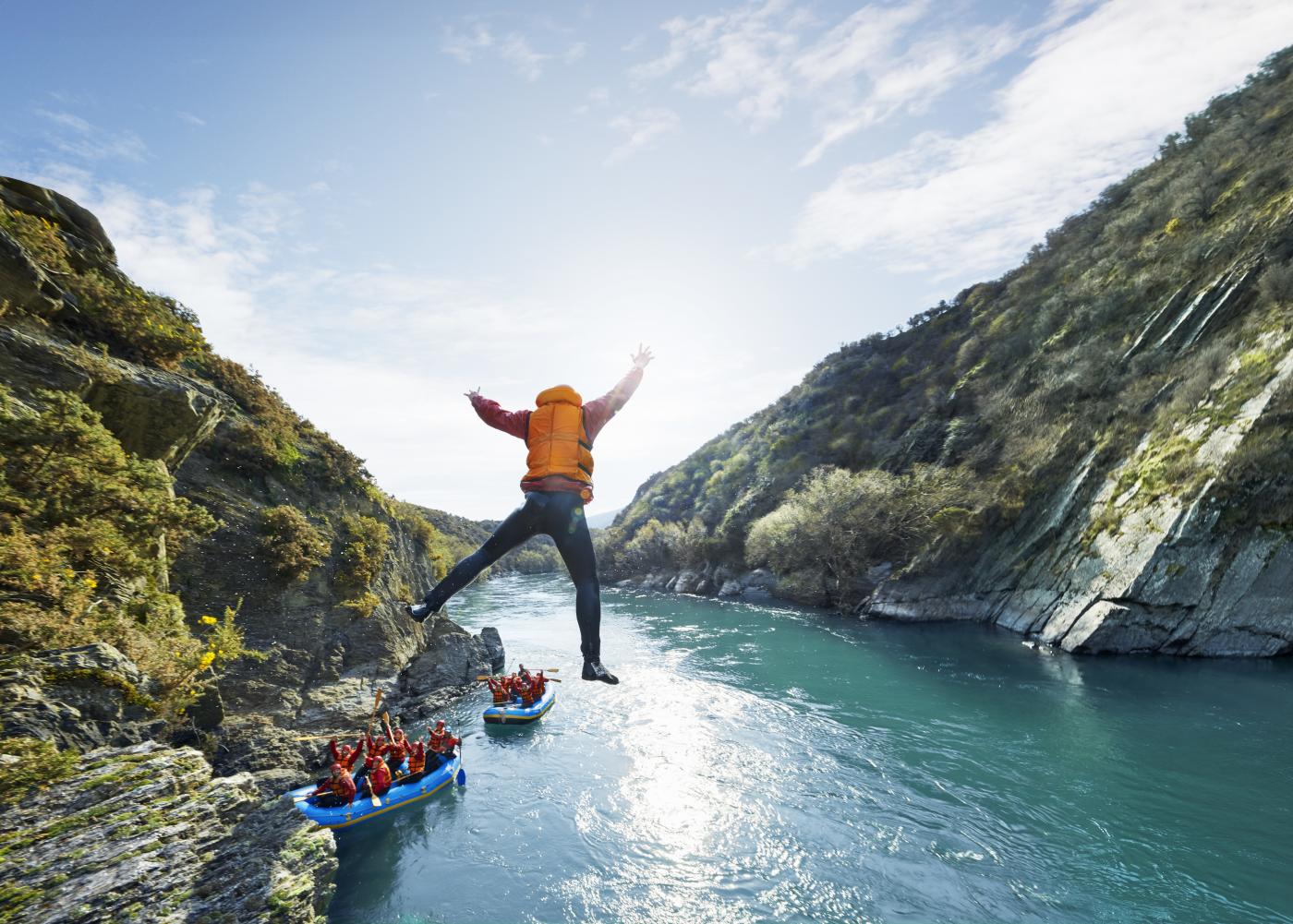 RealNZ Whitewater Rafting
Check out the local markets
The Remarkables Market is held Saturday 9am-2pm on Hawthorne Drive in Frankton. A farmers' market with fresh produce, coffee, gifts and homewares, highlights include local honey, locally brewed kombucha and kefir, raw food treats, and tasty baking.
The Creative Queenstown Arts 'n Crafts Market is also held Saturday 9am-4:30pm on the Queenstown waterfront in Earnslaw Park, with vendors selling arts, crafts and souvenirs and live music from local musicians. Experience our diverse talent and get a unique gift to take home for someone special.
The Arrowtown Farmers Market runs from October through until April, Sunday 10am-2pm at Arrowtown's Library Green. Load up for a picnic with local cheese, salami, and fresh patisserie, before grabbing lunch under a tree listening to the live tunes.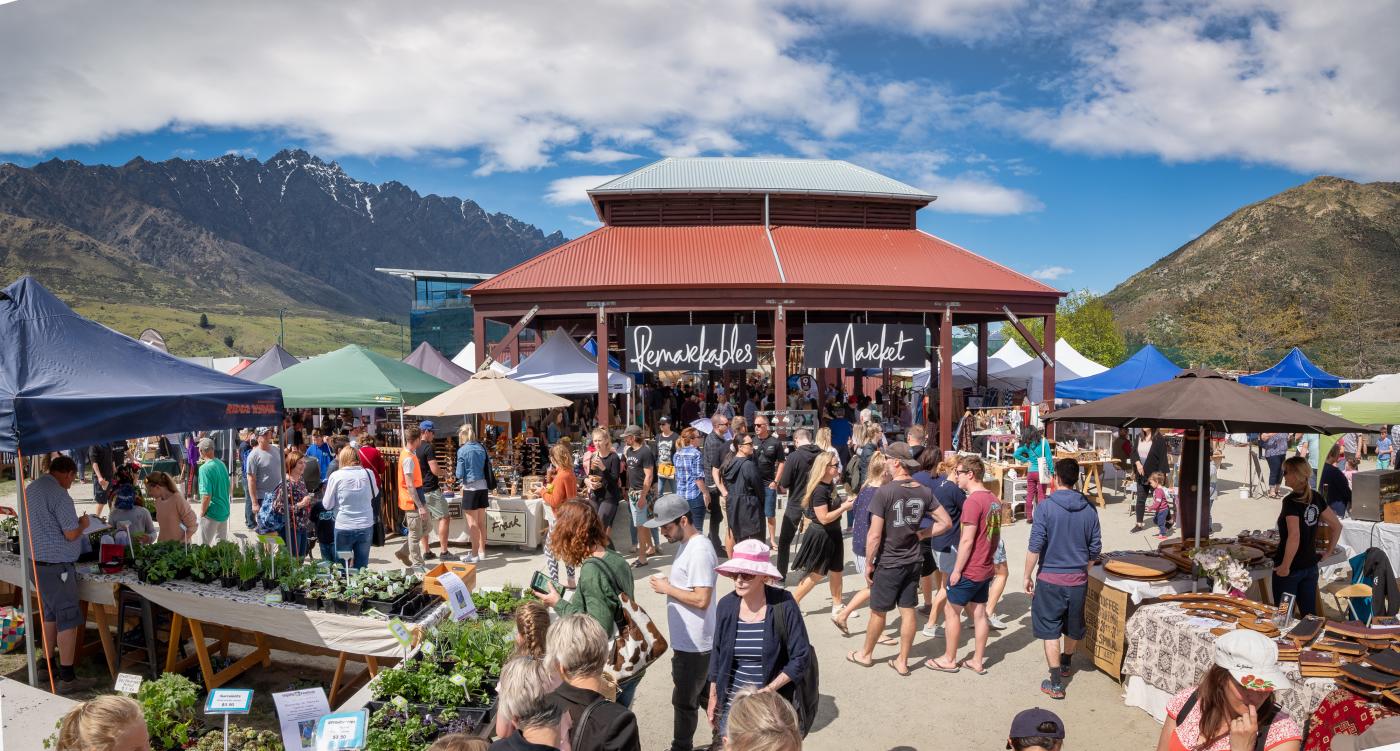 The Remarkables Market
Get out on your bike
Queenstown is world-famous for its epic mountain bike scene, so whether you're a newbie or a hardcore biker seeking the gnarliest downhill trails to shred, there's a ride for you. Queenstown Bike Park, Coronet Peak and Cardrona Alpine Resort all have lift-accessed mountain biking, so hire a bike and get some serious riding under your belt.
Queenstown is also the hub of 130kms of off-road cycle trails, ideal for exploring the region in a leisurely fashion. Ride the Frankton Track along the lakeshore, or head further afield for the Gibbston Valley Wine Trail or the Jacks Point Trail.
A bike tour is a wonderful way to explore the region. Combine cycling with wine tasting in Gibbston, embark on a multi-day cycling adventure, or try heli-biking to ride off-road backcountry. Even if you haven't ridden a bike for years, e-bikes make riding accessible for all ages and abilities.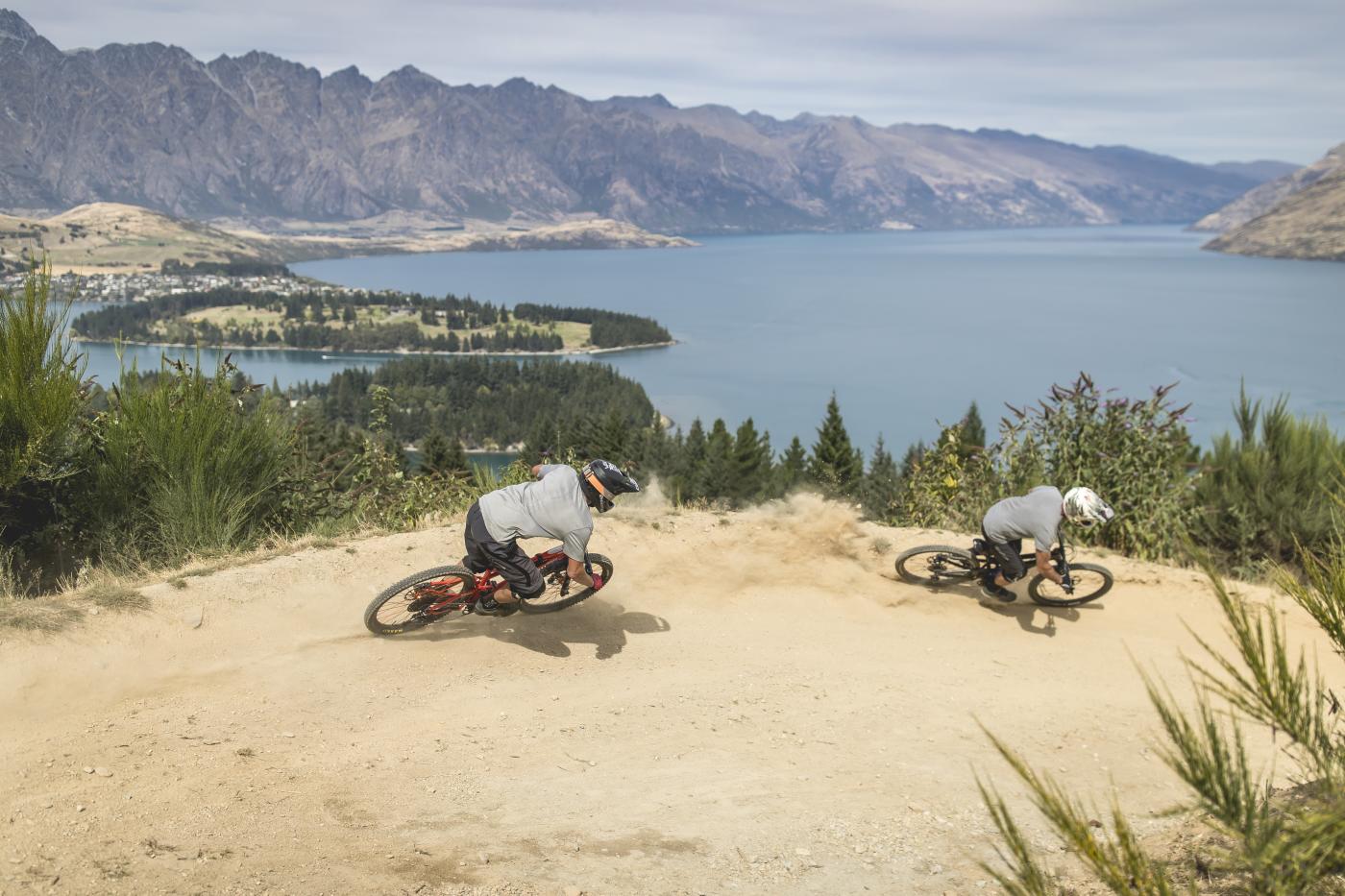 Queenstown Bike Park