Soak up the scenery on a local hike
If you've had enough golf by midday and the rest of the group is still putting, there are some lovely trails close to the fairways.
Lake Hayes is a short stint from Millbrook, The Hills or the Arrowtown Golf Club. Wander the Lake Hayes Trail, a varied track that circumnavigates this popular lake. When calm, the lake can produce some great reflective photo opps and there is a variety of wildlife to be seen around the trail.
The Jack's Point Loop Trail begins and ends at the Jack's Point Clubhouse, which means you can rejoin the gang for a drink afterwards! And you will have earned it too because this one will have you feeling the burn, as it winds up a steep grassy climb with a pay-off of amazing views from the top.
If your day is beginning at the Queenstown Golf Course, the Kelvin Heights Sculpture Trail is right on your doorstep. This pleasant, easy 1-hour amble circumnavigates the golf course, with hidden coves and interesting art installations along the way.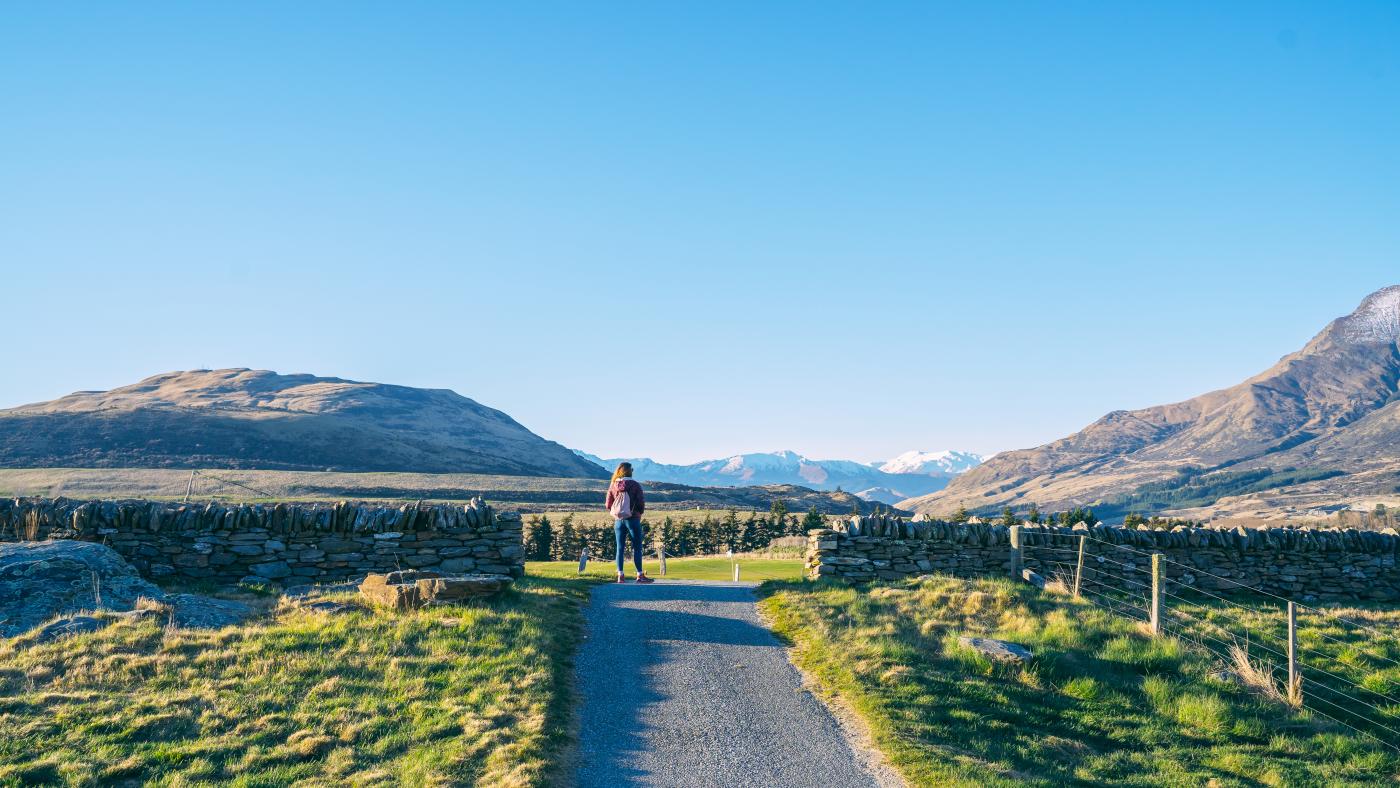 Walking around Jacks Point
Sample award-winning food and wine
Queenstown is renowned for its restaurant, bar and winery scene. There are options a-plenty downtown, where the nightlife atmosphere is always vibrant. Enjoy fine dining at Rata or Botswana Butchery, or try some high-end rustic fare at The Bunker. Cocktails at Little Blackwood or The Sundeck beforehand are highly recommended.
After a day golfing at Millbrook, Arrowtown Golf Club or The Hills, you don't need to go far for some high-quality après. Arrowtown has an excellent hospo scene, with everything from classic pub fare to incredible cocktails and high-end restaurants.
For a day trip, head to Gibbston for wine tasting and return with a bottle of your favourite to share around. Enjoy a wine tasting at Mt Rosa's unique rural setting, for lunch, grab a fresh pizza in a cosy garden setting at Kinross or visit the award-winning Gibbston Valley restaurant for fresh local fare. There are many wine tour companies with comfortable shuttles and educated guides, making it easy to sample a few wines without worrying about the drive home.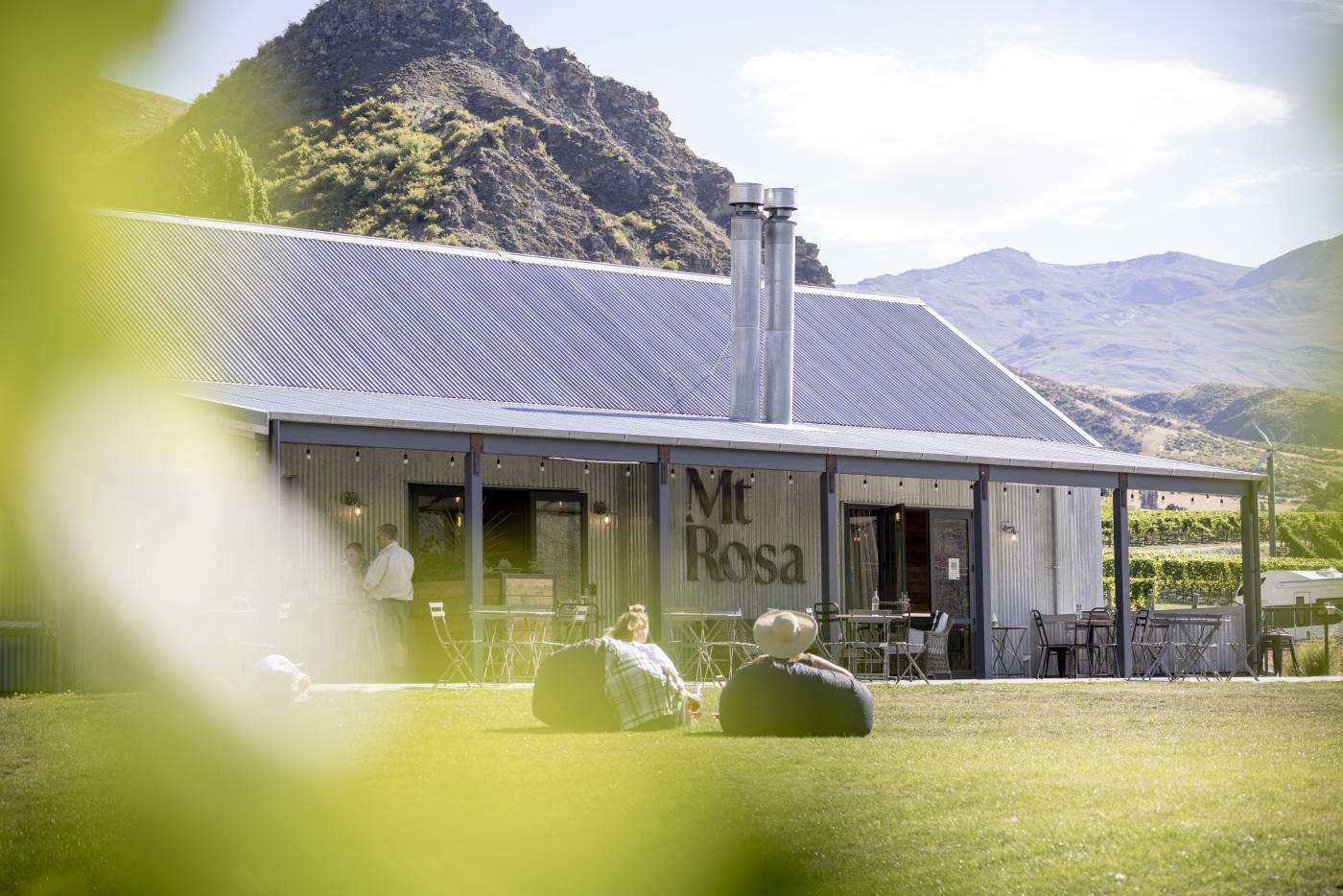 Mt. Rosa winery
Unwind off the course
Rest those weary golfing muscles with a day dedicated to wellness and relaxation.
Start your day off with a lakeside breakfast at The Boat Shed Cafe & Bistro in Frankton or Bespoke Kitchen in town, followed by a drive to Arrowtown for a movie at Dorothy Browns. This boutique theatre will take you back to the golden age of cinema with its Art Deco style decor and red flowing velvet curtains. When the movie is done, have a drink at the gin bar on the balcony or head out to the main strip in Arrowtown for some shopping and a bite.
Then to the spa! Nadi Wellness offers a ½ day yoga retreat for those who need a good stretch. Or take a water taxi from downtown to the Eforea Spa at The Hilton for a massage, mani-pedi or a facial.
Plan ahead and book an hour at Onsen hot pools, lay back with a glass of bubbles and take in the view with your loved one. Or if you'd rather not stray too far from the course, there is an excellent in-house spa at Millbrook, too.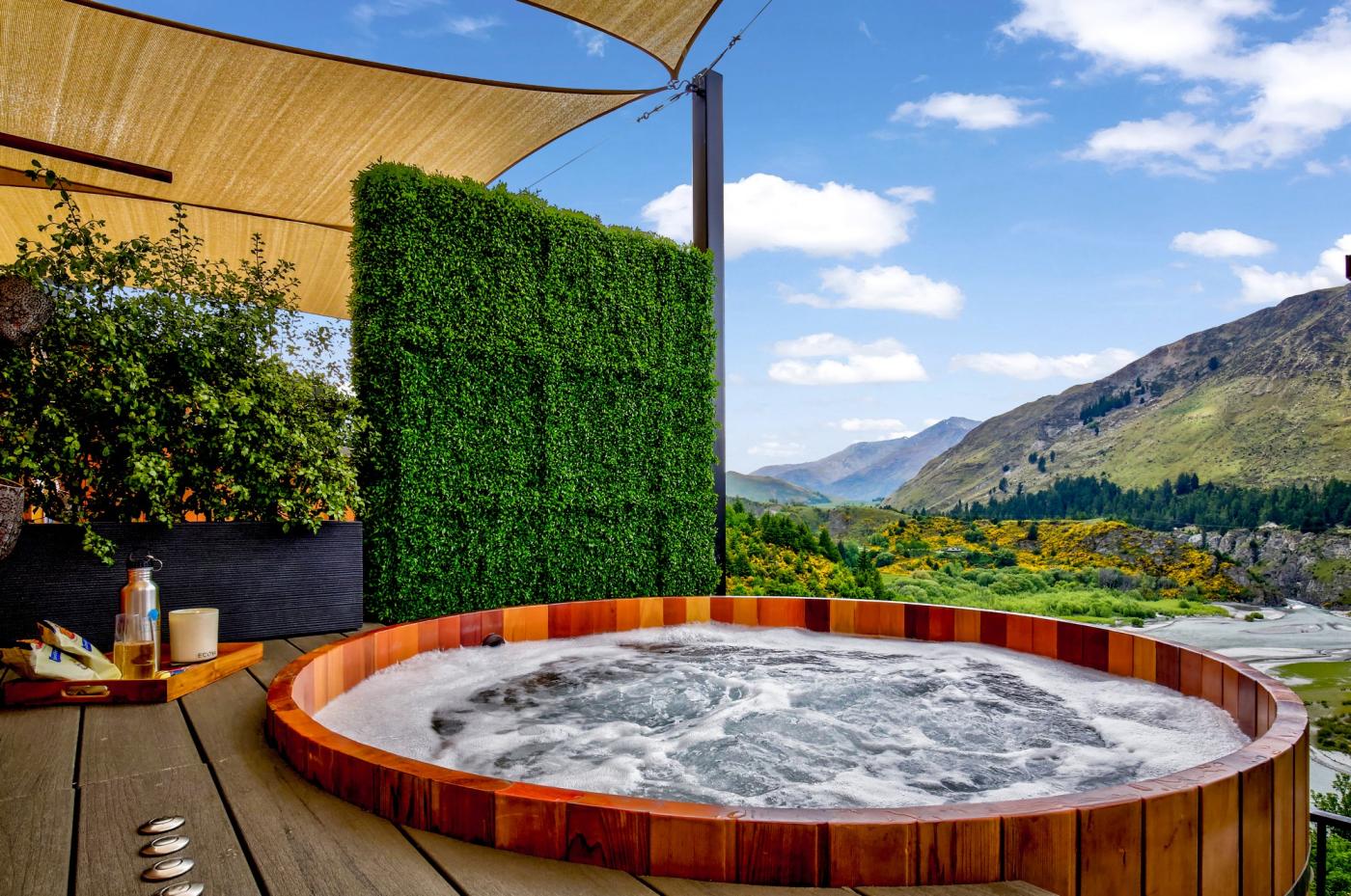 Outdoor Onsen
Get an adrenaline rush
Queenstown is the home of adventure, so it's almost against the rules to leave without getting the heart pumping.
Get the gang together for a day off the course and test your limits out on the water with a jet boat trip down the Shotover or up the Kawarau, an off-road adventure into Skippers Canyon, or really take the plunge with a skydive!
Try the world's steepest zipline at Ziptrek Ecotours. This activity can be paired with a bit of friendly competition on the Skyline Luge, or even a bungy jump from the AJ Hackett Ledge Bungy.
Leave your comfort zone and test the group dynamic on a half-day canyoning journey with Canyon Explorers, or hit the rapids with a white water rafting experience.
You will end the day with a keen appetite and plenty of stories for the dinner table or bar leaner, and you can go home with photo evidence of your bravery to show your workmates.
Jetboating with KJet
Take to the trails
Hire an e-bike and hit the Queenstown Trail to see some more of Wakatipu's famous sights. The Queenstown Trail connects many of the golf courses, too, so it's possible to ride out and catch up with the golfing crew for lunch.
Hop on your bike in downtown Queenstown and journey along the Frankton section of the trail until it hits the old Kawarau Falls bridge. Wind your way along the easy-going Kelvin Heights Trail until you get to the Queenstown Golf Club.
Or beginning at the Queenstown Golf Club, take the Jack's Point Loop Trail and meet at the Jack's Point Clubhouse for a drink. This trail is slightly more adventurous, with plenty of bends and dips, so take it slow if you haven't done much cycling before.
The Queenstown Trail passes right through Millbrook so this is a great place to saddle up and check out the surrounding area. From here you can roll down to Lake Hayes, head up to Arrowtown or across to the old Shotover Bridge, where you can carry on and connect to Frankton or Queenstown. The choice is yours!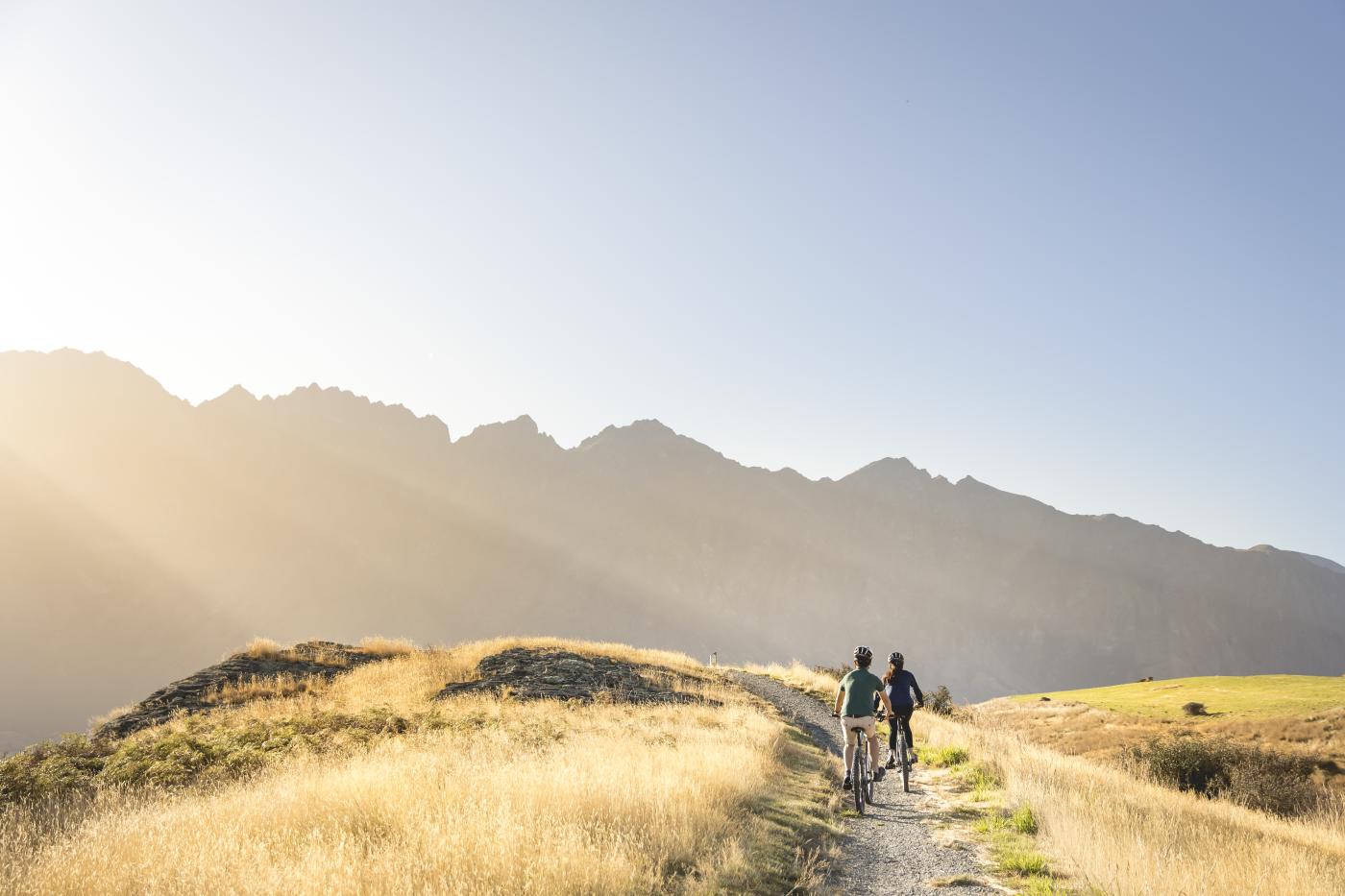 Biking the Jack's Point Trail