It's been a tough couple of years. The work-from home juggle and the uncertainty and stress of a global pandemic have burnt people out like never before. So, nothing says, "I see you and I appreciate you," more than investing in your delegates' mental health and wellbeing.
A wellness incentive is the perfect thank you to your team or your top clients. Plan a revitalising experience to send them home refreshed and energised, armed with new self-care skills, and maybe even inspired with fresh insights.
Queenstown is New Zealand's ultimate wellness destination. Restore your delegates' wellbeing with these top five relaxing experiences amidst awe inspiring alpine scenery.
The Spa at Millbrook
This luxurious award-winning spa is in a beautiful villa amidst secluded woodlands within the Millbrook Resort grounds. Take a moment to slow down and relax with an indulgent range of massages, body wraps, facials, and beauty treatments.
Signature treatments include Aroma Stone Therapy using essential oils and therapeutic heat from stones, the Vicky Hydro Bliss whole body water massage, and a range of Biotec treatments to improve skin health. The spa is the perfect treat for your team to feel revitalised and refreshed before a gala dinner. Spa packages combine treatments with fruit and cheese platters and bubbles for the ultimate indulgence.
Once your delegates have enjoyed their treatments, they can head to the resort's swimming pool for a lap or two or the hot tubs for a soak. Delegates can extend their relaxation experience further in the aptly named relaxation rooms. Overlooking a bubbling brook, the rooms are a perfect spot to slip into warm robes and sip a refreshing tea while listening to soothing music. Whatever they choose, they'll come away renewed and rejuvenated.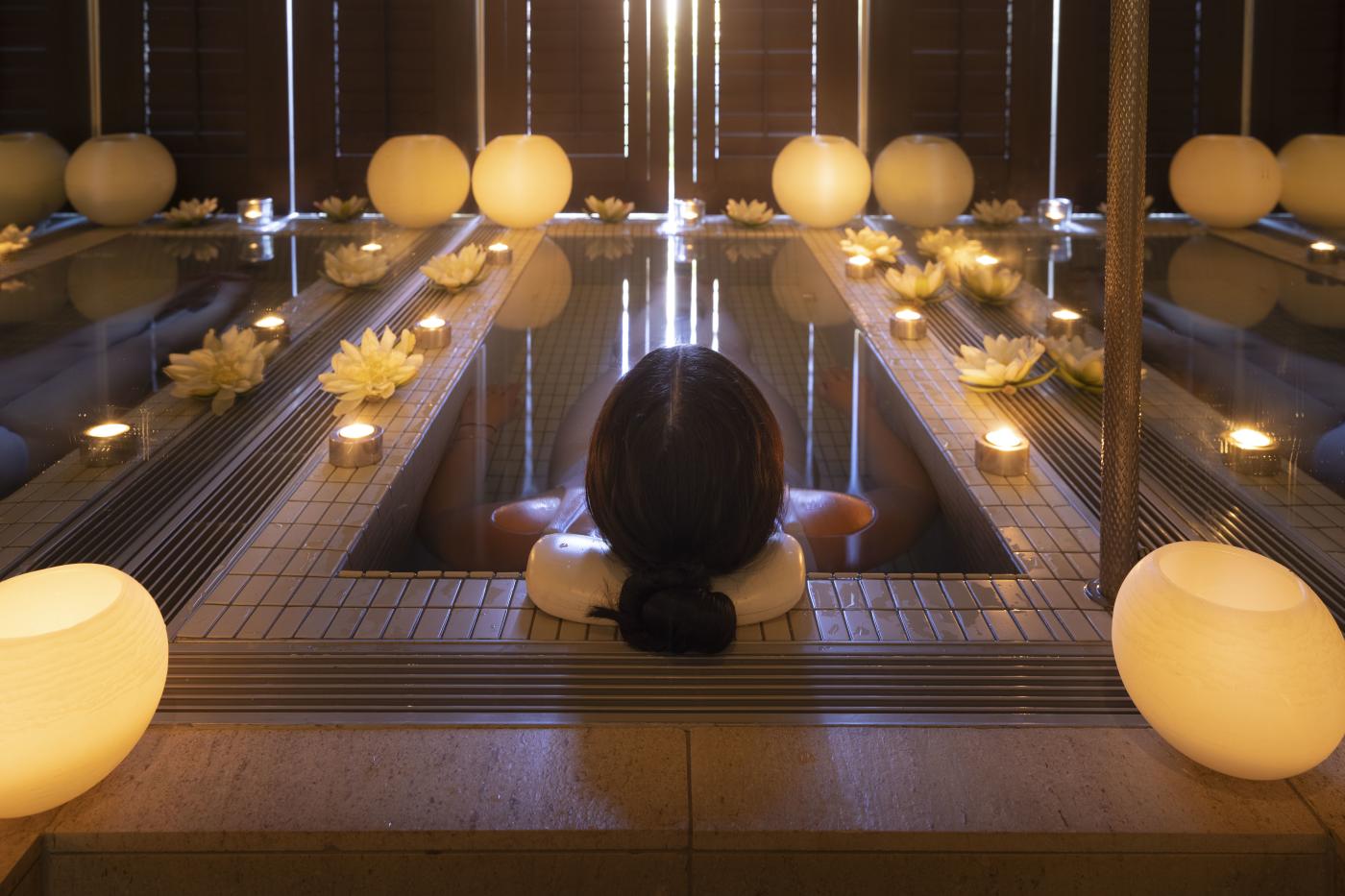 Spa bath at Millbrook Resort & Spa
Onsen Hot Pools
One of those magical places where the experience exceeds all expectations. The cedar-lined Onsen Hot Pools overlook the Shotover River and provide a soak with a view.
Your guests can kick back and unwind in the warm water and breathe in the relaxing scents from the aromatherapy burners, while enjoying the unforgettable panoramas. Locals like to go at dusk for a soak that takes in the sunset and the stars.
For the ultimate wellness experience for your delegates, book them into the day-spa for a choice of face or body treatments. Choose from deep tissue, relaxing and hot stone massages and a range of delicious facials, followed by a 45-minute soak in the hot tubs. Refreshments include local wines and a choice of tasty snacks.

Daytime Onsen
The Spa at Nugget Point
The Spa at Nugget Point includes a saltwater plunge pool, marbled bath, steam room, sauna, hot tub, and rose mosaic showers. The designers had a vision of combining the grandeur of classical Roman baths with the luxury of modern technology, to create a peaceful haven where mind, body, and spirit unite.
The perfect sequel to a thrilling Shotover Jet adventure, book your delegates in to recharge whilst taking in the alpine setting. Spa treatments include massages, body wraps and scrubs, aromatherapy soaks and beauty rituals. A range of packages combine relaxation with dining at the Nugget Point restaurant and bar.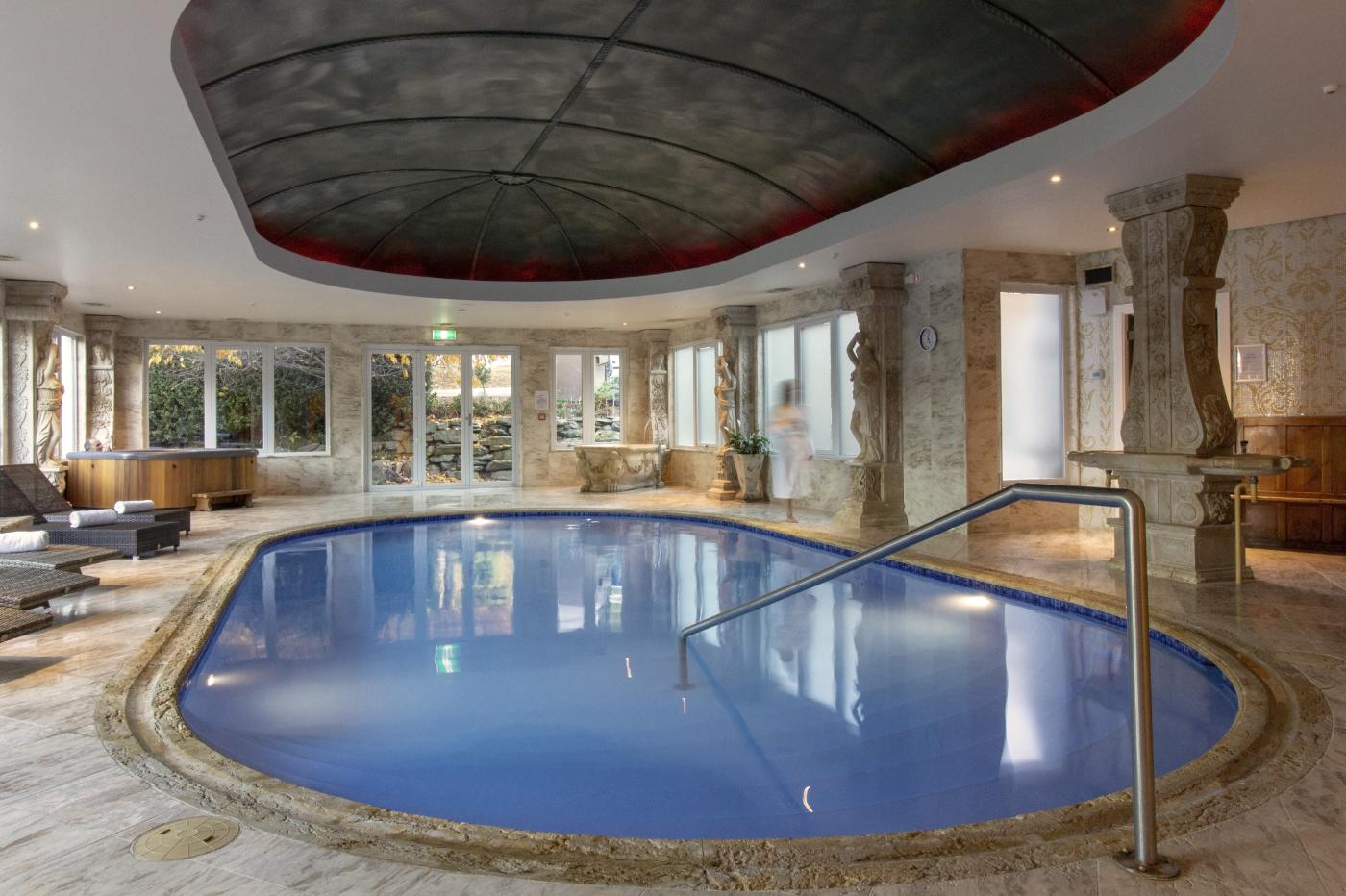 The pool at Nugget Point Spa
Penthouse at Eichardts
Get away from it all in the heart of Queenstown with a meditation and relaxation package at Eichardt's Penthouse. Enjoy exclusive use of a three-bedroom penthouse apartment with roaring fire, sauna, rooftop hot tub, and Queenstown's largest private terrace overlooking Lake Whakatipu and the dramatic peaks of the Remarkables.
Invite your guests to reset mind and body as skilled local instructors lead them in yoga and meditation, followed by nourishing fresh food and homebrewed kombucha to promote wellbeing from within. Or book a group spa package for champagne, massage and beauty treatments while luxuriating in the magnificent views.
If your guests want more, they can head downstairs to the private treatment room in The Old Gold Vault, an 1887 bank vault, now a luxurious private spa offering restorative therapies.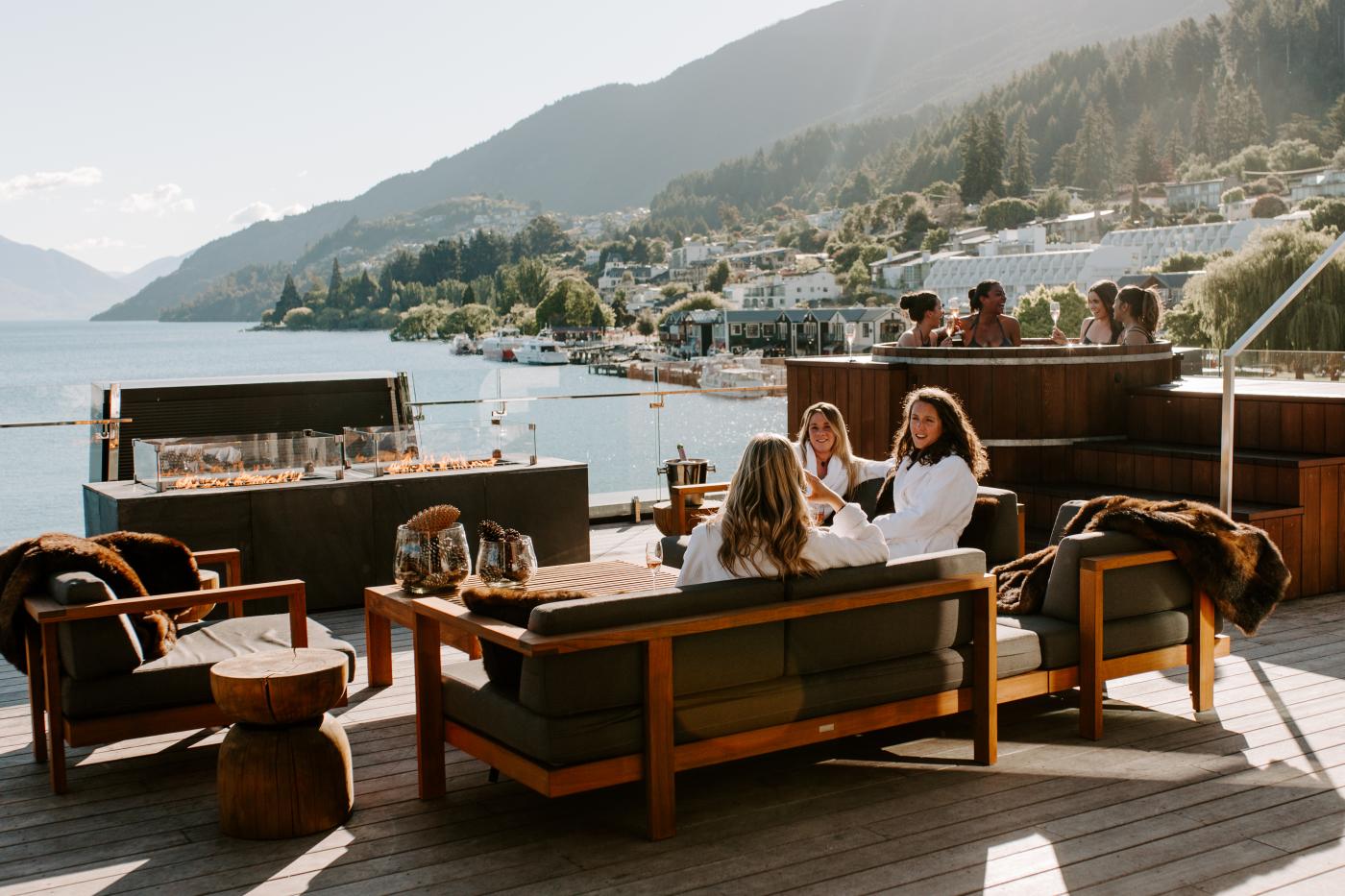 Wellness relaxation at the Penthouse at Eichardt's
Aro Hā Wellness Retreat
Hailed by Vogue as one of the best wellness retreats in the world, and favourite of Hollywood stars, Aro Hā Wellness Retreat is a place to experience life-changing experiences, and moments of epiphany. Invite your delegates to regenerate body and mind with wellness retreats offering yoga, tramping, massage, mindfulness classes, and delicious wholesome meals.
The wild surroundings of Aro Hā are as transformational as their wellness offerings. Set amidst native bush and high-country tussock with awe-inspiring views of lake and mountains, the serene spaces of the lodge are a setting for the exquisite vistas. Your guests will breathe in the pure mountain air and feel their cares drop away.
Aro Hā programmes promise to elevate body and mind, nourishing your delegates from the inside out, so they leave rejuvenated and reconnected to their own wellbeing.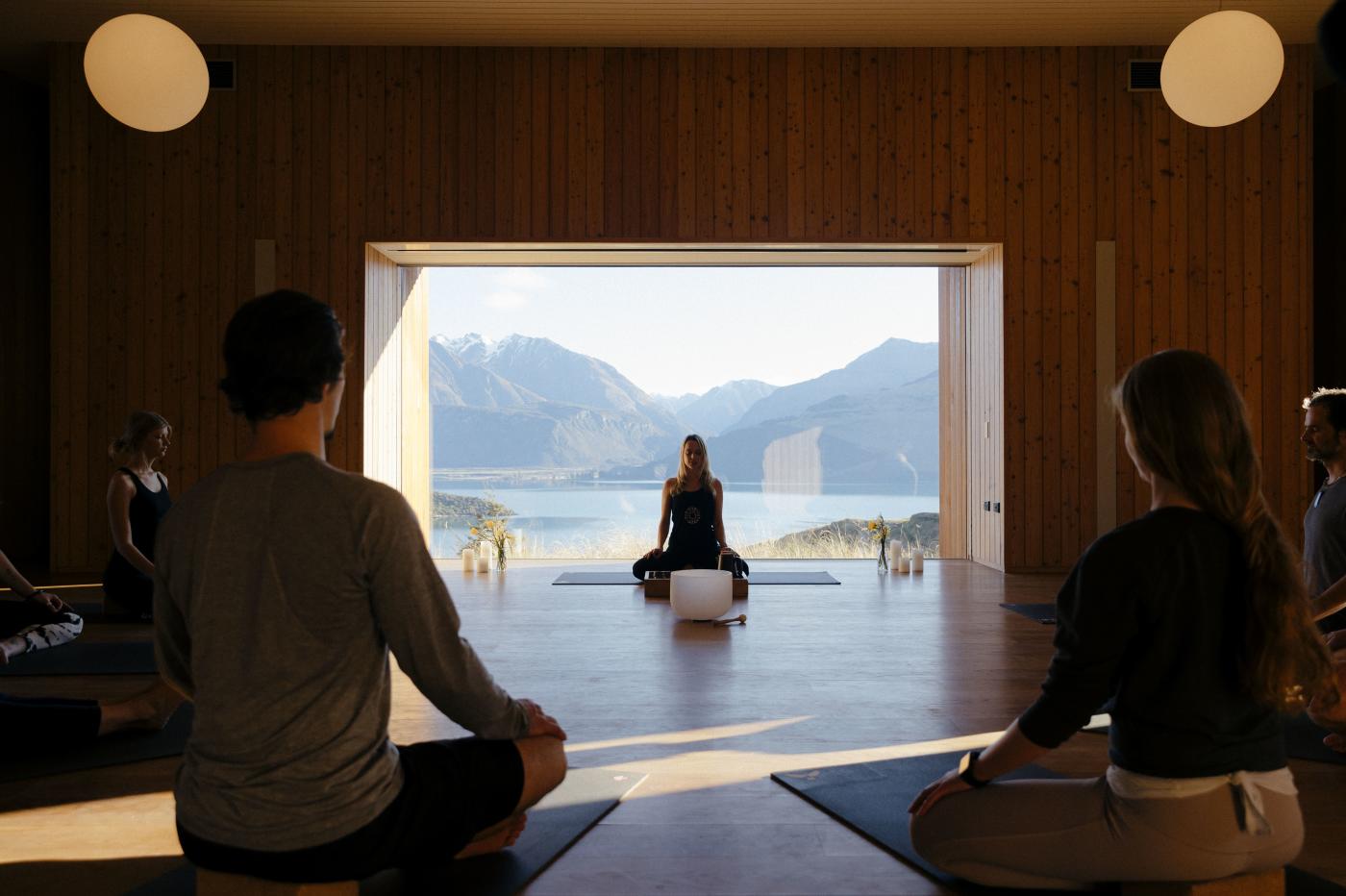 Yoga session at Aro Hā
Book your Queenstown wellness incentive
Our local event experts are here to help you plan your wellness incentive and Queenstown Convention Bureau also offers free, impartial advice, itinerary planning and quote sourcing services. Make your next incentive trip unforgettable and choose Queenstown, a place where delegates can re-connect with themselves and immerse themselves in nature.