1. Take to the mountains
Queenstown is the perfect winter base to hit the slopes, with Coronet Peak, The Remarkables, Cardrona Alpine Resort and Treble Cone each located an easy 20-90 minute drive from the town centre. 
Ski over to the iconic Heidi's Hut at Coronet Peak for lunch. The location alone sets it apart from any other eatery you may find on a ski field. Only accessible by skis or snowboard, this exclusive rustic hut is reminiscent of a Swiss chalet and seats only 40 people. Pair the indoor and outdoor fireplaces with the incredible views and you've got the perfect lunch stop on a Coronet Peak ski day.
Take a snowy hike at The Remarkables for stunning views over Queenstown from the ridge-top lookout. A short hike from the Shadow Basin chair lift reveals breathtaking views over Queenstown and Lake Whakatipu, best witnessed in winter with a blanket of snow covering the Southern Alps.
Stay after dark at the on-mountain apartments at Cardrona Alpine Resort, with a fully licensed restaurant open for dinner service or self-catering facilities. Cardrona Alpine Resort offers a great vantage point to view the famous southern sky with limited light pollution - so stargazing is a must do. Another great aspect of on-mountain accommodation is that you can easily be first on the slopes with a quick one minute walk to the lifts.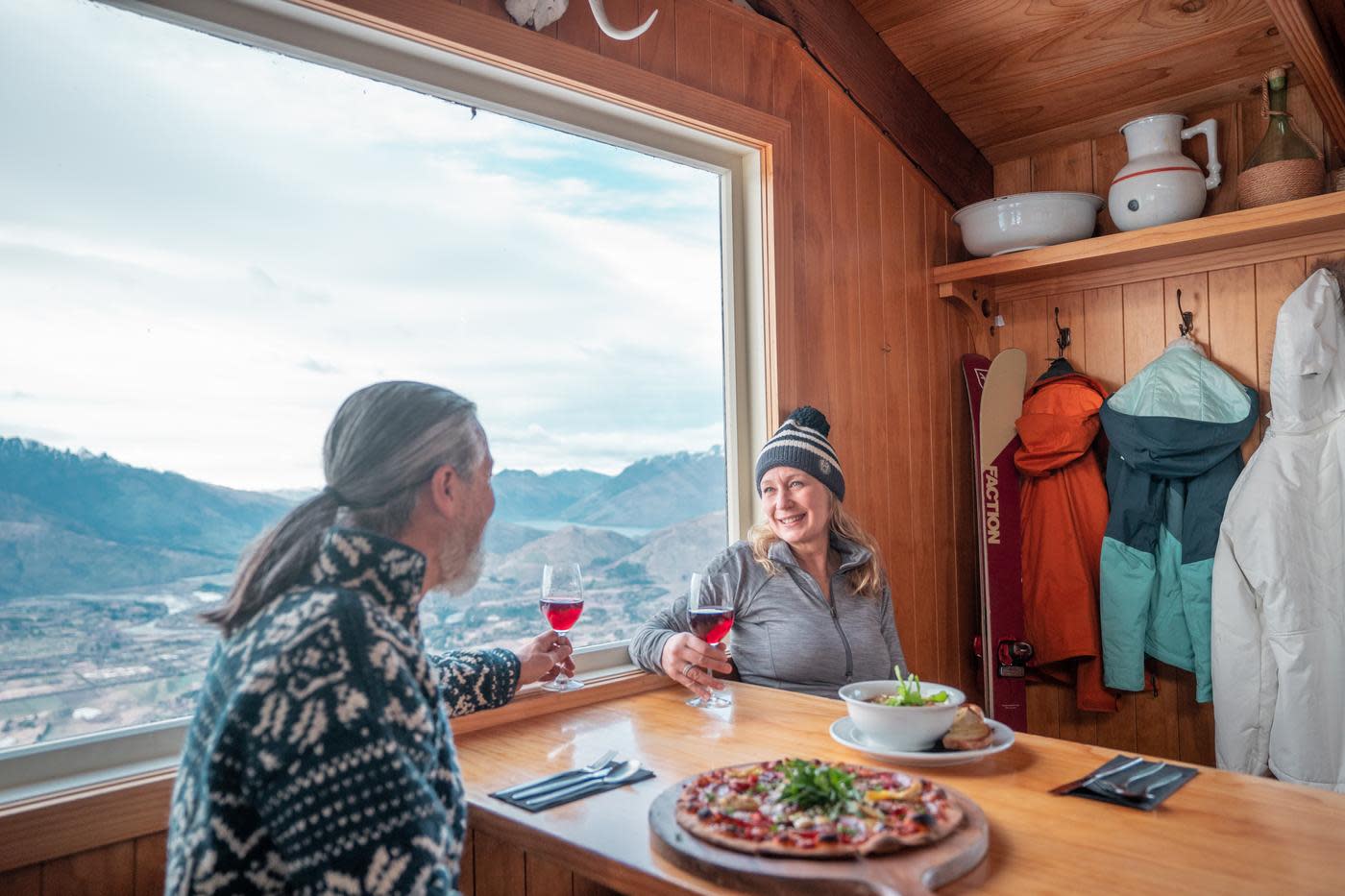 Heidi's Hut, Coronet Peak
2. Explore new terrain in new ways
Keen to get amongst the snow but not on skis? Snow shoeing offers an exciting and rewarding day of alpine fun for the whole family. During this unique experience, you'll strap on extensions to your shoes (snowshoes) that will allow you to easily walk through snow and explore Queenstown's wintery landscape.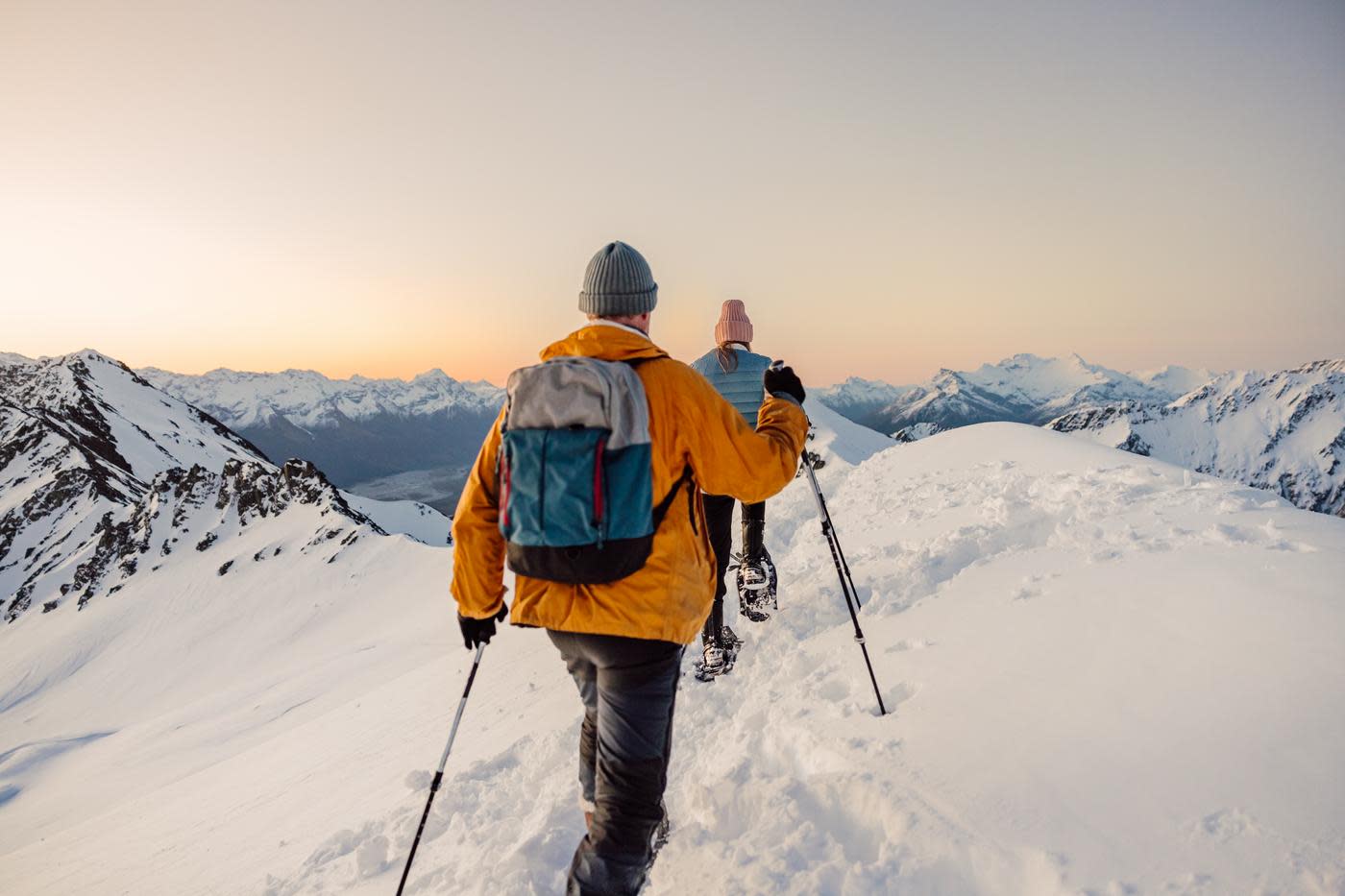 Snow-shoeing, Mountainhut.nz
3. Take the scenic route
No trip to Queenstown in winter is complete without a scenic drive around the area to nearby Arrowtown, a 20-minute drive from downtown Queenstown; or Glenorchy, 46 kilometres north of Queenstown at the head of Lake Whakatipu.
The drive to Glenorchy is a photographer's dream, especially in winter, with photo stops and short walks along the way. Once there, be sure to visit the famous wharf and red barn. Drop in to one of the local eateries and shops, or head further around the lake and check out some of the famous walking tracks in the area. 
Arrowtown is the perfect spot for a winter's day trip. The historic miner's houses and restored original shopfronts from the town's early days are magical when you see them covered in fresh snow. Warm-up with an expertly crafted coffee at an award-winning cafe, or sip on a local pinot noir at a cosy restaurant or bar. Arrowtown's hospitality scene is second to none so you will be spoilt for choice.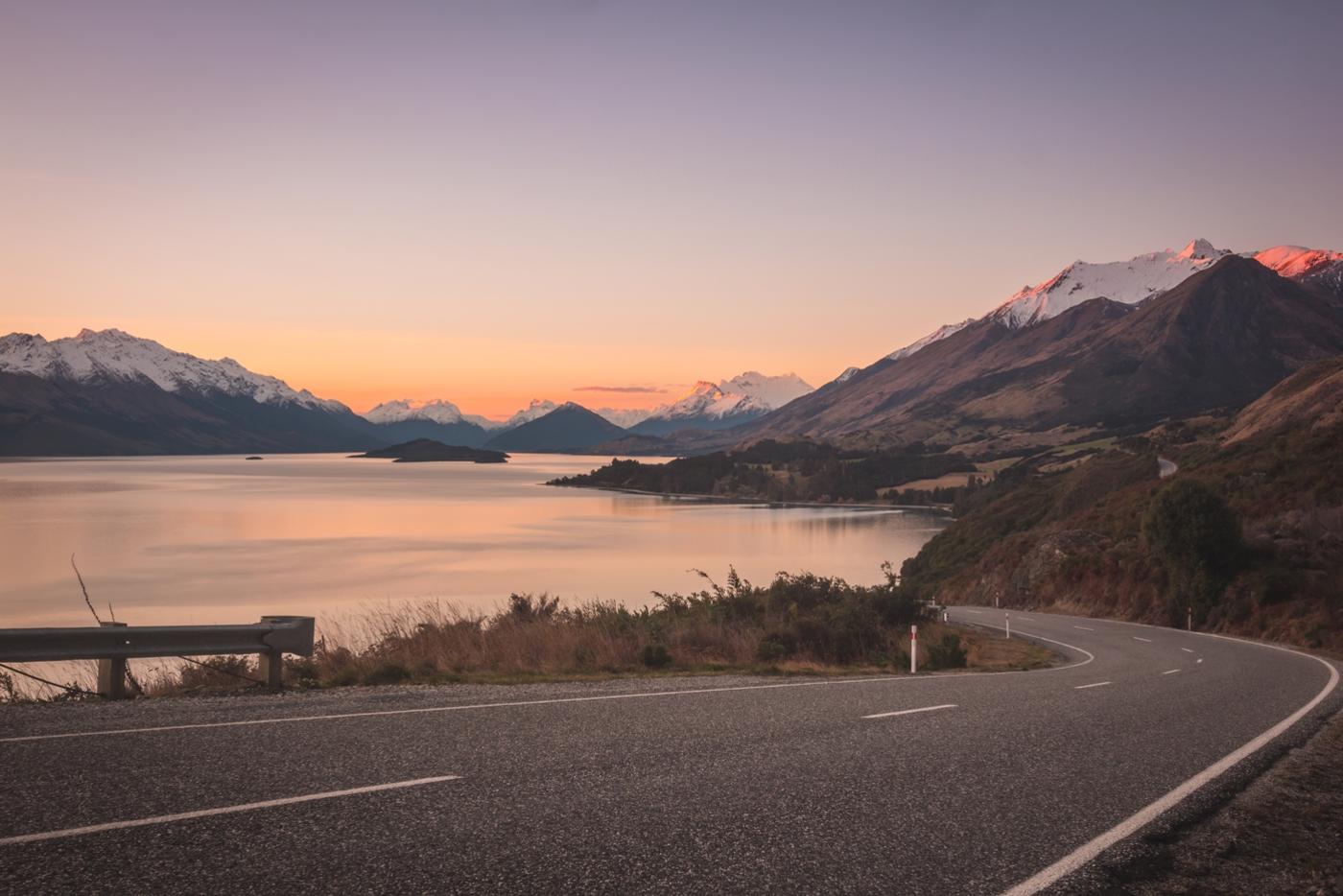 Sunset Glenorchy-Queenstown Road
4. Winter ice climbing
Whether you are a novice or a pro, Queenstown's climbing scene has something for everyone. Test your mettle, learn new skills, and embark on guided mountain ascents with some of the best in the business. Climb safely with experienced guides who offer mountaineering trips for many skill levels. Try your hand at ice climbing or extend your adventure into a multi-day expedition.
Looking for something for the whole family? Take the crew along to Clip & Climb at Basecamp Adventures or Rockatipu climbing wall in the Queenstown Events Centre, which reaches a dramatic 12 metres in height, great entertainment for beginners to advanced!
Is indoor ice more your thing? The Queenstown Ice Arena is home to ice hockey, ice skating and ice bumper cars. Local and national ice hockey games are often held here and are a fun activity to spectate. Wee ones are also well catered for with plenty of safe space for them to adjust to skates and try out their new skills.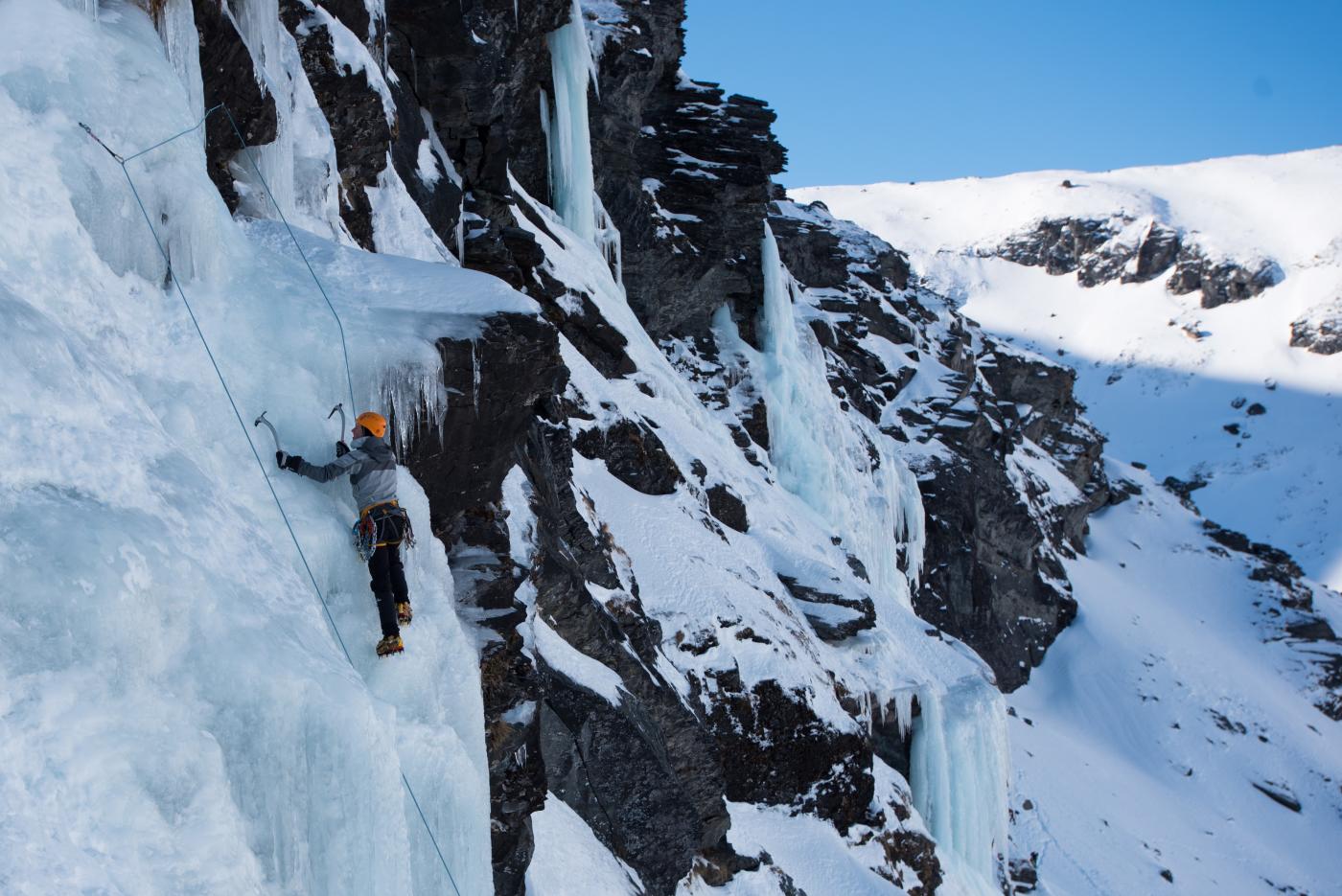 Ice climbing, Wye Creek
5. First tracks to night ski
Have you ever jumped on a chairlift that keeps going from sunrise to sunset? Coronet Peak offers just that. The mountain is Queenstown's urban playground and a short 20-minute drive will see you at the base building ready to carve those turns.
First Tracks open the mountain from 8-9am daily to a select group of First Tracks pass holders, perfect for enjoying uninterrupted freshly groomed trails before the mountain opens to the public at 9am. Then, on Wednesdays, Fridays, and select Saturday nights, Coronet Peak opens for Night Ski until 9pm. This means powderhounds could pack in over 12 hours of skiing on a good day! But if that thought makes your legs turn to jelly, there's plenty of great food, live music and mulled wine to keep you entertained during Coronet Peak's Night Ski events too.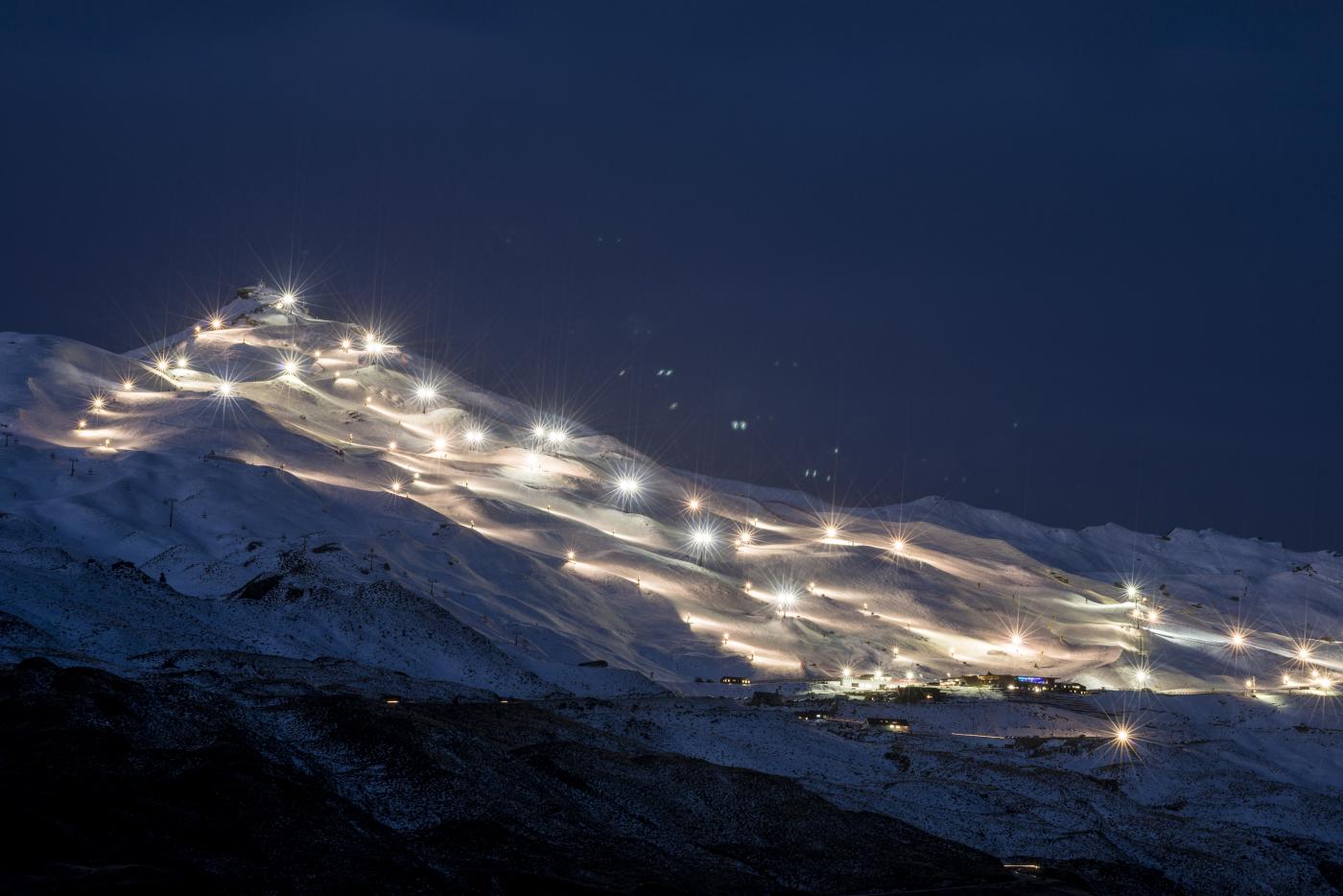 Coronet Peak Night Ski 
6. A taste of adrenaline
After your day on the mountain, catch the magical alpenglow from the treetops. Plunge into the darkness of Queenstown's pine forest and experience the thrill of Ziptrek's Twilight Tour. Step blindly into the night from tree houses 20 metres above the valley floor for an unbeatable rush of adrenaline right before dinner!
For an adrenaline rush you will never forget, experience the world's highest cliff jump at Shotover Canyon Swing. Freefall through the iconic snow-covered canyons before you swing above the icy Shotover River below. Looking for other ways to get that famous Queenstown adrenaline rush while also taking in the best of the winter landscapes? Try paragliding with Skytrek and leap off the side of Coronet Peak. Soar majestically and silently through the sky with epic views of snow-covered mountains and glacial lakes below.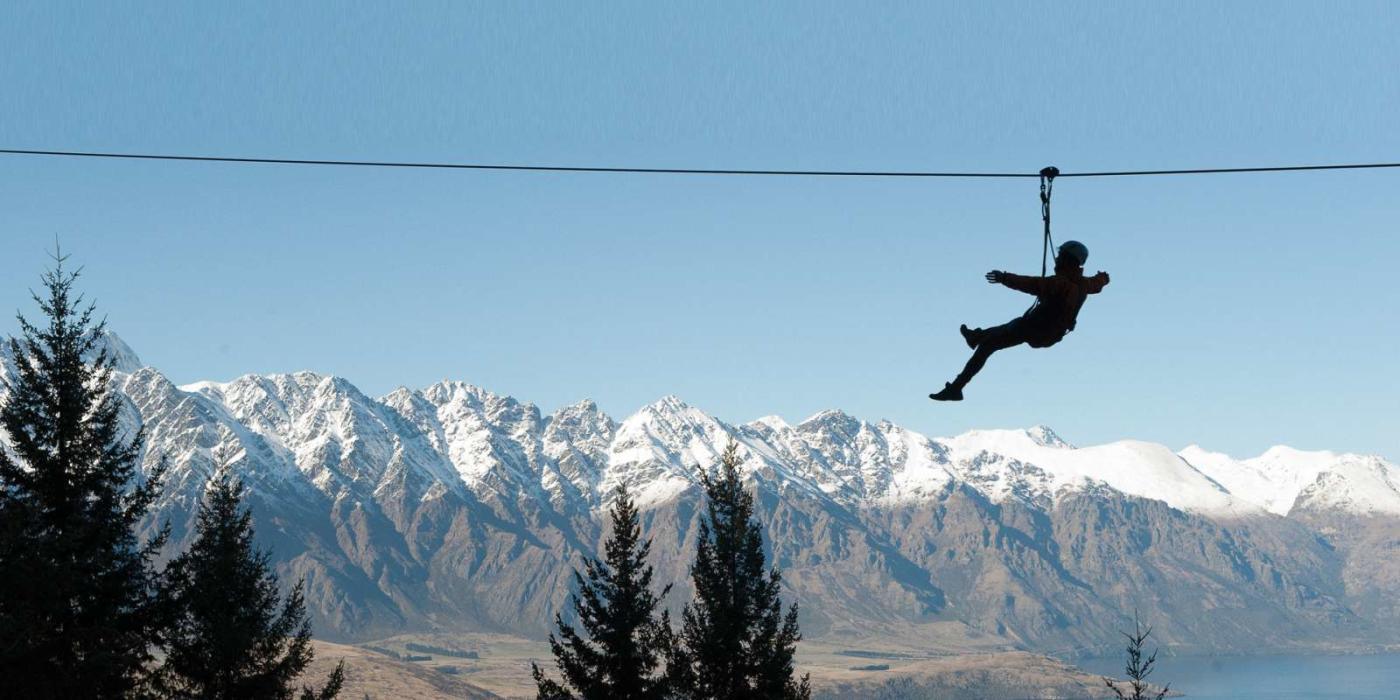 Ziptrek Ecotours
7. Experience the après
There are so many reasons to visit Queenstown in winter and those reasons don't stop when the sun goes down. The town centre boasts the Southern Hemisphere's most vibrant après-ski scene with over 150 bars and restaurants catering for all.
If you want to try something totally unique for your après ski why not visit an ice bar, a bar totally made of ice? Wrap up and explore ice furniture, handmade ice carvings and taste excellent drinks from ice glasses. 
Or BYO dinner to a bar with one of Queenstown's best lake views. Grab a bite from one of the local eateries nearby like popular street food hangouts Taco Medic or Erik's Fish and Chips and jump onboard Perky's Floating Bar where you can bring your own dinner to pair with a glass of Perky's famous mulled wine! The perfect spot to soak up the last light of the day.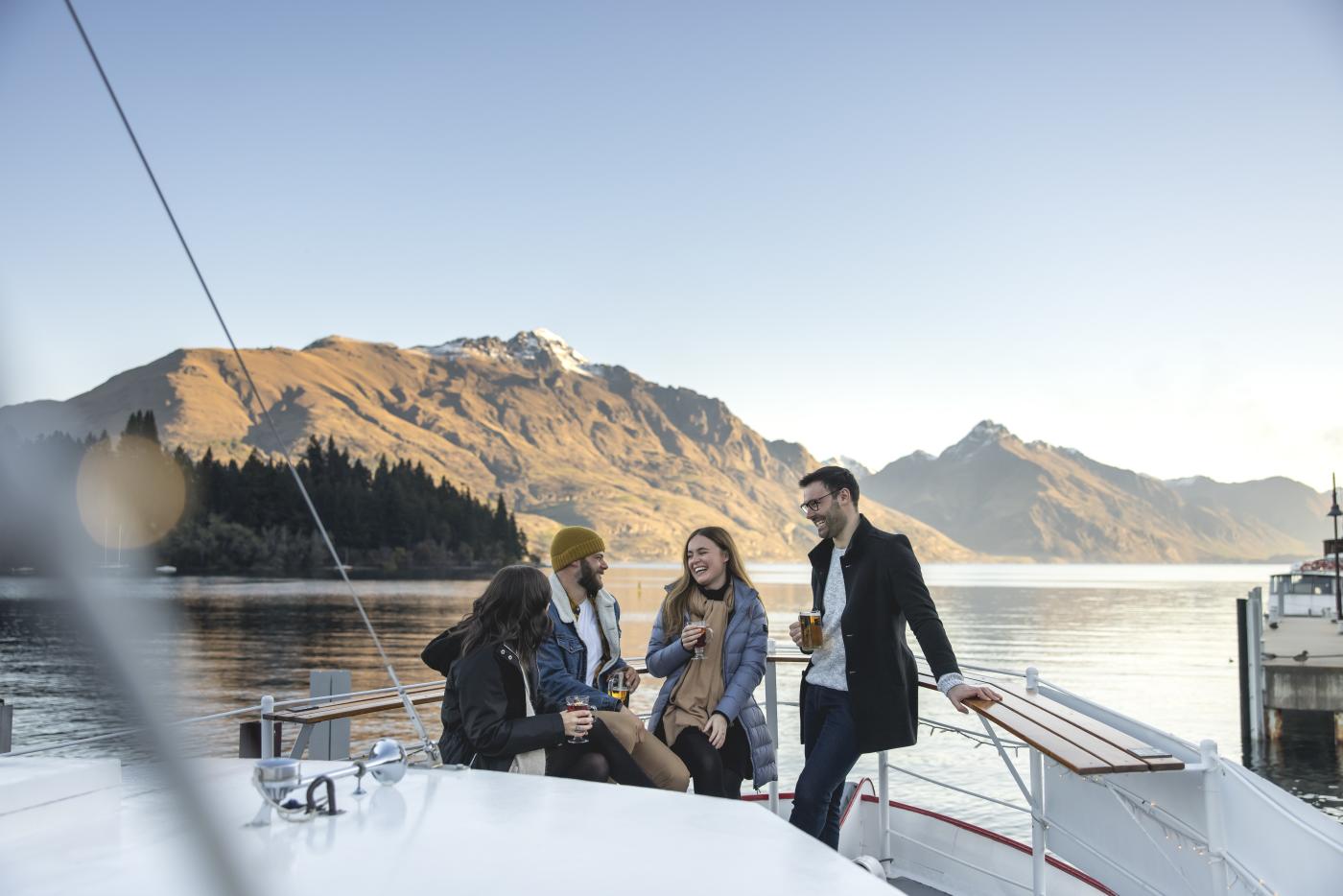 Après-ski, Perky's Floating Bar
8. Heli-ski and backcountry adventures
Looking to 'up' the adventure? Backcountry and heli-skiing are a must try. Queenstown and the Southern Alps are world-famous for powder, fantastic glacial terrain, beautiful scenery and experienced backcountry ski guides and heli-skiing operators.
Backcountry skiing is basically any skiing that is done beyond the boundary of a ski field. Generally, backcountry skiers first climb a slope by "skinning" up (climbing skins are applied to the bottom of the ski so they can slide easily uphill) and then skiing back down. Trips can be anywhere from a couple of hours to a couple of days, with plenty of backcountry terrain to explore in Queenstown. As you can imagine, backcountry skiing is generally tackled by confident and advanced skiers who have completed avalanche safety courses. However, it can be also tackled by intermediate level skiers with the assistance of a local backcountry guide. 
Another great way to get out into the backcountry is on a heli-skiing trip, where you'll experience the same incredible terrain and views without the hard work of climbing the mountains yourself. Local operators offer everything from 3-run to 10-run packages, which can be upgraded once you're out there if you're having a particularly good time.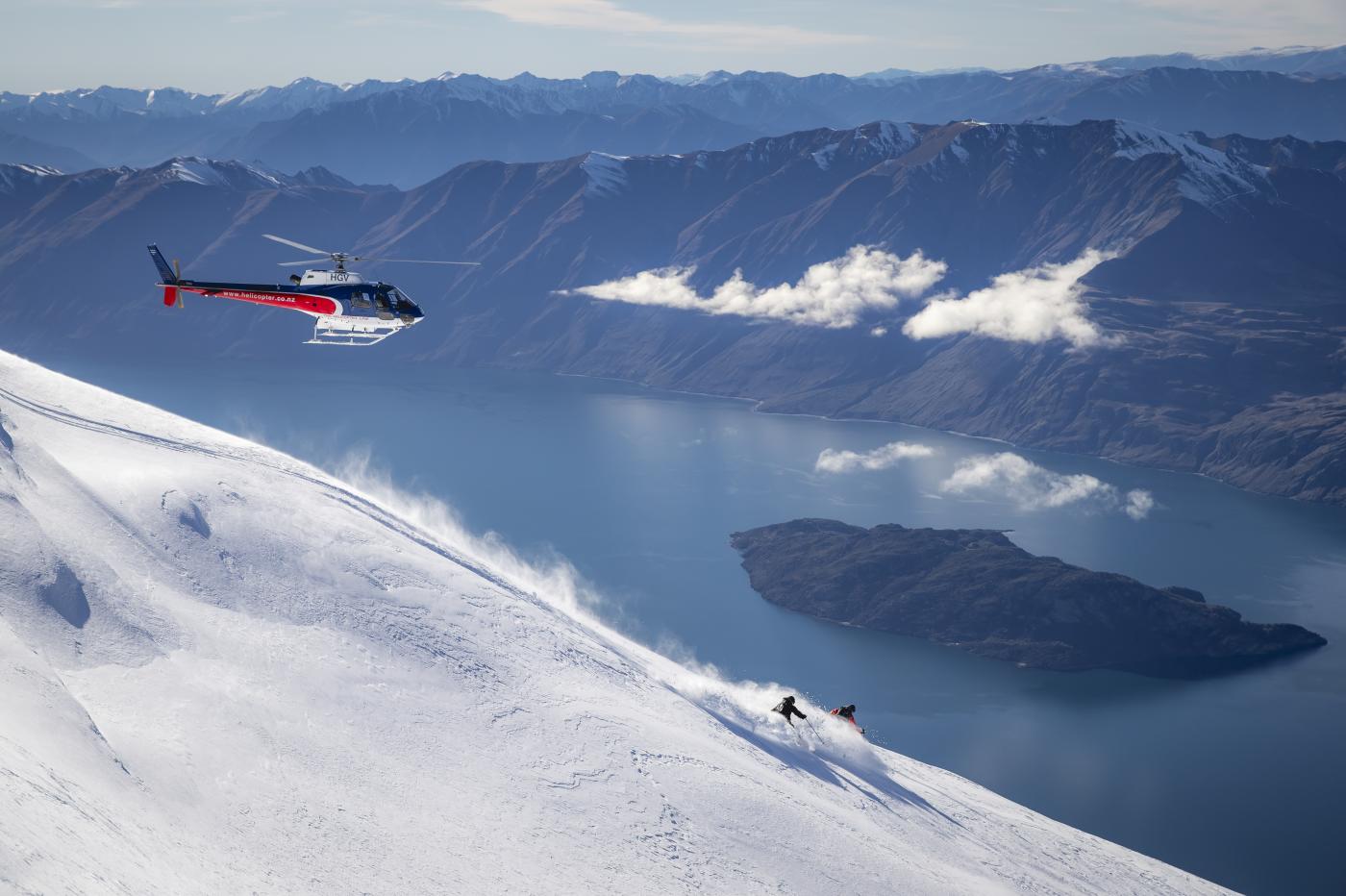 Heli-skiing is a must do for all ski-lovers
9. Take to the skies
Fancy a scenic flight to soak in the stunning alpine views? Take a scenic fixed-wing plane or helicopter ride transporting you high above the Southern Alps, Lake Whakatipu, and over to Fiordland National Park. Land on glaciers en route to the iconic Milford Sound runway and enjoy your time roaming the foreshore or take a Milford Sound cruise before departing back for Queenstown. 
Take a birds-eye perspective to grasp the scale and wonder of the mountainous landscapes. Helicopter flights with alpine landings depart daily and visit a variety of mountain top locations. For a unique helicopter experience why not try a picnic on a snow-covered mountain top or tee off at a unique mountain top golf hole? Fly through to Earnslaw Burn for a heli-hike or pack your bags for an overnight stay in a mountain hut.
10. Follow the gold trail
Get off the beaten track this winter with a 4WD adventure to remote historic gold mining towns. Go deep into the backcountry and experience some of the most stunning winter alpine scenery and exciting technical driving.
Follow old miners' wagon trails with multiple river crossings to explore the gold mining villages of Macetown and Skippers Township, both rapidly abandoned after the gold rush. Hold onto your hats for a drive down Skippers Canyon Road, one of the most adventurous roads in the world located high above the Shotover River. You'll be transported back in time to the perils of the early mining days with interesting stories from knowledgeable and experienced guides while they navigate the winter roads with finesse and dexterity.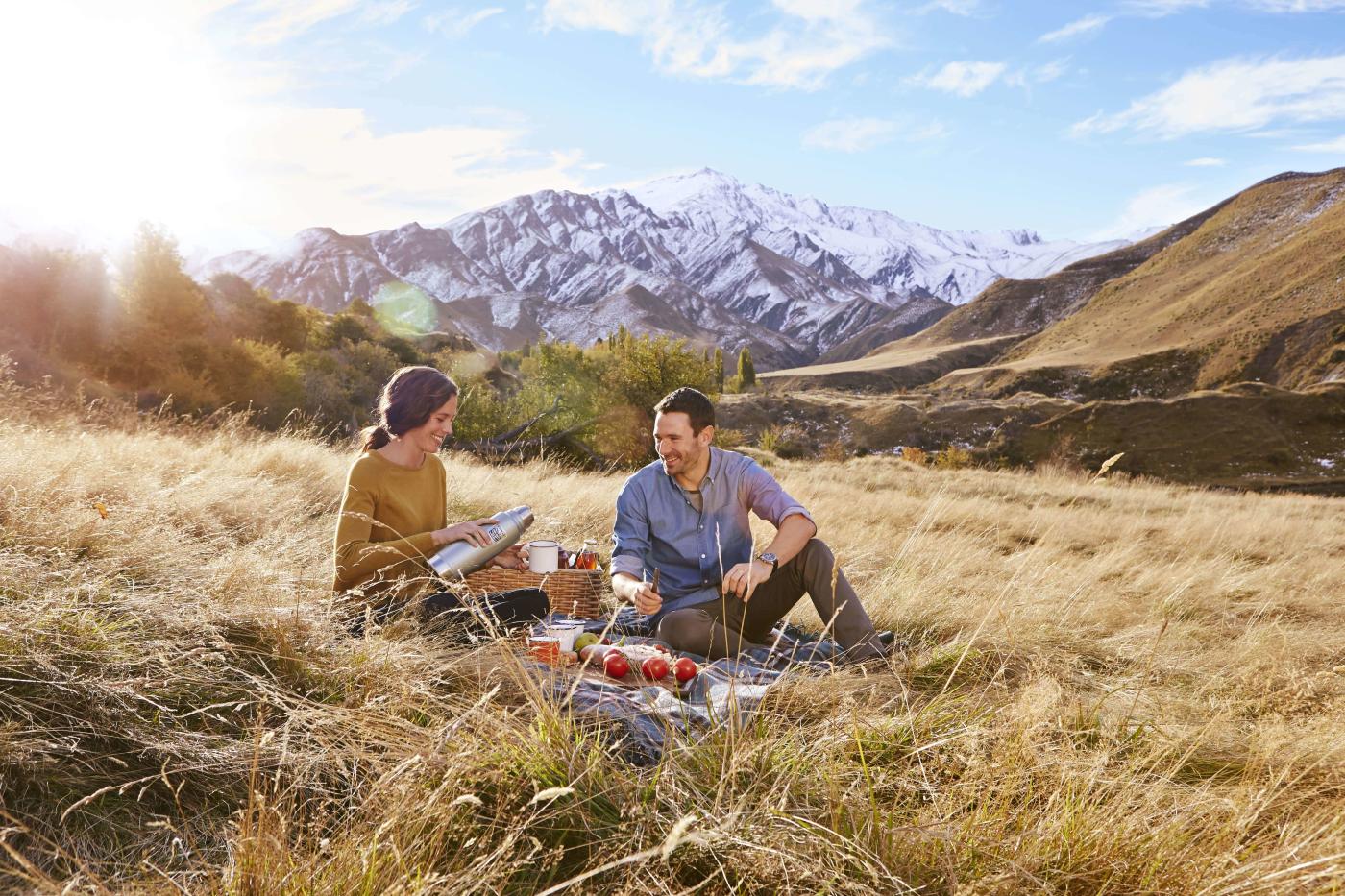 Macetown Picnic