Getting to Arrowtown is easy and is well worth the visit as part of your Queenstown winter holiday.
Arrowtown is just 20 minutes' drive from Queenstown or you can catch public transport (bus route #2) from Queenstown's town centre, bus fares are just $2 with a Bee Card or $4 with cash. If you're feeling energetic, hire a bike and cycle the scenic but undulating Twin Rivers Trail, which takes 2-3 hours from Frankton (we recommend hiring an e-bike if you're not a fan of hills).
Discover Arrowtown history and heritage
Arrowtown was founded in the 1860s, during the Central Otago gold rush. Prospector William Fox found gold in the Arrow Gorge, and a bustling mining settlement grew along the river.
Many of the original miners' cottages survive to this day. Arrowtown has 70 listed historic sites and is a Tohu Whenua heritage site, a place of special significance that has shaped New Zealand's history.
Visit the Lakes District Museum
This fascinating museum introduces you to the history of the region, the geological processes that shaped the land, the story of mana whenua settlement, trade, and food gathering in the area, and the process of European colonisation. Explore an old schoolroom, stables, and goldrush era streetscapes, or hire gold pans and try your hand at panning in the Arrow River.
Stroll around the Chinese Village
A short walk from the museum, you'll find the Chinese miners village. When the gold rush began Chinese goldminers also travelled to the region, and by the 1870s, there was a substantial Chinese community in Central Otago. 
Several of the Arrowtown miners' huts have been restored, including Ah Lum's store, which was a hub for the local Chinese community. Information and artefacts from the community are in the museum, and interpretation panels around the settlement tell you more about the site.
Follow the Arrowtown Heritage Town Centre Walk
The Arrowtown Heritage Town Centre Walk is an intriguing way to explore Arrowtown at a leisurely pace. Ask at the museum for information about this self-guided walk, where you encounter historic buildings throughout the village, while dipping in and out of boutiques and cafés.
Discover more must do Arrowtown heritage activities here.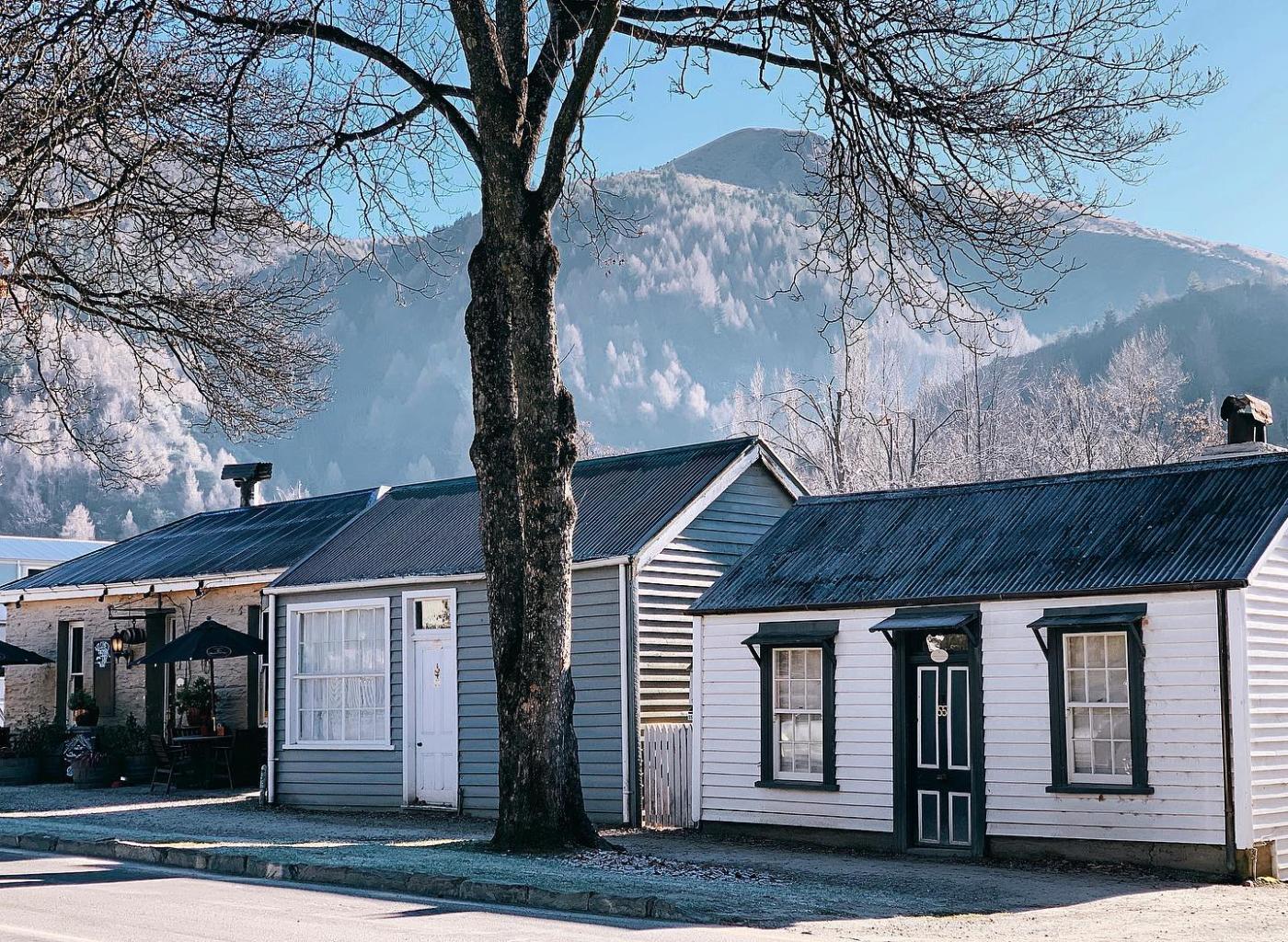 Arrowtown Historic Cottages. Credit @dylan_crosbie
Explore Arrowtown boutique shopping experiences
Arrowtown's a fantastic place to stock up on gifts for friends back home or treats for you. Here are a few Arrowtown shopping highlights to whet your appetite.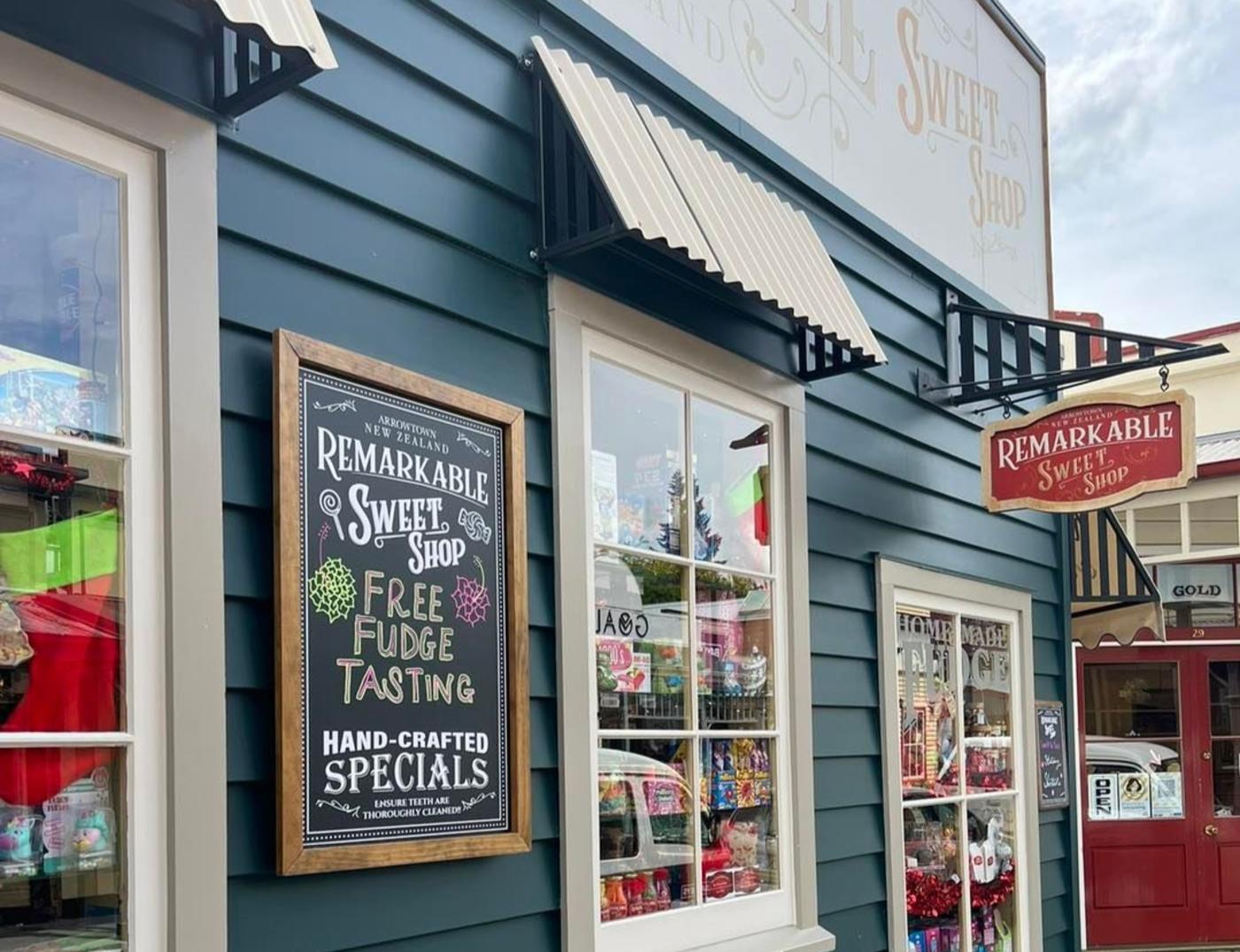 The Remarkable Sweet Shop. Credit @remarkablesweetshop
Rug up for a scenic winter walk
Arrowtown is made to be explored on foot. The quaint tree-lined streets, trails along the river, and climbs into the hills all offer a different vista of this beautiful town.
Tobin's Track
A steep 30-minute climb up to Crown Terrace, where a welcome bench gives you stunning views right across the Whakatipu Basin and the surrounding snow-covered mountains. Tobin's Track is named for Thomas Tobin, who built the track as part of a route to Wānaka. Pass the site of his cottage as you climb.
Arrow Rivers Trail
This beautiful walk takes you on an hour-long loop along the river, through woodland, and past a waterfall. Grab a hot chocolate to-go from Patagonia Chocolates on Ramshaw Lane to warm your insides on this peaceful riverside meander.
Sawpit Gully
For a longer walk into the hills surrounding Arrowtown, the Sawpit Gully trail takes about three hours. Climb from the Arrow River, up a steep track that leads to a saddle with spectacular views of Lake Hayes and the Remarkables and pass interesting historic mining relics en route.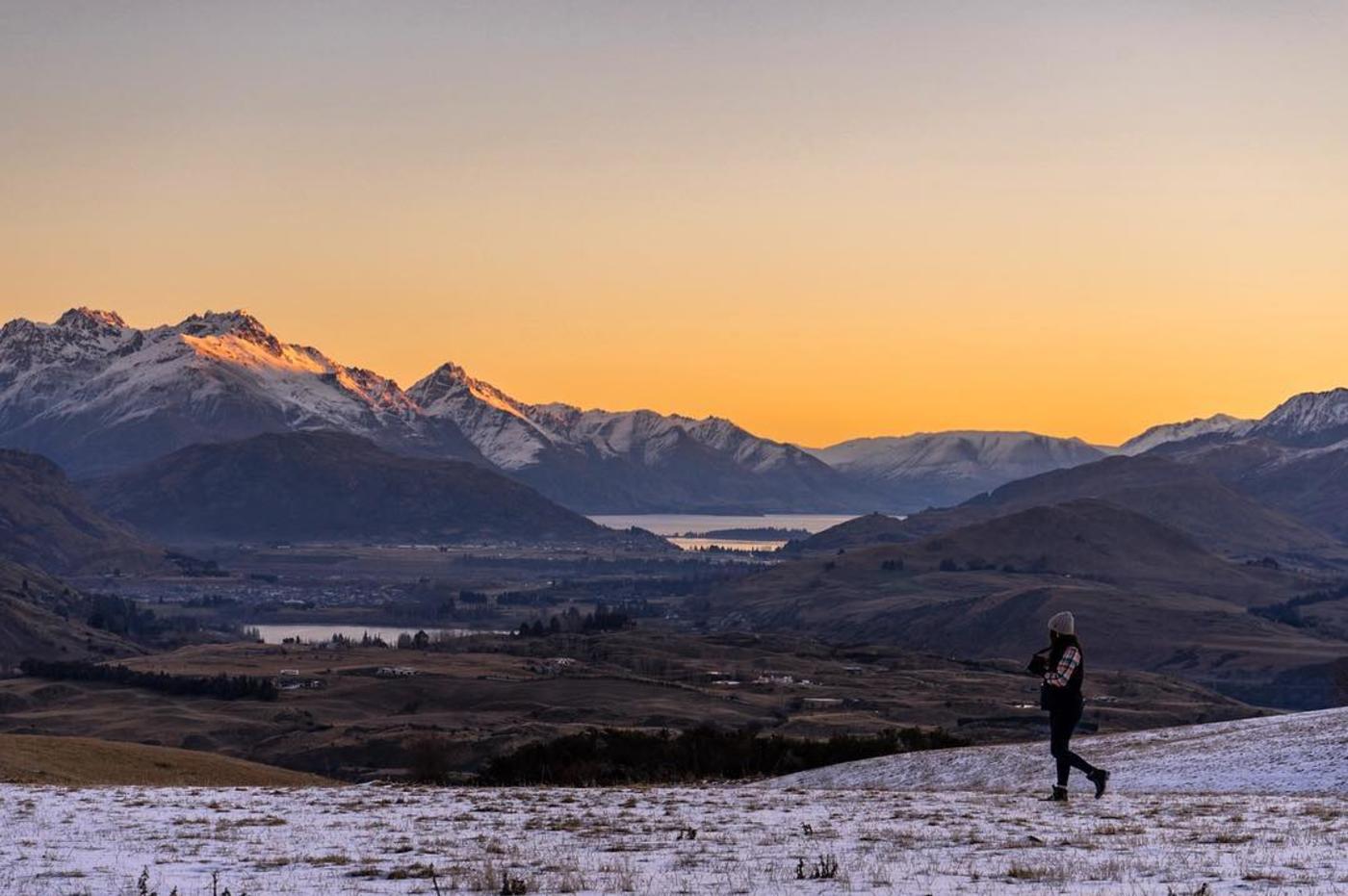 Tobin's Track. Credit @jessefranknz from Instagram
Sip and savour Arrowotwn flavours
Arrowtown offers a wealth of places to eat and drink, from cafés spilling out of historic miner's cottages into fragrant gardens, to exciting restaurants offering world cuisine.
Arrowtown cafés
There is no shortage of cute Arrowtown coffee spots. Favourites include the Postmaster's Kitchen + Bar for tea and cake under the wisteria-clad veranda and Provisions for its delightful cottage garden and sticky buns.
Arrowtown restaurants
Delectable dining options include Aosta for northern Italian cuisine. Next door, family-friendly trattoria, Little Aosta offers wood-fired pizzettas and wines by the carafe. La Rumbla is a popular tapas and cocktail bar, and a guaranteed good time. While the Fork and Tap is a gastropub with a focus on craft beers and good pub grub, including wild game.
Arrowtown wine-tasting
Hidden away on Ramshaw Lane, you'll find The Winery, a veritable wine-tasting goldmine. Taste over 80 wines from New Zealand boutique wineries and a range of New Zealand single malt whiskies. Platters of local cheeses and tapas accompany your tasting adventure.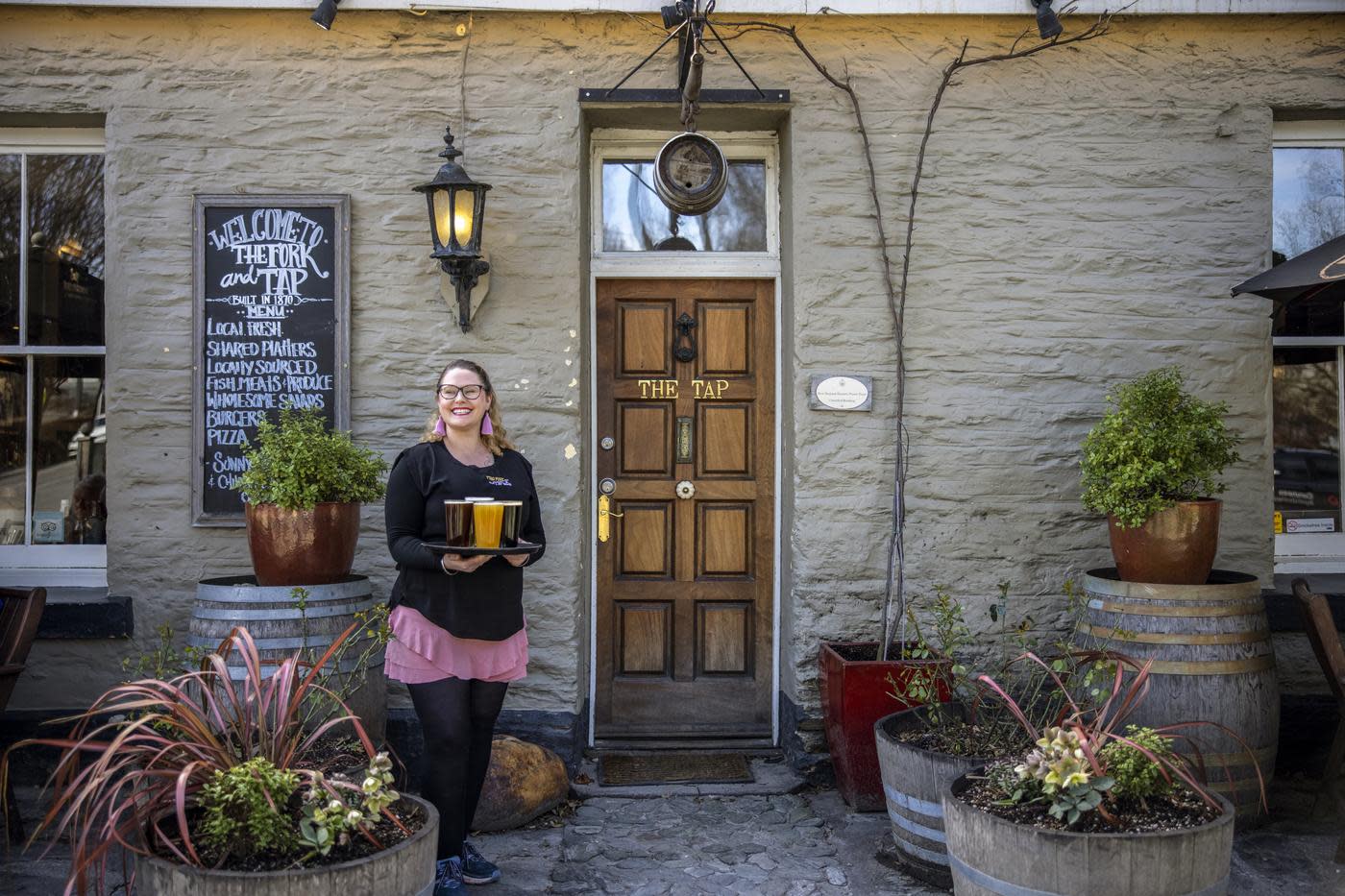 Fork and Tap Arrowtown
Treat yourself to a dose of Arrowtown indulgence
Your guide to Arrowtown winter adventures wouldn't be complete without a few local indulgences for a midwinter pick-me-up.
Spa day at Millbrook
Just down the road from Arrowtown, Millbrook Resort is home to two 18-hole championship golf courses, restaurants, bars, and an award-winning day spa set in a villa in the grounds. Choose from an extensive menu of beauty and body treatments to reinvigorate and relax.
A film at Dorothy Browns
This boutique cinema is a film lover's dream come true with arthouse classics and contemporary blockbusters. There's a roaring fire, comfortable seats with legroom for miles, and a bar serving local wines.
Live music at the Blue Door
Bit of a best-kept secret this one. Hidden behind a blue door off Buckingham Street is a cosy cellar bar beloved by locals and touring musicians. Drop in for a quiet dram by the fire. If you're lucky there'll be live music or one of their Tiny Room Concerts, with everything from comedy to spoken word slam poetry.
Dorothy Browns Boutique Cinema
For more ideas for your Arrowtown adventure, check out our guide to Arrowtown. As you explore Queenstown and Arrowtown this winter, share your highlights with us on Instagram and #QueenstownLive.