Skiers and snowboarders are well catered for in Queenstown with four world-class ski fields, located within a 25-90 minute drive of the town centre, each offering a huge variety of terrain including freestyle and slopestyle parks. 
Queenstown is the perfect place to progress to the next level with fantastic off-piste skiing available on each ski field, a range of double black and double black diamond runs, a range of heli-skiing operations, and literally thousands of hectares of backcountry terrain to explore.
When you're not on the ski field, you are sure to be entertained by over 150 bars and restaurants, a range of off-mountain activities, as well as numerous spas and retreats to choose from.
Day One: Night Skiing
If you've arrived late afternoon, don't worry, you can still get your ski fix on your very first day. Try Coronet Peak's Night Ski. If you've never tried skiing at night, be prepared for a completely different and thrilling experience as you ski through sunset and take to the floodlit slopes after the sun goes down. It's a lot of fun and gives a completely different perspective of the mountains and ski runs.
Available on Wednesdays, Fridays and select Saturdays, Night Ski runs from June to August (subject to conditions). With live DJs, pizza and local beer and wine flowing this is definitely an experience to add to the Queenstown bucket list!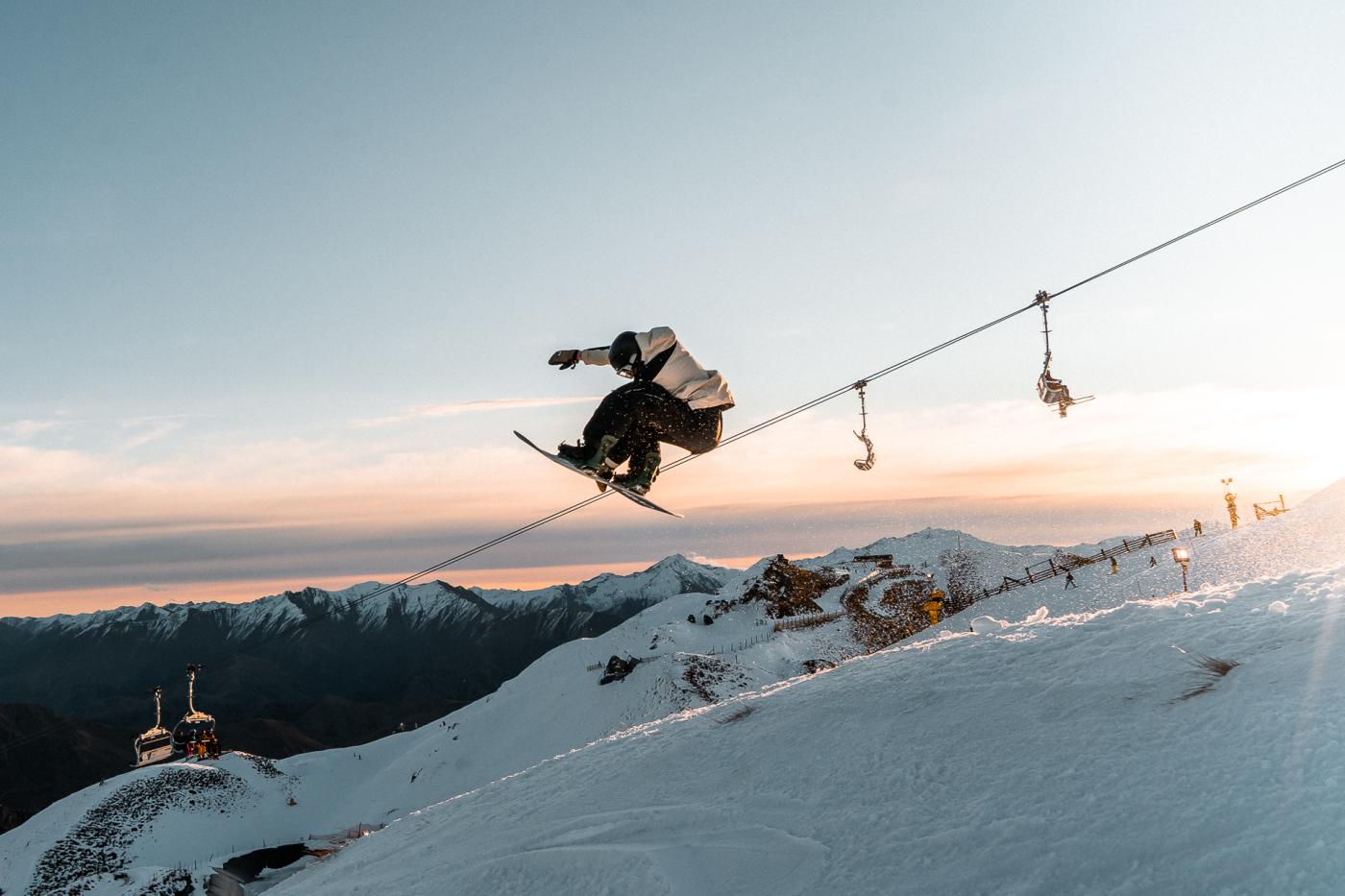 Coronet Peak Night Ski
Night skiing at Coronet Peak tends to work up a pretty good appetite. Why not warm up with something fresh and flavoursome in downtown Queenstown? 
For a small town, Queenstown has a huge variety of delicious Asian-inspired restaurants. Whether you want to grab a quick bite or go for a sit-down meal with a great atmosphere, there is a restaurant to suit your needs.
1) Madam Woo
On Ballarat Street, in downtown Queenstown, you'll find Madam Woo. Drawing influence from Malaysian, Chinese and other Asian cultures, Madam Woo offers authentic classics alongside tasty modern dishes, perfect for groups if you want to try a bit of everything. Don't forget to order one of their amazing cocktails and try the Vietnamese coffee with dessert. 
2) White & Wong's
Whether you are vegetarian or meat-lover, White & Wong's has something for everyone. And it's not just the food here that is amazing, the decor and ambience at White & Wong's all adds to the experience to make it truly memorable. Aim to arrive a little early for your dinner booking so you can check out the adjoining Sardine Bar for pre-dinner drinks. 
Although you won't want the night to end, do try to have an early one because you will need to be up early for tomorrow's adventure!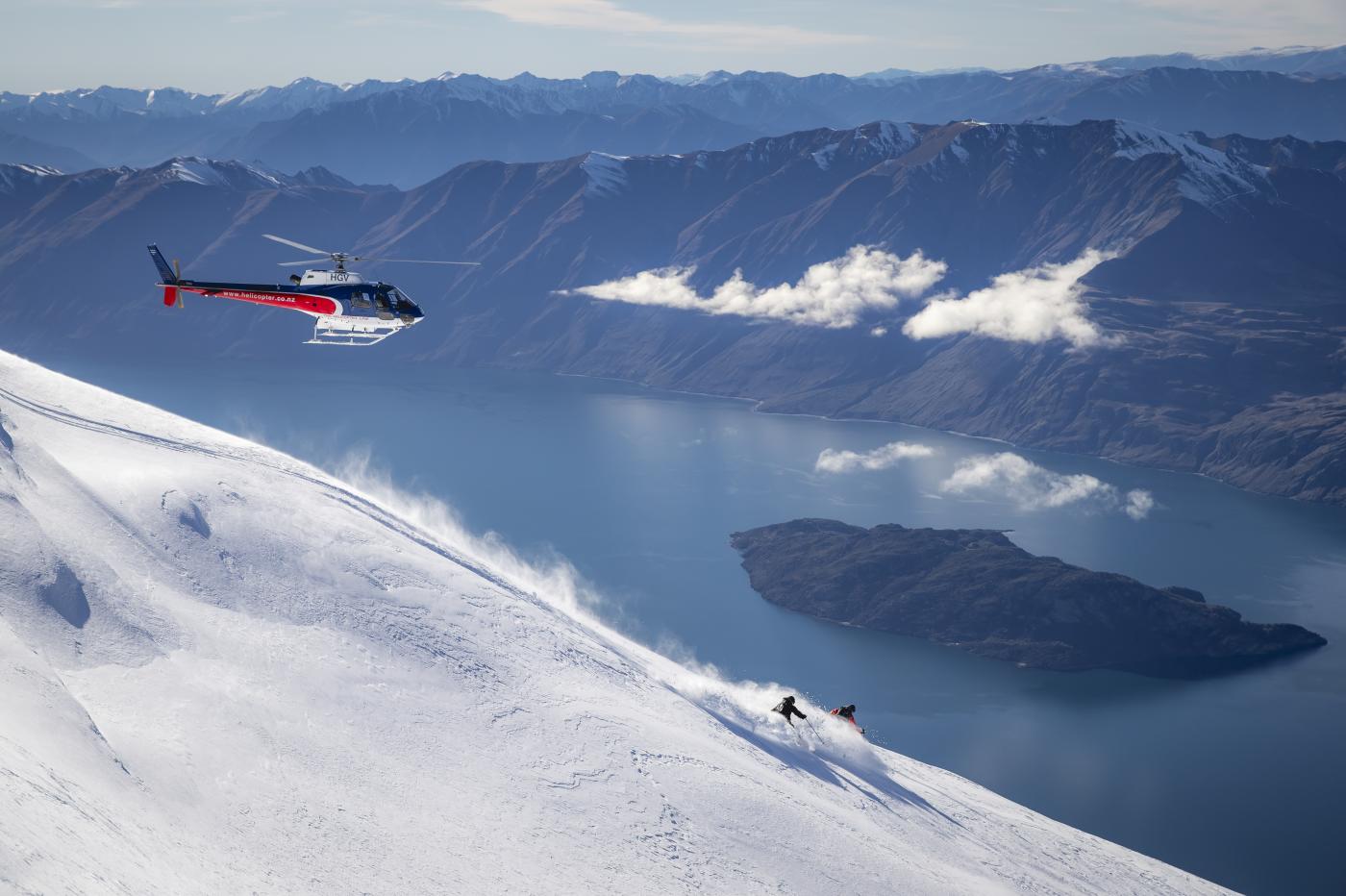 Heli Skiing, Harris Mountains Heli-Ski
Day Two: Heli-Skiing
If you want to ride untouched snow, un-groomed runs and powder, this is the way to go. Using a helicopter to reach remote terrain makes for the ultimate backcountry skiing experience. 
There are a number of heli-skiing operators in Queenstown providing 3-10 run heli-skiing and heli-boarding trips to mountain ranges in Queenstown and the surrounding mountains. That's a lot of untouched pristine terrain!
On a good day you might even be able to squeeze in 10-plus runs, so the evening will call for a warm and cosy restaurant to savour a tasty hot meal and glass of local wine. 
1) Blue Kanu
Blue Kanu blends cultures and flavours into "Polynasia"-style tapas dishes and amazing cocktails. The little touches are everything here, from the Hawaiian-inspired decor to the friendly staff who will even sing and play the guitar for you!
2) The Bunker
Sit back with one of The Bunker's famous cocktails and Taste of The South menu. Newly refurbished, this restaurant offers intimate fine dining beside a crackling fire with an impressive local wine list. Make sure to check out their cocktail bar upstairs to keep the night going after your beautiful meal.
3) The Cow
A longtime, locally loved favourite for over 40 years is The Cow. Tucked into a corner of Cow Lane in central Queenstown, this historic premise was once used to house cows until it was transformed into the cosy, rustic restaurant it is today. Book in here for fresh pasta with a side of local history.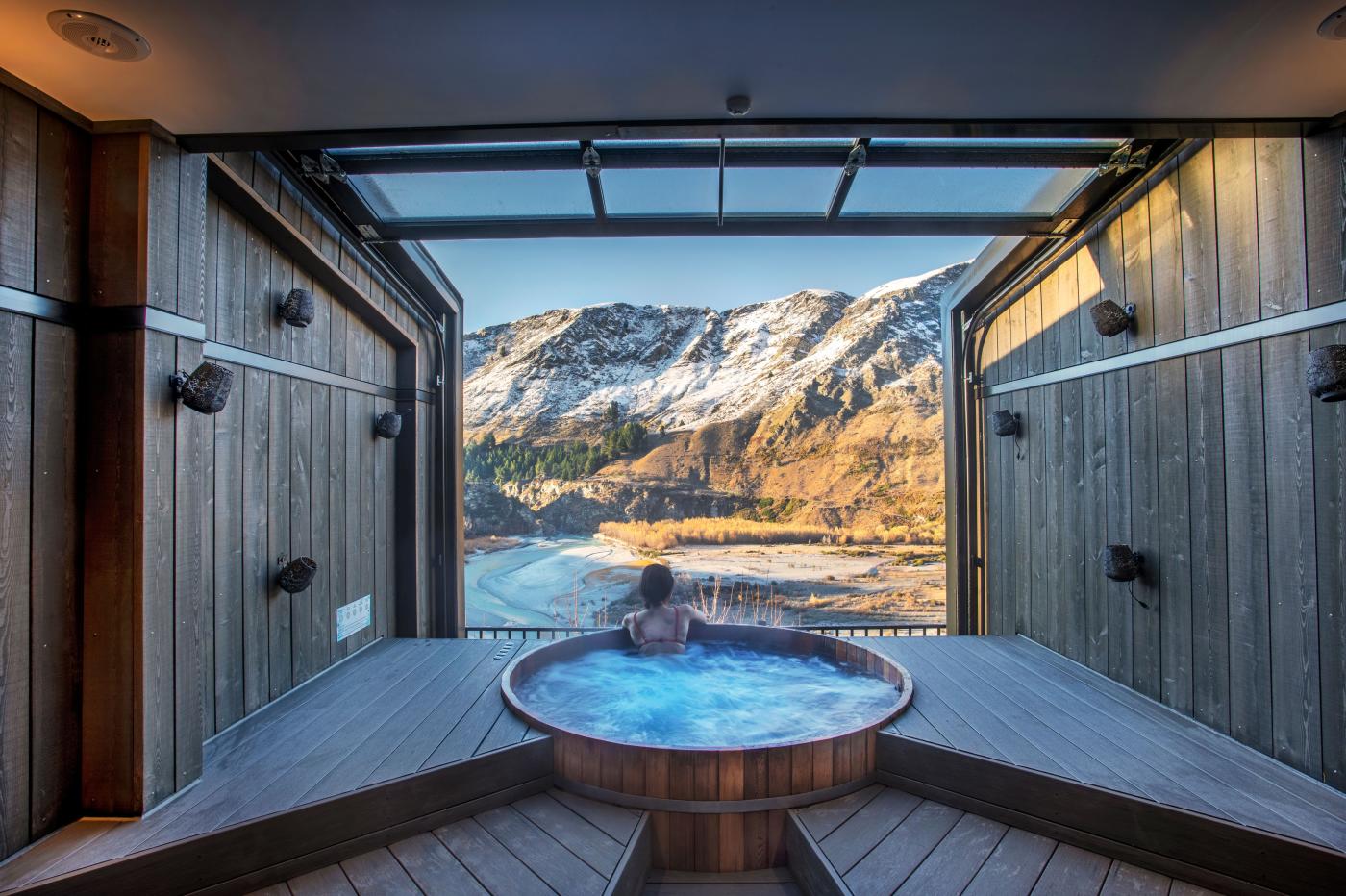 Onsen Hot Pools 
Day Three: Rest your legs
If it's a white-out and you can't hit the slopes or you just feel like a cruisy day in Queenstown, you've got a number of options to relax and treat yourself.
Gaze out over the snowy peaks in your cedar-lined hot tub by day at Onsen Hot Pools. With hot tubs reaching 40°c in winter, Onsen Hot Pools are the ultimate winter relaxation spot perfect to rest and rejuvenate after all that mountain action. 
If you want something a bit different head out to historic Arrowtown and check out Dorothy Browns cinema. This is an inviting, homey experience with couches and bean bags to relax into while you watch a film, while also having access to their fully licensed bar and bookshop. Make sure to order your cheese board and wine! 
In the evening grab a tasty takeout, and head along to Perky's, Queenstown's only floating bar! Enjoy locally crafted beers and Central Otago wines on their heated rooftop deck or snuggle up in the wooden booths inside the boat and take in the snowcapped mountains all around.
1) Erik's Fish & Chips 
New Zealand is famous for its fish and chips but have you ever tried fresh coeliac-friendly fish & chips and deep-fried kiwifruit? Erik's Fish & Chips is tucked discreetly down Earl Street in Queenstown's town centre, serving up some of the freshest, lightly battered fish and chips you'll ever try. 
2) Taco Medic
Fresh and full of flavour, Taco Medic serves up handmade tacos packed with fresh local vegetables and sustainably sourced meats. With locations in both Frankton and downtown Queenstown, Taco Medic is ideal for a sit down meal or a quick bite. 
3) Fergburger
When you say you are coming to Queenstown the first thing most people will tell you to do is to get a famous Fergburger! These burgers are the size of your head and, trust us, they are just as good as the reputation that precedes them. 
The Remarkables
Day Four: The Remarkables
Located an easy 45-minute drive from downtown is The Remarkables Ski Area. With three sunny north-facing bowls, a range of different jump parks, an ice bar and plenty of terrain to explore, The Remarkables Ski Area is an ideal location to spend the day. 
Once you've finished exploring all that The Remarkables has to offer, it's time to find the perfect spot for your next meal. 
A trip to Arrowtown is essential while visiting the Queenstown area, and Arrowtown in the evening is pure magic. Restored historic buildings from the mining era are now home to an abundance of restaurants and bars.
1) The Fork and Tap
Follow the sounds of live music to The Fork and Tap, Arrowtown's local pub. Perfect for the whole family, the outdoor beer garden has a playground for the kids to explore while the adults make their way through the local craft beer and wine list. 
2) Aosta
A small slice of Italy in Arrowtown. Aosta is inspired by the cooking techniques of a little town called Aosta in Northern Italy with an infusion of local flavour and produce. Fresh handmade pasta and red wine are the perfect follow-up to a day on the slopes. 
3) La Rumbla 
Famous for its tapas and locally inspired cocktails, La Rumbla focuses on big, fresh flavours with Latin American influences. The menu is designed to share, making it the perfect spot for a lively group dinner that the whole crew will remember.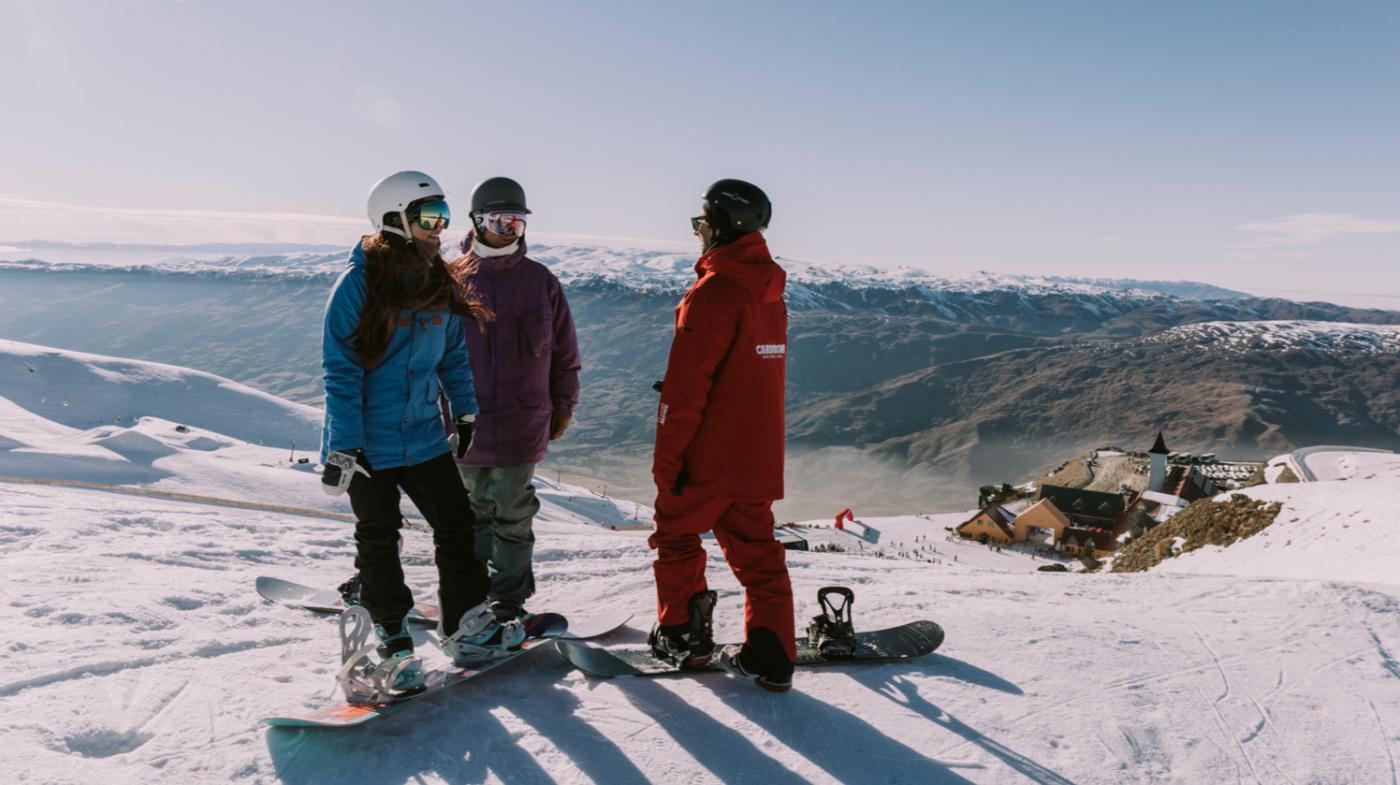 Cardrona Alpine Resort
Day Five: Go out with a bang
It's your last day, so go out in style with a trip over the hill to Cardrona Alpine Resort or Treble Cone. 
Cardrona Alpine Resort is the perfect spot for mixed groups, with plenty of terrain for all levels of skier and boarder. The kids will love the on-mountain kids club while parents take lessons or head off to enjoy the slopes. Cardrona Alpine Resort also has fantastic park facilities, perfect for those looking to test or improve their jump skills. 
Treble Cone is the largest ski field on the South Island and features the longest vertical rise. The ski area has 45% intermediate and 45% advanced terrain which is perfect if you're feeling confident after a couple of days on the snow. There's plenty to explore on this vast mountain and with the epic views over Lake Wānaka, it's no wonder this ski field holds a special place in the hearts of locals and visitors alike. 
If it's the end of your holiday, then you need to spoil yourself with your last meal. The hardest part is choosing which one!
1) Amisfield
Operating since 2005, this bistro put Queenstown on the map one for lovers of fine food and wine. Amisfield encompasses all things Queenstown with everything from its stone building to its locally sourced and inspired menu. The chef's aim is to celebrate the freshest seasonal produce from the local region perfectly complemented by Amisfield wines. Go for a tour of the cellar after dinner and try everything this iconic establishment has to offer.
2) Rātā
Tucked away on a quiet street in Queenstown sits Rātā, a light-filled restaurant serving inspired New Zealand cuisine. Get ready to enjoy not just a meal but a full culinary experience from the friendly and knowledgeable staff.
3) Botswana Butchery
Overlooking the lake in a historic cottage sits the very stylish Botswana Butchery. This restaurant is all about the small details right down to its themed door handles. With luxurious seating and décor alongside roaring log fires, both inside and out, this is a popular and well-loved spot known for its exquisite food.