Visitors to Queenstown are spoilt for choice when it comes to finding a place to stay that meets the needs of every style of traveller. If sustainable travel is important to you, staying at one of these great local accommodation providers leading the way in sustainable tourism will give you peace of mind you're leaving Queenstown as beautiful as you found it.
Sherwood
Ranked in the world's top ten most sustainable hotels by Expedia, Sherwood started its environmental journey by repurposing a 1980s mock Tudor motor lodge into an environmentally conscious eco-chic destination. Aiming for zero waste, and nurturing local producers, their sustainability commitment is marked by its focus on community.
In the last 18 months alone, they diverted over 40,000kgs of waste from landfill by changing suppliers, growing their own food, sourcing only local products, minimising plastic, and composting all green waste. They use solar power and source the rest from renewable energy.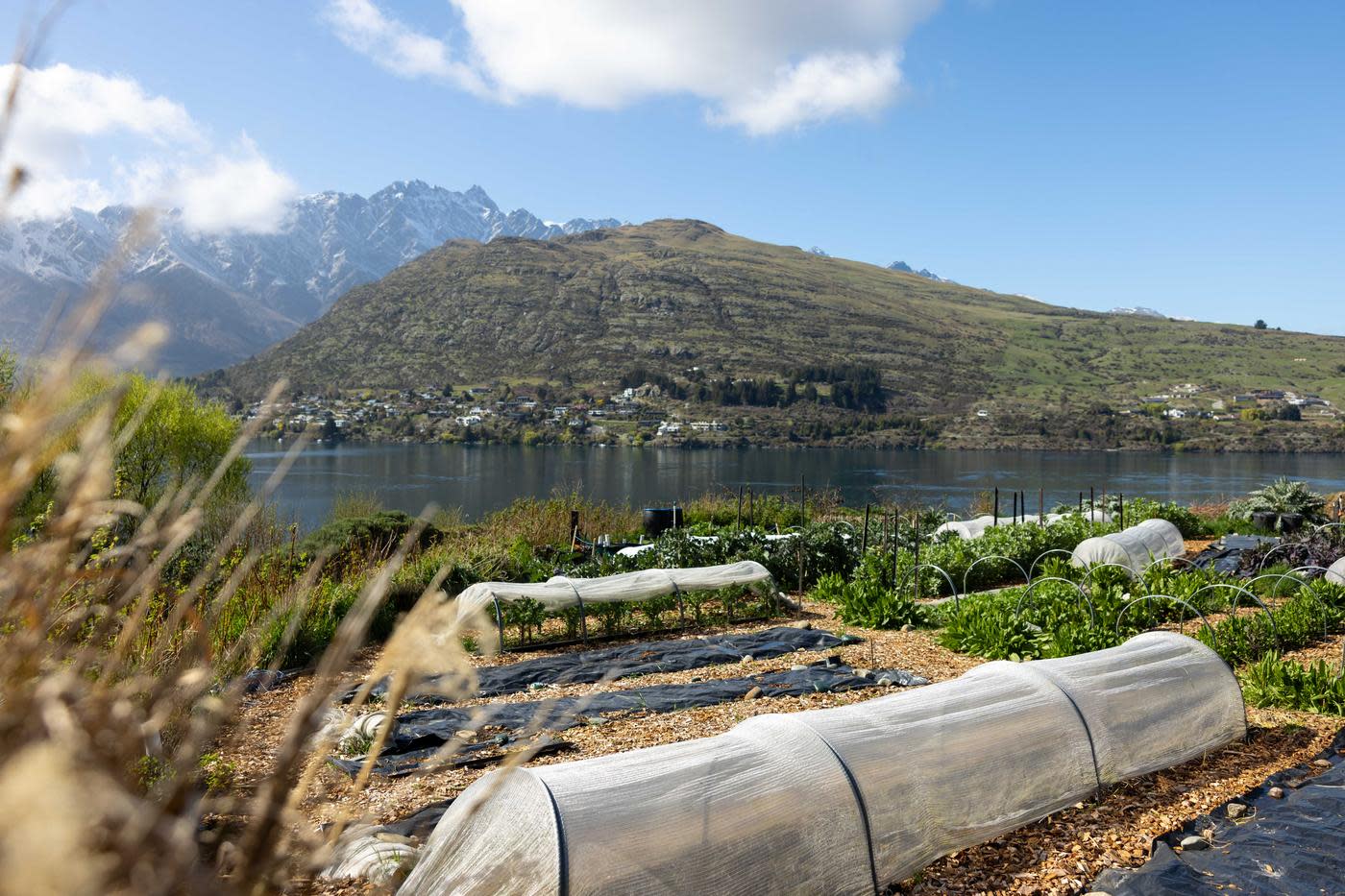 Sherwood's Gardens
The Headwaters Eco Lodge
Set in the stunning surrounds of Glenorchy, the Headwaters Eco Lodge is a cluster of luxurious elegant eco chalets. The lodge and chalets are designed in line with the principles of the Living Building Challenge, using non-toxic construction materials and technology to reduce water and energy use by 50%. Solar power generates more energy than they use.
The Living Building Challenge uses the metaphor of a flower to symbolise a healthy living entity. It operates on seven principles, or petals: place, health and happiness, energy, water, materials, beauty, and equity. This commitment shows in all aspects of the Lodge, from strong connections with the local community, the native and edible garden, harnessing the power of the sun and wind, to the way they nurture their guests with food, yoga, and a connection to nature.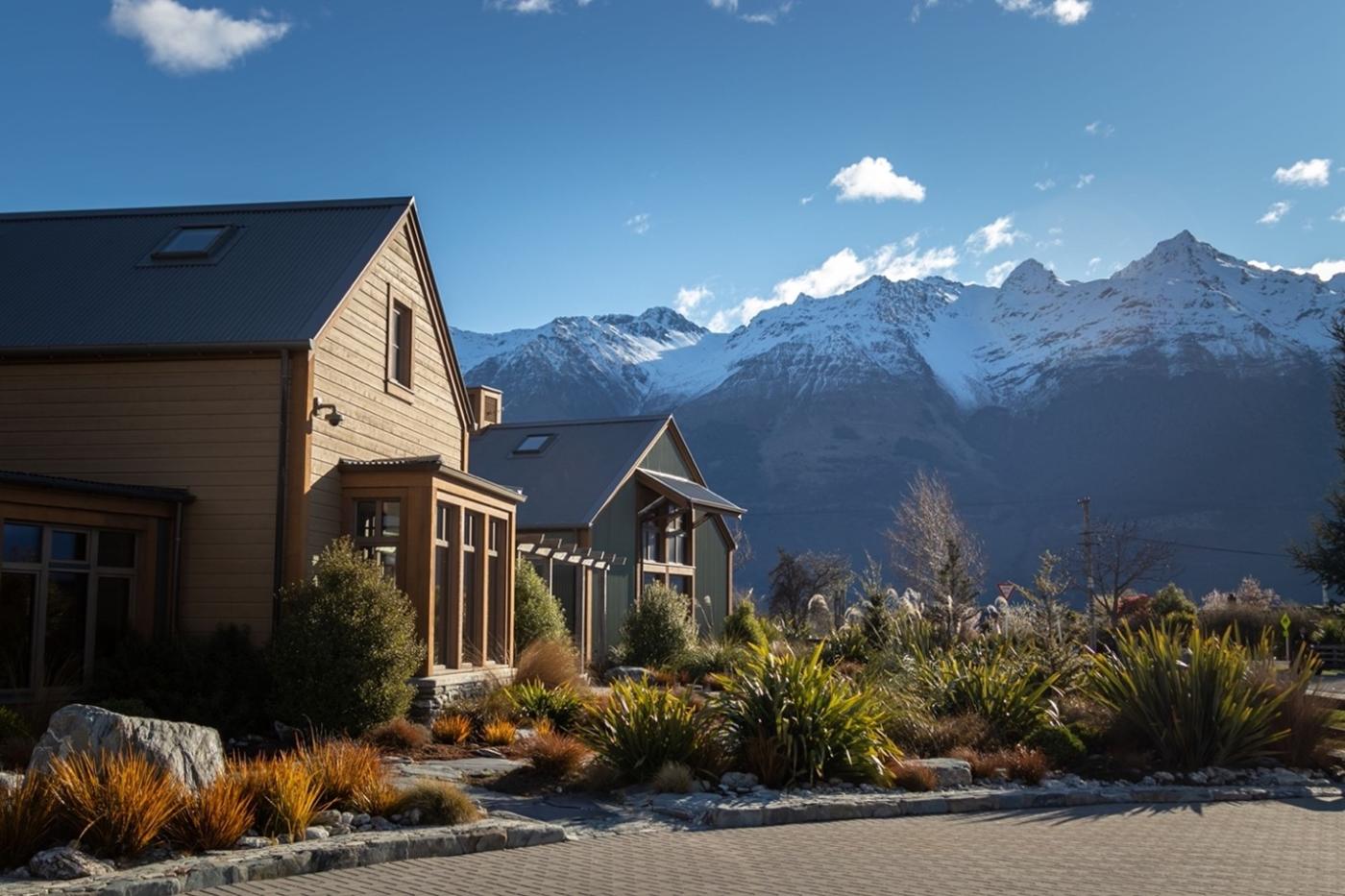 The Headwaters Eco Lodge
The Rees Queenstown
The Rees Hotel sits on the shores of Lake Whakatipu, with its own beach, private wharf, and panoramic views out over the Remarkables. Choose from rooms, apartments or private residences. The Rees also offers fine dining, a library, gym, and a beautifully curated selection of local adventures from high country dining to golf.
The Rees is aiming for carbon neutral status, and their sustainability commitment ranges from installing energy efficient air conditioning and energy conservation, reusing grey water garden irrigation, and composting, to sourcing local, and partnering with suppliers to reduce plastic waste. They run energy, water, and nature conservation initiatives, and support many community organisations, donating over $100,000 to community causes over six years.
View from The Rees Hotel Queenstown
Kinloch Wilderness Retreat
Kinloch Wilderness Retreat is a gem at the northern end of Lake Whakatipu. Accommodation ranges from Ecoscapes, passive low energy cabins designed with local green building technology, to simple affordable wilderness rooms. Seasonal menus use local ingredients including veggies and eggs from their own organic gardens, regeneratively farmed and organic meats, while any food scraps go to the lucky chickens, or are composted on site.
The Retreat's sustainability initiatives are wide ranging, from the integrity of their suppliers to solar power, and waste reduction, they repair and maintain instead of buying new. They encourage guests to donate to the native nursery based in Glenorchy to plant trees to offset carbon created travelling to the Retreat, while removing invasive plant species and replanting natives on the property themselves to regenerate the bush.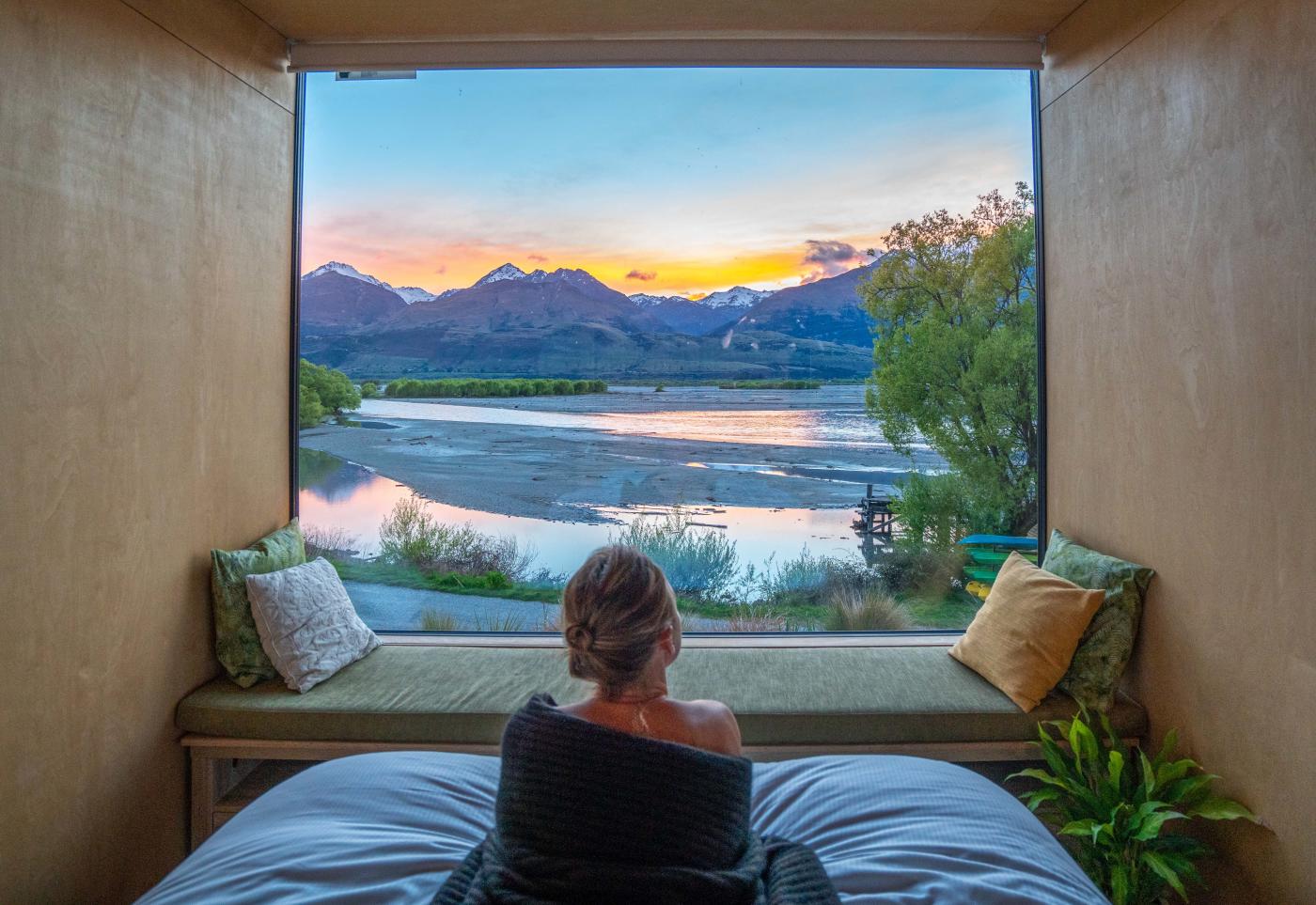 Kinloch Ecoscapes 
Hilton Queenstown Resort & Spa
The Hilton hotel group is committed to halving its environmental impact through a range of measures, including sourcing renewable energy, waste reduction, and their LightStay program, which all Hilton hotels use to measure and manage their environmental and social impact, reduce energy, water and waste, and contribute to local communities through volunteering.
Hilton started the Soap Aid program in Queenstown, providing recycled soap to communities facing hygiene challenges around the world. They also plant trees and saplings in the local area and volunteer with the Wakatipu Reforestation Trust.

Hilton Queenstown Resort & Spa
Queenstown Holiday Park Creeksyde
Folks travelling on a budget can be sustainable travellers too, and when you stay at Queenstown Holiday Park Creeksyde, you'll be checking in to the world's first holiday park to be certified by EarthCheck, a global certification for travel and tourism. Creeksyde now hold EarthCheck's highest accolade of Master Certification.
The camp's owners sustainability journey started 15 years ago. Sustainability measures include monitoring all water, waste, and power, using solar energy, keeping it local with their suppliers, avoiding waste and unnecessary laundry, green cleaning and gardening.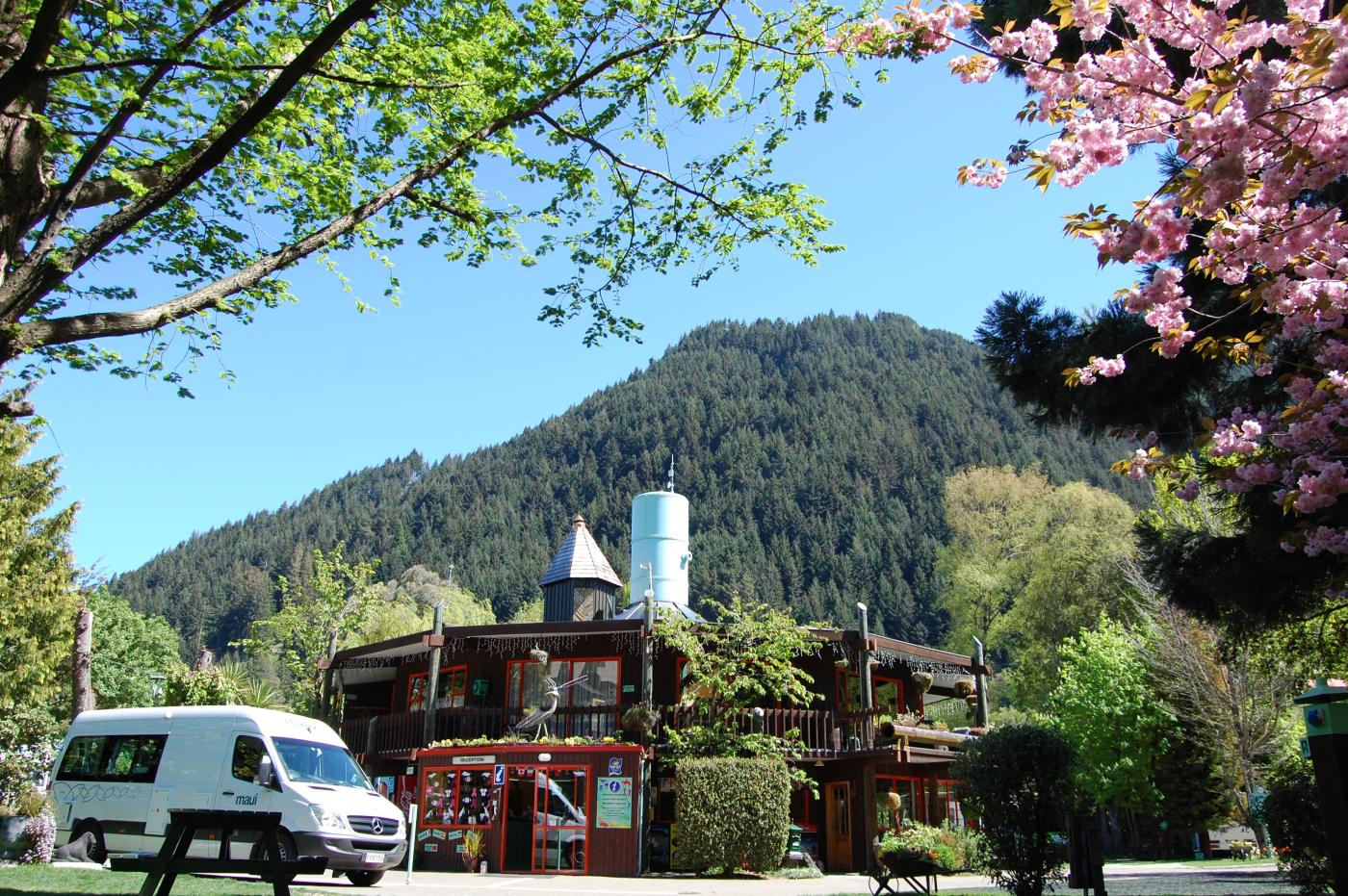 Queenstown Holiday Park Creeksyde
Gibbston Valley Lodge & Spa
Stay in sunny private villas in an organic vineyard at Gibbston Valley Lodge and Spa. Sample Gibbston Valleys' exceptional pinot noir and dine in the dramatic surrounds of the main lodge or relax with grape inspired pampering treatments at the on-site spa.
Gibbston Valley Lodge and Spa's sustainability activities include using bedding made from recycled plastic bottles, environmentally conscious cleaning products and spa products, sustainable food sourcing, composting, as well as the wider Gibbston Valley organic ethos.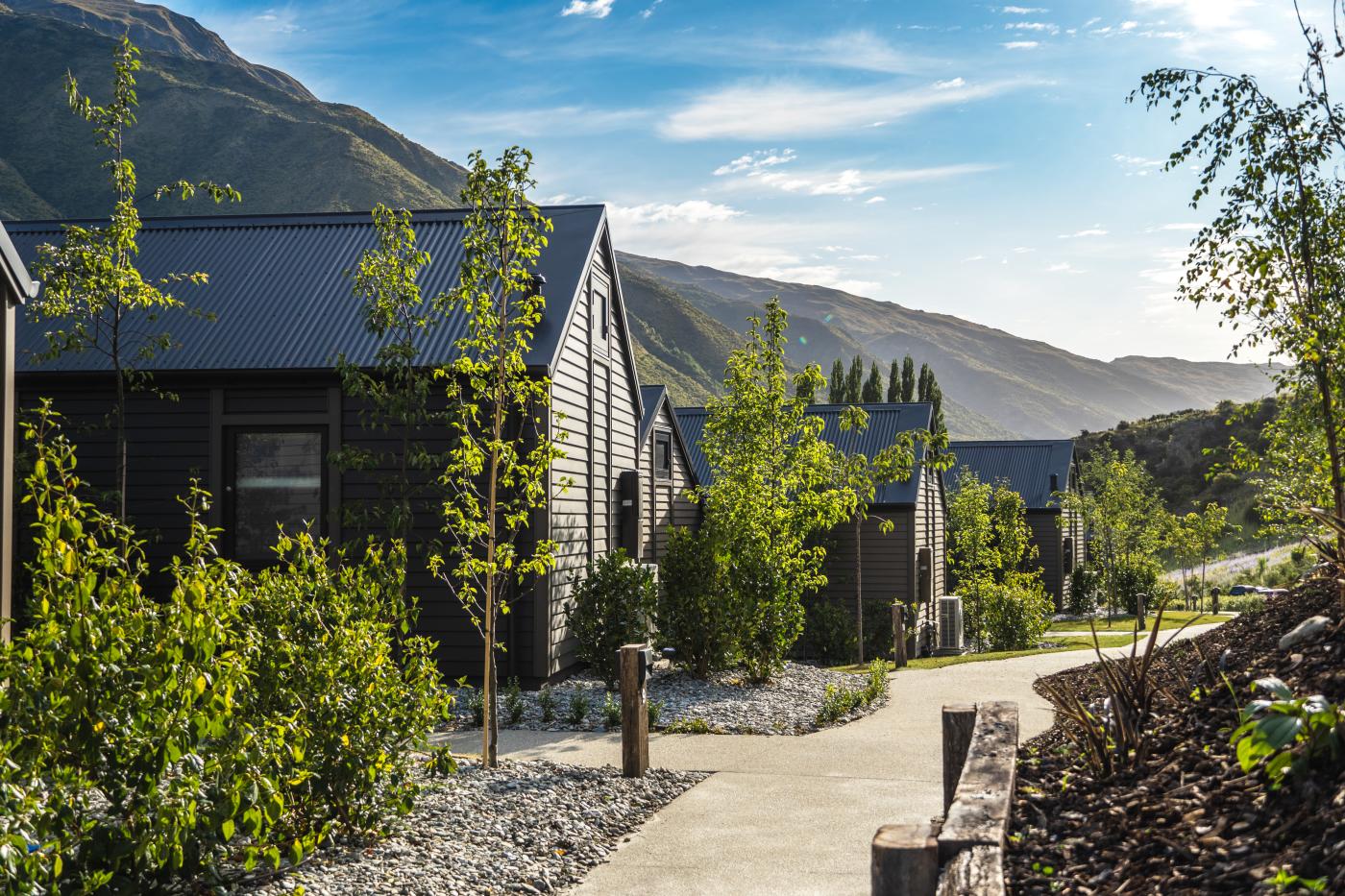 Gibbston Valley Lodge & Spa
Millbrook Resort
Stay at this five-star resort famous for its championship golf courses, indulgent spa, and glorious setting, knowing Millbrook Resort's goal is to operate as sustainably as possible. Recently awarded Qualmark's Enviro Gold Rating, they're assessed on energy and water conservation, waste reduction, and community commitment.
Sustainability initiatives include minimising irrigation, composting, making delicious meals with fresh produce from their biodynamic kitchen garden and eggs from their free-range chickens. They're also a key supporter of the Queenstown Trails, sponsor a number of local events, schools, and charities, as well as gifting land to community for a local cricket ground.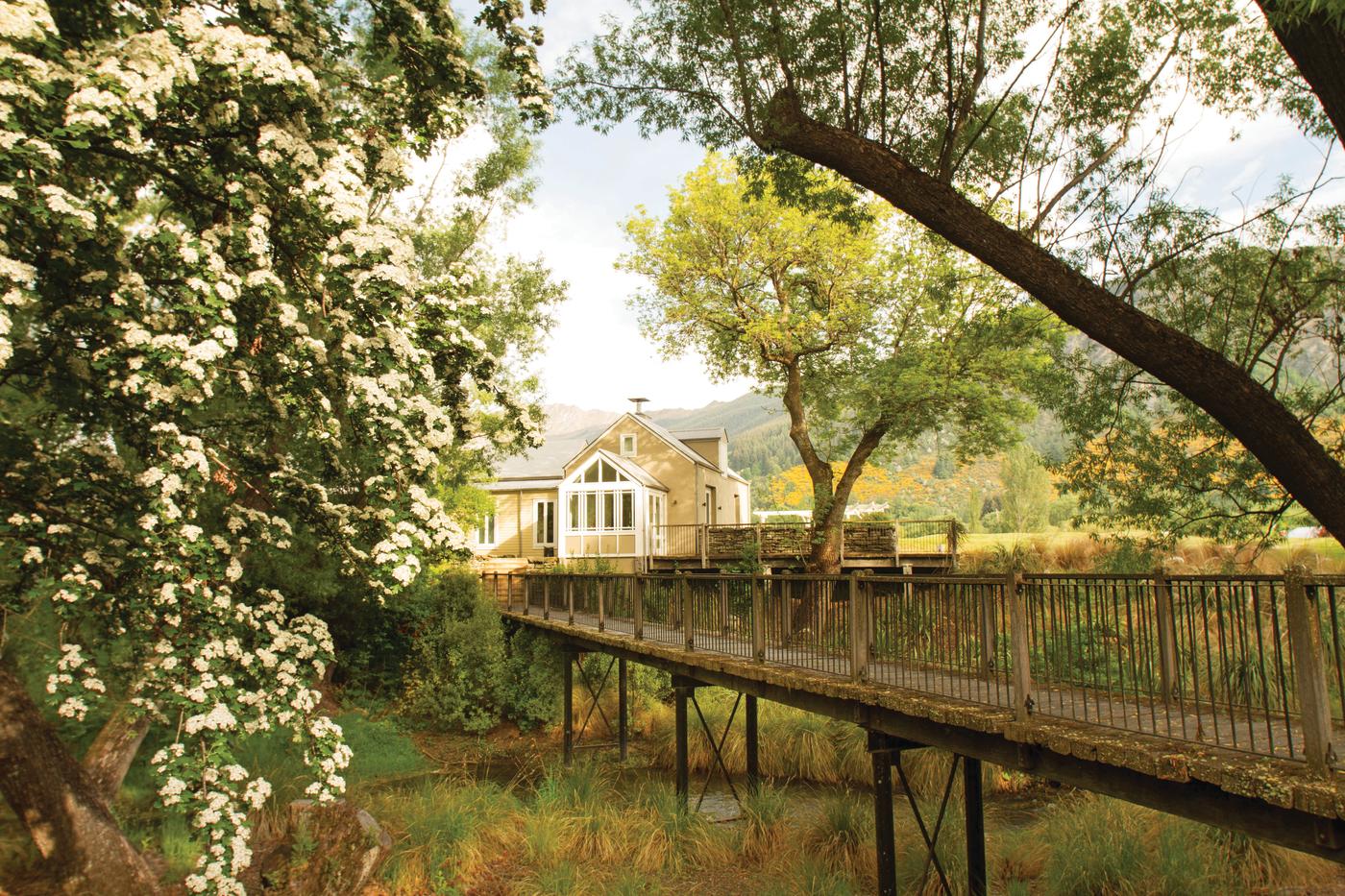 The Spa at Millbrook
Aro Hā
Aro Hā Wellness Retreat in Glenorchy is built on self-sufficient permaculture principles. They generate their own power from hydro and solar, while passive building principles reduce the need for heating and cooling. Their permaculture gardens reduce water use and labour with natives and climate specific planting, mulching, and rainwater harvesting.
The retreat's organic kitchen garden produces over half of their food, and they focus on returning all green waste to the garden, to build rich soil and grow nutrient dense food.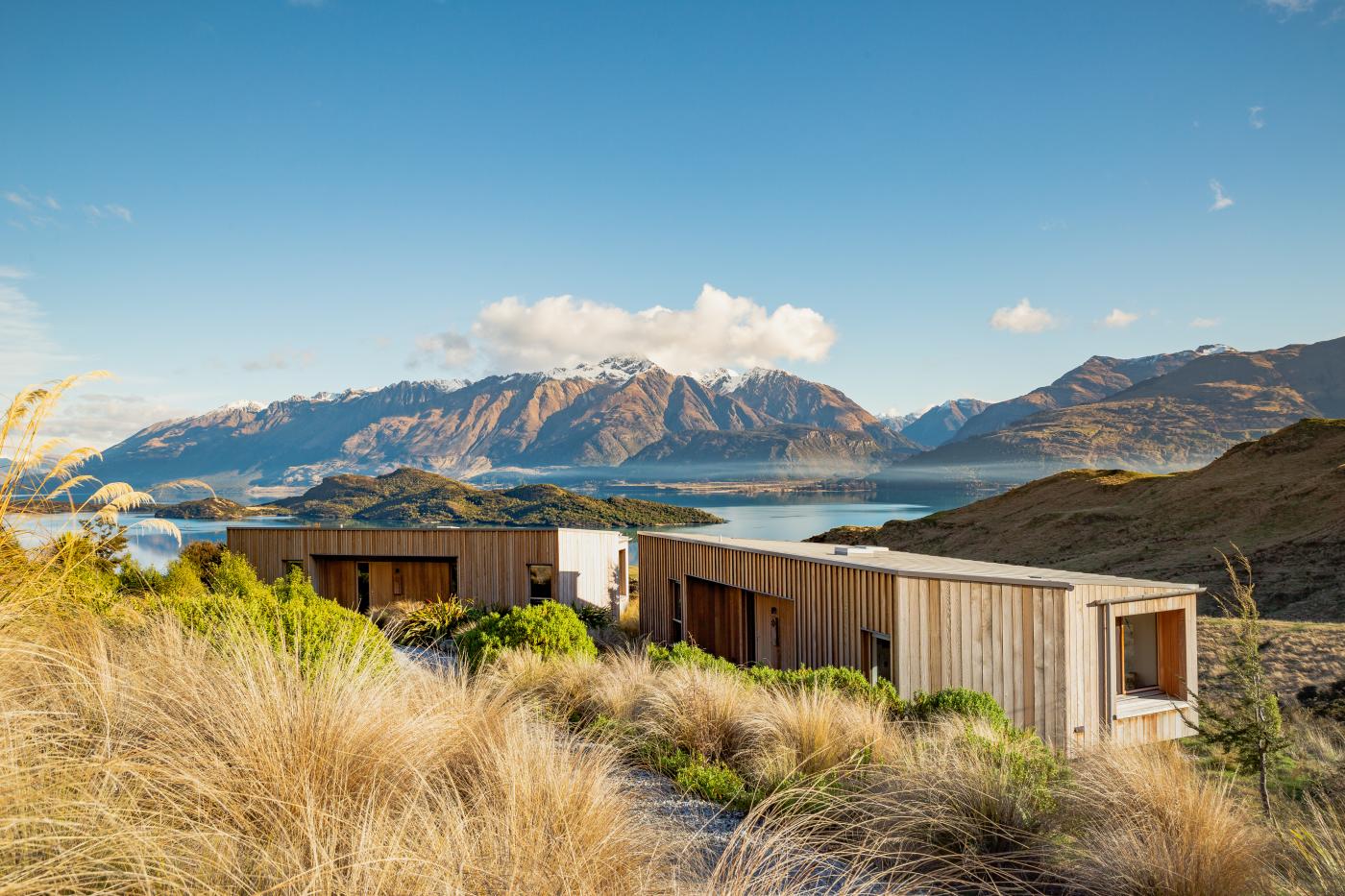 Aro Hā, Glenorchy
The Cottages at Lake Hayes
The Cottages at Lake Hayes work with the Department of Conservation to remove invasive crack willow along the edge of Lake Hayes. This is allowing native wetlands to regenerate. They've also planted over 3,000 natives to help re-establish these wetlands. Native birdlife has begun to return as the native ecology is restored.
The Cottages feature work from local artists, operating as a living gallery where guests can enjoy and buy pieces from New Zealand artists. They also aim to support the local community, by working with local charities and supporting the Queenstown Trails.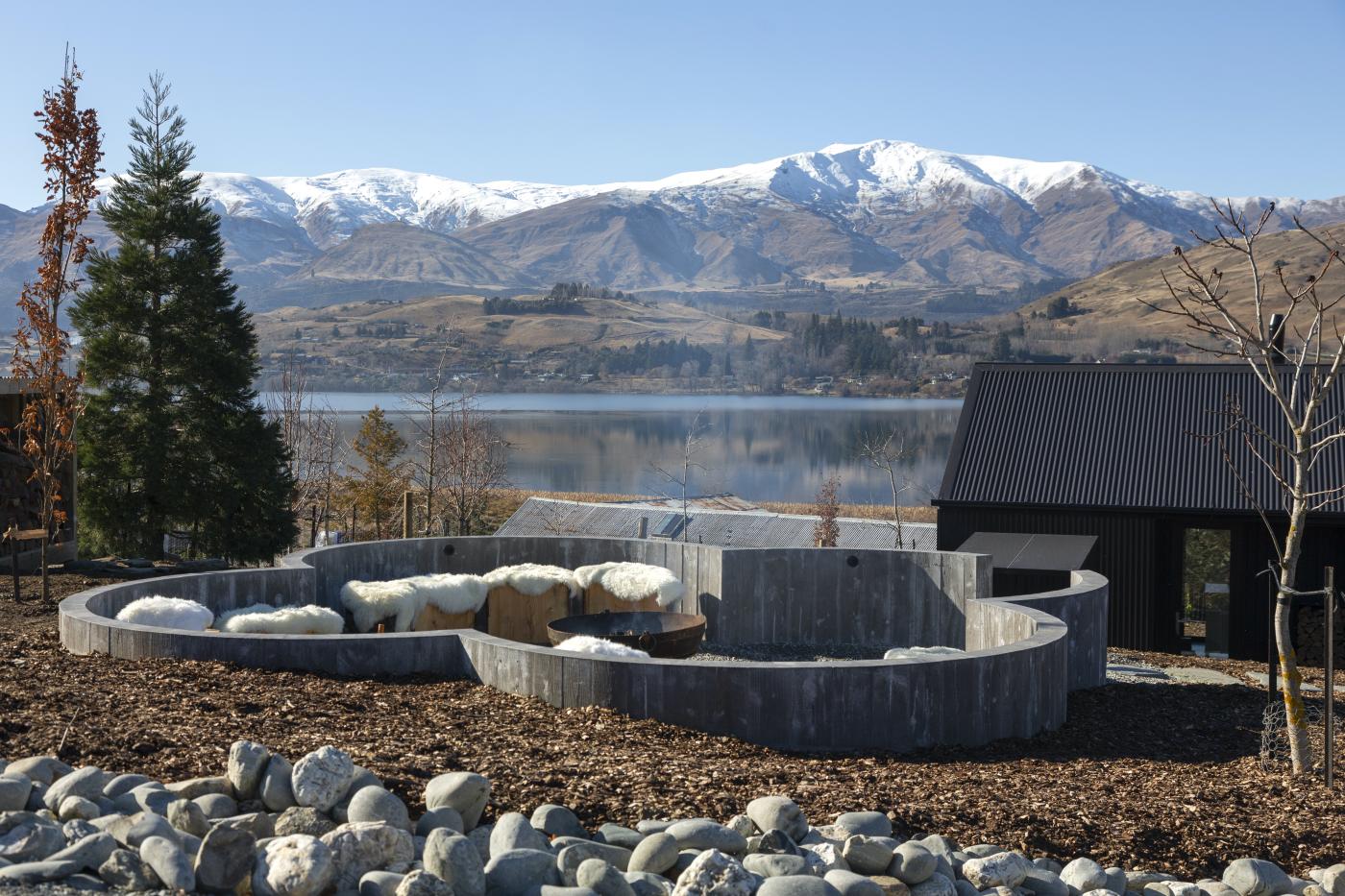 Pinot Pit, The Cottages at Lake Hayes
Crowne Plaza
Crowne Plaza Queenstown has signed the Tourism Industry Aotearoa Sustainability Commitment and is looking for ways to reduce energy, waste, and water. They refill bulk bathroom supplies, rather than using wasteful miniatures, are part of Soap Aid, minimise single-use plastics like straws, and repurpose surplus food in partnership with Kiwi-Harvest.
Crowne Plaza uses the IHG Green Engage System. This environmental sustainability system helps hotels measure and manage their impact on the environment, and implement programs such as Greener Stay where guests opt-in to conserve energy, water and resources and reduce waste, and Giving for Good Month where IHG members volunteer their time to help the local community.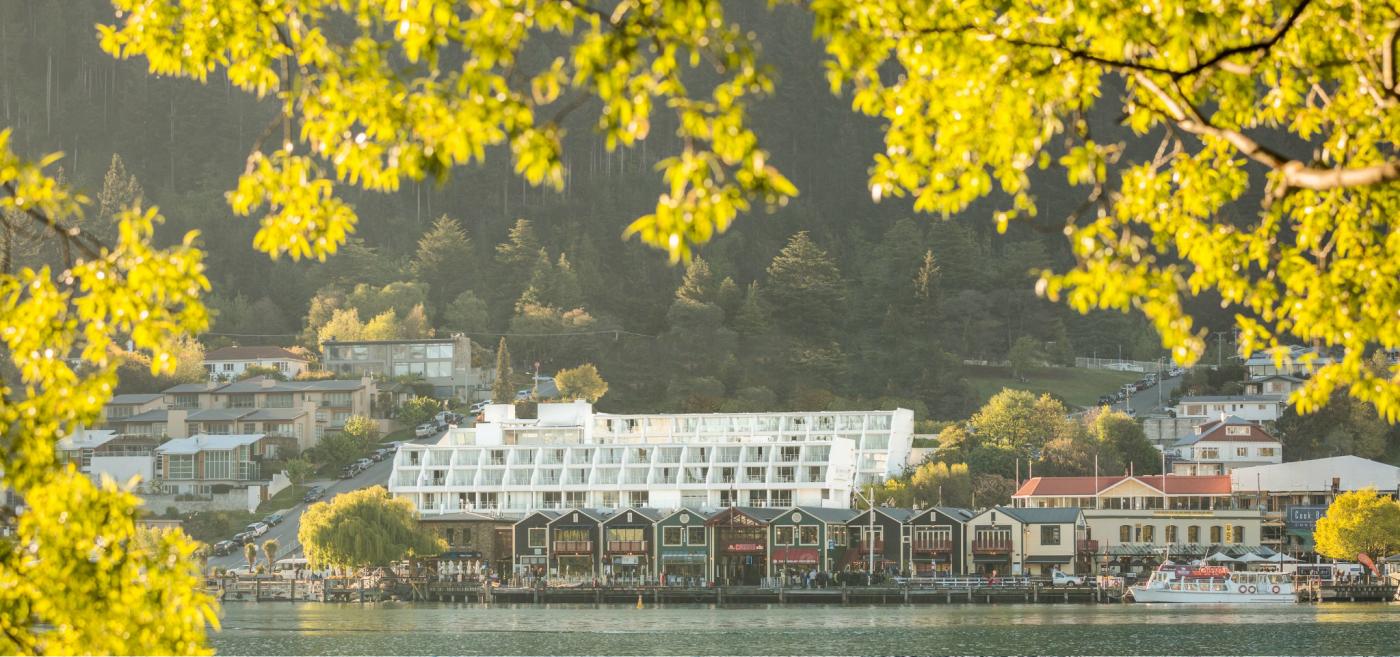 Crowne Plaza 
Holiday Inn Remarkables Park
Holiday Inn Remarkables Park also use the IHG Green Engage System to measure and manage their environmental impact. Along with diverting the majority of its waste from landfill, the Frankton hotel utilises technology, like an advanced building management system to ensure there is minimal power use in unoccupied rooms and a light sensor system to lessen electricity usage, to save on energy.
They've reduced plastic waste by providing guests with wooden key cards, removing single-use water bottles and coffee cups and offering bulk amenities.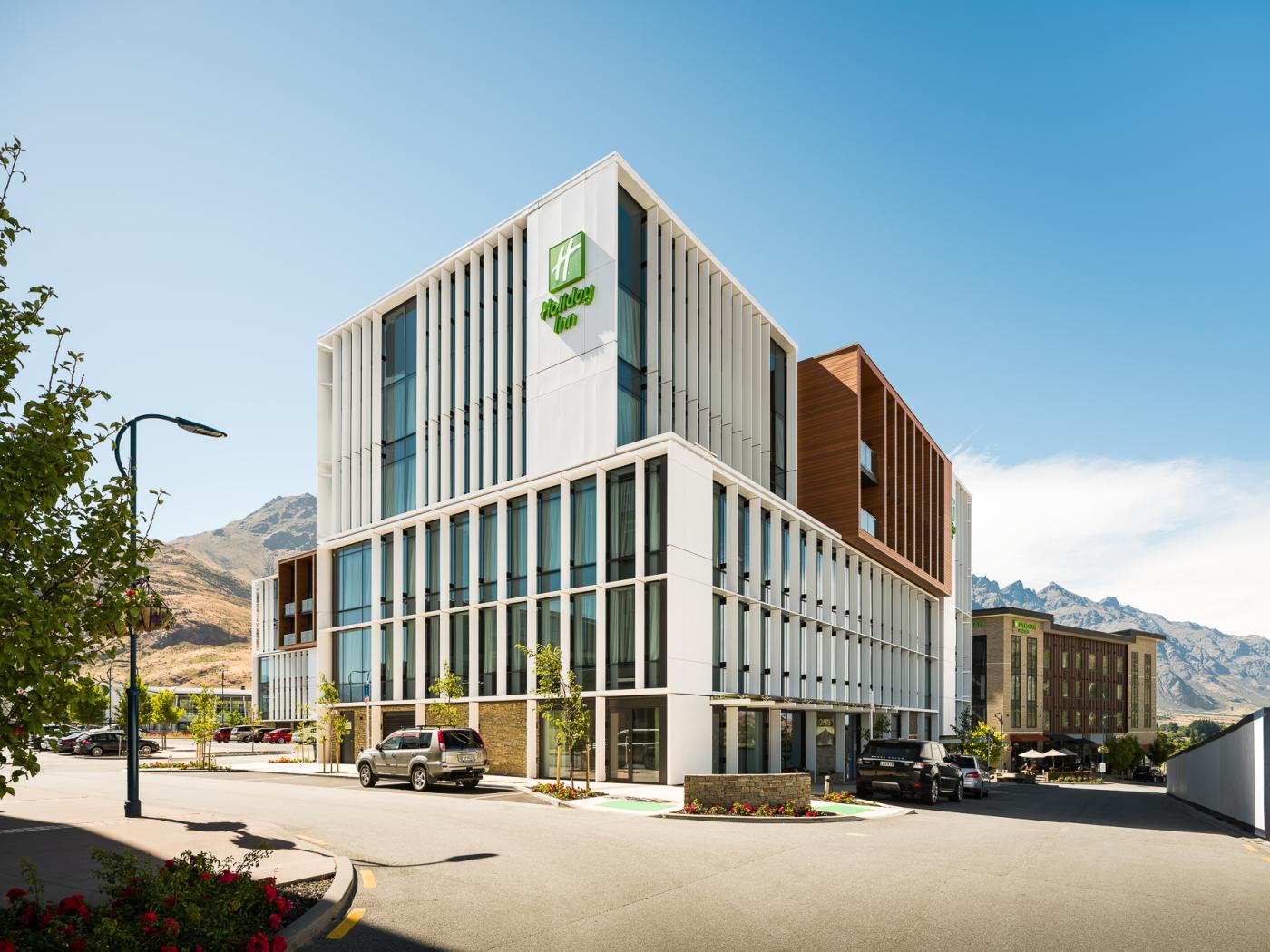 Holiday Inn Remarkables Park
Hulbert House
A boutique hotel in a historic Victorian villa built in 1888, charming rooms combine contemporary luxury with historical elegance. Hulbert House are on a journey to zero waste, gifting guests an aluminium water bottle, avoiding plastic packaging, sourcing organic produce locally, offering electric car charging, conserving water, and using reusable and recyclable products wherever possible. They also support local charities.
The hotel is part of Booking.com's Travel Sustainable program. Partners can choose from 32 sustainability practices selected for their high impact potential and verified by independent sustainability experts and are assessed to ensure they meet the program's standards.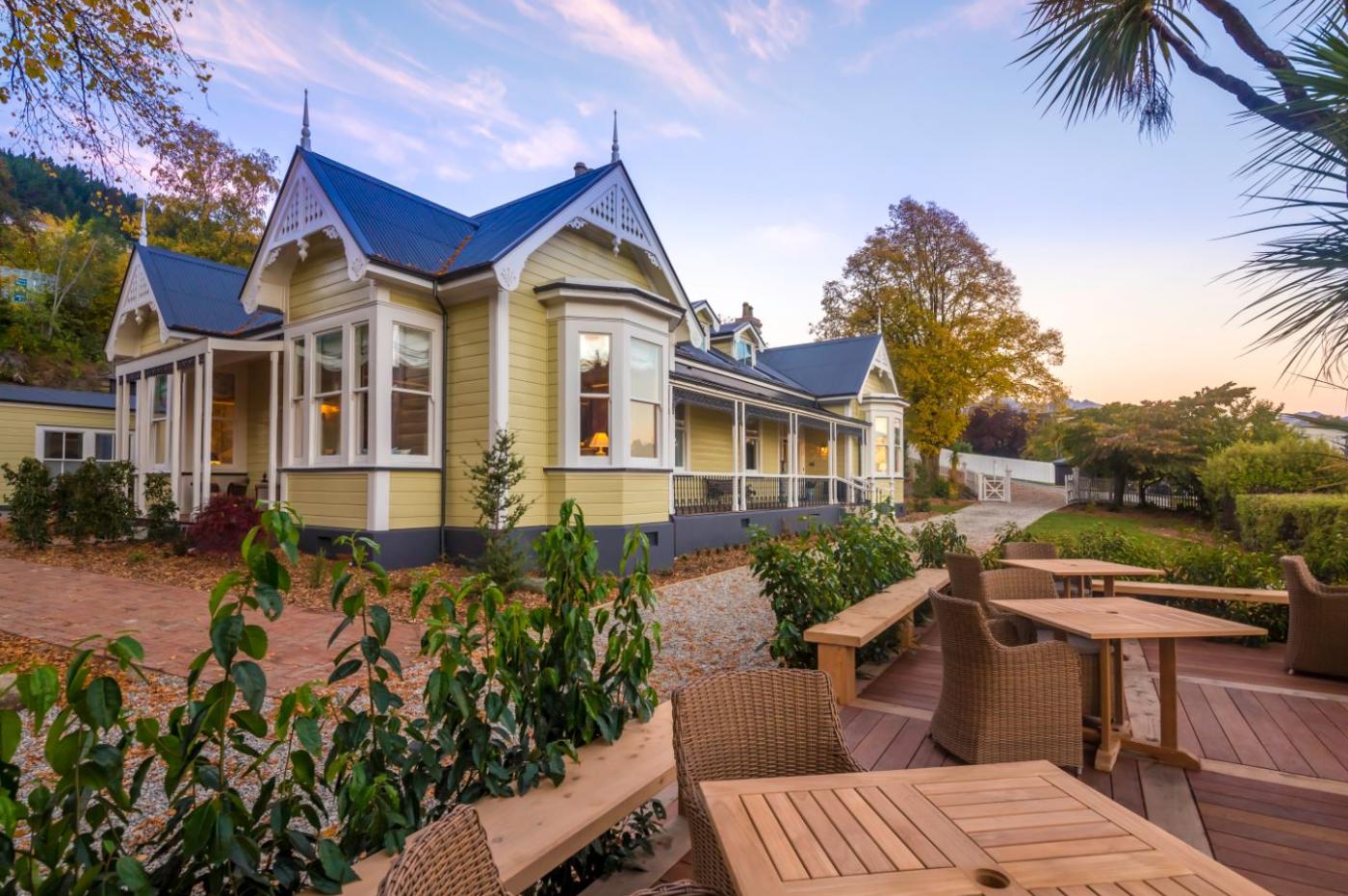 Hulbert House 
Mi-Pad
A hi-tech hotel in the centre of Queenstown, mi-pad's app allows you to control your room, order food, and source handy local info. The hotel uses tech to save energy, using light sensors, scheduled towel rail heating, and smart air-con that keeps the temperature set at your preference while you're there and reduces it when you leave the room.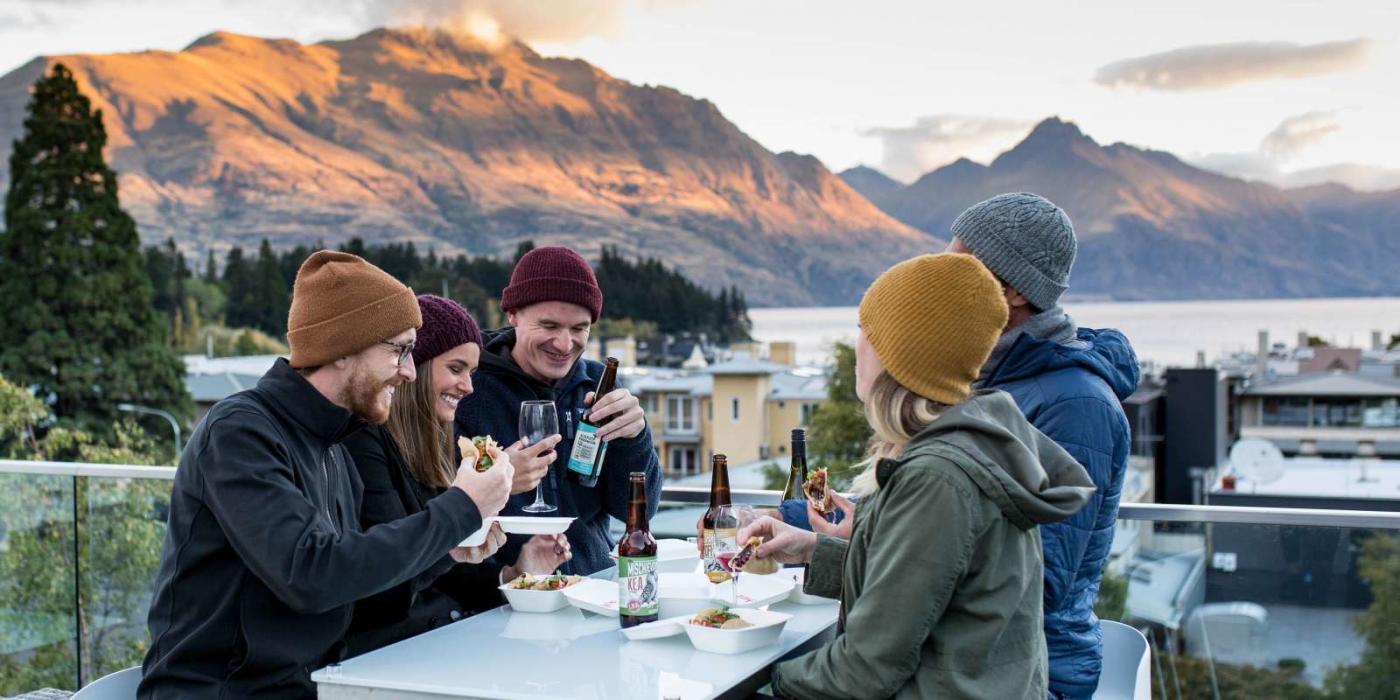 Mi-Pad Queenstown