Indoor attractions
There is so much fun to be had indoors, and not just to be saved for a rainy day. Experience the thrill of skydiving at iFly, where you can take an indoor flight with an experienced skydiver and kids LOVE it! Go ice skating at Queenstown Ice Arena, and take a spin on their new and very fun ice bumper cars. Experience 12D multi-dimensional motion picture fun, play Paintless Paintball at Thrillzone, dare to visit the famous Fear Factory, have delicious mocktails at the ice bar, solve a gold mining mystery at Escape Quest or take an incredible VR adventure.
If you're looking for activities to burn some energy with the kids, there's indoor trampolining, go karting, and indoor climbing just to name a few!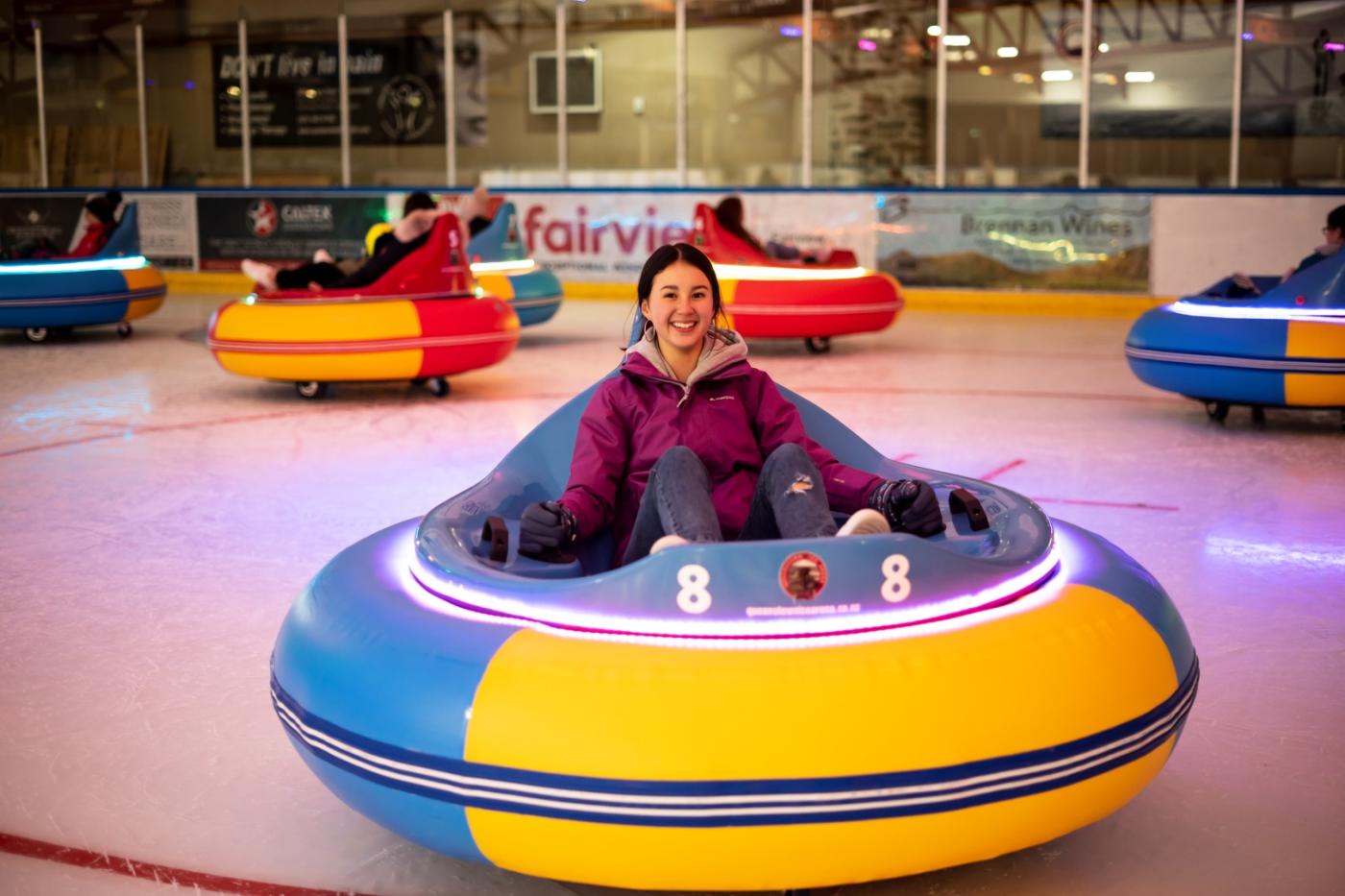 Bumper cars at Queenstown Ice Arena
Explore the outdoors & meet our wildlife
There are plenty of ways to see and enjoy the natural beauty of Queenstown and around every corner is scenery to take your breath away.  You can discover it for yourself on a family-friendly cruise, by jet boat, whitewater raft, bike or even on horseback.
Say g'day to the famous kiwi at Kiwi Park, as well as meeting some new native feathered friends and ancient tuatara. Visit a high-country farm with Southern Discoveries or on the TSS Earnslaw, hire bikes and ride on the stunning Queenstown Trail or jump in a 4WD for a further-afield land adventure through gold mining heritage sites or Lord of the Rings countryside.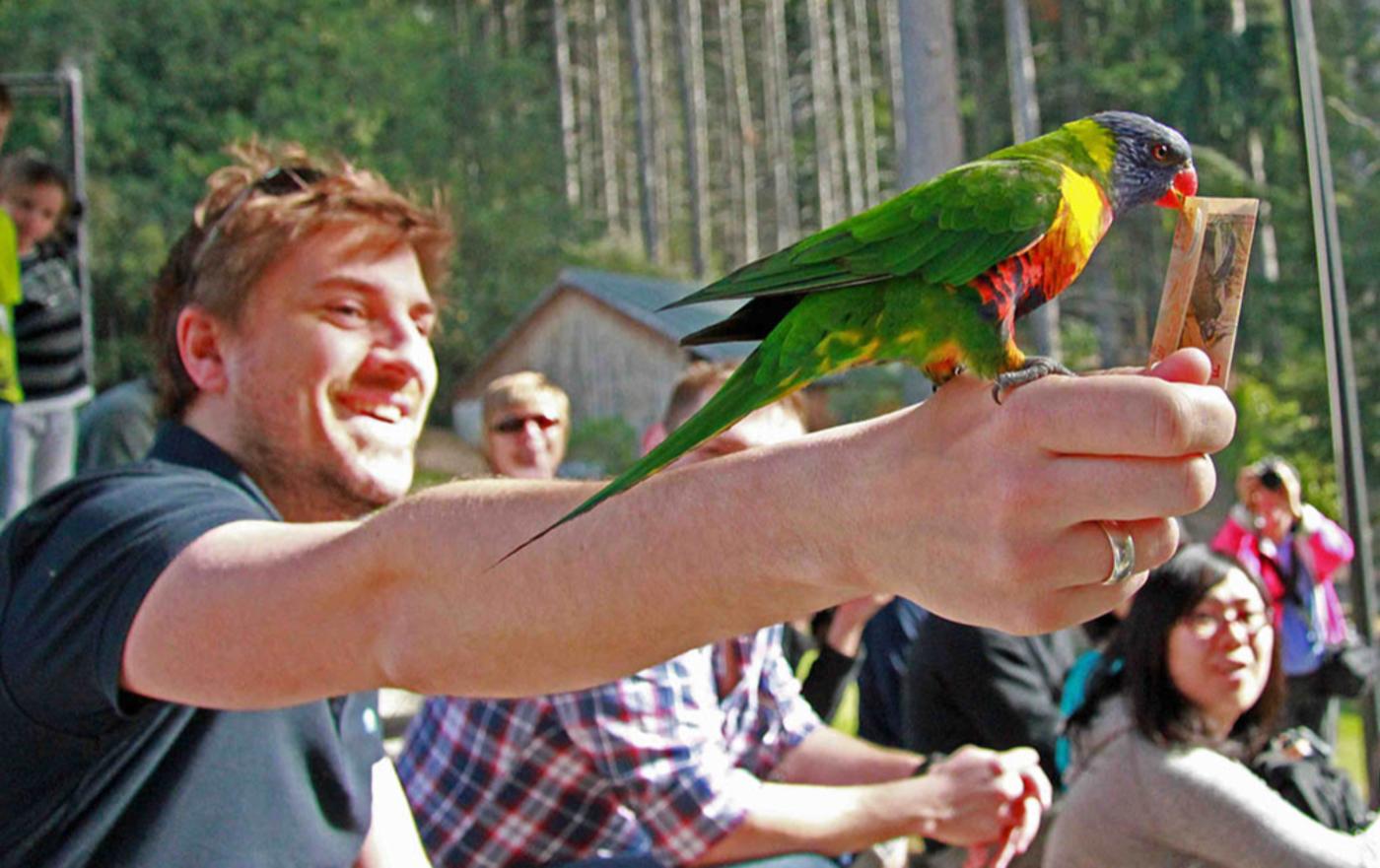 Kiwi Park conservation show
Free family fun things to do
There is plenty of family fun that is free and makes for perfect summer days exploring with the kids. Visit nearby Arrowtown and wander through the historic Chinese settlement or pan for gold on the Arrow River; it's a favourite spot for local kids, with swimming holes and a great rope swing.
Hang out at Queenstown's new, lakefront playground - it's so good you'll wish you were a kid again! 
The playground is a great spot for feeding the ducks and the Queenstown Gardens are wonderful fun to explore with a frisbee golf course, skateboard halfpipe and the Queenstown Ice Arena onsite.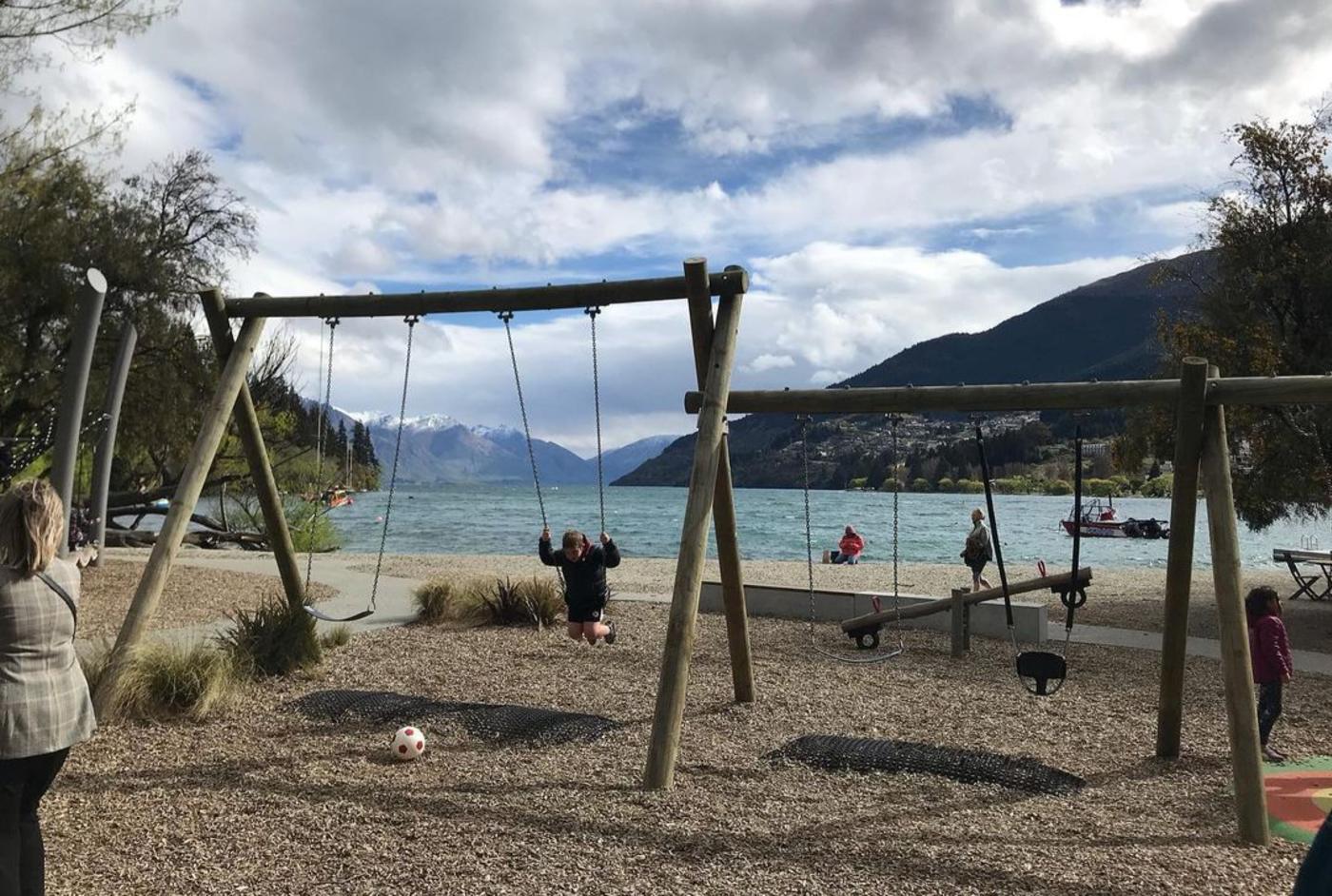 Queenstown playground. Credit @kidseatauckland on Instagram.
Best swim spots for the family
Needing to cool off on a hot day? Below are some of the locals' favourite swim spots to take the kids (shhh, don't tell everyone!)
Moke Lake: Great for paddling, bike riding and walking. You can even bring the tent and camp overnight for a small fee.
Frankton Beach: It's shallow and warm way out into the bay, making it one of the safest and more appealing Lake Wakatipu swimming beaches.
The Arrow River: There's a walking/biking track alongside and almost anywhere is wonderful for cooling down and splashing around.
Queenstown Lakefront Beach: There's lots to see and do here with cafes and adventure playground right on the beach, plus kayak, paddleboard and aquabike hire available in summer with Paddle Queenstown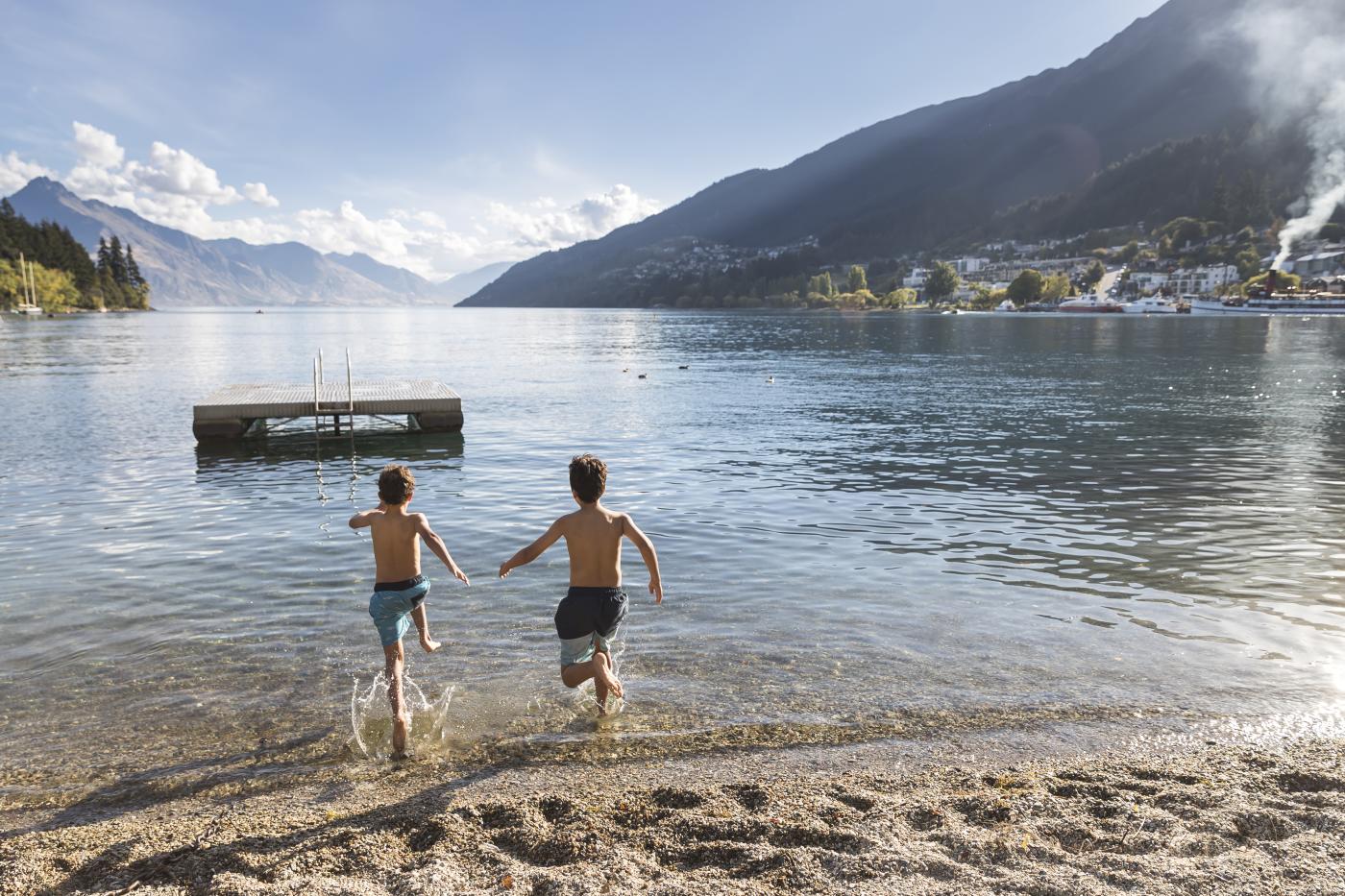 Summer fun at Queenstown Beach
The Queenstown Trail and other bike tracks
There is over 100km of easy family biking and bike hire available right on the Queenstown Trail, either in central Queenstown, Kelvin Heights or Arrowtown.  Electric bikes are awesome for the family as you can all stay together and go further.  Queenstown is also a mountain bikers' mecca with dozens of trails suitable for novice or younger bikers. Good locations for your young shredders to hit up include 7 Mile Bike Park and Queenstown Bike Park which have both green (beginner) and blue runs (for more advanced).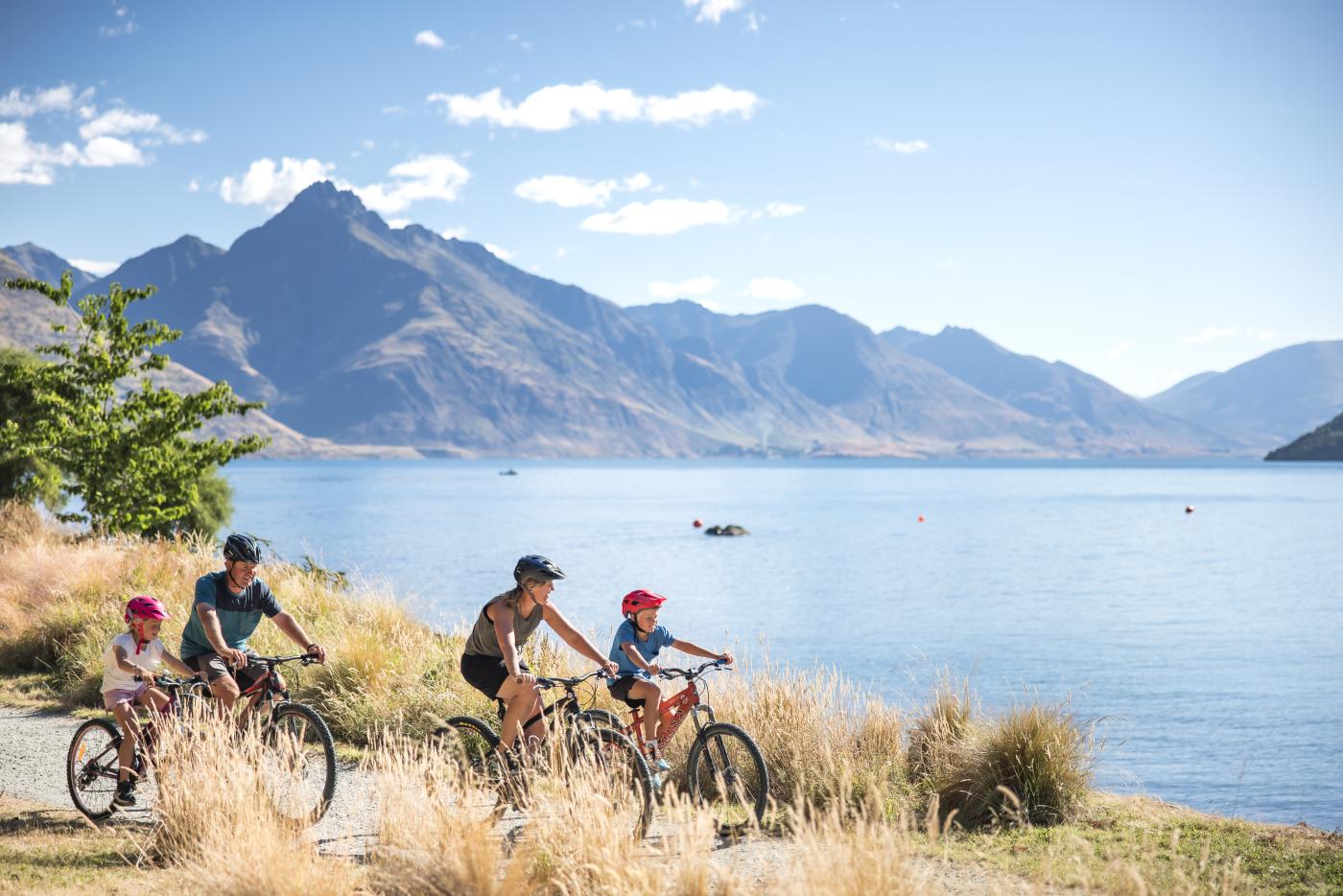 Family fun biking in Queenstown Gardens.
Adventure fun
Queenstown is the family adventure hub of New Zealand and now is your chance to discover it for yourselves!  Experience something wild and new when you take part in one of Queenstown's famous, thrilling adventures. 
Some have an age, height or weight restriction but there is plenty you can still do with your team of almost any age. Some activities may also be subject to other factors such as confidence or weather conditions. Check with individual operators for more information but here is a guide of just some of the fun activities you can do at different ages.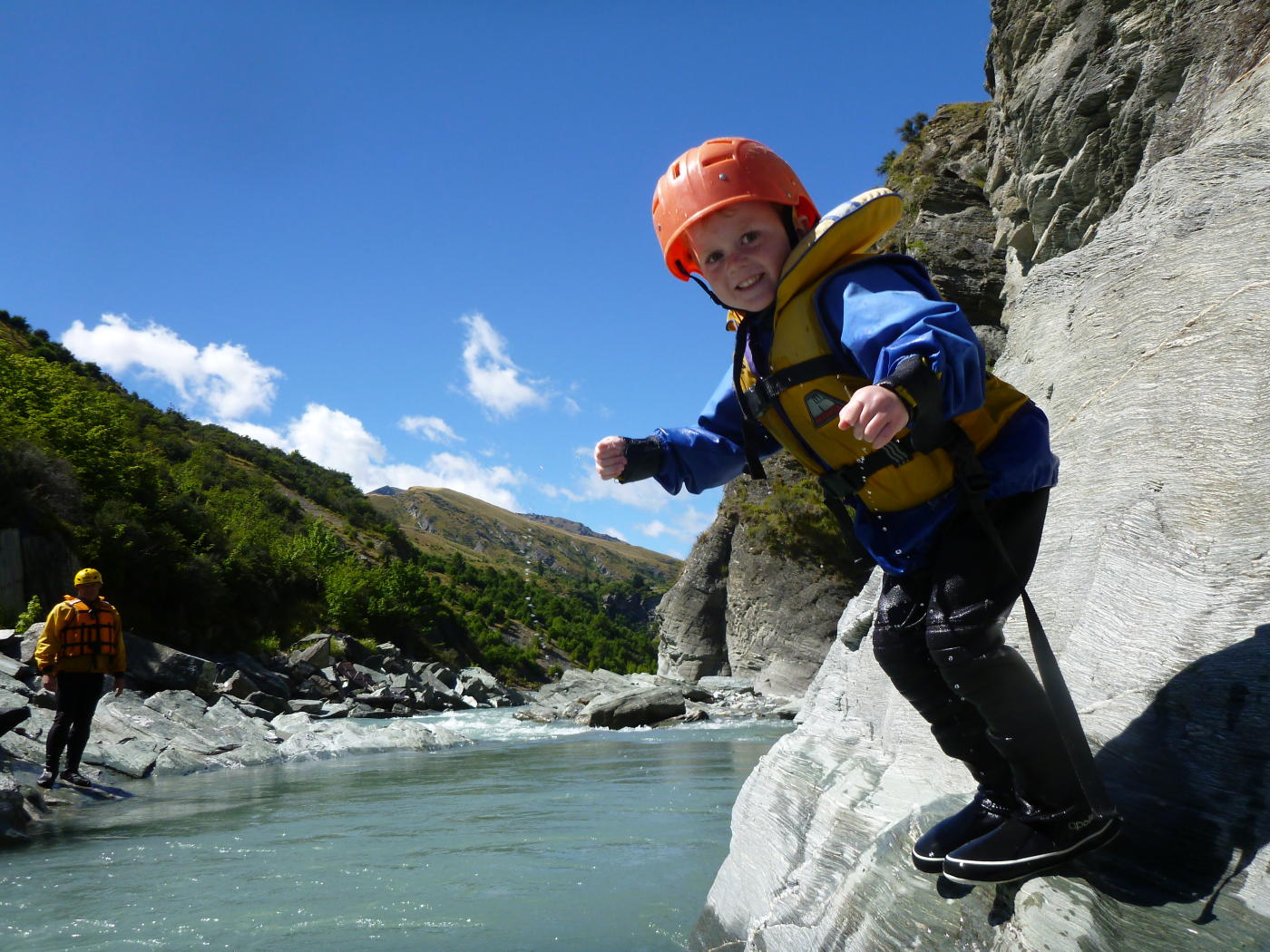 Rafting fun with Family Adventures
Minimum age 3 or 4
Go rafting down a gentle stretch of the Shotover with Family Adventures, this is an outstanding and memorable trip! Take a jet boat ride down our wild rivers (most jetboat companies cater to young ones but check criteria directly with the operator).  Jump in an Off Road Expeditions 4x4 Buggy or go on a parasailing adventure and glide above Queenstown.
Minimum age 5 or 6
Sightsee on horseback, explore the Dart River with a jet boat and funyak adventure, ride the Skyline Luge, zipline through the trees on a flying fox with Ziptrek Ecotours or take a high speed shark ride with Hydro Attack through the depths of Lake Wakatipu. Or for the brave little adrenaline seekers, you can even skydive as young as six!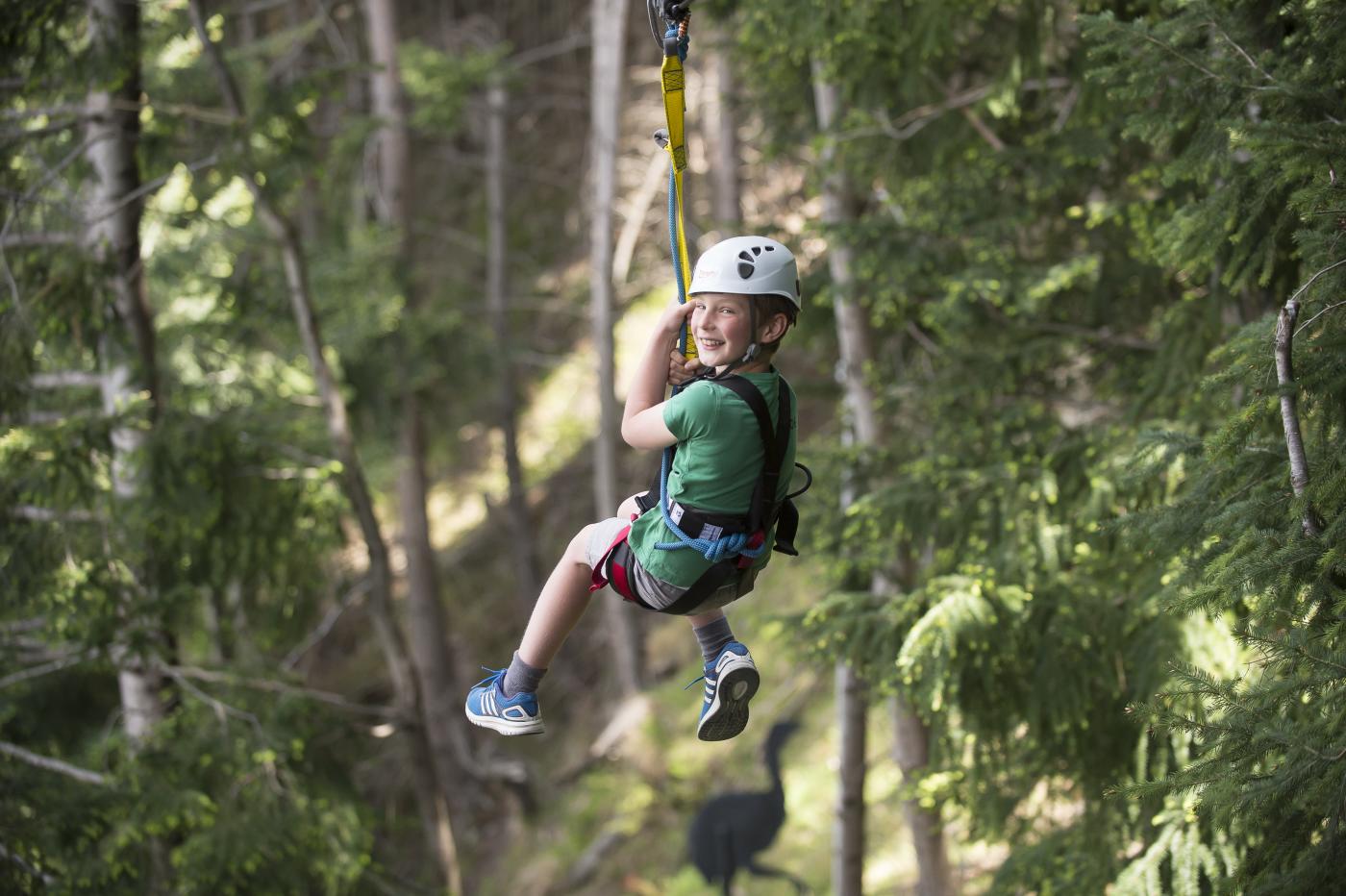 ZipTrek Eco Tours, Moa tour
Minimum age 7 or 8
Minimum age 9 or 10
To see what adventure fun you and your child can enjoy, we recommend double checking the minimum age and criteria for all activities before you book. There is so much fun to be had in Queenstown!
For more information on planning your fun family holiday, visit Kidz Go Queenstown, your local dedicated family travel guide. See you in Queenstown this summer and don't forget to stay sun smart!