Queenstown's 45° south latitude means that in summer, dawn is as early as 5am, while dusk settles around 10pm. Our long summer days are an invitation to slow down and spend longer exploring the spectacular people and places of the Whakatipu Basin.
1. Eat al fresco to soak up summer views
Ease yourself into Queenstown's summer scene with a meal at our al fresco eateries. Here's a line up of Queenstown outdoor dining favourites big on local produce and summer vibes.
odd saint's sunny courtyard and relaxed bistro setting makes it an outdoor dining gem. They serve up global flavours with plenty of tasty veggie options. Down on the lakefront, the Bathhouse Café & Restaurant, a historic bathhouse built in 1911 to celebrate King Edward's coronation, has a deck overlooking the lake and tables on the beach.
For more of a chilled dinner vibe, opt for fish and chips or a burger on the lakeshore. Line up with the locals at Erik's Fish & Chips or grab a mouthwatering burger from Devil Burger and head down to the beach.
Local hangout, Hustl Café in Frankton has generous outdoor seating for sunny days, along with a handy mug library for takeaway coffees. The Wakatipu Grill at the Hilton in Kawarau Village has a terrace and circular seating surrounding an outdoor fireplace overlooking the lake, perfectly paired with a local Pinot Noir. 
Further afield, at the Kinloch Wilderness Retreat in Glenorchy, you can choose from tables on a covered veranda or seats in the garden and order from a menu of hearty garden to plate meals.
In the Gibbston wine region, you can enjoy the Gibbston Valley Winery Restaurant's seasonal menu of locally sourced produce in their garden courtyard under shady trees.
If you're in the mood for an al fresco sundowner, head to Canyon Brewing in Arthur's Point has to watch the sun set behind the mountains from their spectacular deck overlooking the Shotover River. Closer to town, Altitude Brewing are big supporters of the local community and brew tasty ale. Grab a beer and sit on their patio to soak up the last rays. Or take in the buzz at Atlas Beer Café while watching the light fade over the lake.
Long southern summer evenings are the perfect excuse to stay out well into the wee hours and Queenstown nightlife never disappoints. Head out for live music and dancing in one of many friendly pubs and bars, before rounding things off with a nightcap around the firepit at Sundeck.
Tomorrow, most likely, will be another long, sunny day…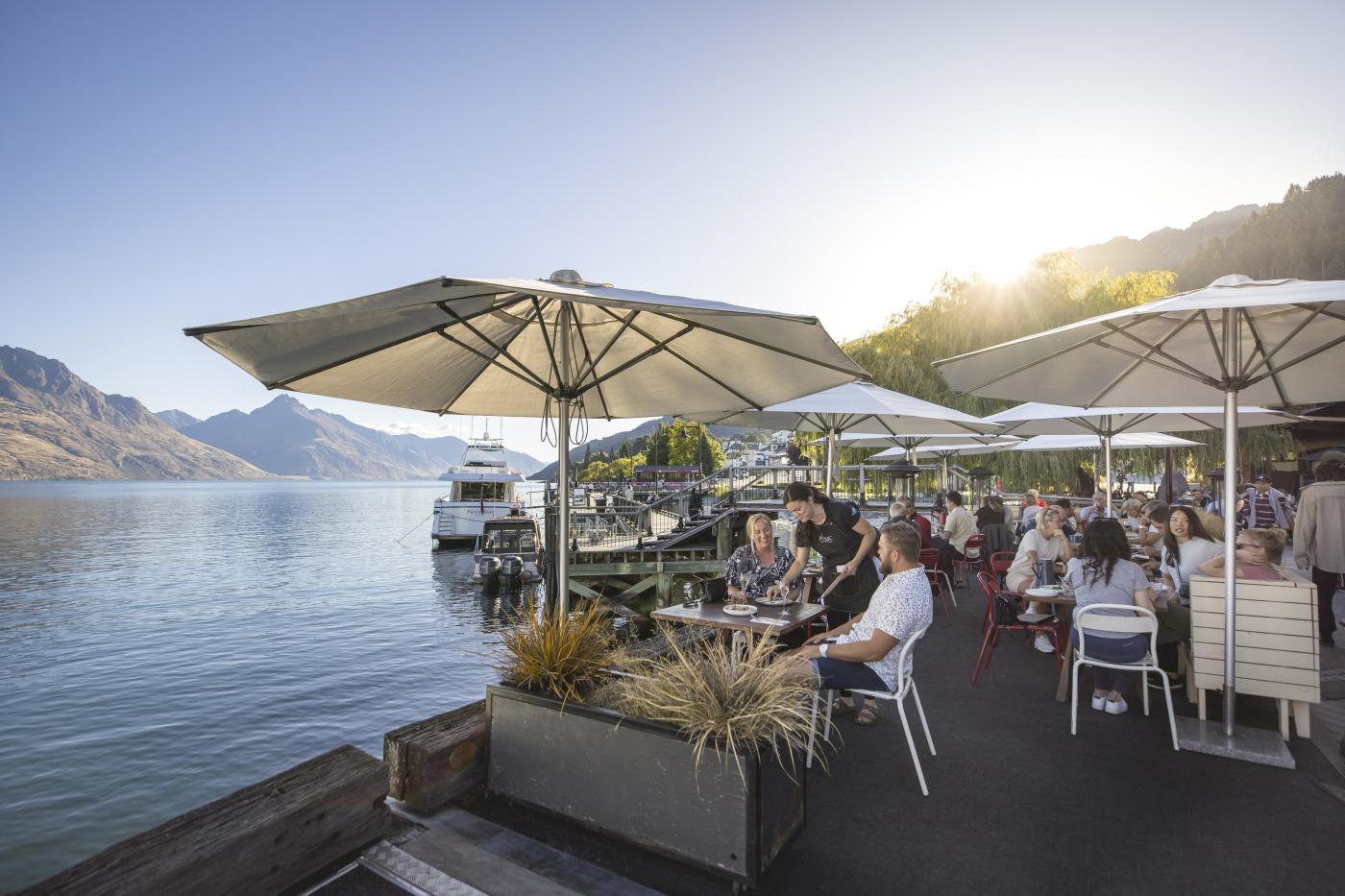 Al Fresco dining at Public Kitchen and Bar
2. Tour our beautiful network of cycle trails
Queenstown is at the heart of an extensive network of scenic cycle paths. The jewel in the crown is the Queenstown Trail, six trails that connect 130kms of off-road trails around the region. Cruise along beside Lake Whakatipu, work up an appetite on your climb to Arrowtown, or wind your way through vineyards into Gibbston.
An e-bike adventure is the easy way to explore Queenstown on a bike. Explore at your own pace, book a guided bike tour or arrange for a bike shuttle to pick you up at the end of your ride (ideal for touring the Gibbston wineries).
The Queenstown Trails' next challenge is to build a network of commuter trails, as well as growing the off-road trails throughout the Whakatipu Basin. As Queenstown becomes a carbon zero visitor economy by 2030, the Trust imagines a future where no one has to drive to work or play. If you'd like to play a part, you can donate, become a trail partner, or volunteer.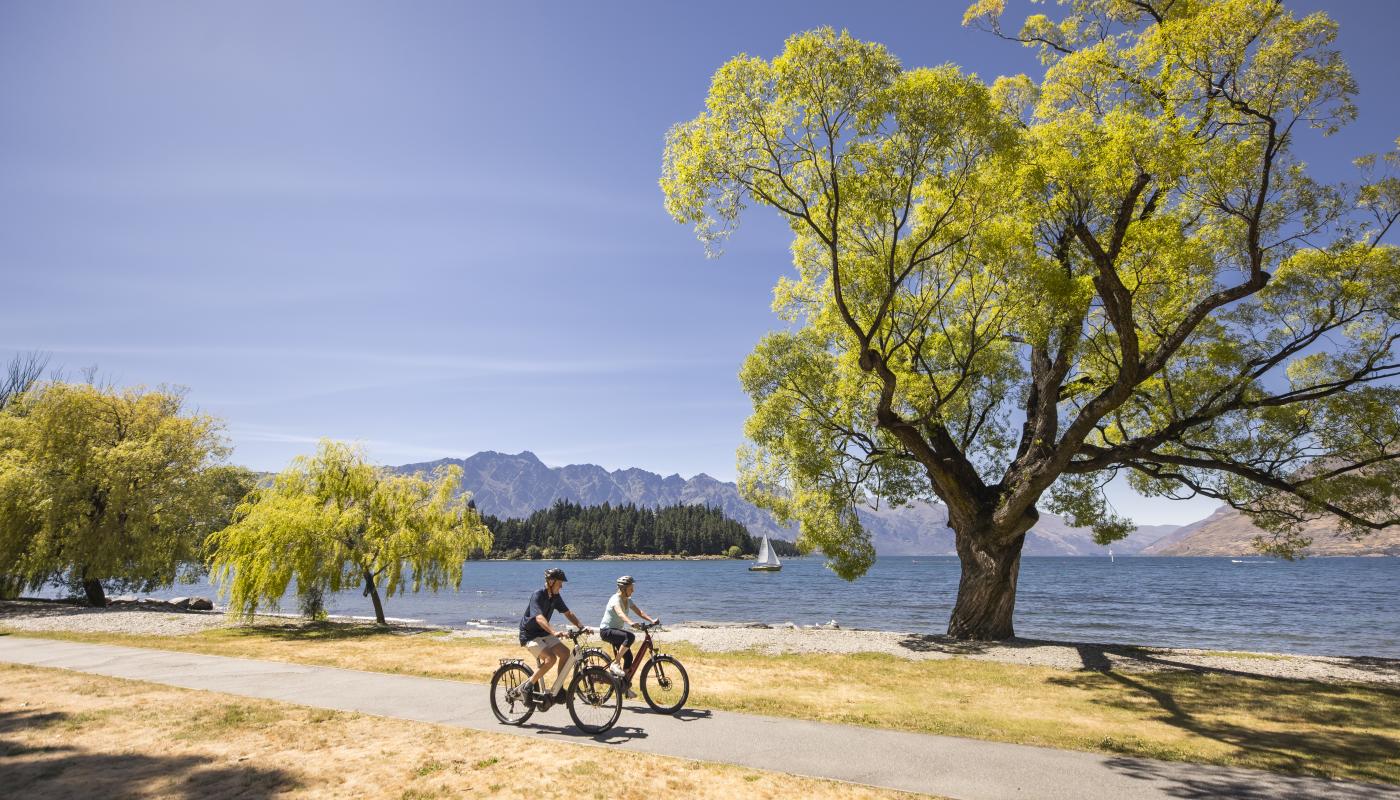 Biking along Queenstown waterfront
3. Enjoy a bird's eye view 
Bob's Peak looms 500 metres above Queenstown, making it the perfect vantage point for a bird's eye view over Queenstown and Lake Whakatipu. Ride the Skyline Gondola up to soak up the spectacular panoramas. The staggering lake and mountain views are just the first course in a feast of adventure that includes Ziptrek Ecotours, Skyline Luge, Queenstown Bike Park, and tandem paragliding flights through beautiful blue skies.
20 minutes from central Queenstown, Coronet Peak opens for summer sightseeing from early December through until April. Ride the Peak Gondola to the top of the mountain for vast panoramic vistas. Hike the trails, bring your mountain bike and ride the 1,200 metre descent to the valley floor, or play a round at New Zealand's highest disc golf course.
Lake Alta is a glacial lake framed by the peaks of the Remarkables, 1,800 metres above sea level. From the Remarkables ski field buildings, follow the road to the top of the Alta Chairlift, where cairns mark your way to the lake for stunning views of the surrounding peaks. On a sunny day take a towel and brave the icy turquoise waters for an invigorating dip.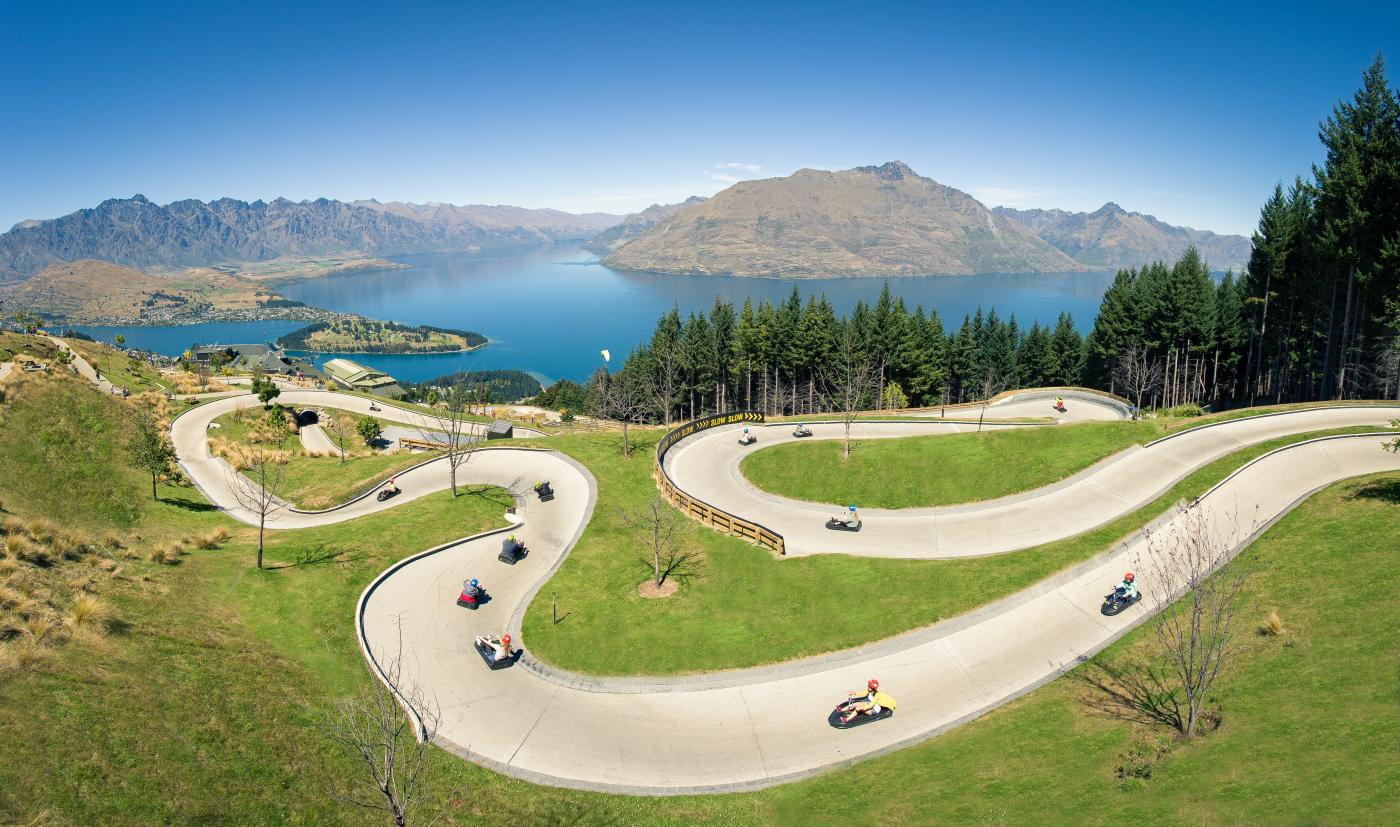 The Skyline Luge
4. Pack a picnic and take a hike
The best way to experience our breath-taking landscape is to strap on your boots, pack a tasty picnic full of delicious local goodies and head for the hills to breathe in that pure mountain air.
Our favourite local goodies to take on a hike include a stop by Frankton for a pesto or Marmite cheese scroll from Ma Boulangerie and the indulgent Millionaire's shortbread from Baker's Lane. Fuel up for a hike in Arrowtown with local charcuterie, fresh fruit and vegetables from Royalburn Farm Shop, handcrafted Patagonia chocolates, and the ever iconic Remarkables Sweet Shop for a paper bag of nostalgic sugar rush. Further afield, the pies at Mrs Woolly's General Store in Glenorchy get regular rave reviews. Don't forget your reusable cup for your coffee or smoothie to go.
Queenstown's trails range from a mellow lakeside stroll to a strenuous climb up towering Ben Lomond. Whether you're introducing your kids to hiking or looking for a mighty peak to conquer, Queenstown has accessible trails for all ages and abilities.
If you have only a few hours, choose a spectacular short walk or plan a longer adventure with a day hike. Many incredible multi-day wilderness hiking adventures can also be accessed from Queenstown, including three Great Walks. Guided hike options, track transport and car relocation services are all available.
Check out the Adventure Smart website before you go for tips on hiking safely in our changeable alpine conditions.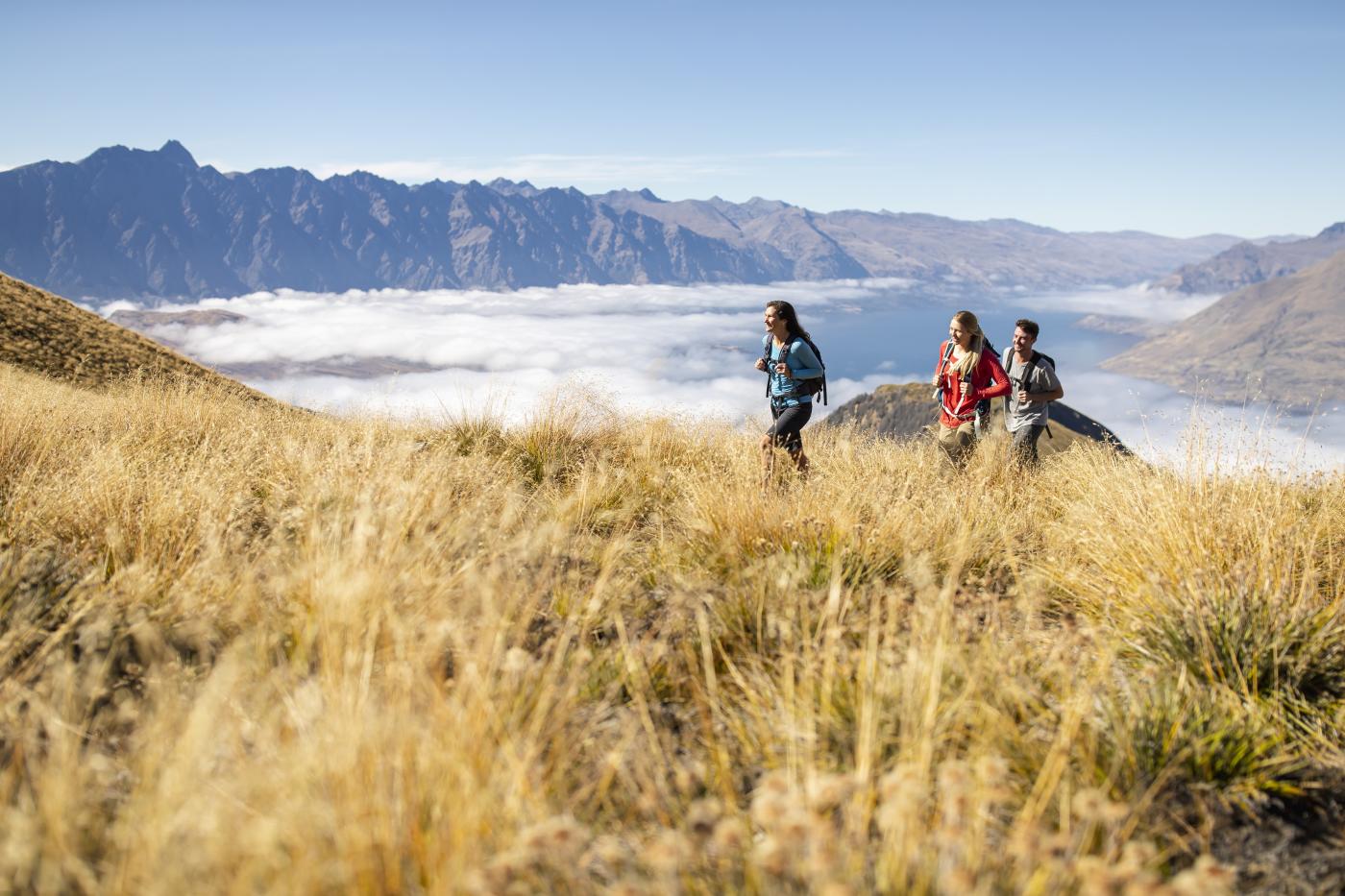 Hiking Ben Lomond
5. Play the same greens as the golfing greats
Queenstown is home to the New Zealand Golf Open, held in late February 2024, and four of New Zealand's renowned championship courses at Jack's Point, The Hills and Millbrook Resort. These golfing gems featuring on the bucket lists of keen golfers around the world, combine superb course design with the Southern Alps' stunning natural landscapes. They truly are a must-play experience.
As well as the big four, you can tee off at delightful local club courses in Arrowtown and Kingston. With six excellent Queenstown golf courses within a 20-minute drive of the town centre, whether you're a casual player or a scratch golfer, there's a game for you.
One of the other glorious things about golf in Queenstown is just how much some of the courses are doing to give back to place and people. Since 2019, Millbrook have been planting natives, caring for wetlands, as well as supporting local events and community initiatives. Meanwhile The Hills are working hard on better greens maintenance, and trapping pests, as well as hosting community open days and supporting the Glenorchy Golf Club.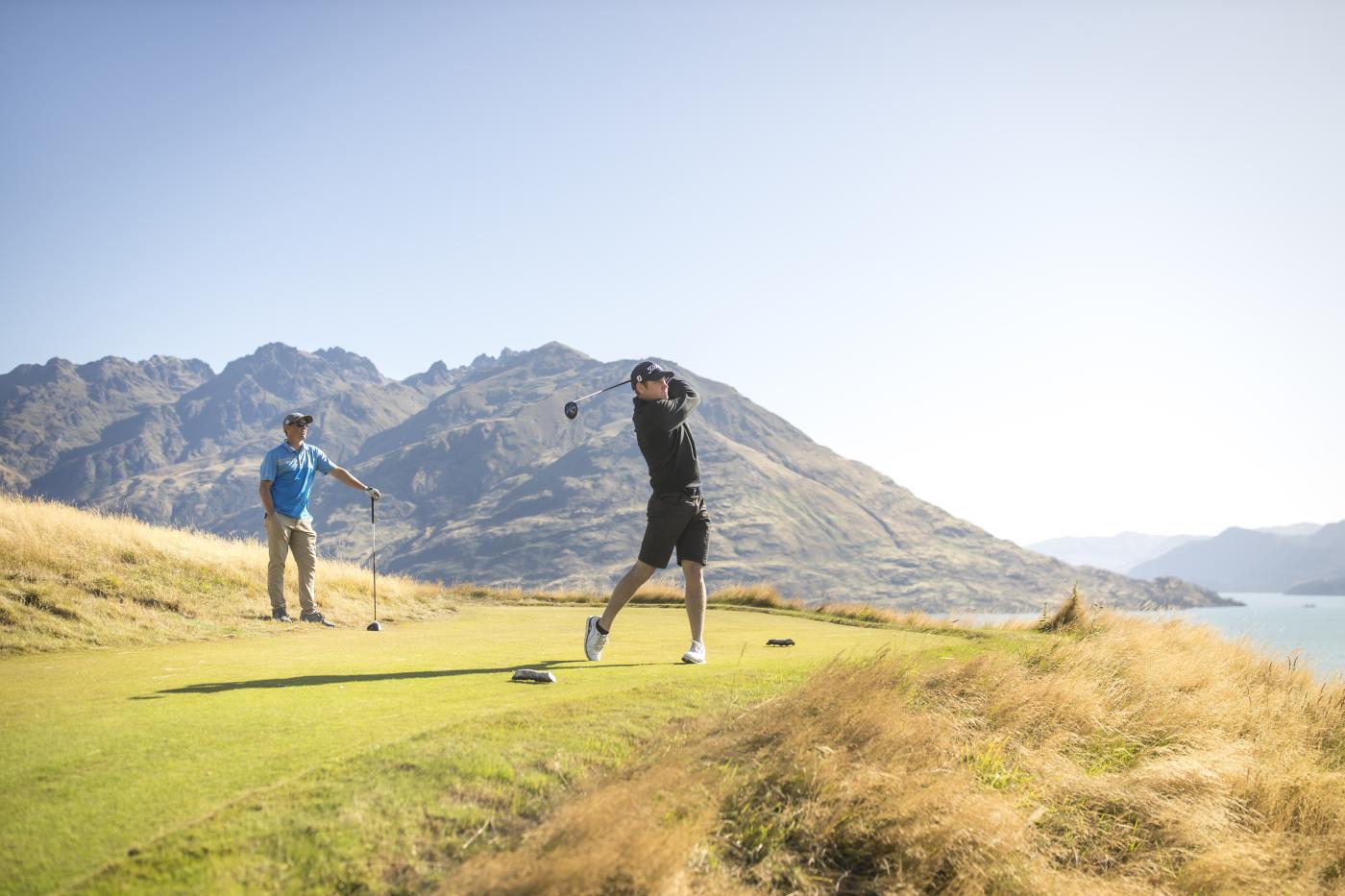 Jacks Point Golf Course
6. Explore our wild rivers
If you're feeling truly intrepid, you can leap off cliffs and immerse yourself in grade 3 rapids on a bodyboard while riverboarding. If you prefer a little more rubber between you and your raging alpine torrent, get up close and personal with two of New Zealand's most famous rivers on a whitewater rafting trip. You'll float through lofty rocky canyons and glorious mountain scenery, but there's a chance you'll be too busy screaming with delight to notice. Conquer the Shotover's grade 3–5 drops and shoots in historic Skippers Canyon, or cruise the more playful, grade 2–3 Kawarau finishing with the Dog Leg, one of the longest rapids in the country.
Like your river adventures a little more chilled? No problem. Paddle the Dart River on an inflatable kayak. Take a jet boat up the river into the Te Wāhipounamu World Heritage Area, before paddling downstream in a far more leisurely fashion, meandering up side streams and picturesque gorges, and drifting down long limpid stretches under beech trees as you go.
Queenstown is also home to the world's first commercial jet boat tour. In 1959, brothers Alan and Harold Melhop set up Kawarau Jet Services (now known as KJet) introducing their passengers to one big, wild ride. Today our mighty mountain rivers are the setting for the new generation of innovation in jet boating, as Ngāi Tahu Tourism test an electric jet boat prototype to reduce Shotover Jet's carbon footprint, as part of their goal of being carbon zero by 2050.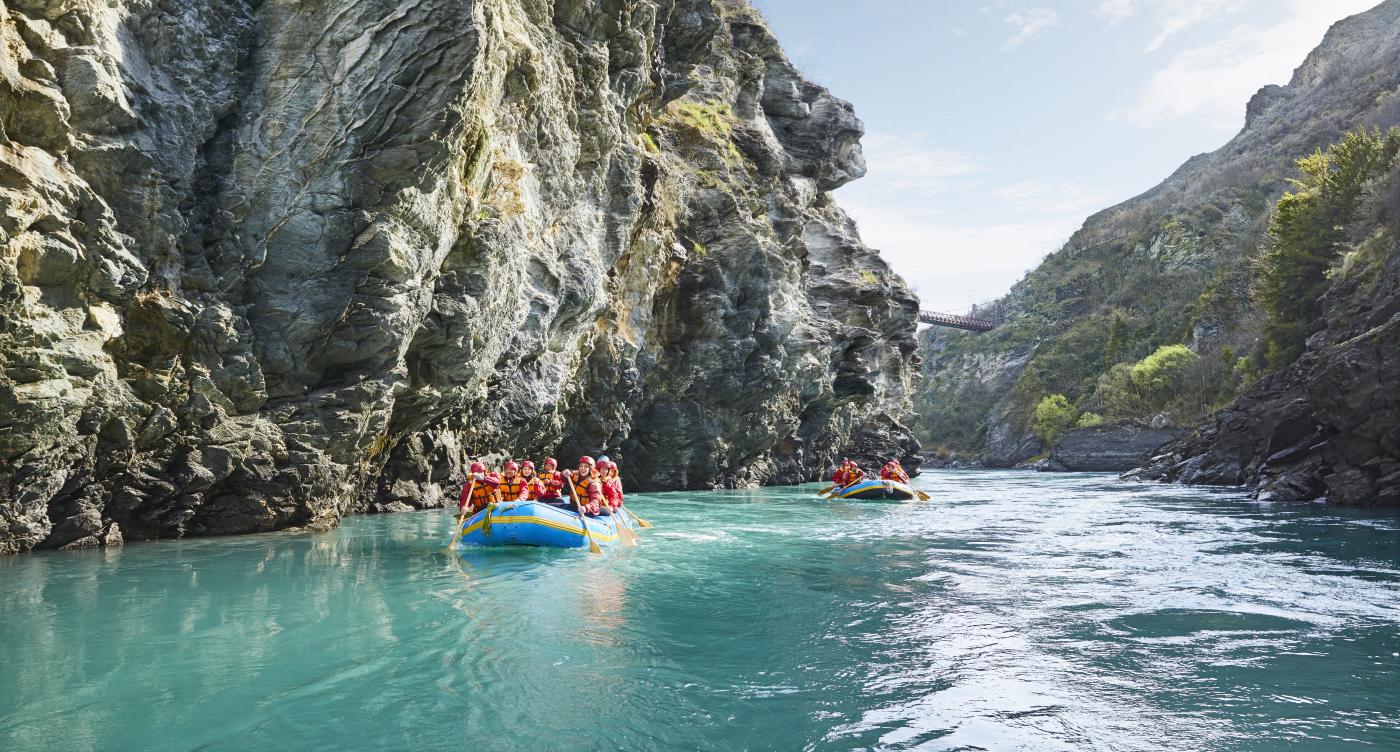 Whitewater rafting with RealNZ
7. Head out on a high-country horse trek
The region's high-country farms, Lord of the Rings locations, and World Heritage river valleys are an unforgettable backdrop for a Queenstown horse trekking adventure.
High Country Horses was started by the Scott family in 1987 and bought by Deana Insley in 2006. Deana was brought up with horses and headed to Glenorchy every holiday. It was her favourite place in the world and when she moved here as an adult she built a network of rides in Glenorchy backcountry, meandering across high country stations, with overnight stops in historic mustering huts in the Rees and Dart Valleys.
Explore the landscape of the Glenorchy basin on horseback, riding through the tranquil hush of ancient beech forests and along tumbling glacial rivers. Imagine what it may have been like to be a high-country musterer riding through remote back country, before heading back for an indulgent homestead high tea. Experienced local guides share stories of the region with you, while you explore the landscape on horseback. With horses for all levels and expert advice for beginner riders, horse trekking is fun for everyone.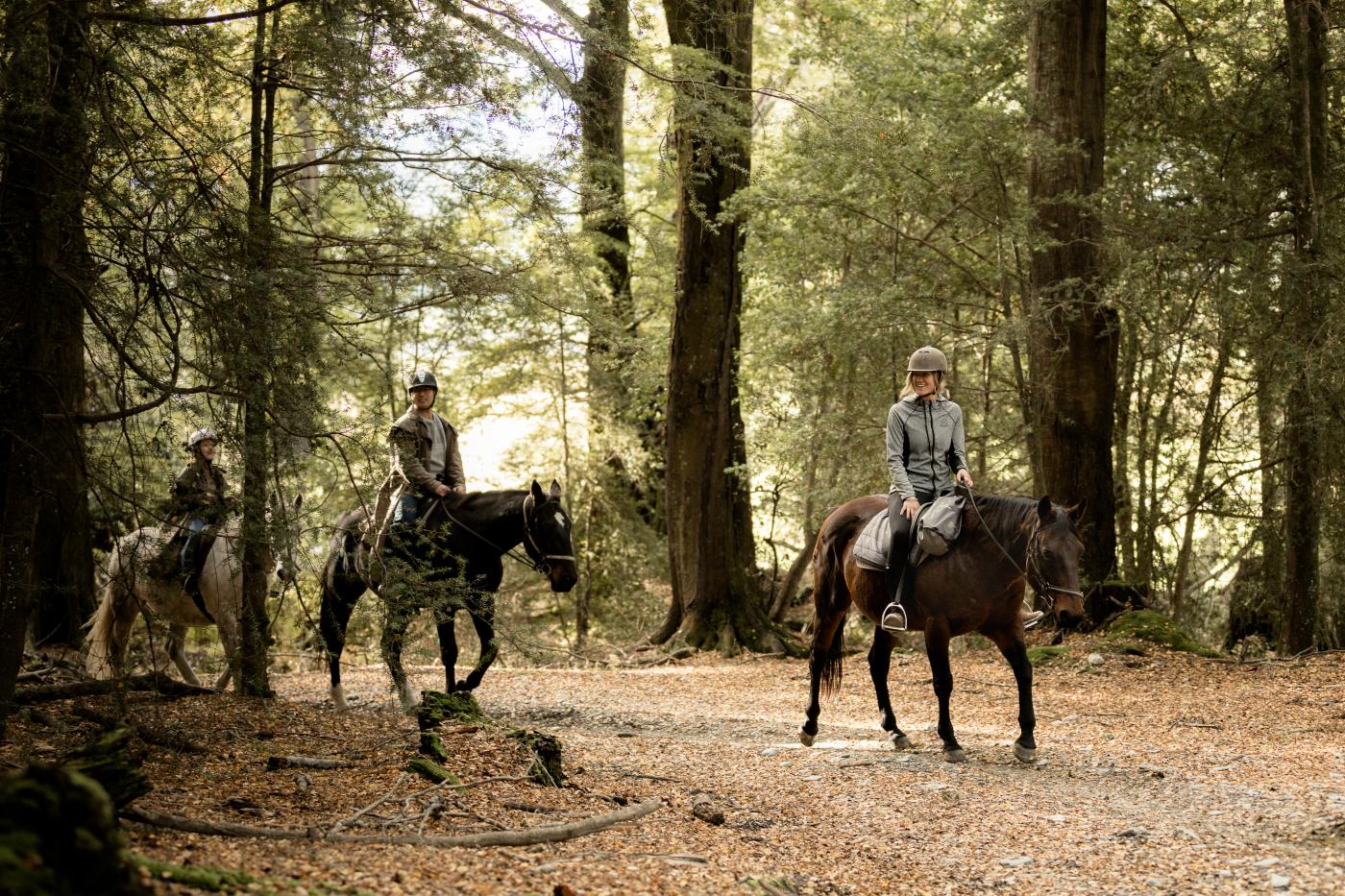 High Country Horses, Glenorchy
8. Hit up Queenstown's epic mountain bike trails
You can't come to one of the world's best mountain biking destinations without jumping on a bike while you're here.Whether you're a beginner, keen to progress your skills, a dedicated shredder, or just after a mellow ride with a view, there's a trail for you.
You're spoilt for choice for bike parks, with three chairlift accessible parks, including the Queenstown Bike Park with over 30 trails in the heart of town, Coronet Peak and Cardrona. If you love getting air, Gorge Road Jump Park is a legendary dirt jump playground and Fernhill Bike Park is home to the famous Dream Track and its counterpart for beginners, Mini Dream.
Lend a hand and support the locals who build the trails, every Thursday evening. Queenstown Mountain Bike Club members and biking enthusiasts meet up to work on the trails and everyone is welcome. You might be breaking ground on a new trail or helping to maintain an old favourite, and hard work with shovels is followed by a cold beer. Follow Queenstown Mountain Bike Club on Facebook to find out more.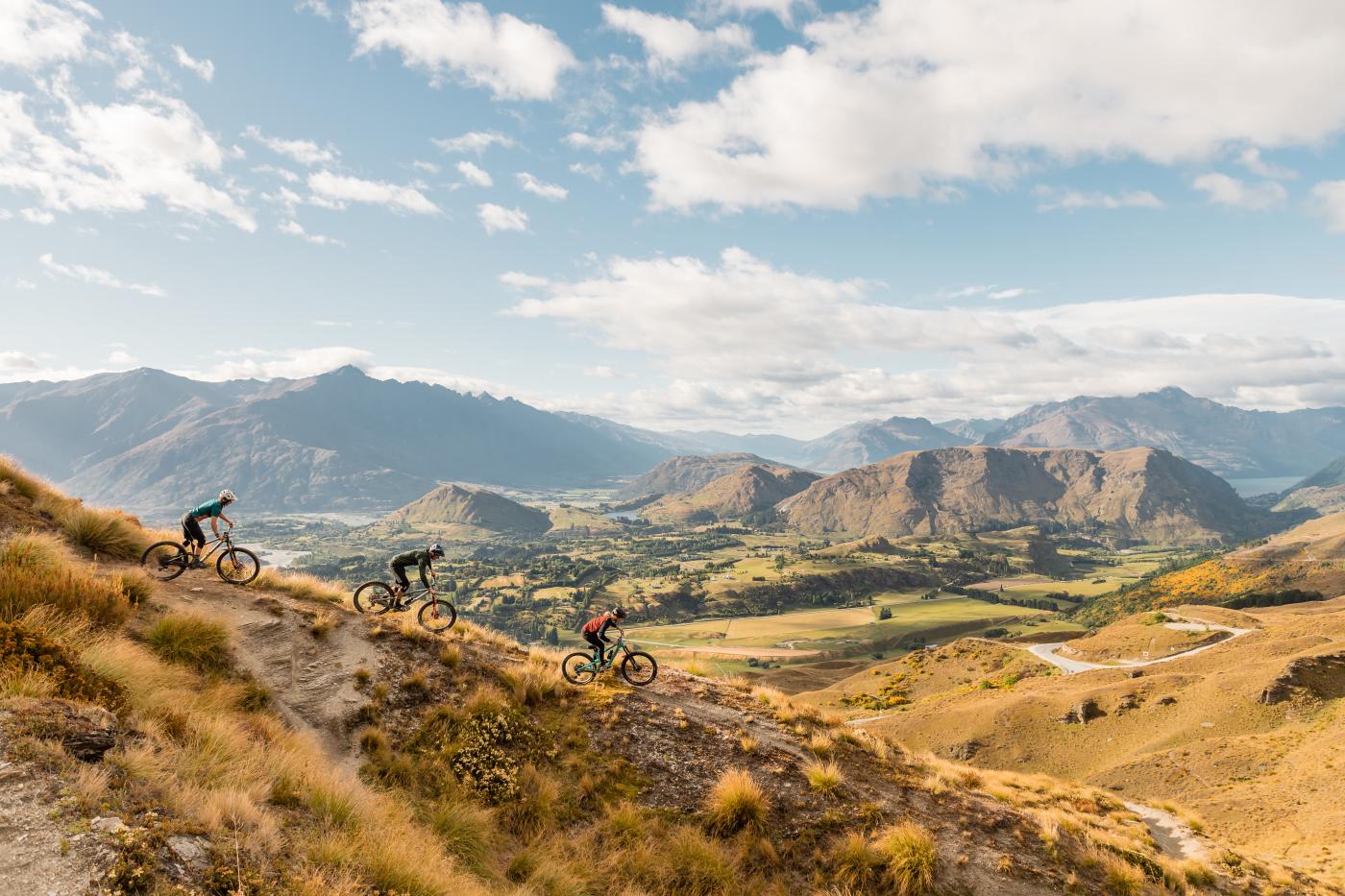 Pack, Sack and Track - Coronet Peak
9. Try the new generation of adrenaline adventures
There's a reason why Queenstown is known as the adventure capital of the world. There's something in the air here that inspires people to go big and push their boundaries. As a result, Queenstown is the birthplace of commercial bungy, as well as home to the world's highest cliff jump, the world's steepest zipline, the world's biggest human catapult, and one of the world's largest swings. There's no better place to take the plunge out of your comfort zone.
Today our adventure pioneers are pushing the boundaries in a new way, and this isn't going bigger, harder, or faster. It's defined by emitting less carbon and giving back more to people and place. Queenstown is on a mission to become a carbon zero visitor economy, and we're seeing a new wave of adventure firsts.
Ziptrek Ecotours are leading the charge as Queenstown's first carbon neutral tour operator.  AJ Hackett has committed to being carbon neutral by 2030 and are doubling down on social responsibility. Canyon Swing is serious about accessibility, while NZONE Skydive are getting into native planting. Experience the new generation of adrenaline activities immersing you in Queenstown's incredible landscapes and connecting you with intrepid Queenstown locals, all while sating your craving for adventure.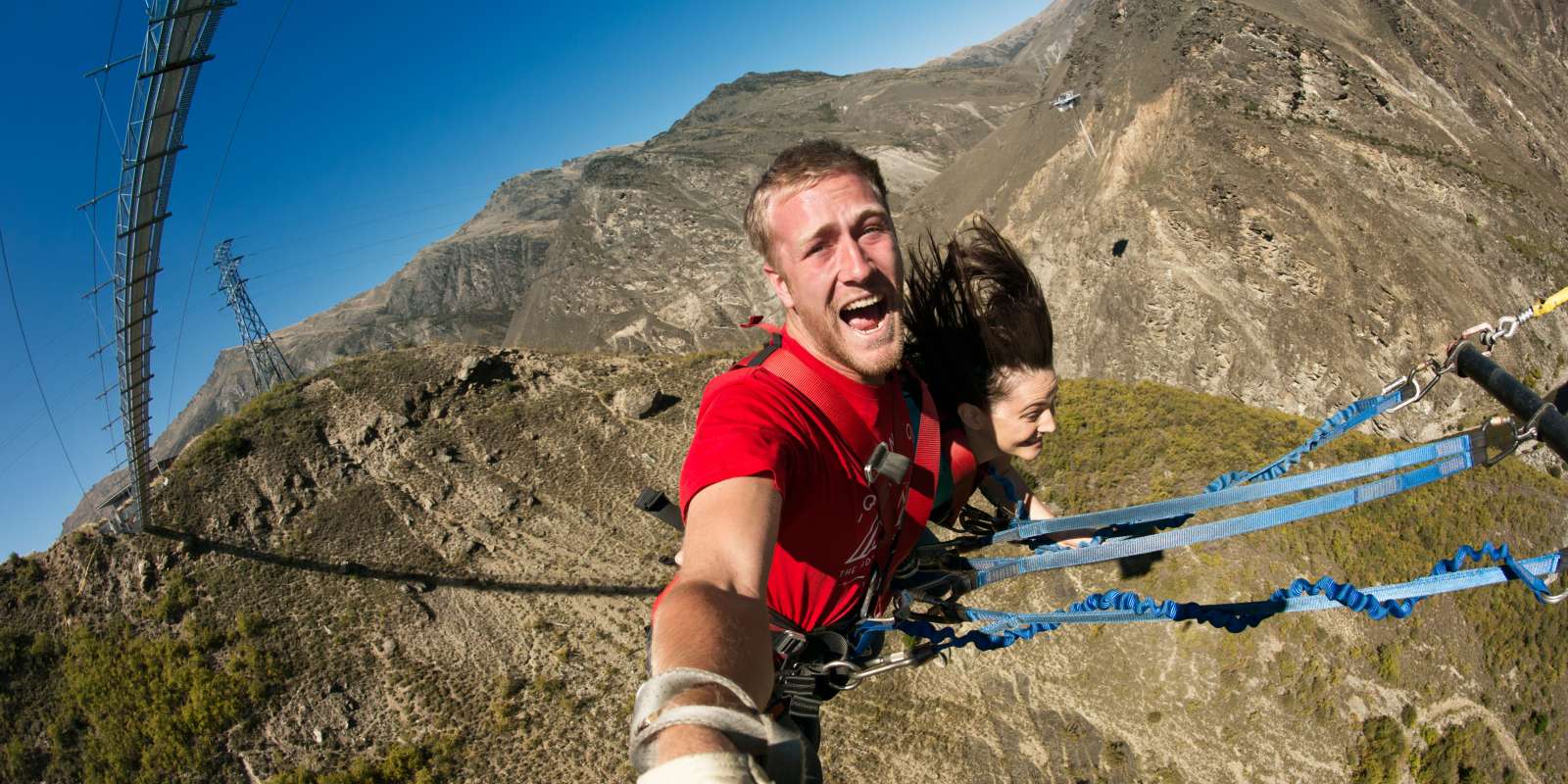 AJ Hackett Bungy
10. Queenstown summer events
From music, bike and book festivals to local markets and tree planting, Queenstown's summer calendar is packed full of events to celebrate the best of our place. Check out our events guide for things to do in Queenstown in the summer months from December through February.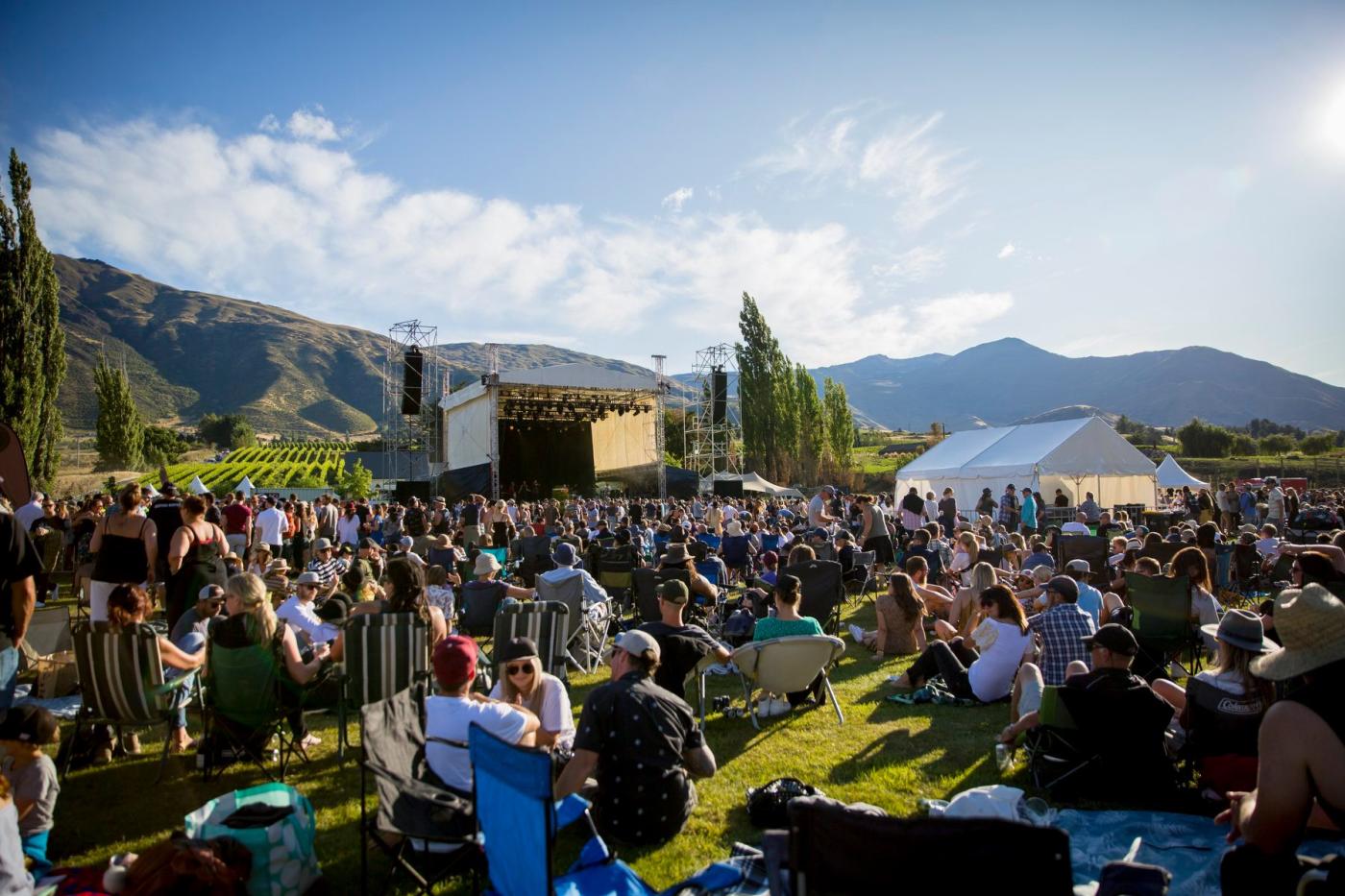 Gibbston Valley Summer Concert. Credit Still Vision
Plan your Queenstown local experience
Stay a bit longer to experience all Queenstown has to offer this summer – find ways to immerse yourself in Queenstown's natural beauty and connect with the locals in our 6-day travel itinerary.      
As you explore Queenstown, share your experiences with us on Instagram by tagging #QueenstownLive.