Take your time and travel a little slower in Queenstown this spring. The days are warmer, sunnier, and longer, meaning there's plenty of time to do your favourite activities at your own pace.
Immerse yourself in our surrounds, meet our people, taste our food, uncover hidden gems, and let your curiosity guide you around our special place. Choose something you love to do and spend a week here giving it a go while exploring like a local and getting off the beaten track.
We've served up a menu of seasonal activity suggestions so you can pick and choose things that speak to your soul to craft your own perfect spring itinerary themed around hiking, biking, golfing, paddling or simply savouring our magnificent landscapes.
For hikers: reconnect with nature
The best way to experience any destination is by exploring on foot. You see more, you feel more and you smell more (we're talking about spring blossom, not sweaty hiking socks). The Queenstown landscape hits different when you've climbed to one of our many vantage points under your own steam.
If you need equipment, you'll find it easy to hire from Small Planet Outdoors and Outside Sports. Both stores are staffed by friendly, knowledgeable locals who'll sort you out with the right kit and give you their insider recommendations for places to explore.
From short strolls to Great Walks
Spend your first few days taking in views of snowcapped mountains and the green valley floor on one of Queenstown's many short walks. Some are steep scrambles, others relaxed ambles along the lake shore. In spring, the landscape bursts with blooms, from cherry trees in the Queenstown Gardens to the kōwhai trees around Lake Hayes, planted as part of conservation initiative Project Gold
In spring, depending on conditions, longer hiking trails in the region reopen and the Great Walks season starts in November. However, if you're planning to tackle the Routeburn, the Milford Track, or the Kepler this season, we recommend a guided walk, as the Department of Conservation's Great Walk spots are already all booked up.
Run Queenstown 
If you're a runner, a break in Queenstown will pop a new spring in your step. Join in on parkrun every Saturday at 8am during daylight savings for a fun 5km loop with friendly locals starting in the Queenstown Gardens. It's the ideal way to warm up for the Queenstown Marathon in November, one of the most scenic races in the world. 
Hike around Arrowtown
After you've spent a few days exploring Queenstown, the picturesque gold mining village of Arrowtown, is an absolute gem to explore on foot. There are hikes here for all ages and abilities. Here's a few suggestions to get you started.
If you enjoy art and walking, Arrowtown is your dream destination. Take a day to explore the artist studios and galleries in Arrowtown with everything from New Zealand's most celebrated contemporary artists to local landscapes, bronze statues and organic basketry.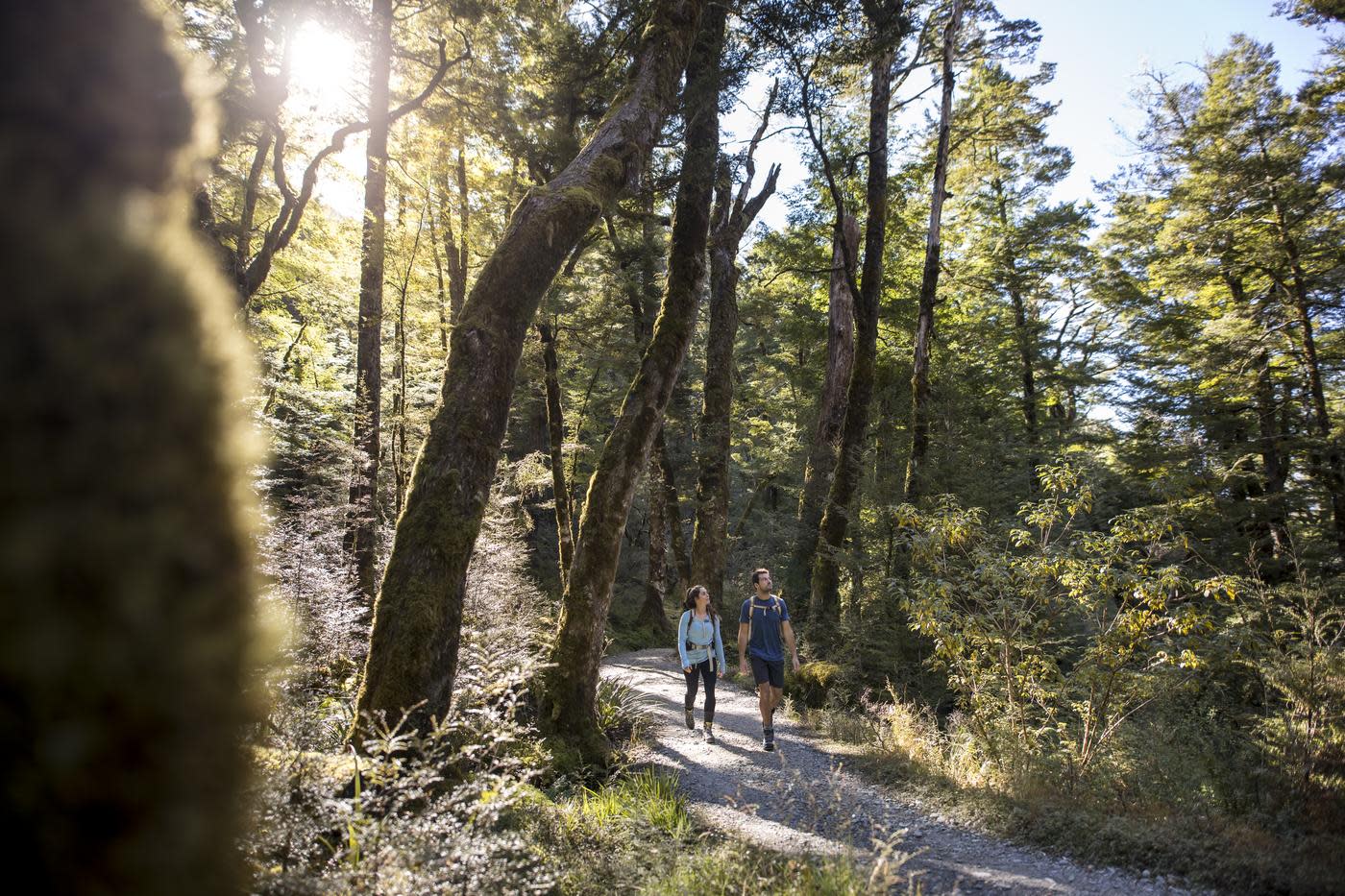 Routeburn Track
For bikers: ride with a view
The variety of Queenstown bike experiences from cruisy, wide lakeside trails to downhill single track, means there's a bike adventure for everyone. Bring your own bike, or pack light and hire one from one of the many reputable bike hire operators.
130km of spectacular cycle trails
Start your week biking around Queenstown by exploring the Queenstown Trail. 22 different trails link together to form 130kms of well-maintained off-road cycle trails. The trails run beside Lake Whakatipu, along rivers, over to Arrowtown, loop around Coronet Peak, and wind through vineyards. Discover historic suspension bridges, sculptures, and cafes, ride a small section, or tackle the whole trail over at least 3 days.
Part of the Queenstown Trail, the Gibbston River Trail follows the Kawarau River through the Valley of Vines, making a cycle tour of the wineries one of Queenstown's great spring activities. Take in dramatic vistas of the river gorge, celebrated architectural wineries, local cheese, al fresco eateries, and of course, delicious Central Otago wine. Head out under your own steam or join a guided tour. 
Bike tour with a local guide
Around the Basin have been offering bike hire and guided tours on the Queenstown Trail for over a decade. Its three co-owners are adventurers through and through. Steve Norton is a local kayak coach and multi-sport athlete, skier and runner Lisa Cooper was born and bred in Queenstown, and co-owner Hamish Fleming is a mountaineer and endurance athlete. You couldn't hope for a more intrepid bunch of guides.
Better By Bike is a family-owned business that's been operating out of Arrowtown for 10 years –they know the Queenstown Trail like their backyard. You can hire e-bikes, mountain bikes, and even an electric tandem and the friendly team will send you off with a wealth of local tips for where to ride and what to see.
Discover downhill thrills
Queenstown is one of the mountain bike destinations, not just in New Zealand, but for riders from around the world. The local mountain bike trails offer downhill, enduro, cross country and jump tracks. Whether you're here to go hard on world-famous trails where the pros come to train, or simply fancy a chill ride with epic scenery, there's a trail for you.
Queenstown Bike Park offers over 30 trails and 450 metres of vertical descent in the heart of town. Pedal up the access road to earn your turns or snag a Skyline Gondola pass and hitch your bike to a cabin to take a breather on the way up and soak up the views. The 7 Mile Scenic Reserve Bike Park is another gem built by the Queenstown Mountain Bike Club, the heroes behind the local trails. It has miles of fun, flowy trails with jumps, berms, log rides and banked corners for added spice.
When your legs are tired, head to one of Queenstown's many local craft breweries and craft beer bars for the lively après-bike scene. Local's favourites include Searchlight Brewery, Beech Tree, Smith's Craft Beer House, and Atlas Beer Café.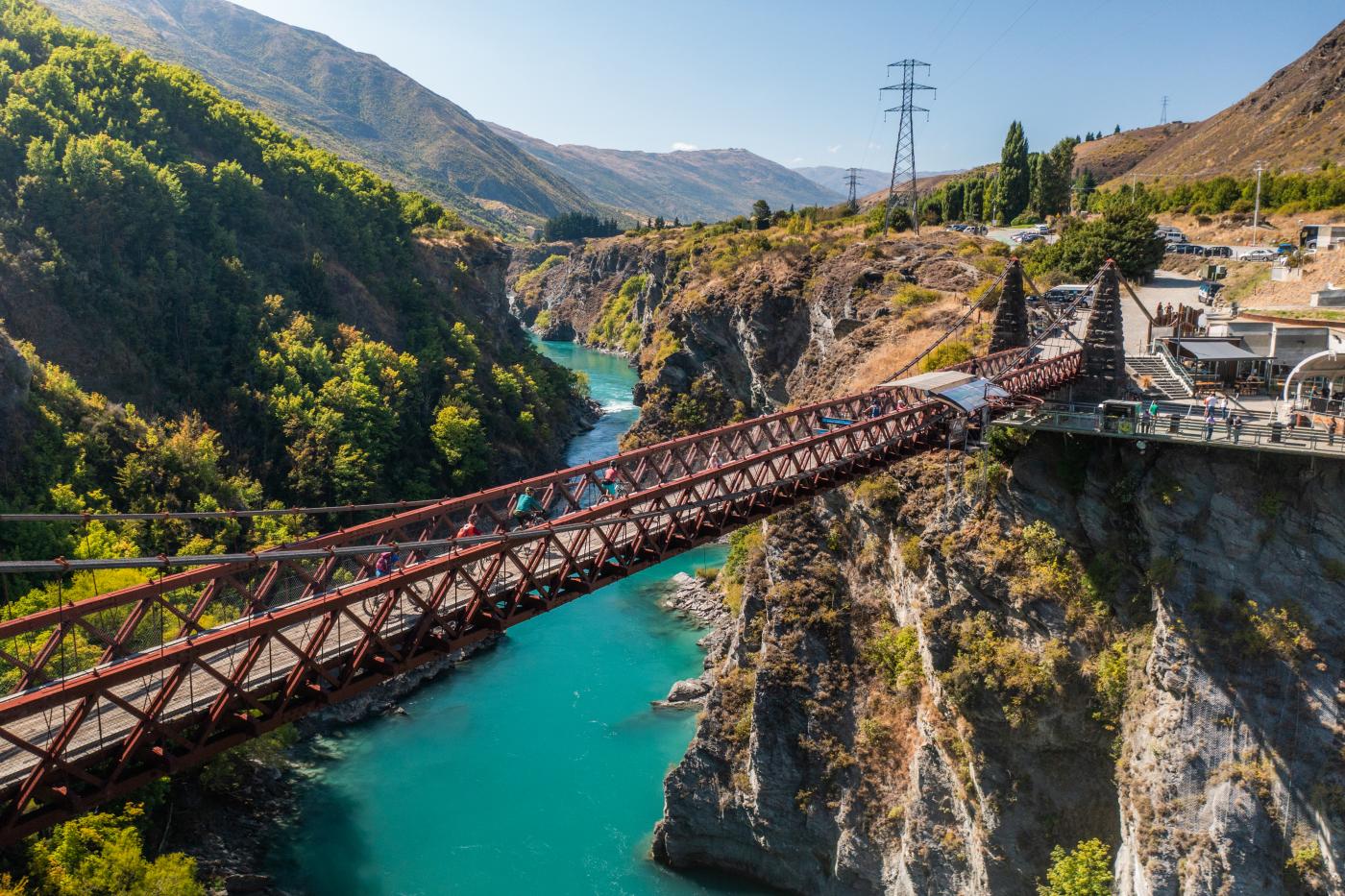 Biking along the Arrow Bridges Trail
For golfers: perfect your swing in New Zealand's premier golfing destination
If you love golf, spring's the perfect time to head to Queenstown. Longer days give you more time to play and explore the diversity of courses nestled among Queenstown's stunning alpine landscapes. Spend your week playing between Queenstown's four championship golf courses and four local club courses (all with equally million-dollar views).
Two top picks include Arrowtown Golf Club,18 holes of challenging fun in a spectacular mountainous backdrop with a friendly local welcome. Just down the road, Millbrook Resort is home to the New Zealand Open. Its two 18-hole champion golf courses are designed to make the most of the dramatic, rugged terrain. Breathtaking doesn't even really begin to cover it. Once you've given your clubs (and your legs) a good workout, you can treat yourself to a post-golf massage and a soak in the hot tub at Millbrook's indulgent spa. One of the many great things about Millbrook is their commitment to community and the environment.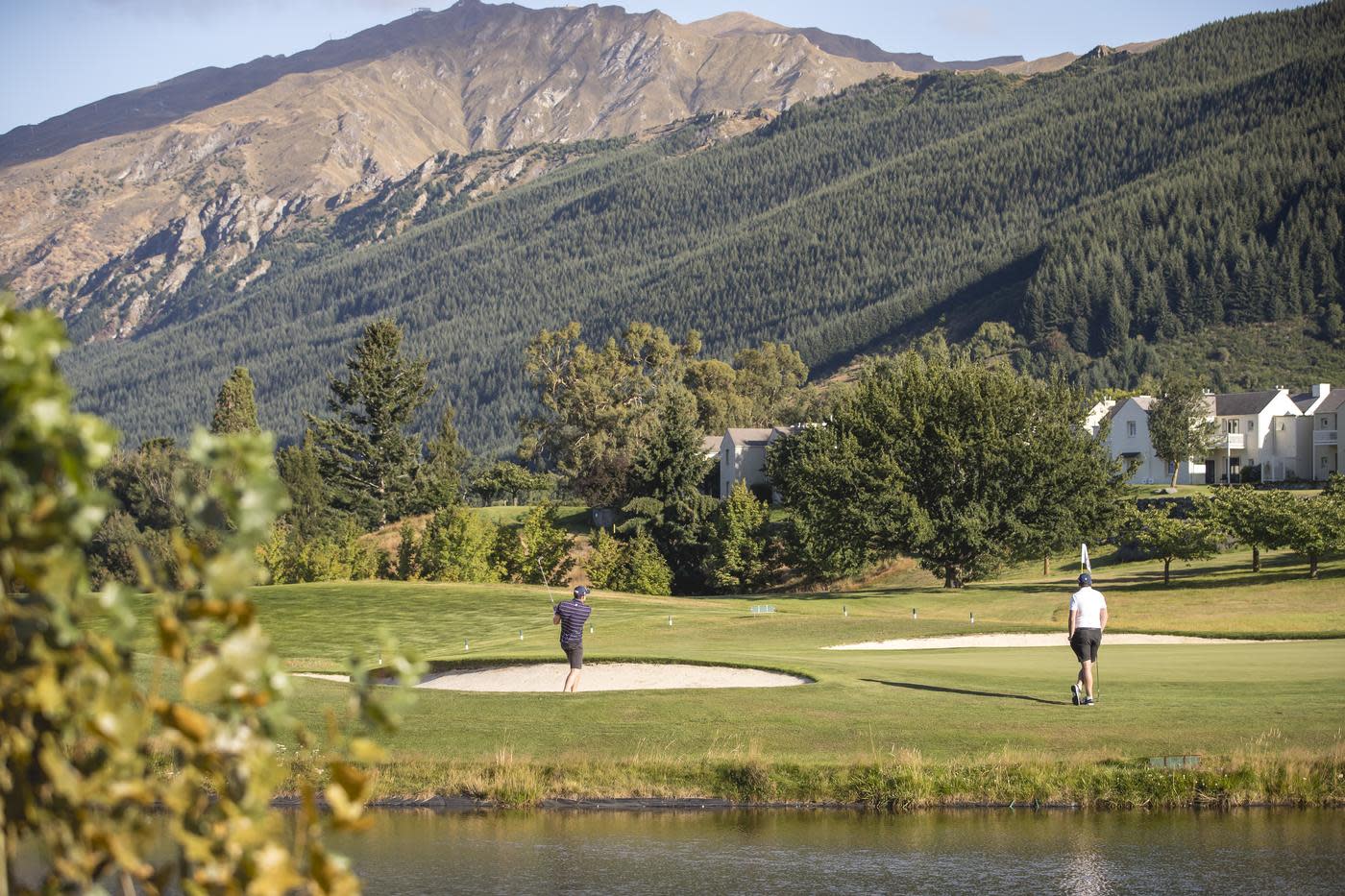 Friends playing golf at Millbrook Resort
For paddlers: see things differently from out on the water
While the lake will still be cold, the sun will probably be shining, and getting out on the water is glorious whatever the weather. For a relaxing paddle and a fresh perspective on Queenstown, head down to the main town beach and rent yourself a kayak, paddle board, or Aqua Bike from Paddle Queenstown.
For a Glenorchy adventure, Kayak Kinloch offer paddles with an experienced guide at the head of the lake. You can even stay at Kinloch Wilderness Retreat and book a sunrise or sunset lake experience.
Or take a trip on Funyaks to explore the Dart River on an inflatable kayak. The Dart River Adventures team will jet boat you up the river and into the Te Wāhipounamu Southwest UNESCO World Heritage Area before you paddle downstream.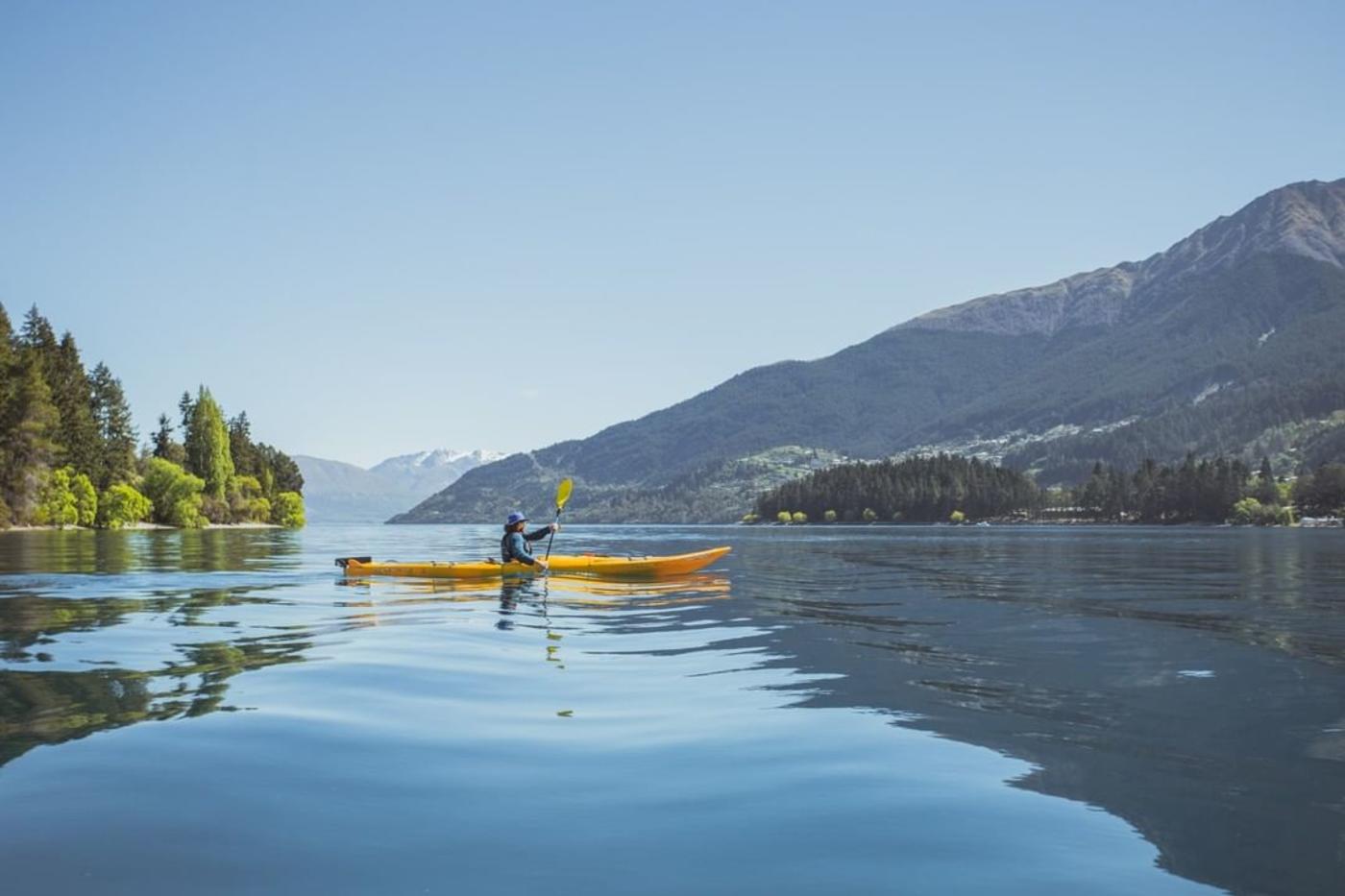 Kayaking on Lake Whakatipu
For sightseers: take a tour with a local
Exploring under your own steam is fun, but sightseeing with a local guide gives you a deeper, richer experience, visiting secret spots that only locals know, meeting people you'd never meet otherwise, and unlocking a treasure trove of stories.
Nomad Safaris started out twenty years ago offering Lord of The Rings Tours to film fans. That tour is still going strong, and they've expanded their offering to take in abandoned gold mining village Macetown, Skippers Canyon, and luxury Tesla tours. Founders Amanda and David are enthusiastic custodians of the beautiful landscape they share with visitors, giving back through predator trapping, weeding out wilding pines, and protecting native birds with the Routeburn Dart Wildlife Trust.
Run by photographers Simon and Emma, tour company AuthenticAs offers a deeply personal take on Queenstown and a set of exquisite photographs to cement your memories of your day. They do luxury 4WD tours to Glenorchy, Queenstown scenic highlights such as Coronet Peak, Skippers Saddle, Moke Lake, Lake Hayes, and Arrowtown, and our top pick for magic moments, their star-gazing tour.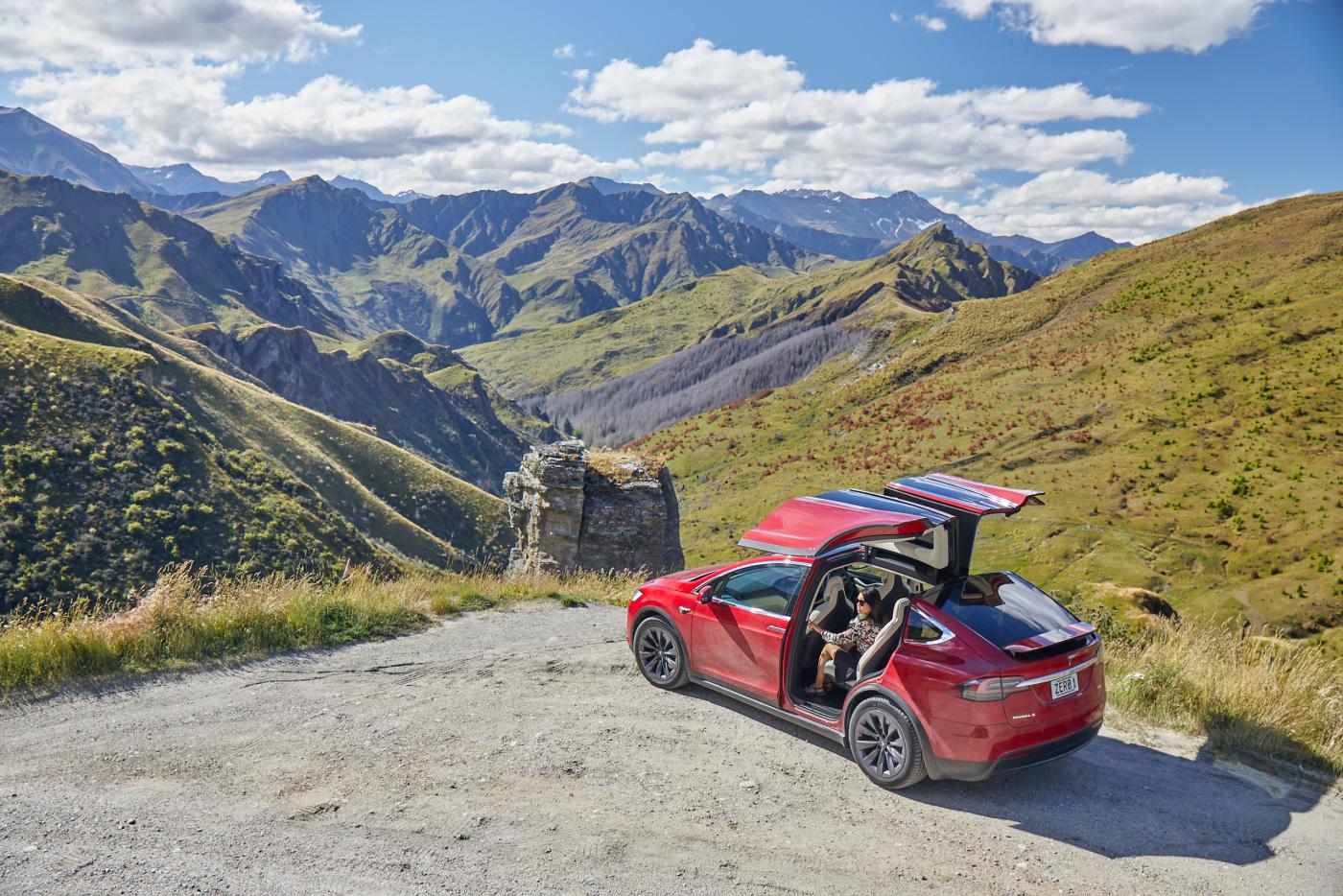 Nomad Safaris Skippers Road Tour
For everyone: stay longer, go deeper and explore further afield
We recommend staying for at least six days so you can really relax into the Queenstown vibe before visiting the surrounding regions of Glenorchy, Arrowtown, Gibbston, Kingston, and Fiordland. Be sure to book multiple nights in these regions to truly immerse yourself.
Day trips are great, but nothing beats waking up with a new view, so slow down and take time this spring to fully experience Queenstown your way.
Arrowtown
Streets lined with trees and charming cottages. Beautiful walks and bike rides everywhere you turn. Heritage buildings are around every corner. Did we mention the eateries? Arrowtown might just have more delicious dining options per capita than anywhere else on the planet. Don't miss a stay in this historic gold-mining village.
Arrowtown dining highlights include:
Stay overnight at: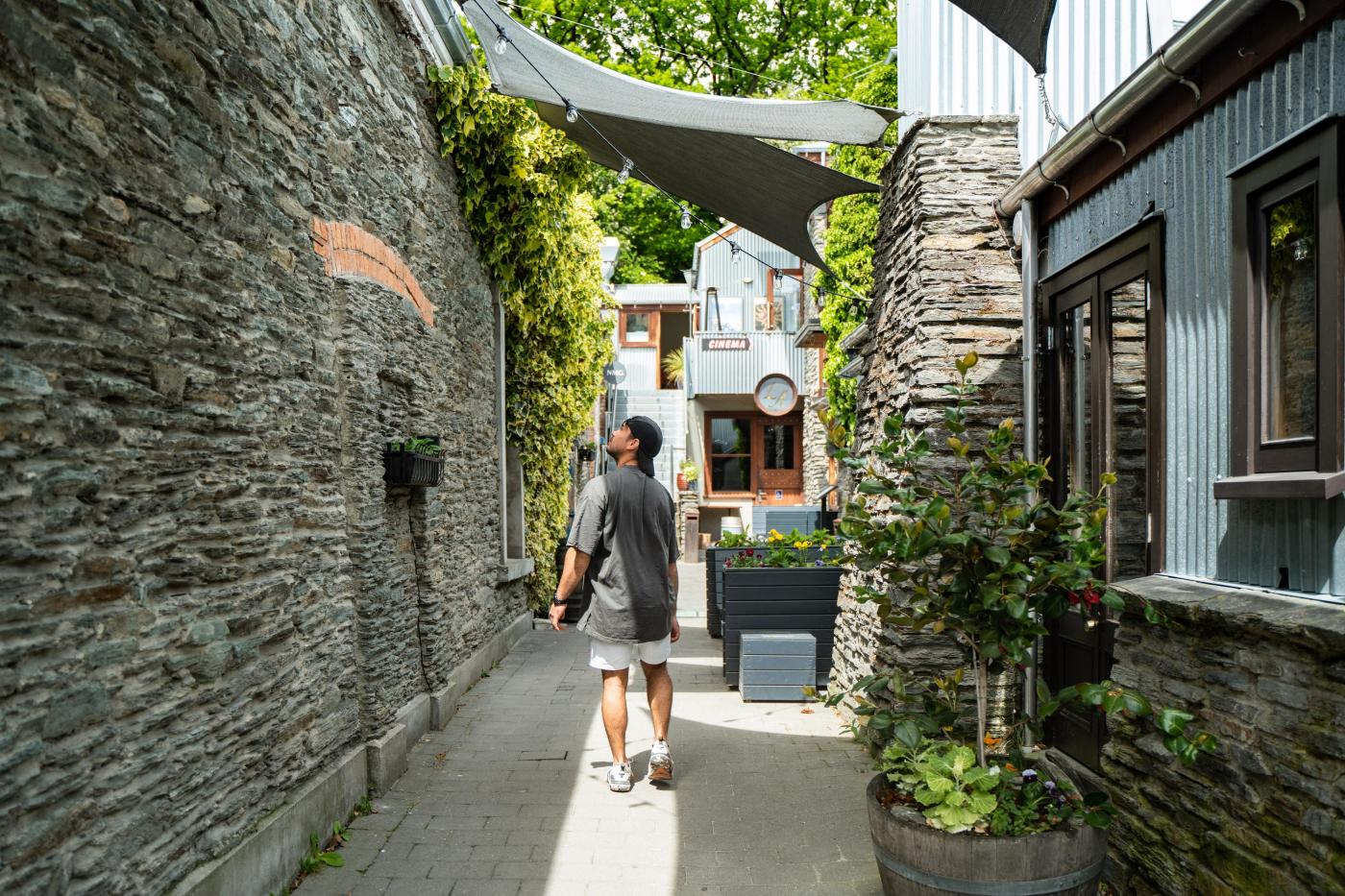 Arrowtown laneway
Frankton, Jack's Point, and Kingston
Explore the southern arm of Lake Whakatipu. Start by taking in the sculptures along the Kelvin Heights Peninsula Trail, before heading on to Jack's Point to enjoy a different vantage point on the lake and the Remarkables. Then carry on south on the stunning road to Kingston, where you can picnic, fish, play golf, and ride on the historic Kingston Flyer on Sundays, from September until June.
Frankton is an absolute hive of tasty places to eat.
Stay overnight at:
Driftaway Queenstown. A modern holiday park with eco-credentials, architectural cabins and hot tubs.
Kingston TOP 10 Holiday Park. A campsite with everything from motel units to glamping.
Hilton Resort & Spa. In Kawarau Village right on the lakeside trail for biking and walking, and the Hilton hotel group is committed to halving its environmental impact through a range of measures.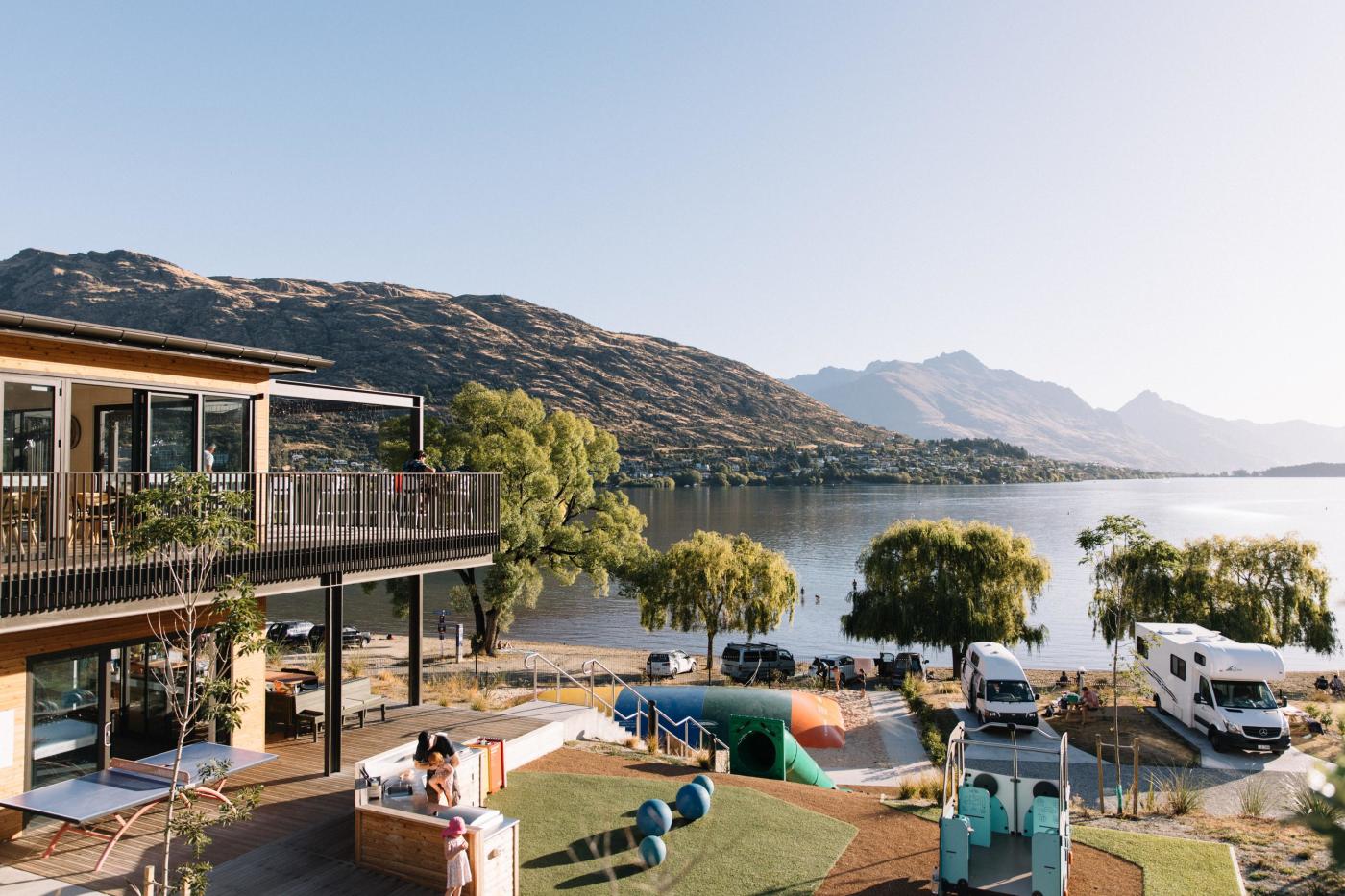 Driftaway Holiday Park
Glenorchy
Head to the top of the lake and into the wilderness, Glenorchy gets you off the beaten track and into the midst of the mountains. Go to revel in the majesty of the landscape, hike into the back country, horse trek, or kayak along glacial rivers.
Glenorchy eateries include:
Glenorchy is the place to stay in lodges and retreats doing their best to tread lightly and give back to our environment.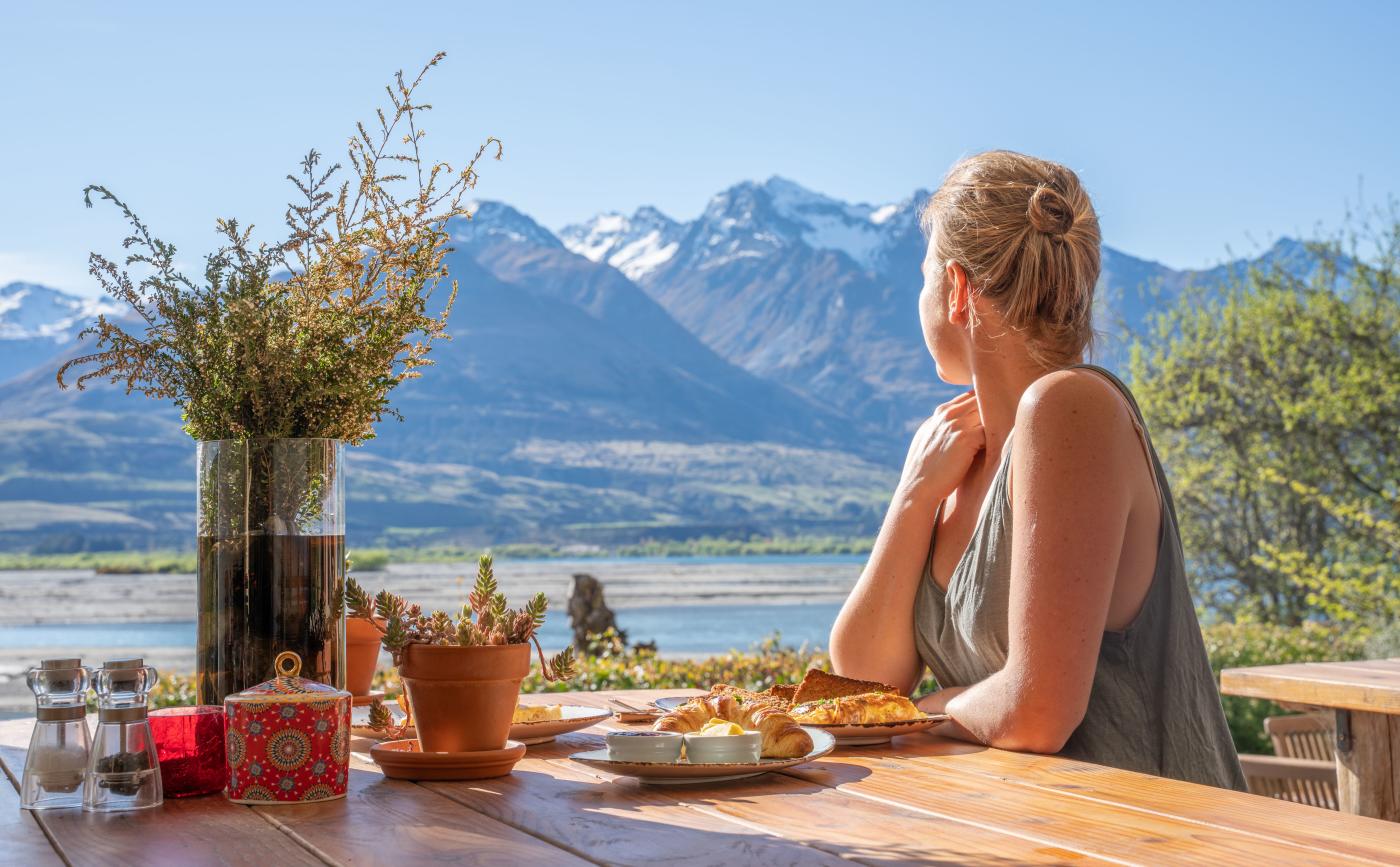 Kinloch Wilderness Retreat
For those who Love Queenstown: lend a hand
If you'd like to leave a lasting memory of your trip you can also donate to Love Queenstown to support local climate, conservation and biodiversity projects that actually make an impact. Or you can lend a hand and meet Queenstown locals while you're here by volunteering or taking part in one of our spring planting days.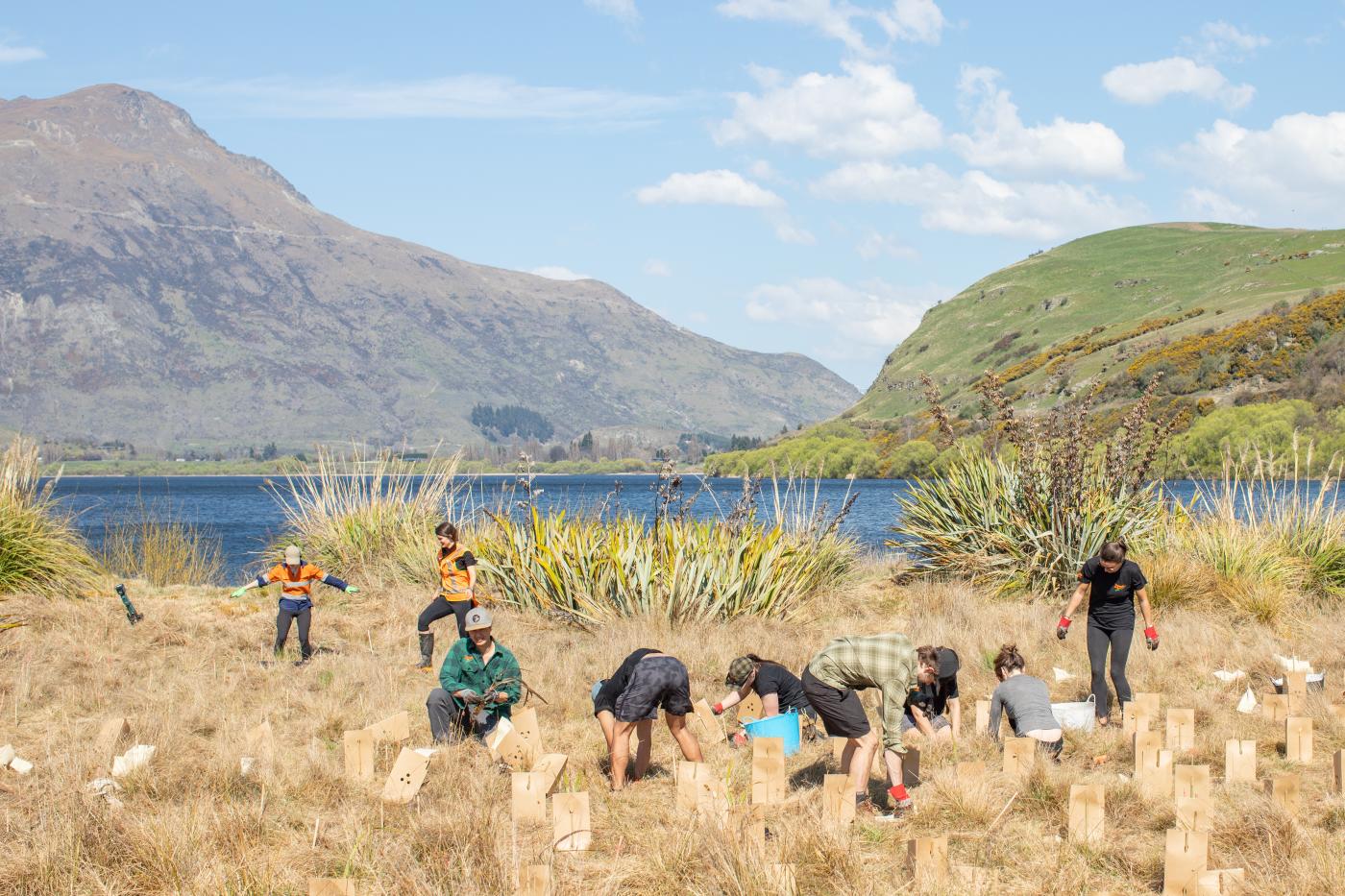 Volunteers planting at Lake Hayes